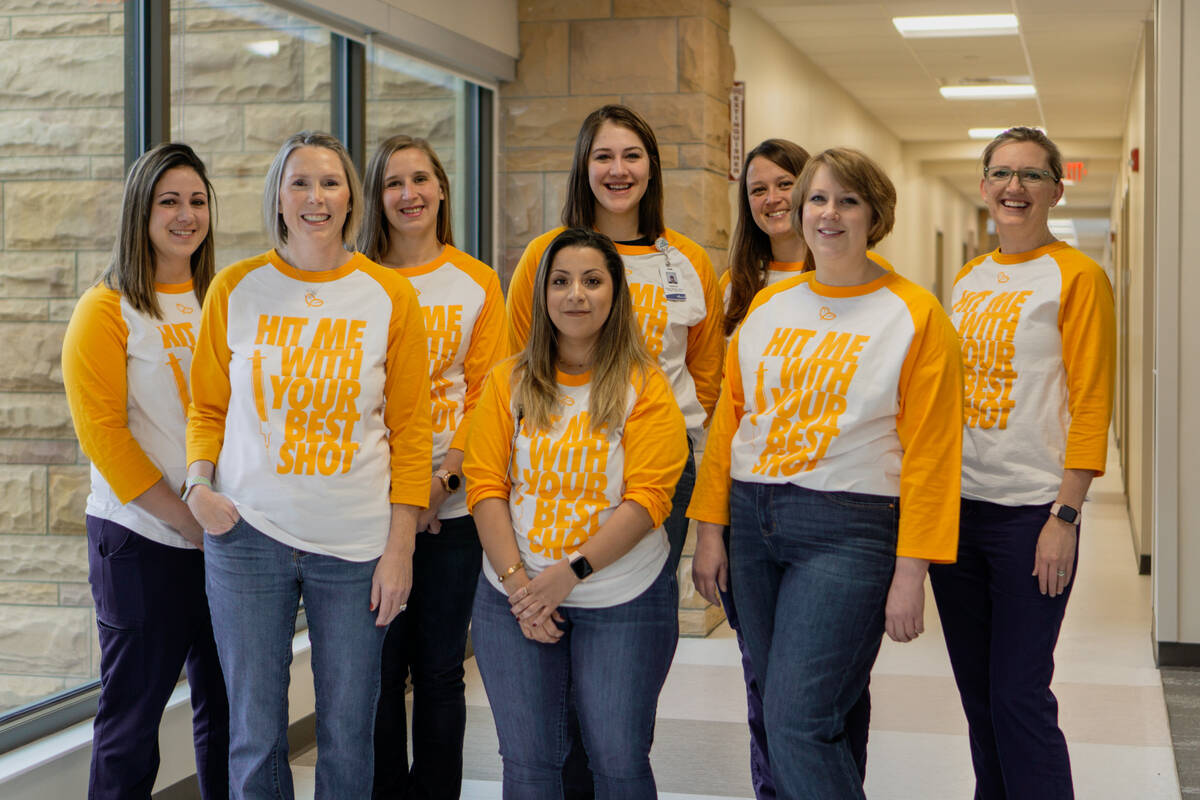 Featured Story
Friday Flu Clinics at IMG
Fight the flu this cold season by getting your flu shot.
Through­out the month of Octo­ber, Ivin­son Med­ical Group will be hold­ing week­ly flu shot clin­ics on Fri­day after­noons between 2 pm and 4 pm.
It is rec­om­mend­ed by the CDC that every­one six months and old­er receive their influen­za vac­cine annu­al­ly. Indi­vid­u­als with pre-exist­ing med­ical con­di­tions, old­er pop­u­la­tions and preg­nant women are con­sid­ered espe­cial­ly vul­ner­a­ble and it is rec­om­mend­ed they receive age-appro­pri­ate vaccinations.
"Get­ting your flu shot is rec­om­mend­ed every year, because of the spread of COVID-19 this year is espe­cial­ly impor­tant," said Lisa Ram­bo, Ivinson's Infec­tion Pre­ven­tion­ist. ​"Get­ting a flu shot may help pre­vent or lessen the sever­i­ty of the flu and oth­er res­pi­ra­to­ry ill­ness if a per­son does become sick."
Due to cur­rent COVID pre­cau­tions, we are ask­ing that all patients plan­ning to attend the flu clin­ic, call to reserve a time to receive their flu shot as we will be unable to serve walk-ins dur­ing this time.
Flu shot time slots can be reserved at (307) 755‑4540. When you come for your flu shot please be sure to wear a mask, lim­it the num­ber of peo­ple that accom­pa­ny you into the clin­ic to no more than one and resched­ule your flu shot if you are not feel­ing well.
Patients that already have appoint­ments sched­uled in the fall and through the win­ter will be able to receive their flu shot at their reg­u­lar­ly sched­uled appoint­ment time.
Ivin­son will be offer­ing three dif­fer­ent kinds of flu shots, avail­able at dif­fer­ent price points. All vari­a­tions of the flu shot are made for the pre­ven­tion of both influen­za A and B.
Flu­zone Quadri­va­lent (stan­dard-dose), Flublok Quadri­va­lent, and Flu­zone High Dose will all be avail­able at Ivinson.
"The stan­dard dose Flu­zone, which will be the flu shot most peo­ple get, is for ages 6 months and old­er.. Then we have the Flublok, this vac­cine is safe for patients with egg aller­gies and approved for patients 18 and old­er. If you are preg­nant, check with your provider before request­ing Flublok," said Colleen Lang, Ivinson's Qual­i­ty Direc­tor. ​"The final flu shot we are offer­ing is the high-dose, which is rec­om­mend­ed for patients 65 and over."
Most flu shots are cov­ered by insur­ance. Out of pock­et cost for a flu shot depends on which vac­ci­na­tion you receive. Out-of-pock­et cost for the Flu­zone Quadri­va­lent is $30. Flublok and Flu­zone High Dose vac­cines will be $60 out-of-pocket.
Flu shots will be avail­able through­out flu sea­son. Cur­rent CDC rec­om­men­da­tions advise that indi­vid­u­als receive their flu shot by the end of Octo­ber but encour­ages that vac­ci­na­tions be giv­en as long as flu cas­es are cir­cu­lat­ing locally.
"Symp­toms of COVID-19 and Influen­za are very sim­i­lar: cough, fever, chills, short­ness of breath, headache, run­ny nose, mus­cle aches and fatigue," Ram­bo said. ​"Both virus­es are spread in a sim­i­lar man­ner; prac­tic­ing good hand hygiene, cov­er­ing your cough/​sneeze and stay­ing home when you are sick can help pre­vent the spread of COVID-19 and the flu."
For more infor­ma­tion about this year's flu shot and to sched­ule your flu shot, please call Ivin­son Med­ical Group at (307) 755‑4540.
sign up for our email newsletter