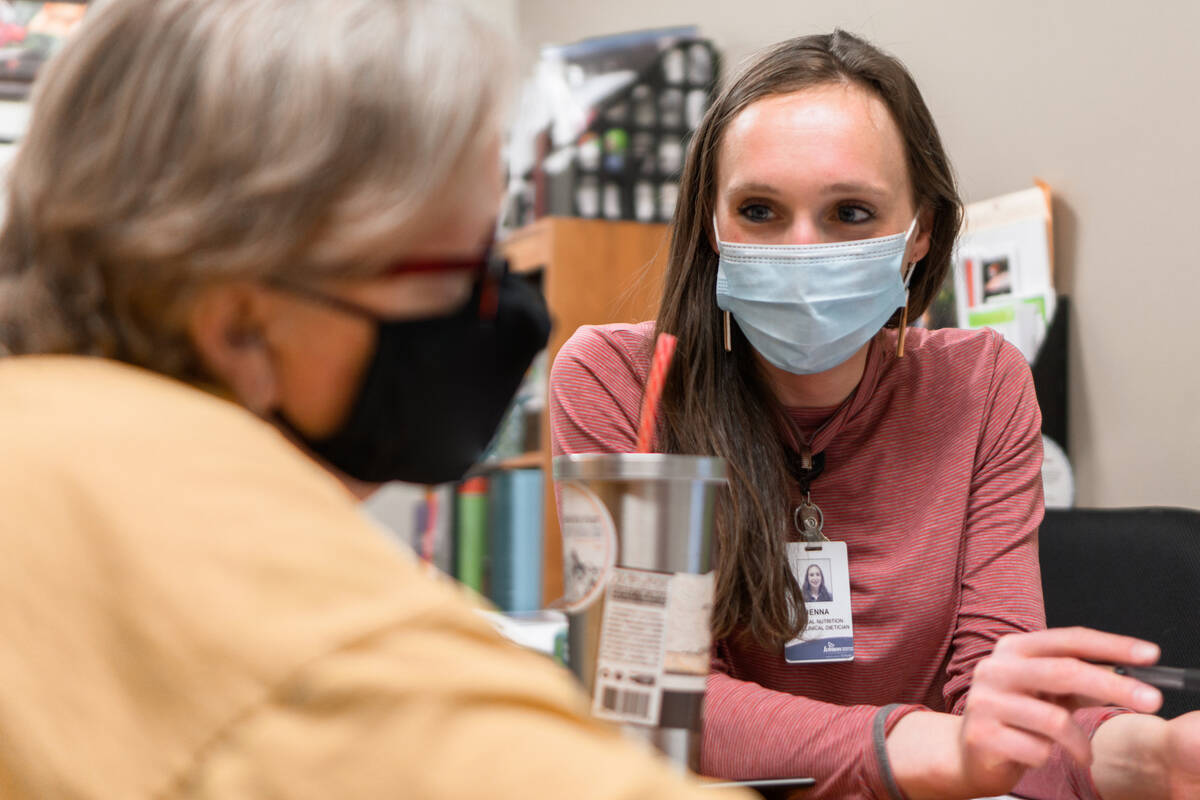 Employee Spotlight
10 March 2021
Jenna Chalcraft
Jenna is the Lead Clinical Dietician at Ivinson.
In the month of March, a spotlight is brought to nutrition in observance of National Nutrition Month. For Jenna Chalcraft, a registered dietician, nutrition is always top of mind.
"My mom is a nurse and my dad is a public health administrator," Jenna said. ​"I always joke that when a nurse and a public health administrator have kids, they get a dietician. I think that's where my interest in healthcare came from and I knew from high school that I would be in the healthcare profession."

Jenna has always considered herself health conscious and aware of the growing concern on chronic diseases in the United States. She sought out the one tangible factor to the public health crisis, diet and nutrition, and she decided to pursue it as a career.
"Initially," Jenna explains, ​"I was going to school for nutrition because I ate school lunch every day." In college, Jenna worked as a school lunch monitor and ate school lunch every day from kindergarten into her college days. ​"I knew how big of a problem it is. Their meals are not as good as they should be."
In a medical occupations class, Jenna was able to shadow a hospital dietician, and the brief encounter would later lead to Jenna taking on the very same role at Ivinson. With almost two years under her belt as a registered dietician, Jenna enjoys the mix of inpatient and outpatient care she is able to provide in the hospital setting.
Despite growing awareness around the importance of nutrition when it comes to your health, there are still reservations surrounding dieticians.
"I think people hear dietician and they automatically think, ​'weight loss therapy,'" Jenna said, of common misconceptions around the profession. ​"We definitely do that, but it is not the only thing we do."

What is a registered dietician?
"As a registered dietician, we provide medical nutrition therapy," Jenna explained. ​"The goal is improving a patient's condition through targeted medical nutrition therapy. Our big interventions are nutrition education and nutrition counseling."
Jenna explains that, with any diet education, it is not expected that a patient leaves the hospital to be magically successful in following that diet — it takes an adjustment period. That is where nutrition counseling comes in. Jenna works with patients to determine their goals and create a plan to help patients achieve those goals.
"I am a huge fan of motivational interviewing which is client centered counseling," Jenna said. ​"You are really helping a patient set goals and helping them find motivation for change. We are always using that and trying to help the patient be as successful as possible in making those dietary changes."

Why see a registered dietician?
"There are so many different conditions. Any disease, state, condition — there is medical nutrition therapy targeted for that condition. It could be heart healthy diet education, diabetic diet education, it could be gastro-intestinal diseases, gastroparesis, GI conditions, renal disease, celiac disease, reproductive health, pregnancy and after birth. There are countless conditions that can benefit from nutrition therapy."
For Jenna, her area of focus can change from day-to-day. Ivinson's Clinical Nutrition Diabetes Clinic focuses on diabetes self-management and education, but Jenna also works with patients in dialysis, oncology and provides nutrition support for IV nutrition and patients who are on tube feedings.
While nutrition has always been a passion of Jenna's, she realizes it can be a hard subject for others.
"People often think that we are the diet police and that we are going to review their diet history and their food diaries and rip it apart. Which is not the case at all. We aren't here to judge. I absolutely love food, that's part of the reason I am a dietician," Jenna said of those misconceptions surround nutrition therapy. ​"I think the apprehension comes from judgement of weight or judgement of what they are eating, that's not just our goal. Our goal is to help them succeed in any way possible. We are just trying to help people find realistic goals and help them achieve them."
Outside of the hospital, Jenna is an adjunct instructor at the University of Wyoming. She finds satisfaction in providing for students as well as staying on top of the latest guidelines.
"I really love teaching," Jenna said. ​"I learn so much from clinical settings and I get to bring that back to the students and then, when I'm preparing for lectures, I learn so much and it makes me a better clinician."
The South Dakota native remains in love with the mountainous scenery of her college town and credits Wyoming's mountains as what has kept her here after finishing her master's degree. In her downtime, Jenna enjoys cross country skiing and running with her dog Rosie. She is currently preparing for a half marathon she plans to run in Moab, Utah with another dietician this summer.
sign up for our email newsletter