Featured Story
Written By Jacob Chavez
Medical Offices at Ivinson: One Year Later
An in-depth look at the first year of the Medical Offices, and a preview of what's on the horizon for the facility.
opening day
On the morn­ing of August 7, 2017, the then-new Med­ical Offices at Ivin­son offi­cial­ly opened their doors and began see­ing patients. That day, mem­bers of the com­mu­ni­ty and employ­ees alike shuf­fled through the med­ical office build­ing (MOB) for the first time. Those that hap­pened to be in the build­ing on day one, no doubt, noticed the tall ceil­ings, grand fire­place and the unmis­tak­able aro­ma of new car­pet and fresh paint.

The entire­ly new build­ing set out to make patients the top pri­or­i­ty by sim­pli­fy­ing the process of see­ing providers, giv­ing patients access to day-of test results and allow­ing guests to be able to avoid Laramie's severe win­ter weath­er con­di­tions. The addi­tion of a cov­ered walk­way and park­ing garage, the first in Laramie, gave patients the option to skip the cold and take an ele­va­tor direct­ly to the MOB or to hos­pi­tal admitting.
More­over, the new med­ical offices offered patients some­thing even more valu­able than that — uni­ty. The build­ing, which is just over 27,000 square feet, made it pos­si­ble for all of Ivin­son Med­ical Group (IMG) to move their clin­ics onto the hospital's main cam­pus. Now, patients are able to see their pri­ma­ry care provider and get imag­ing and lab work done, all in one visit.
To every­one who played a part in the con­struc­tion and plan­ning of the MOB, that warm morn­ing in August was much more than cut­ting a rib­bon and turn­ing on the lights. For many, that morn­ing was the real­iza­tion of years of hard work, plan­ning and long hours, all in the name of offer­ing bet­ter care for patients.
Because of this work, the new facil­i­ty was able to open on time and begin see­ing patients imme­di­ate­ly. No one, how­ev­er, could have pre­dict­ed what would hap­pen next.
period of growth
Over the next year, the MOB would take on a life of its own. With­in the first few months, sev­er­al new out­pa­tient providers and ser­vice lines joined the Ivin­son Med­ical Group team. By Decem­ber, Ivin­son was now home to a new geri­a­tri­cian, a der­ma­tol­ogy provider and an oto­laryn­gol­o­gist, all ser­vices which were not pre­vi­ous­ly avail­able through IMH.
"I don't even know how we would have antic­i­pat­ed or guessed that we would've grown so quick­ly," said Colleen Lang, prac­tice man­ag­er for Ivin­son Med­ical Group. ​"We didn't antic­i­pate the pos­i­tive response to this build­ing and the ser­vices we offer, and that it would lead to such a dras­tic increase in patient vis­its and requests for spe­cial­ty care."
The amount of growth gen­er­at­ed by the open­ing of the MOB came as sur­prise to many. ​"We have seen growth every month, essen­tial­ly, since we moved in," Colleen adds.
And, as it turns out, this growth was not just lim­it­ed to patient vis­its — the new facil­i­ty has also piqued the inter­est of prospec­tive providers look­ing for work in the region. ​"Hav­ing the med­ical offices has made recruit­ment so much eas­i­er," says Hol­ly Zajic, chief oper­a­tions offi­cer for IMH. Since the open­ing of the MOB, Hol­ly adds, ​"we've been wild­ly suc­cess­ful with our recruit­ment efforts — we final­ly fig­ured out the secret recipe for physi­cian recruitment."
And if you ask Hol­ly what the ​'secret recipe' for recruit­ment is, she will tell you, ​"It's ear­ly con­ver­sa­tions and being pre­pared… [It's our] team of A‑player physi­cians in place, along with our out­stand­ing staff, that make peo­ple want to come here."
By April 2018, plans to add an entire­ly new clin­ic, as well as a new pedi­a­tri­cian to the Pedi­atric and Fam­i­ly Care clin­ic, were well under­way. That month, with the addi­tion of two OB/GYN providers to our staff, the new Women's Health Clin­ic at Ivin­son was brought into the world (yet anoth­er first for Ivinson).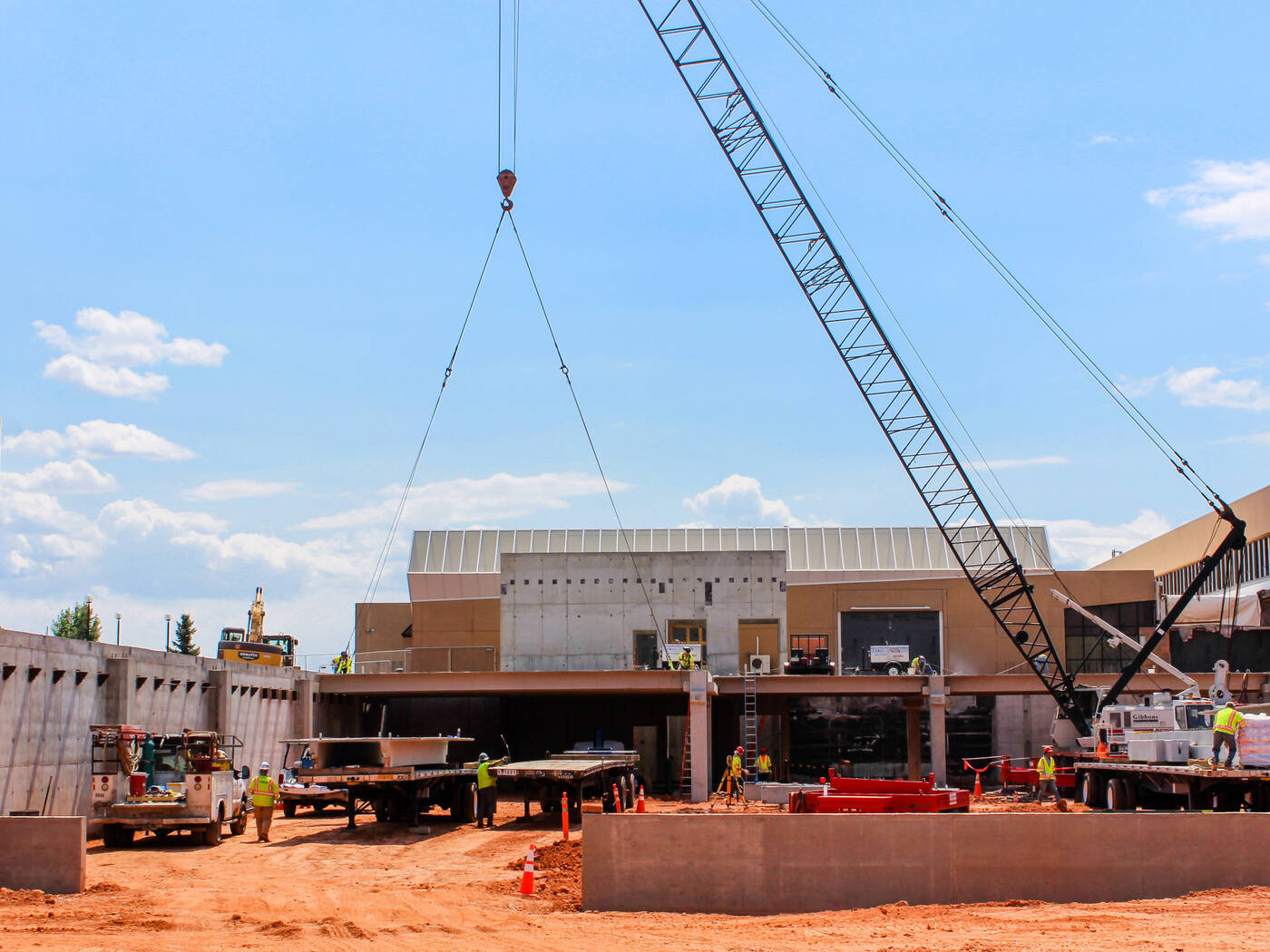 moving forward (and upward)
Ivin­son Med­ical Group's rapid expan­sion may have been a sur­prise to most. As Colleen notes, ​"it wasn't in the 6‑month plan."
In the last year, IMG's clin­ics and ser­vice lines have grown so much, avail­able space in the med­ical offices is now spent and the facil­i­ty is at capac­i­ty. Even so, IMG is look­ing to keep the momen­tum going as it works to bring addi­tion­al, high­ly request­ed ser­vices and clin­ics to Laramie residents.
By the end of next year, Hol­ly explains that the hos­pi­tal plans to add an addi­tion­al gen­er­al sur­geon, a new mid­wifery pro­gram (that is cur­rent­ly in the works) and, by Octo­ber, the addi­tion of a new urologist.
With plans to fur­ther expand Ivin­son Med­ical Group's ser­vices, the hos­pi­tal now faces the unique dilem­ma of where to put every­one. Hol­ly asserts that this is a good prob­lem to have, and one the hos­pi­tal planned for when design­ing the building.
As it stands now, the plan is to build up, not out, which means by the end of this year, con­struc­tion will begin on the addi­tion of a new floor, atop the MOB. Some have spec­u­lat­ed that the new addi­tion to the MOB will con­nect to the third floor of the hos­pi­tal; how­ev­er, Hol­ly antic­i­pates that this will not be the case. ​"It's sim­ply not pos­si­ble with the planned lay­out for the ren­o­vat­ed third floor."
"The key with the third floor is that we can be ready for what­ev­er kind of inno­v­a­tive health­care options there are on the hori­zon," clar­i­fies Colleen.
final thoughts
While the med­ical office build­ing may have start­ed out as cold steel and con­crete, the warmth of the build­ing tru­ly comes from the staff, patients and vis­i­tors it serves each day. What was once just a draw­ing on paper is now a place of heal­ing and care for those who reside in our rur­al region. And with so much growth in just a sin­gle year, it is cer­tain­ly an excit­ing time to work at Ivin­son, and the begin­ning of an excep­tion­al chap­ter in our hospital's history.
sign up for our email newsletter