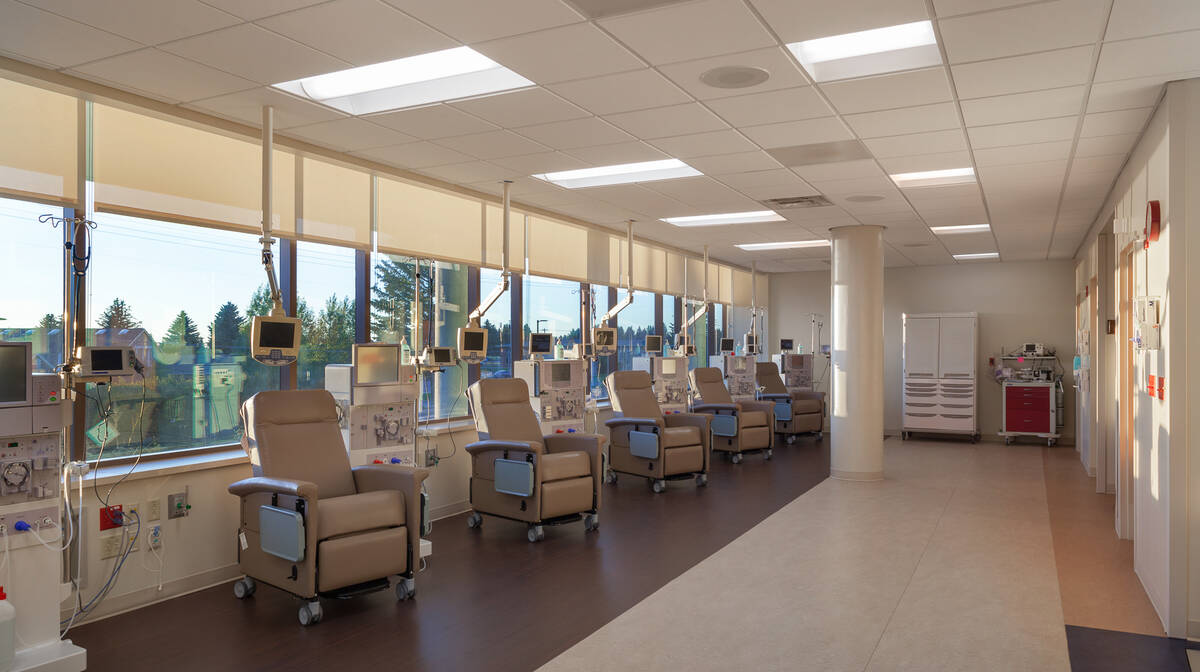 main line
(307) 755-4450
Monday, Wednesday, Friday
5:00am – 5:30pm by appointment only
additional services
We also treat patients with Chron­ic Kid­ney Dis­ease who are not on dial­y­sis. Our goal is to keep patients with kid­ney dis­ease as healthy as pos­si­ble through edu­ca­tion and man­age­ment of ane­mia in an attempt to avoid dial­y­sis in the future.
We also pre­pare new patients com­ing to Dial­y­sis by giv­ing them a tour of the unit and hav­ing them sit and talk with oth­er patients about their expe­ri­ences on dial­y­sis. Ear­ly refer­ral is the key to mak­ing the tran­si­tion to dial­y­sis as easy as possible.
The Ivin­son Dial­y­sis Depart­ment serves the needs of indi­vid­u­als with end stage renal dis­ease. Dial­y­sis at IMH is small enough so each patient receives spe­cial­ized, tai­lored atten­tion, but large enough to house inno­v­a­tive, advanced tech­nol­o­gy and treat­ment offer­ings. We pro­vide com­pre­hen­sive care for local, region­al, and trav­el­ing patients.
Opened in 1999, the Dial­y­sis Depart­ment con­ve­nient­ly pro­vides out­pa­tient hemodial­y­sis ser­vices for local res­i­dents and vis­it­ing patients. All patients receive indi­vid­u­al­ized and com­pas­sion­ate patient cen­tered care from high­ly skilled staff which includes RNs and a cer­ti­fied patient care tech­ni­cian. The depart­ment is lead by a cer­ti­fied nephrol­o­gy nurse and a med­ical direc­tor that is board cer­ti­fied in nephrology.
Board Cer­ti­fied Nephrologists
Nutri­tion­al Counseling
Social Ser­vices Counseling
Main­tained Joint Com­mis­sion Dis­ease Spe­cif­ic Cer­ti­fi­ca­tion for End Stage Renal Dis­ease. This cer­ti­fi­ca­tion means our Dial­y­sis pro­gram com­plies with the high­est nation­al stan­dards for safe­ty and qual­i­ty of care. The Ivin­son Dial­y­sis Unit is one of only three dial­y­sis units in the nation to earn this Gold Seal of Approval.
Award­ed Plan­e­tree unit des­ig­na­tion for pro­vid­ing patient cen­tered care.
Main­tain an active qual­i­ty improve­ment pro­gram to pro­vide excel­lent patient care.
Locat­ed with­in the hos­pi­tal, the cen­ter offers con­ve­nient, imme­di­ate access to all oth­er ser­vices with­in the hos­pi­tal includ­ing lab­o­ra­to­ry, x‑ray, and emer­gency care.
Ameni­ties include warmed blan­kets, indi­vid­ual tele­vi­sions and nutri­tious snacks.