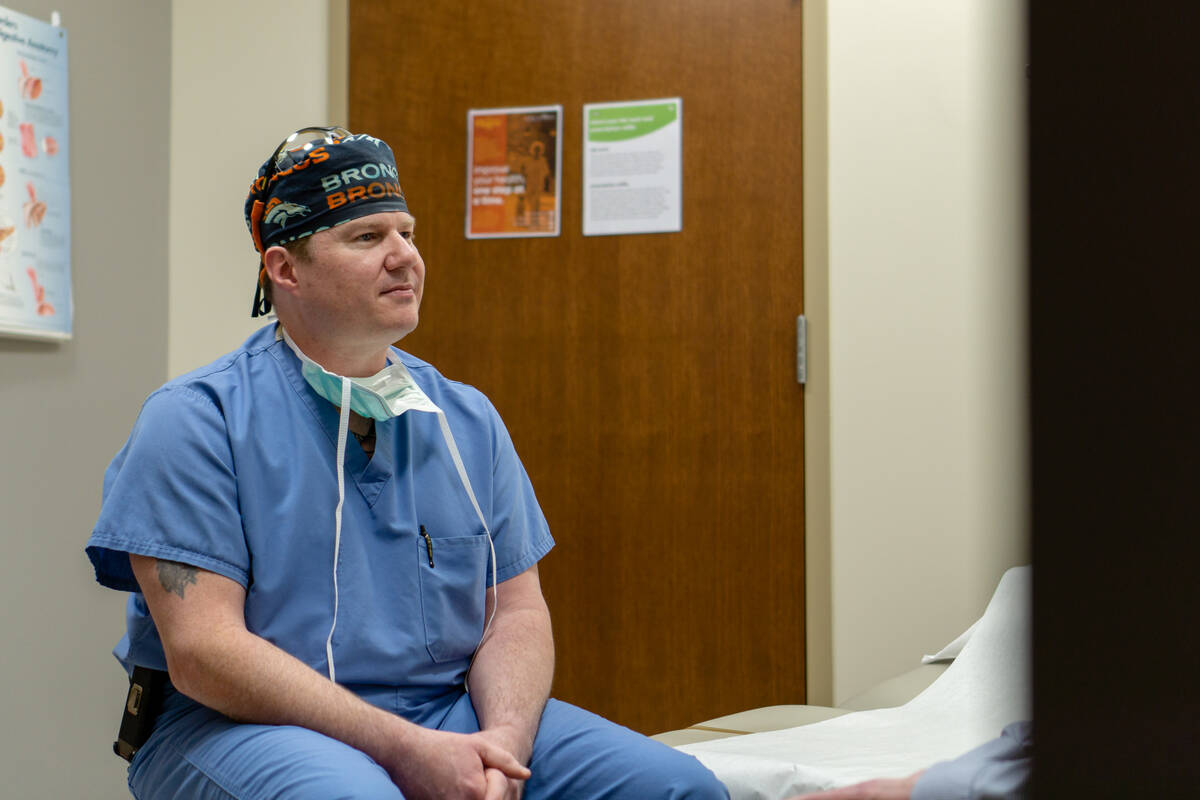 Featured Story
Written By Shelby Quintana
A Day For Doctors
March 30 commemorates National Doctor's Day — a holiday honoring physicians, their work and their contributions to both the community and society.
A career as a physi­cian requires pos­sess­ing a unique body of knowl­edge and skills and car­ries the life-impact­ing respon­si­bil­i­ty of car­ing for patients.
Kim West­brook, an OB/GYN in the Women's Health Clin­ic at Ivin­son Med­ical Group, did not intend to become a physi­cian. She was study­ing chem­i­cal engi­neer­ing at the Uni­ver­si­ty of Wyoming with the goal to work on the arti­fi­cial liv­er as a bio­med­ical engi­neer. ​"Once I delved deep­er into bio­med­ical engi­neer­ing, I real­ized I did not enjoy work­ing in a lab­o­ra­to­ry set­ting as much as I thought I would," says Dr. Westbrook.

She began work­ing in the Emer­gency Depart­ment at Ivin­son Memo­r­i­al Hos­pi­tal as a unit sec­re­tary and com­plet­ed an EMT class to get expe­ri­ence with clin­i­cal med­i­cine. ​"I absolute­ly loved these expe­ri­ences," says Dr. West­brook. She decid­ed to apply to med­ical school, know­ing she would have the option to do clin­ic med­i­cine or go back to bio­med­ical research.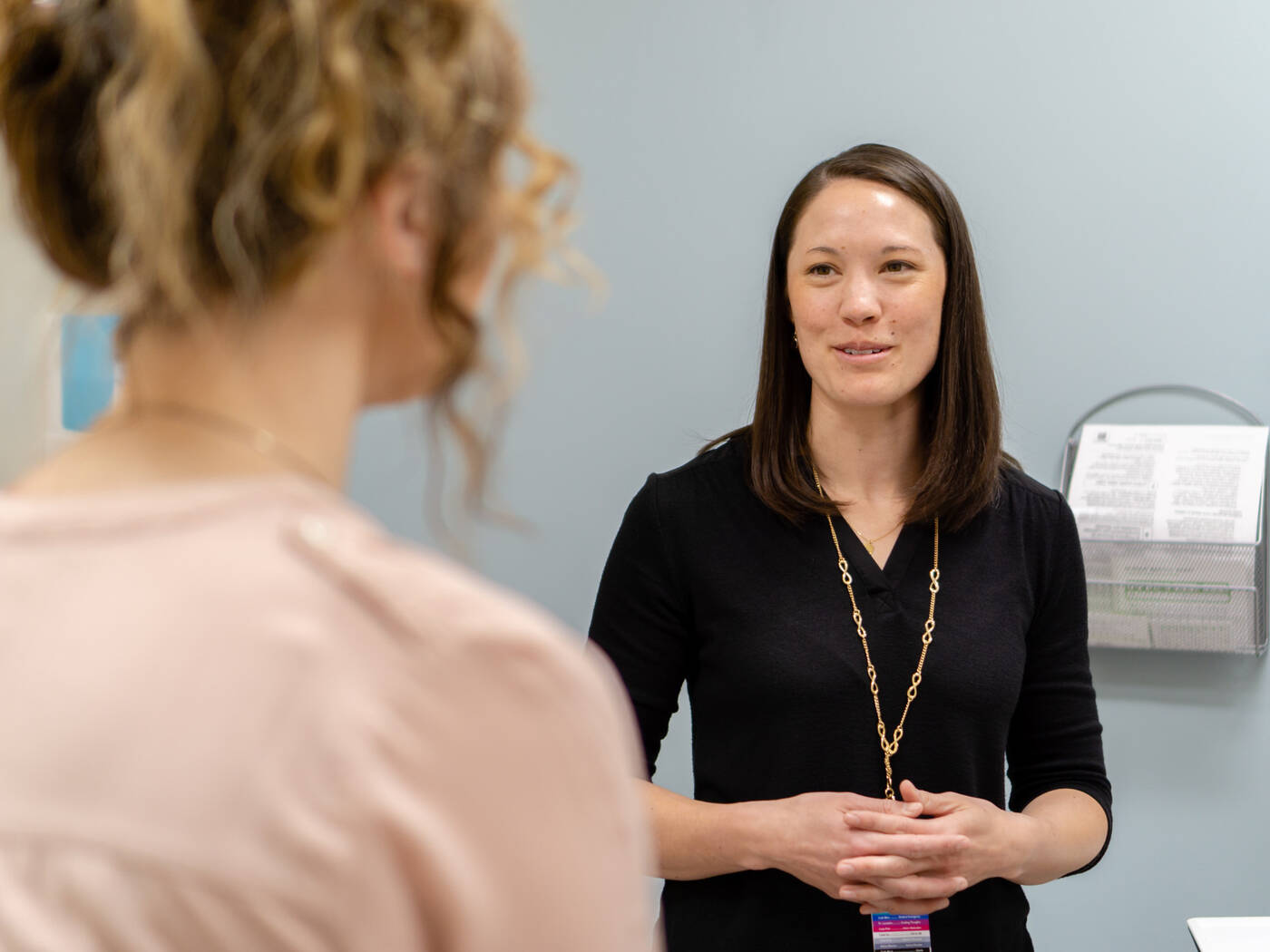 "The fur­ther I made it through med­ical school, the more obvi­ous it become that I was meant to take care of patients," says Dr. West­brook. ​"I absolute­ly love the per­son­al aspect of being a physi­cian and car­ing for patients."
At Ivin­son, our physi­cians believe that patients deserve excep­tion­al care and are devot­ed to pro­vid­ing inte­grat­ed and inno­v­a­tive health­care to our com­mu­ni­ty. ​"All of us entered health­care to care for patients," says Dr. Paul John­son, sur­geon at Ivin­son Med­ical Group. ​"It's nice to be part of a team and orga­ni­za­tion that puts this val­ue first."
Dr. John­son is an oto­laryn­gol­o­gist, focused on pro­vid­ing med­ical and sur­gi­cal care for the ears, nose, throat and struc­tures of the head and neck. ​"I love the field of oto­laryn­gol­o­gy because of the diver­si­ty of patients," says Dr. John­son. ​"It also allows me to prac­tice both med­i­cine and surgery."
Through­out recent years, the role of a physi­cian has changed. Con­tin­ued advance­ments in med­ical tech­nol­o­gy, pro­ce­dures, stan­dards of care and new phar­ma­ceu­ti­cals have required physi­cians across the med­ical field to adapt and work to improve with each patient they see.
In addi­tion to their chang­ing roles, our physi­cians have expe­ri­enced a shift in the way they approach med­ical treat­ments. Ivin­son is proud to uti­lize a patient-cen­tric care mod­el, devot­ed to cre­at­ing a rela­tion­ship with our patients. ​"Patient-cen­tric means tru­ly devel­op­ing a part­ner­ship between the patient and their providers," says Dr. West­brook. ​"This is accom­plished by engag­ing the patient and their sup­port team in med­ical decisions."
The patient-cen­tric mod­el requires an ele­vat­ed lev­el of com­mu­ni­ca­tion between patients and their physi­cians, but leads to improved diag­nos­tics and ther­a­peu­tic results. ​"By includ­ing patients in these deci­sions, they take own­er­ship of their own health­care," says Dr. West­brook. ​"This own­er­ship increas­es patients' moti­va­tion to imple­ment ben­e­fi­cial changes in their dai­ly lives."
Dr. Matthew Sorensen, Med­ical Oncol­o­gist, uses the patient-cen­tric mod­el with our patients bat­tling can­cer. ​"Dr. Sorensen has an amaz­ing way of mak­ing patients feel con­fi­dent and com­fort­able in their deci­sions and care," says Amy Smith, direc­tor of the Mered­ith and Jean­nie Ray Can­cer Cen­ter at Ivin­son. ​"He believes our patients deserve high-qual­i­ty care and he goes out of his way to make sure we are always pro­vid­ing that, from improv­ing process­es to col­lab­o­rat­ing with oth­er UCHealth doctors."
Ivin­son is proud to work with car­ing, thought­ful physi­cians who are ded­i­cat­ed to our patients. ​"Dr. Sorensen is one of the best providers that I have had the priv­i­lege to work with," says Amy. ​"He is approach­able and easy to talk to. My staff feel com­fort­able going to him with any ques­tions or con­cerns they have about our patients and their care."
Our physi­cians work to pro­mote well­ness and heal­ing with­in our com­mu­ni­ty and are guid­ed by the phi­los­o­phy that our patients deserve excep­tion­al care. In addi­tion to pro­vid­ing med­ical treat­ment, physi­cians work to devel­op a true rela­tion­ship with their patients. From pedi­atrics to pri­ma­ry care, surgery and can­cer treat­ments, our doc­tors go above and beyond expec­ta­tions to deliv­er the high­est lev­el of health­care to our community.
sign up for our email newsletter