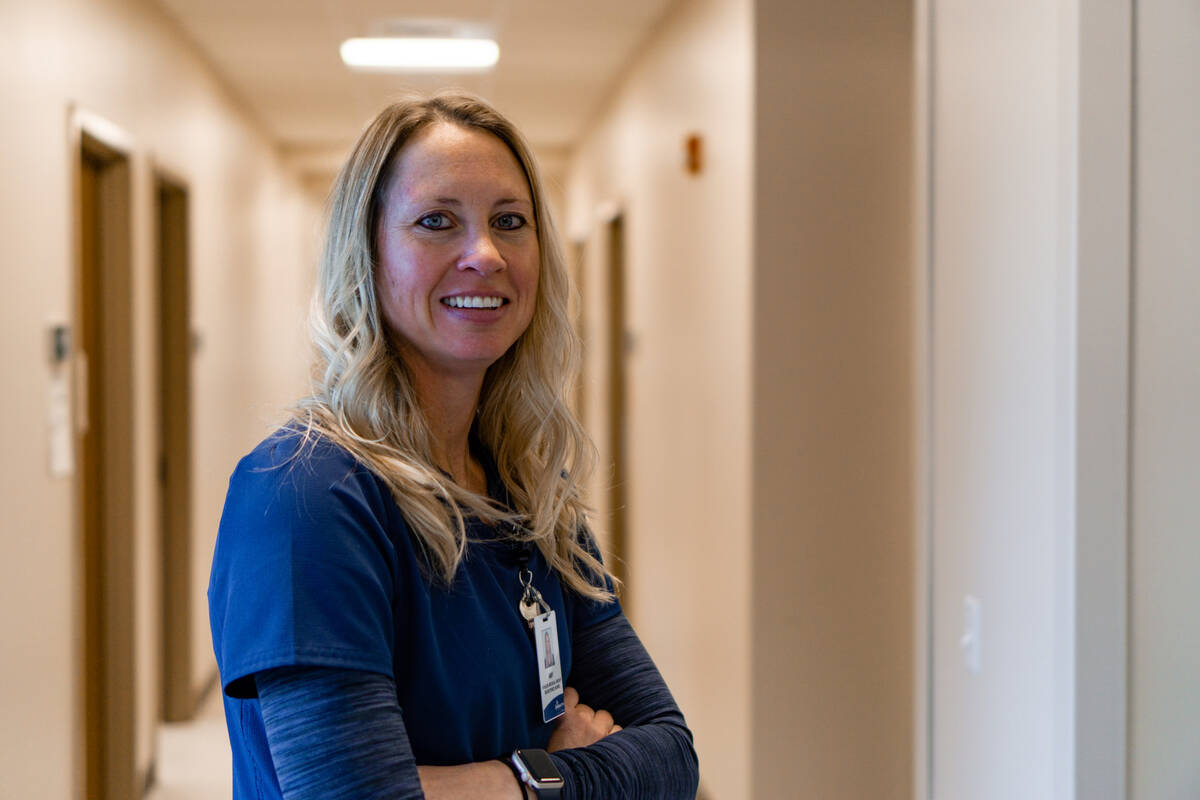 Employee Spotlight
Amy Farstad, RN
Amy Farstad is a nurse at Ivinson Medical Group's surgical clinic where she treats patients for woundcare.
Amy Farstad has always led an active lifestyle. When she start­ed school, she went into Kine­si­ol­o­gy, find­ing as much inter­est in study­ing move­ment as she did in stay­ing in movement.
Always on her feet, Amy came into nurs­ing because of the vari­ety it offered and she hasn't looked back since.
Amy start­ed her nurs­ing career at Ivin­son Memo­r­i­al Hos­pi­tal work­ing on Med/​Surg. For the last three years, she has been work­ing as an RN along­side Dr. Jack Ull­rich in Ivin­son Med­ical Group's sur­gi­cal clin­ic. This Jan­u­ary, she will cel­e­brate her six-year anniversary.
Since join­ing Dr. Ull­rich, Amy has obtained her wound care cer­ti­fi­ca­tion which has allowed her to assist in the many wound care cas­es she reg­u­lar­ly sees. It was quick­ly real­ized that there were often more wounds than there was avail­abil­i­ty to care for them, that is when Amy knew she could do more.
"Once the idea was thrown out there to do more wound care, I got my cer­ti­fi­ca­tion," Amy said. ​"I was doing a lit­tle bit more wound care, then when I got my sharps debride­ment I was like, okay let's do it," and Amy took the leap.
It was with her cer­ti­fi­ca­tions, and no short­age of blood, sweat and tears that the wound care clin­ic came to life.
"Ivin­son has been very sup­port­ive," Amy explained, giv­ing cred­it to IMG prac­tice man­ag­er Colleen Lang and Dr. Ull­rich, ​"Their sup­port has real­ly helped push and get the wound care clin­ic start­ed and off the ground."
Wound care patients see a gen­er­al sur­geon for an ini­tial plan for wound care, deter­min­ing fre­quen­cy and dress­ing options. Sub­se­quent vis­its are sched­uled with Amy on one of her days ded­i­cat­ed to wound care.
Pro­vid­ing clin­ic based wound care, Amy is able to tend to a vari­ety of wounds and treat them in ways pre­vi­ous­ly unavail­able in Laramie, like total con­tact cast­ing. Total con­tact casts are typ­i­cal­ly used on dia­bet­ic ulcers as a way to offload the pres­sure on a wound, allow­ing it to heal.
"Every wound is going to be dif­fer­ent, some are more com­plex than oth­ers and you have to try two or three dif­fer­ent dress­ings before we find one that works. We see a lot of venous sta­sis ulcers, var­i­ous dia­bet­ic wounds, chron­ic wounds that aren't heal­ing on their own and occa­sion­al­ly, we will see patient's from the can­cer cen­ter with radi­a­tion wounds."
Amy is car­ing for wounds two days a week and is cur­rent­ly yield­ing a full sched­ule on those days.
"I hope it's fill­ing a gap here at the hos­pi­tal and in the com­mu­ni­ty, pro­vid­ing wound care clos­er to home for our patients."

sign up for our email newsletter