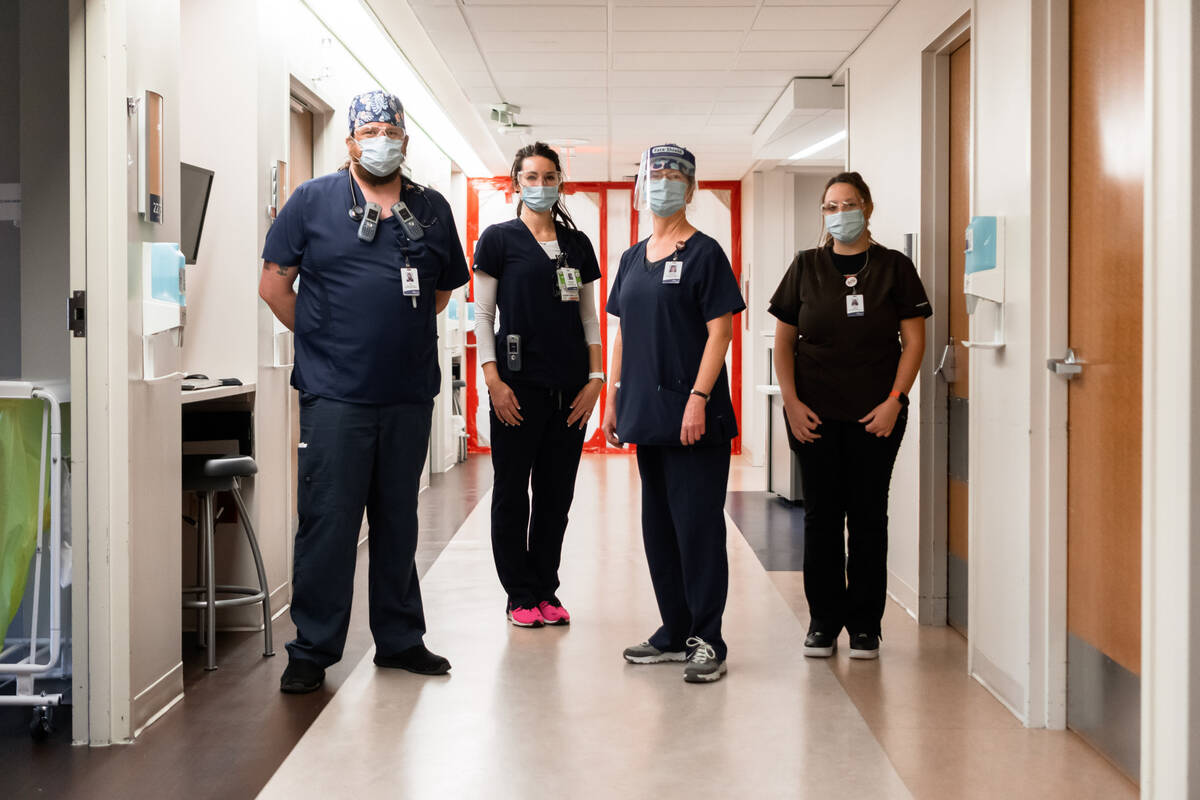 Department Spotlight
19 November 2020
Answering the Call
At this time last year, a COVID Unit did not exist. Today, the med/surg ICU team partner up to ensure world-class care in our rural community hospital.
As Albany County's COVID-19 numbers surge, the staff at Ivinson have leaned on creativity and teamwork to get the job done.
On the south end of the medical/​surgical unit, a COVID-19 unit has been erected to care for incoming COVID-19 patients requiring hospitalization.
"We had talked about the idea of a COVID wall way back in March when we were discussing contingency plans with scarce resources and staffing," Senior Director of Inpatient Nursing, Roxann Shumaker said. ​"We knew if our numbers surged, it would be helpful to contain all the patients in one area."
The barrier between COVID-19 isolated patients and the rest of the med/​surg unit, also referred to as ​"the wall", was built after a rise in patients hospitalized from COVID-19 triggered Ivinson's emergency action plan.
"It encompasses five rooms, one of which was our negative pressure room. Then it has four others that we have negative pressure machines in," Roxann explained. ​"We turned our equipment room into a clean changing room, so the staff are able to don all their personal protective equipment (PPE) before entering the COVID unit. Then they doff everything in the hall, complete hand hygiene and go back in through the clean area."
The designated area creates streamlined processes for the nurses caring for COVID-19 patients, decreasing the time spent changing PPE and allowing more time dedicated to patients.
"We've been careful to limit the staff on the COVID unit, depending on the number of patients," Roxann said of her team from the medical/​surgical unit and intensive care unit taking on shifts. ​"The staff has had this sustainable change mindset where everybody contributes to how it works."
On top of standard patient care, staff working the COVID unit are working hours at a time in full personal protective equipment, masks, gowns, gloves and Powered Air Purifying Respirators (PAPRs).
"Some of the staff would rather have the same patients and be on the unit for a number of days while others would prefer one day. With all the PPE, the Max Air helmets and the PAPRs, it can be a lot," Roxann said of the increased safety precautions. ​"Sometimes they can give the staff headaches, it is harder to hear with them on and it adds some challenges."
Down the hall, Ivinson's intensive care unit has been fitted to house its own COVID-19 unit with negative pressure machines within the ICU.
"At one point we had all of ICU, the whole unit, turned to negative pressure when we had an increase in patients on the unit. We have to have this sustainable mindset of being prepared all the time for whatever comes. It's been tough," Roxann said of the influx of patients. ​"We have had end of life care patients behind the wall and we just take those situations on individually."
Like many of the hospitals in the rural Midwest, healthcare during this pandemic has been running a marathon at full speed while the landscape of COVID-19 is always changing.
"For how hectic COVID has been, the inpatient team has been really calm through the majority of it," Roxann said of her team. ​"They are used to dealing with a huge range of patients, weather it is COVID-19 or influenza or hip fractures or bowel obstructions. The med/​surg and ICU team has really risen to meet whatever our community needs. Being a rural hospital inpatient team, we've always had this dynamic that you never know when we are going to be completely full. Our staff has really adapted well and had flexibility to what comes."
As hospitalizations and cases climb, the COVID unit team continues to work to conserve resources and staff. Since March, clinical staff at Ivinson have worked to maintain their reserve of supplies and PPE, sometimes making their own.
"We've had engineering, cardiopulmonary, dietary and everybody really help in ways that they normally wouldn't need to," Roxann said of the collective sense of teamwork. ​"When engineering was up here building walls, they were grabbing supplies for us and getting hot tea for patients and helping out. It's just heartwarming how well everybody pulls together to do the best we can. The thoughtfulness that you get in a rural hospital is something special."