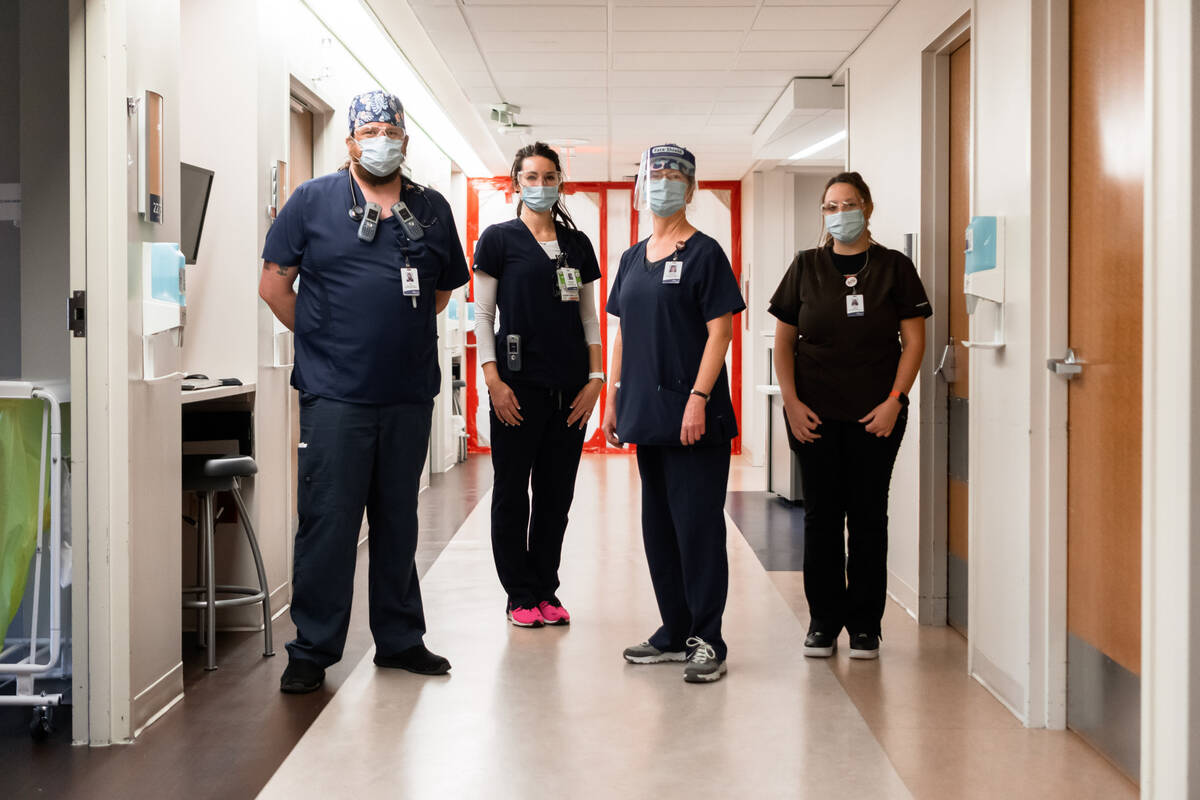 Department Spotlight
Answering the Call
At this time last year, a COVID Unit did not exist. Today, the med/surg ICU team partner up to ensure world-class care in our rural community hospital.
As Albany County's COVID-19 num­bers surge, the staff at Ivin­son have leaned on cre­ativ­i­ty and team­work to get the job done.
On the south end of the medical/​surgical unit, a COVID-19 unit has been erect­ed to care for incom­ing COVID-19 patients requir­ing hospitalization.
"We had talked about the idea of a COVID wall way back in March when we were dis­cussing con­tin­gency plans with scarce resources and staffing," Senior Direc­tor of Inpa­tient Nurs­ing, Rox­ann Shu­mak­er said. ​"We knew if our num­bers surged, it would be help­ful to con­tain all the patients in one area."
The bar­ri­er between COVID-19 iso­lat­ed patients and the rest of the med/​surg unit, also referred to as ​"the wall", was built after a rise in patients hos­pi­tal­ized from COVID-19 trig­gered Ivinson's emer­gency action plan.
"It encom­pass­es five rooms, one of which was our neg­a­tive pres­sure room. Then it has four oth­ers that we have neg­a­tive pres­sure machines in," Rox­ann explained. ​"We turned our equip­ment room into a clean chang­ing room, so the staff are able to don all their per­son­al pro­tec­tive equip­ment (PPE) before enter­ing the COVID unit. Then they doff every­thing in the hall, com­plete hand hygiene and go back in through the clean area."
The des­ig­nat­ed area cre­ates stream­lined process­es for the nurs­es car­ing for COVID-19 patients, decreas­ing the time spent chang­ing PPE and allow­ing more time ded­i­cat­ed to patients.
"We've been care­ful to lim­it the staff on the COVID unit, depend­ing on the num­ber of patients," Rox­ann said of her team from the medical/​surgical unit and inten­sive care unit tak­ing on shifts. ​"The staff has had this sus­tain­able change mind­set where every­body con­tributes to how it works."
On top of stan­dard patient care, staff work­ing the COVID unit are work­ing hours at a time in full per­son­al pro­tec­tive equip­ment, masks, gowns, gloves and Pow­ered Air Puri­fy­ing Res­pi­ra­tors (PAPRs).
"Some of the staff would rather have the same patients and be on the unit for a num­ber of days while oth­ers would pre­fer one day. With all the PPE, the Max Air hel­mets and the PAPRs, it can be a lot," Rox­ann said of the increased safe­ty pre­cau­tions. ​"Some­times they can give the staff headaches, it is hard­er to hear with them on and it adds some challenges."
Down the hall, Ivinson's inten­sive care unit has been fit­ted to house its own COVID-19 unit with neg­a­tive pres­sure machines with­in the ICU.
"At one point we had all of ICU, the whole unit, turned to neg­a­tive pres­sure when we had an increase in patients on the unit. We have to have this sus­tain­able mind­set of being pre­pared all the time for what­ev­er comes. It's been tough," Rox­ann said of the influx of patients. ​"We have had end of life care patients behind the wall and we just take those sit­u­a­tions on individually."
Like many of the hos­pi­tals in the rur­al Mid­west, health­care dur­ing this pan­dem­ic has been run­ning a marathon at full speed while the land­scape of COVID-19 is always changing.
"For how hec­tic COVID has been, the inpa­tient team has been real­ly calm through the major­i­ty of it," Rox­ann said of her team. ​"They are used to deal­ing with a huge range of patients, weath­er it is COVID-19 or influen­za or hip frac­tures or bow­el obstruc­tions. The med/​surg and ICU team has real­ly risen to meet what­ev­er our com­mu­ni­ty needs. Being a rur­al hos­pi­tal inpa­tient team, we've always had this dynam­ic that you nev­er know when we are going to be com­plete­ly full. Our staff has real­ly adapt­ed well and had flex­i­bil­i­ty to what comes."
As hos­pi­tal­iza­tions and cas­es climb, the COVID unit team con­tin­ues to work to con­serve resources and staff. Since March, clin­i­cal staff at Ivin­son have worked to main­tain their reserve of sup­plies and PPE, some­times mak­ing their own.
"We've had engi­neer­ing, car­diopul­monary, dietary and every­body real­ly help in ways that they nor­mal­ly wouldn't need to," Rox­ann said of the col­lec­tive sense of team­work. ​"When engi­neer­ing was up here build­ing walls, they were grab­bing sup­plies for us and get­ting hot tea for patients and help­ing out. It's just heart­warm­ing how well every­body pulls togeth­er to do the best we can. The thought­ful­ness that you get in a rur­al hos­pi­tal is some­thing special."
sign up for our email newsletter