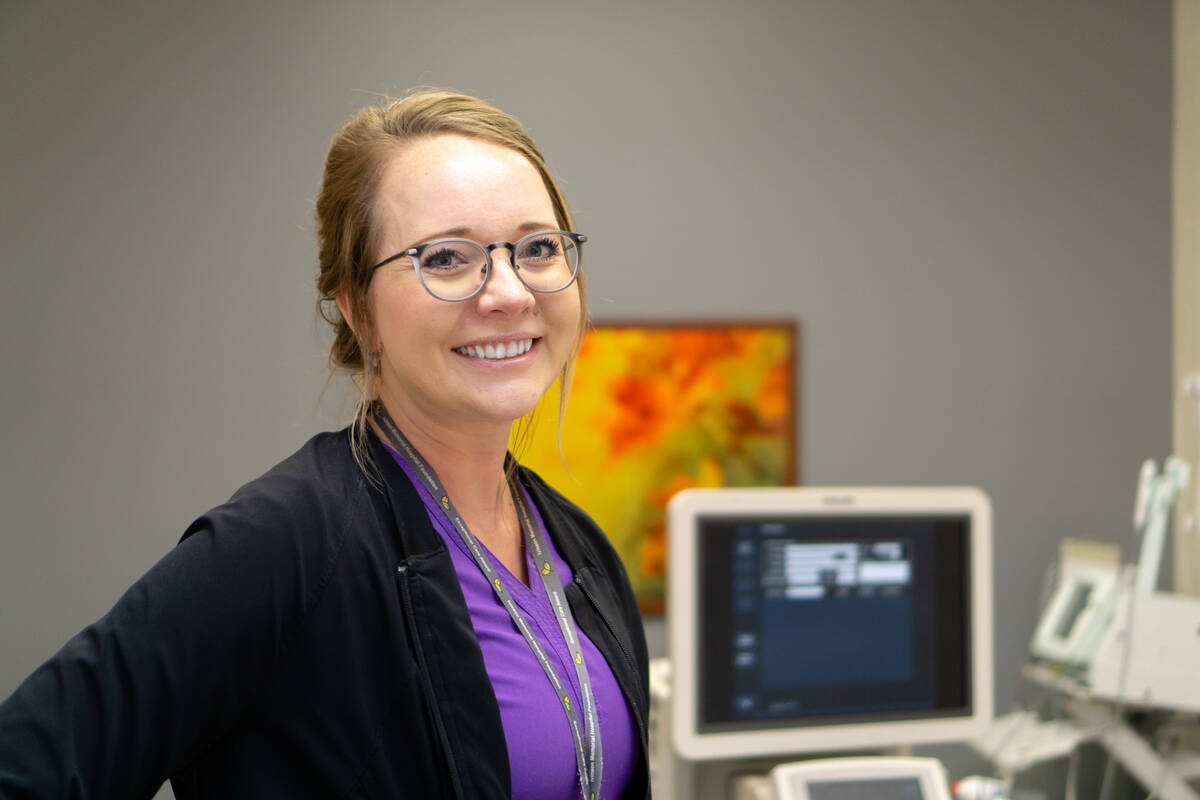 Employee Spotlight
29 May 2019
Beth Christensen
Elizabeth (Beth) Christensen is a diagnostic medical sonographer (sometimes referred to as an ultrasound technologist,) in our Radiology and Imaging department.
Beth joined the Ivinson team two years ago, and has recently achieved her registry in Adult Echocardiography from the American Registry for Diagnostic Medical Sonography (ARDMS).
As a sonographer, Beth uses ultrasound equipment to produce internal images of the body, which providers can then use to monitor and diagnose the medical condition of the patient. Specifically, with Beth's new registry, she is qualified to produce Echocardiography (Echo) images of patients, though, many may not know what that entails. ​"Echo is ultrasound of the heart," says Beth, which she notes is a more specialized field of sonography.
Beth began as a general ultrasound technologist, which gave her the opportunity to work with different types of patients, and build a greater understanding of the field. ​"Once I started learning [Echo] I thought, ​'this is awesome, I want to do more!'"
Beth says she took a lot of time to study and prepare to take the Echo registry exam, and was partially inspired by a few of her co-workers who also hold these specialized certifications. ​"I think that Randi really inspired me – she knows Echo, Ultrasound, CT and X‑RAY… It's really inspiring watching her, and she's such a great teacher too," says Beth.
To obtain the ARDMS certification, medical professionals must pass a rigorous examination that tests both their knowledge of sonography and their practical, real-world skills in sonography. ​"When a sonography professional holds certification from ARDMS, you know that they are dedicated to providing high-quality care and meeting the highest standards," says Pamela Wickkiser, Senior Director of Ancillary Services. Pam notes that the ARDMS exam takes years of training and experience to acquire.
When asked why Beth chose to work at Ivinson, she said, ​"I've always really liked the community – I feel like we have a lot of diversity here." She also noted that Ivinson provided her some additional opportunities to continue her education, saying, ​"It was important to me to work somewhere I could continue learning Echo."
Beth says she is happiest when she is able to help others feel happy. ​"Just knowing that you made an impact in someone else's day – regardless of how small – it's always nice to know that something you did made a difference to them." Outside of work, Beth enjoys spending time outdoors in some of Laramie's surrounding recreational attractions. ​"I think a big stress reliever for me is just getting outside to go hiking or skiing. I definitely make quite a few trips up to Vedauwoo just to get outside."
We are proud to have people like Beth on the Ivinson team, and we are grateful for the care she provides to patients and members of our community. Thank you, Beth, and congratulations on this substantial achievement!