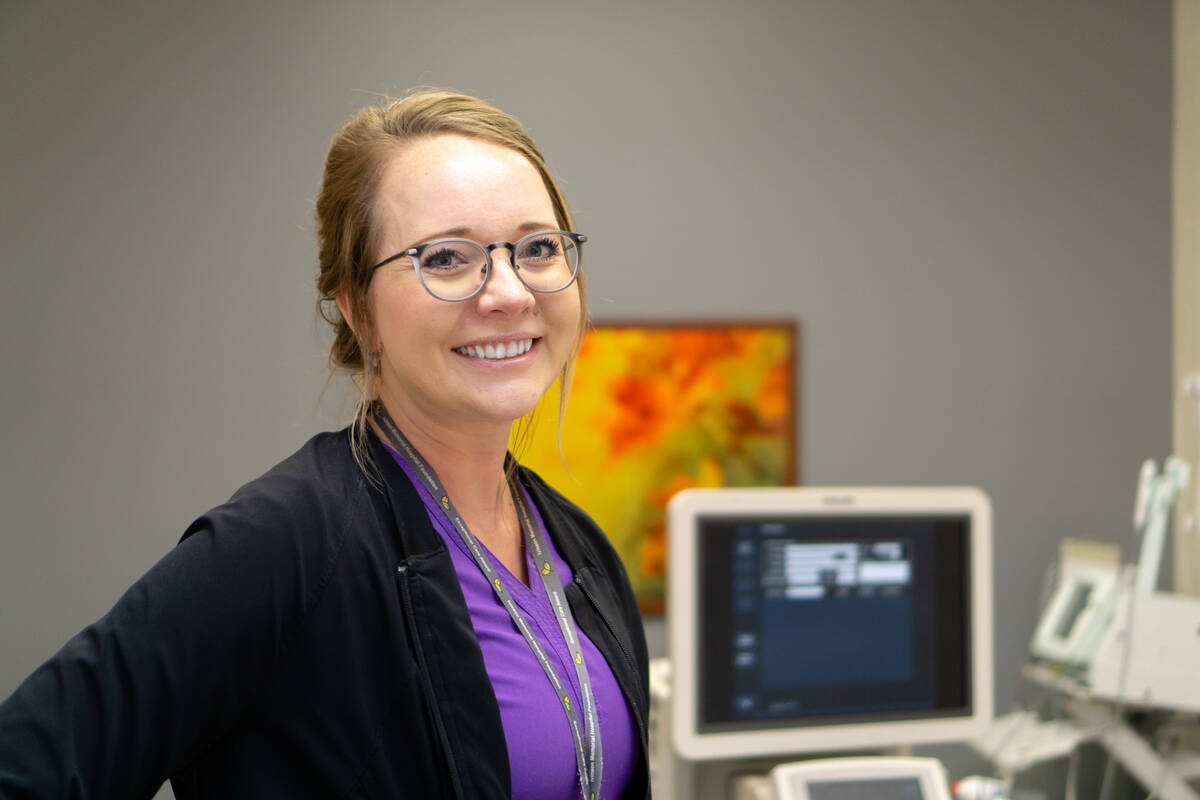 Employee Spotlight
Beth Christensen
Elizabeth (Beth) Christensen is a diagnostic medical sonographer (sometimes referred to as an ultrasound technologist,) in our Radiology and Imaging department.
Beth joined the Ivin­son team two years ago, and has recent­ly achieved her reg­istry in Adult Echocar­dio­g­ra­phy from the Amer­i­can Reg­istry for Diag­nos­tic Med­ical Sonog­ra­phy (ARDMS).
As a sono­g­ra­ph­er, Beth uses ultra­sound equip­ment to pro­duce inter­nal images of the body, which providers can then use to mon­i­tor and diag­nose the med­ical con­di­tion of the patient. Specif­i­cal­ly, with Beth's new reg­istry, she is qual­i­fied to pro­duce Echocar­dio­g­ra­phy (Echo) images of patients, though, many may not know what that entails. ​"Echo is ultra­sound of the heart," says Beth, which she notes is a more spe­cial­ized field of sonography.
Beth began as a gen­er­al ultra­sound tech­nol­o­gist, which gave her the oppor­tu­ni­ty to work with dif­fer­ent types of patients, and build a greater under­stand­ing of the field. ​"Once I start­ed learn­ing [Echo] I thought, ​'this is awe­some, I want to do more!'"
Beth says she took a lot of time to study and pre­pare to take the Echo reg­istry exam, and was par­tial­ly inspired by a few of her co-work­ers who also hold these spe­cial­ized cer­ti­fi­ca­tions. ​"I think that Ran­di real­ly inspired me – she knows Echo, Ultra­sound, CT and X‑RAY… It's real­ly inspir­ing watch­ing her, and she's such a great teacher too," says Beth.
To obtain the ARDMS cer­ti­fi­ca­tion, med­ical pro­fes­sion­als must pass a rig­or­ous exam­i­na­tion that tests both their knowl­edge of sonog­ra­phy and their prac­ti­cal, real-world skills in sonog­ra­phy. ​"When a sonog­ra­phy pro­fes­sion­al holds cer­ti­fi­ca­tion from ARDMS, you know that they are ded­i­cat­ed to pro­vid­ing high-qual­i­ty care and meet­ing the high­est stan­dards," says Pamela Wick­kiser, Senior Direc­tor of Ancil­lary Ser­vices. Pam notes that the ARDMS exam takes years of train­ing and expe­ri­ence to acquire.
When asked why Beth chose to work at Ivin­son, she said, ​"I've always real­ly liked the com­mu­ni­ty – I feel like we have a lot of diver­si­ty here." She also not­ed that Ivin­son pro­vid­ed her some addi­tion­al oppor­tu­ni­ties to con­tin­ue her edu­ca­tion, say­ing, ​"It was impor­tant to me to work some­where I could con­tin­ue learn­ing Echo."
Beth says she is hap­pi­est when she is able to help oth­ers feel hap­py. ​"Just know­ing that you made an impact in some­one else's day – regard­less of how small – it's always nice to know that some­thing you did made a dif­fer­ence to them." Out­side of work, Beth enjoys spend­ing time out­doors in some of Laramie's sur­round­ing recre­ation­al attrac­tions. ​"I think a big stress reliev­er for me is just get­ting out­side to go hik­ing or ski­ing. I def­i­nite­ly make quite a few trips up to Vedau­woo just to get outside."
We are proud to have peo­ple like Beth on the Ivin­son team, and we are grate­ful for the care she pro­vides to patients and mem­bers of our com­mu­ni­ty. Thank you, Beth, and con­grat­u­la­tions on this sub­stan­tial achievement!
sign up for our email newsletter