CEO Message
24 May 2020
Brighter Days Ahead
To our Laramie community:
In these past several months, we have been navigating historic times together. We have all taken on new roles and responsibilities for the health of our community. Homes have turned into home offices and classrooms, and businesses have gone online and curbside. Through this disruption to daily life, we have adapted and found new ways to get the job done.
At Ivinson, we have taken several steps towards a new normal. We have begun increasing outpatient services as well as scheduling non-emergent surgeries and procedures. Services are returning with additional safety measures. You can expect to be greeted by staff wearing masks. We are asking patients and visitors to bring their own mask when visiting Ivinson. If you do not have a mask, one will be available at temperature check stations where all patients and visitors are being screened. As we increase services and patients served at Ivinson, we remain diligent in safeguarding the health of our community. Ivinson is open, safe and ready to care for you and your loved ones.
Just as Ivinson has always been here for you, I'd like to thank you for being here for Ivinson. I have been witness to so many acts of kindness from the Laramie community despite the hardships many are facing. Thank you to the countless individuals and businesses that have rallied behind healthcare workers by donating meals, masks and supplies to our healthcare staff. You have made these dark times a little lighter for everyone.
As we have navigated our operations during COVID-19, we have also been working through the implementation of a new billing platform. We thank our patients for bearing with us as we iron out new processes. I personally apologize if you have been affected by these system changes. We are always looking at ways to improve the patient experience and that starts with finding areas where we can do better. For billing concerns please contact our patient financial services office at (307) 755‑4380. For concerns about patient care, please contact our Patient Care Advocate at (307) 755‑4623 so we can work together to meet your needs. As trusted partners in your health, we welcome your feedback.
Finally, I would like to thank our community for putting the health of others first. By following health guidelines we have endured the peak of COVID-19 and kept community spread to a minimum. It has not been an easy road but with everyone doing their part, we are moving forward. As businesses and public spaces begin to reopen, we must remain committed to taking precautions for our health and the health of our community. Continue washing your hands, practice physical distancing when possible and try to keep from touching your eyes, nose, mouth and other high touch surfaces.
Slowly, we will return to parks and playing fields enjoying family and friends. We have made it this far together, and there are brighter days ahead.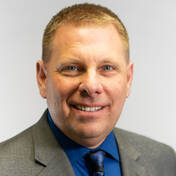 Doug Faus
Chief Executive Officer