Featured Story
Written by Breann Lujan-Halcon
Care Close to Home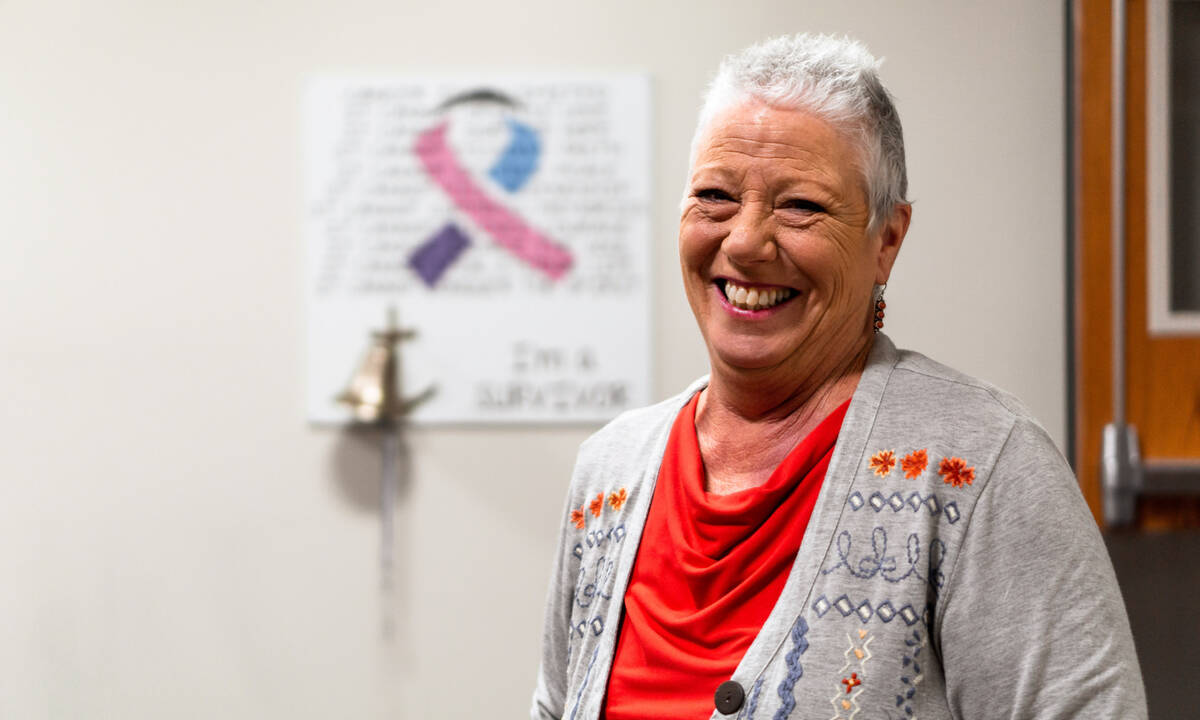 As a retired nurse, she had delivered babies, worked in hospice and nearly everything in between. Kim Hytrek is well seasoned in the ins and outs of nursing, but nothing could have prepared her for her own breast cancer diagnosis.

"I was diagnosed last November with a lump in my breast," Kim reflected back as she nears the end of her cancer treatment. ​"You think that being a nurse, you'd know what to expect but I really didn't."
Kim, a Rawlins local, had come from a big city a lifetime ago. When she received her diagnosis, she trusted her care to general surgeon Dr. Jack Ullrich and the team at the Meredith and Jeannie Ray Cancer Center right here in Laramie, Wyoming.
"I never wanted to go back to the big city," Kim said, having traveled 48 states she called Wyoming home and was determined to keep her care here as well. ​"Big city hospitals are wonderful but you are just a number, you never get this kind of individualized care. Here, they included me in my care."
Kim met with general surgeon Dr. Jack Ullrich to talk about her options. She knew she wanted all the facts up front. She wanted to know what she was dealing with. After never being sick a day in her life, Kim trusted in the experts at Ivinson to help her make an informed decision.
"You don't have to go far away to get expert care," Kim said. ​"You have the best at your fingertips, you don't have to go any further."
Following six months of chemotherapy, two surgeries and 30 treatments of radiation, Kim won her battle against breast cancer and her hair is growing back.

"Many women diagnosed with breast cancer do end up having some sort of surgery as part of their treatment," said medical oncology nurse, Cheryl Rogers. ​"There are several different surgical options that they will go over with our general surgeon. When patients are first diagnosed, they may not know whether or not they will want to have reconstructive surgery. Initially, they may just want to get rid of the cancer."
Patients are able to work with our local surgeon for a variety of breast surgeries from breast conservation to full double mastectomies.
"Afterwards, a patient would come to us at the Cancer Center and start chemotherapy," Cheryl said. ​"A lot of women with early stage cancer may not need chemotherapy. Depending on the type of cancer and the stage, they have different treatment options such as oral medication and endocrine therapy. Radiation therapy may also be necessary depending on how extensive the cancer is that they have."
Kim was taken aback by all the surgical and treatment options she had here at Ivinson and through the Meredith and Jeannie Ray Cancer Center. Despite being a veteran nurse herself, she had never undergone diagnostic testing, let alone an aggressive chemotherapy treatment.
"I think it's common for a patient first diagnosed with breast cancer to not know they have these treatment options," Cheryl said. ​"Some women hear the diagnosis of breast cancer and think, ​'I'm going to have to have chemo', and that's not always the case. Or, ​'I have to have a mastectomy' and that may not be the case. We aim to keep our patients informed and enable them to make a really informed decision with all the information laid out before them."
Cheryl, is a breast cancer survivor herself. Before joining the Meredith and Jeannie Ray Cancer Center, she was a patient and a critical care nurse. Coming from a bustling metropolitan city in Texas, she chose to keep her care local.
"I think that one thing that people don't understand about when you are diagnosed with cancer, any kind of cancer, is that there are guidelines and there are standards that are based upon trials and studies that have been done over the years. That determines what your course of treatment is going to be," Cheryl said after having sat in the treatment chair herself. ​"The drug treatments you would receive at a larger hospital are the same ones you can get right here in Laramie."
As an oncology nurse, Cheryl now uses her experience to help the next patient sitting in the treatment chair.
"If I have to tell a patient who has been newly diagnosed anything, it is that you are going to get through this," Cheryl said. ​"I hope that having me sit across the table from them, or in the exam room with them or hanging their first round of chemo, I hope that knowing my story, will give them some hope to know that they can get through this."
Cheryl is one of four nurses in the Cancer Center trained to fit prosthetics in the Meredith and Jeannie Ray Breast Boutique. The boutique is funded through a state grant from the Wyoming Breast Cancer Initiative that helps breast cancer patients by providing camisoles, wigs, hats, scarves and prosthetics at no charge to the patient. With the addition of the Cancer Center's survivorship program, the team is helping patients through every stage of treatment, recovery and beyond.
"We have to move on as cancer patients and claim our life back to help the next person," Kim said on her last day of radiation treatment. ​"That's what I'm hoping to do."

sign up for our email newsletter