Featured Story
Written by Breann Lujan-Halcon
Care Close to Home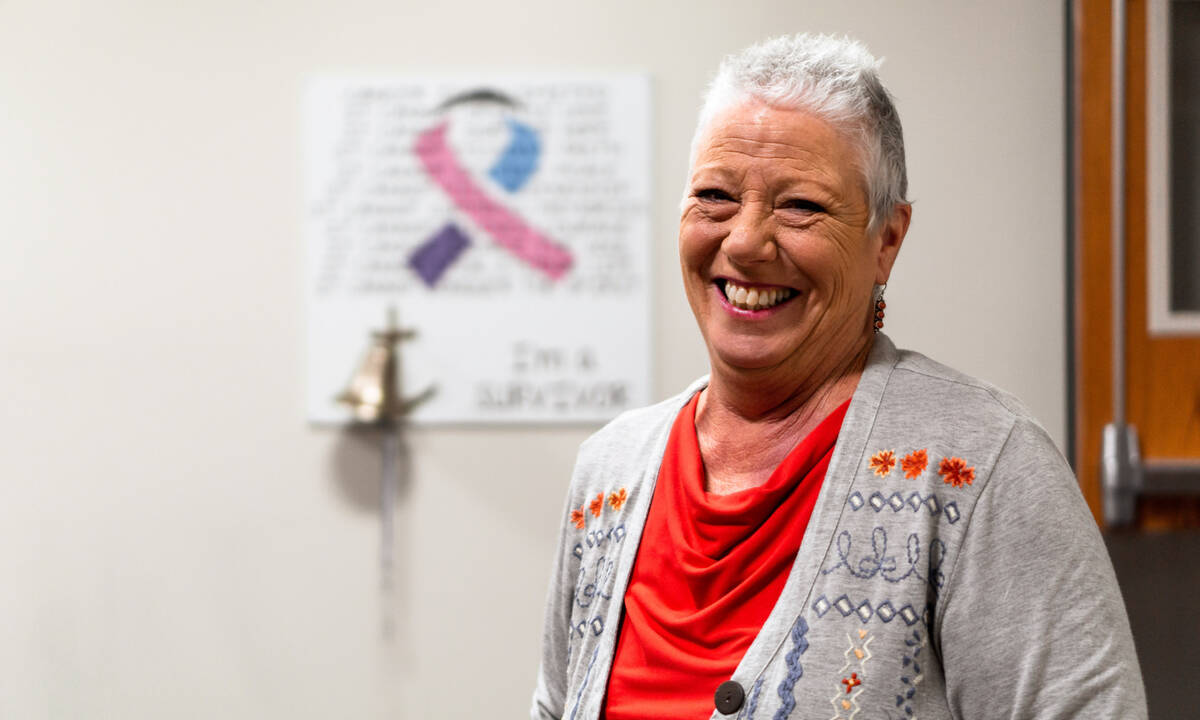 As a retired nurse, she had deliv­ered babies, worked in hos­pice and near­ly every­thing in between. Kim Hytrek is well sea­soned in the ins and outs of nurs­ing, but noth­ing could have pre­pared her for her own breast can­cer diagnosis.

"I was diag­nosed last Novem­ber with a lump in my breast," Kim reflect­ed back as she nears the end of her can­cer treat­ment. ​"You think that being a nurse, you'd know what to expect but I real­ly didn't."
Kim, a Rawl­ins local, had come from a big city a life­time ago. When she received her diag­no­sis, she trust­ed her care to gen­er­al sur­geon Dr. Jack Ull­rich and the team at the Mered­ith and Jean­nie Ray Can­cer Cen­ter right here in Laramie, Wyoming.
"I nev­er want­ed to go back to the big city," Kim said, hav­ing trav­eled 48 states she called Wyoming home and was deter­mined to keep her care here as well. ​"Big city hos­pi­tals are won­der­ful but you are just a num­ber, you nev­er get this kind of indi­vid­u­al­ized care. Here, they includ­ed me in my care."
Kim met with gen­er­al sur­geon Dr. Jack Ull­rich to talk about her options. She knew she want­ed all the facts up front. She want­ed to know what she was deal­ing with. After nev­er being sick a day in her life, Kim trust­ed in the experts at Ivin­son to help her make an informed decision.
"You don't have to go far away to get expert care," Kim said. ​"You have the best at your fin­ger­tips, you don't have to go any further."
Fol­low­ing six months of chemother­a­py, two surg­eries and 30 treat­ments of radi­a­tion, Kim won her bat­tle against breast can­cer and her hair is grow­ing back.

"Many women diag­nosed with breast can­cer do end up hav­ing some sort of surgery as part of their treat­ment," said med­ical oncol­o­gy nurse, Cheryl Rogers. ​"There are sev­er­al dif­fer­ent sur­gi­cal options that they will go over with our gen­er­al sur­geon. When patients are first diag­nosed, they may not know whether or not they will want to have recon­struc­tive surgery. Ini­tial­ly, they may just want to get rid of the cancer."
Patients are able to work with our local sur­geon for a vari­ety of breast surg­eries from breast con­ser­va­tion to full dou­ble mastectomies.
"After­wards, a patient would come to us at the Can­cer Cen­ter and start chemother­a­py," Cheryl said. ​"A lot of women with ear­ly stage can­cer may not need chemother­a­py. Depend­ing on the type of can­cer and the stage, they have dif­fer­ent treat­ment options such as oral med­ica­tion and endocrine ther­a­py. Radi­a­tion ther­a­py may also be nec­es­sary depend­ing on how exten­sive the can­cer is that they have."
Kim was tak­en aback by all the sur­gi­cal and treat­ment options she had here at Ivin­son and through the Mered­ith and Jean­nie Ray Can­cer Cen­ter. Despite being a vet­er­an nurse her­self, she had nev­er under­gone diag­nos­tic test­ing, let alone an aggres­sive chemother­a­py treatment.
"I think it's com­mon for a patient first diag­nosed with breast can­cer to not know they have these treat­ment options," Cheryl said. ​"Some women hear the diag­no­sis of breast can­cer and think, ​'I'm going to have to have chemo', and that's not always the case. Or, ​'I have to have a mas­tec­to­my' and that may not be the case. We aim to keep our patients informed and enable them to make a real­ly informed deci­sion with all the infor­ma­tion laid out before them."
Cheryl, is a breast can­cer sur­vivor her­self. Before join­ing the Mered­ith and Jean­nie Ray Can­cer Cen­ter, she was a patient and a crit­i­cal care nurse. Com­ing from a bustling met­ro­pol­i­tan city in Texas, she chose to keep her care local.
"I think that one thing that peo­ple don't under­stand about when you are diag­nosed with can­cer, any kind of can­cer, is that there are guide­lines and there are stan­dards that are based upon tri­als and stud­ies that have been done over the years. That deter­mines what your course of treat­ment is going to be," Cheryl said after hav­ing sat in the treat­ment chair her­self. ​"The drug treat­ments you would receive at a larg­er hos­pi­tal are the same ones you can get right here in Laramie."
As an oncol­o­gy nurse, Cheryl now uses her expe­ri­ence to help the next patient sit­ting in the treat­ment chair.
"If I have to tell a patient who has been new­ly diag­nosed any­thing, it is that you are going to get through this," Cheryl said. ​"I hope that hav­ing me sit across the table from them, or in the exam room with them or hang­ing their first round of chemo, I hope that know­ing my sto­ry, will give them some hope to know that they can get through this."
Cheryl is one of four nurs­es in the Can­cer Cen­ter trained to fit pros­thet­ics in the Mered­ith and Jean­nie Ray Breast Bou­tique. The bou­tique is fund­ed through a state grant from the Wyoming Breast Can­cer Ini­tia­tive that helps breast can­cer patients by pro­vid­ing camisoles, wigs, hats, scarves and pros­thet­ics at no charge to the patient. With the addi­tion of the Can­cer Center's sur­vivor­ship pro­gram, the team is help­ing patients through every stage of treat­ment, recov­ery and beyond.
"We have to move on as can­cer patients and claim our life back to help the next per­son," Kim said on her last day of radi­a­tion treat­ment. ​"That's what I'm hop­ing to do."

sign up for our email newsletter