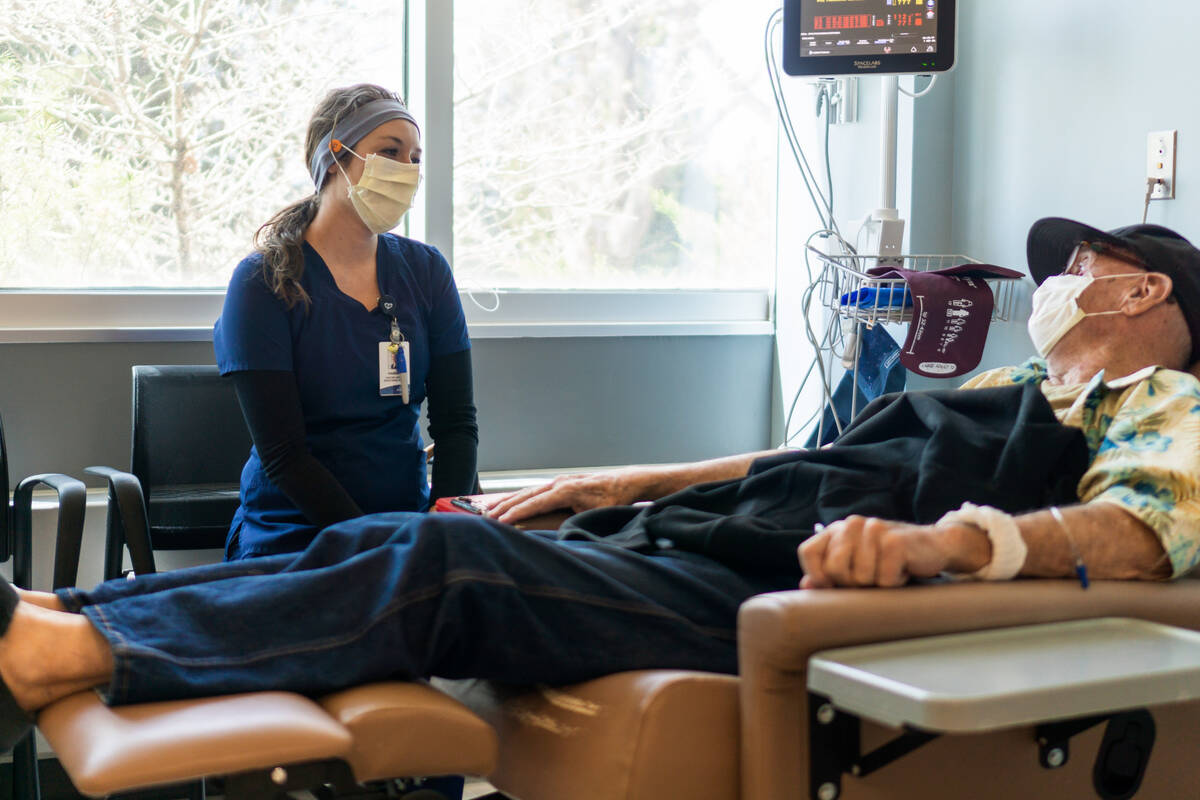 Department Spotlight
Crushing Cancer During COVID
Cancer never takes a break and neither does the Cancer Center staff.
Patient care at Ivin­son has always been per­son­al. Our patients are our neigh­bors, friends, coach­es, teach­ers and impor­tant pieces of our community.
At the Mered­ith and Jean­nie Ray Can­cer Cen­ter, patients are fam­i­ly. Staff know you by name, they hold your hand on the bad days, cheer with you on the good days and are always your num­ber one fan.
Since coro­n­avirus, care looks dif­fer­ent at Ivin­son and in the Can­cer Cen­ter. You may not be able to see the smiles behind the masks but patient care remains as per­son­al as ever.
"We have been pre-vis­it plan­ning with patients over the phone the day before their appoint­ments so they know what to expect," said Can­cer Cen­ter Direc­tor Amy Smith. ​"We have the most vul­ner­a­ble patient pop­u­la­tion and because of that we are tak­ing all the extra pre­cau­tions we can."
For patients that need to be seen in clin­ic, staff have pre­pared to lim­it patient expo­sure as much as pos­si­ble. Upon arrival, patients have their tem­per­a­ture tak­en and bypass the wait­ing room to pro­ceed direct­ly into their appoint­ment. Those pre­sent­ing to the Can­cer Cen­ter with symp­toms or a tem­per­a­ture of 99 degrees or above are being treat­ed in the iso­la­tion room and han­dled with addi­tion­al safe­ty measures.
"We are pro­vid­ing extra screen­ing for all of our chemo patients because the symp­toms relat­ed to their treat­ment and the symp­toms of COVID can be sim­i­lar to each oth­er," explains Amy.
Patients that are not cur­rent­ly receiv­ing infu­sions or radi­a­tion are fol­low­ing up via vir­tu­al vis­its. Both staff and patients have been work­ing out the vir­tu­al kinks to ensure that every patient is receiv­ing the same per­son­al­ized care with a lit­tle help from technology.
"The hard­est part for my staff is not being able to hug our patients. Not being able to hold their hand and com­fort them. We excel at mak­ing patients feel loved and sup­port­ed" said Amy. ​"Every­thing else, all the oth­er changes we take in stride."
Despite phys­i­cal dis­tanc­ing efforts, Can­cer Cen­ter staff con­tin­ue to be their patients' num­ber one fans. Under­stand­ing the health risk of their patient pop­u­la­tion, Amy reports height­ened aware­ness among staff to adhere to health orders and phys­i­cal dis­tanc­ing recommendations.
"The big ques­tion for every­one is, what is the new nor­mal?" Amy said. ​"What we, as a team, have been express­ing is that this is not about us, it is about our patients and sav­ing lives."
What­ev­er this new nor­mal brings, patients can con­tin­ue to expect world-class care. When you walk into the Mered­ith and Jean­nie Ray Can­cer Cen­ter, the staff will know your name, they will still be here on your bad days and on the good ones, too, they will help cheer on your vic­to­ries and get you over the hump. Can­cer does not stop because of a pan­dem­ic, and nei­ther will your team at the Can­cer Center.
sign up for our email newsletter