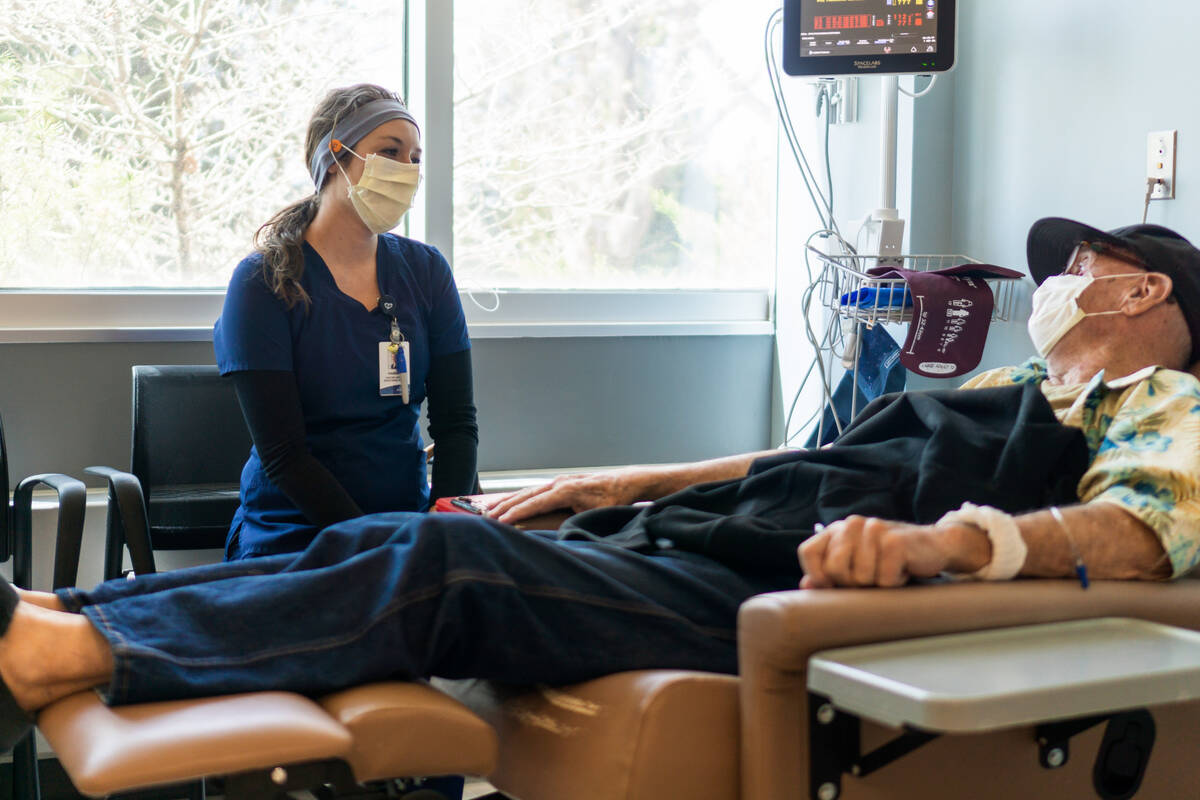 Department Spotlight
6 May 2020
Crushing Cancer During COVID
Cancer never takes a break and neither does the Cancer Center staff.
Patient care at Ivinson has always been personal. Our patients are our neighbors, friends, coaches, teachers and important pieces of our community.
At the Meredith and Jeannie Ray Cancer Center, patients are family. Staff know you by name, they hold your hand on the bad days, cheer with you on the good days and are always your number one fan.
Since coronavirus, care looks different at Ivinson and in the Cancer Center. You may not be able to see the smiles behind the masks but patient care remains as personal as ever.
"We have been pre-visit planning with patients over the phone the day before their appointments so they know what to expect," said Cancer Center Director Amy Smith. ​"We have the most vulnerable patient population and because of that we are taking all the extra precautions we can."
For patients that need to be seen in clinic, staff have prepared to limit patient exposure as much as possible. Upon arrival, patients have their temperature taken and bypass the waiting room to proceed directly into their appointment. Those presenting to the Cancer Center with symptoms or a temperature of 99 degrees or above are being treated in the isolation room and handled with additional safety measures.
"We are providing extra screening for all of our chemo patients because the symptoms related to their treatment and the symptoms of COVID can be similar to each other," explains Amy.
Patients that are not currently receiving infusions or radiation are following up via virtual visits. Both staff and patients have been working out the virtual kinks to ensure that every patient is receiving the same personalized care with a little help from technology.
"The hardest part for my staff is not being able to hug our patients. Not being able to hold their hand and comfort them. We excel at making patients feel loved and supported" said Amy. ​"Everything else, all the other changes we take in stride."
Despite physical distancing efforts, Cancer Center staff continue to be their patients' number one fans. Understanding the health risk of their patient population, Amy reports heightened awareness among staff to adhere to health orders and physical distancing recommendations.
"The big question for everyone is, what is the new normal?" Amy said. ​"What we, as a team, have been expressing is that this is not about us, it is about our patients and saving lives."
Whatever this new normal brings, patients can continue to expect world-class care. When you walk into the Meredith and Jeannie Ray Cancer Center, the staff will know your name, they will still be here on your bad days and on the good ones, too, they will help cheer on your victories and get you over the hump. Cancer does not stop because of a pandemic, and neither will your team at the Cancer Center.