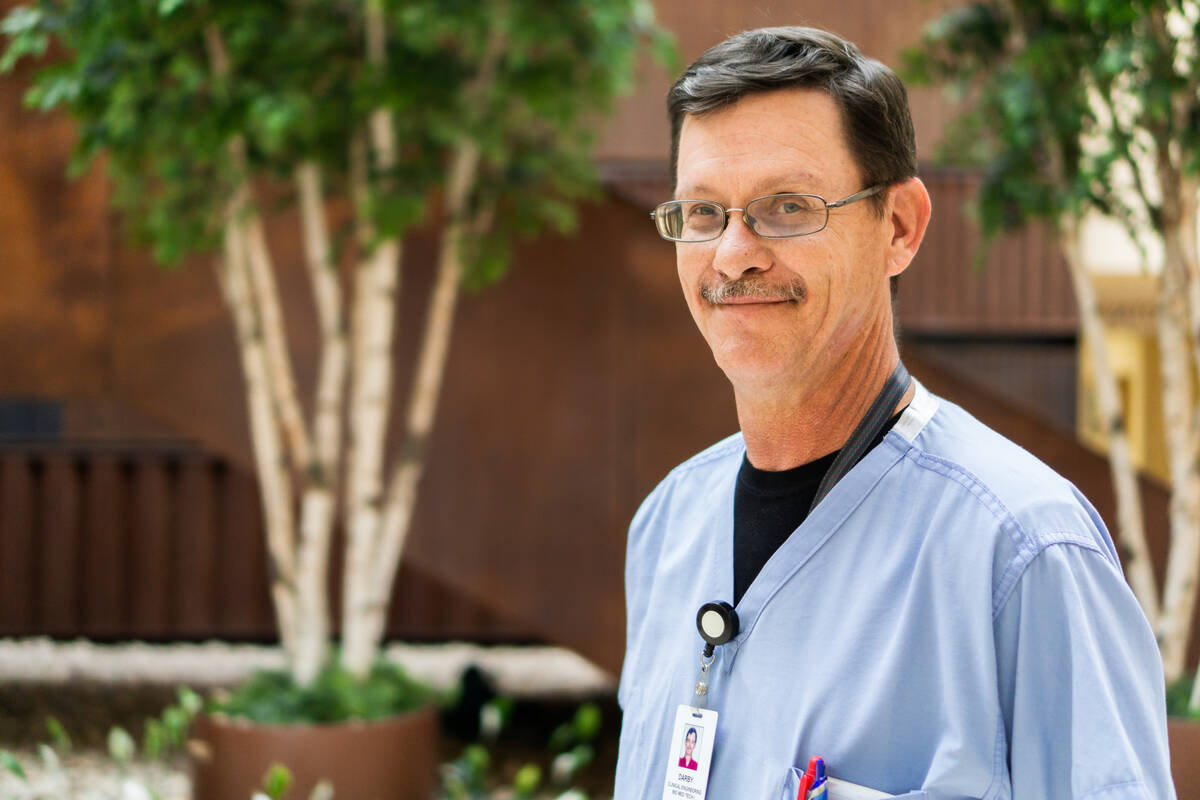 Employee Spotlight
13 February 2020
Darby Truman
Darby Truman is a Bio Med Tech in Ivinson's Clinical Engineering department.
In the three and a half years that Darby has been with Ivinson he has always been on the go. ​"I wanted to get in the door," Darby recalls. ​"I wanted to get into an entry level position. My plans were always to move up."
Darby joined Ivinson as an environmental services technician. Previously, he had spent 10 years in Nebraska, working as an electrician. Feeling that he had hit his ceiling, he came to Laramie to be closer to family. His sister had recommended Ivinson as a great place to work and advance.

He soon transferred to Engineering and Facilities. ​"I was an engineering tech, but the reason I got in there was because I have a journeyman electrical license."
While working in Engineering, he was able to offer his electrical expertise. It is a project he takes a lot of pride in, knowing he was able to step in and make a difference.
"The electrician was gone for about a month, right when a lot was going on with the lab. So I stepped in. I was able to do a lot of electrical stuff because that was my forte."
In Engineering, Darby thought he had done what he had set out to do, join the company and move into a position he excels at. Little did he know that he wasn't done there. Always willing to take on new challenges and work with his hands, Darby has taken on a role in Clinical Engineering as a Bio Med Tech.
"John had an opportunity. Bio med techs are scarce. They were having trouble finding someone and thought it might be worth the investment to train someone in-house. I guess I was the best candidate and I jumped at that opportunity."
It was the perfect opportunity for him to continue to advance while learning new things and making a difference.
"Anytime I fix something and it works, I take pride in that. It's fun to take things apart, fix them, put them back together."
In his current work, Darby is learning about the latest medical equipment. His training will be extensive but he is up to the challenge.
"Biomed is more electronics instead of electricity. I was interested in getting into the electronic aspect of it. I thought my path was moving toward an electrician. This thing just kind of came up and I'm glad it did."
Outside of work Darby enjoys cooking and is often asked to bring his twice baked potatoes to social gatherings.
In the morning, he can be found doing tai-chi. The ​"meditation in motion" is a way he gets himself ready for the day and in the right state of mind to take on whatever obstacle awaits him at work.
"My work philosophy is, work is hard but it's easier if you have a better attitude."