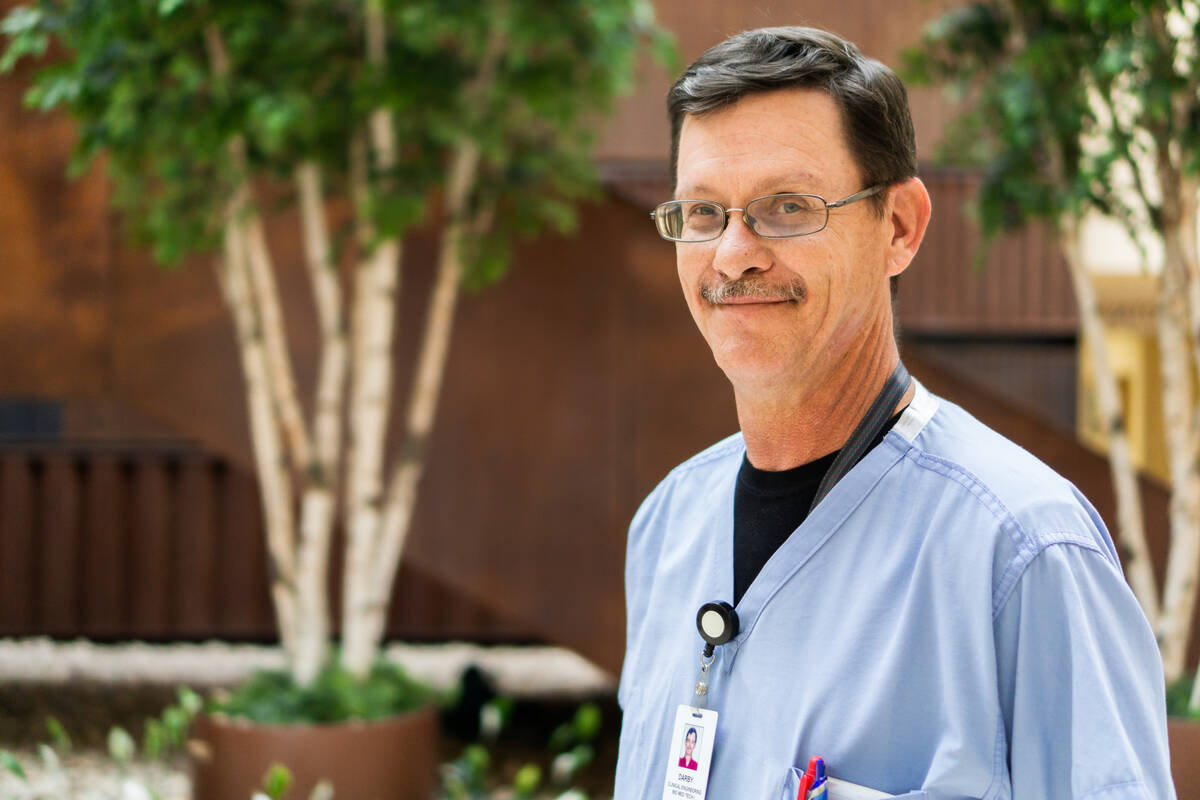 Employee Spotlight
Darby Truman
Darby Truman is a Bio Med Tech in Ivinson's Clinical Engineering department.
In the three and a half years that Dar­by has been with Ivin­son he has always been on the go. ​"I want­ed to get in the door," Dar­by recalls. ​"I want­ed to get into an entry lev­el posi­tion. My plans were always to move up."
Dar­by joined Ivin­son as an envi­ron­men­tal ser­vices tech­ni­cian. Pre­vi­ous­ly, he had spent 10 years in Nebras­ka, work­ing as an elec­tri­cian. Feel­ing that he had hit his ceil­ing, he came to Laramie to be clos­er to fam­i­ly. His sis­ter had rec­om­mend­ed Ivin­son as a great place to work and advance.

He soon trans­ferred to Engi­neer­ing and Facil­i­ties. ​"I was an engi­neer­ing tech, but the rea­son I got in there was because I have a jour­ney­man elec­tri­cal license."
While work­ing in Engi­neer­ing, he was able to offer his elec­tri­cal exper­tise. It is a project he takes a lot of pride in, know­ing he was able to step in and make a difference.
"The elec­tri­cian was gone for about a month, right when a lot was going on with the lab. So I stepped in. I was able to do a lot of elec­tri­cal stuff because that was my forte."
In Engi­neer­ing, Dar­by thought he had done what he had set out to do, join the com­pa­ny and move into a posi­tion he excels at. Lit­tle did he know that he wasn't done there. Always will­ing to take on new chal­lenges and work with his hands, Dar­by has tak­en on a role in Clin­i­cal Engi­neer­ing as a Bio Med Tech.
"John had an oppor­tu­ni­ty. Bio med techs are scarce. They were hav­ing trou­ble find­ing some­one and thought it might be worth the invest­ment to train some­one in-house. I guess I was the best can­di­date and I jumped at that opportunity."
It was the per­fect oppor­tu­ni­ty for him to con­tin­ue to advance while learn­ing new things and mak­ing a difference.
"Any­time I fix some­thing and it works, I take pride in that. It's fun to take things apart, fix them, put them back together."
In his cur­rent work, Dar­by is learn­ing about the lat­est med­ical equip­ment. His train­ing will be exten­sive but he is up to the challenge.
"Bio­med is more elec­tron­ics instead of elec­tric­i­ty. I was inter­est­ed in get­ting into the elec­tron­ic aspect of it. I thought my path was mov­ing toward an elec­tri­cian. This thing just kind of came up and I'm glad it did."
Out­side of work Dar­by enjoys cook­ing and is often asked to bring his twice baked pota­toes to social gatherings.
In the morn­ing, he can be found doing tai-chi. The ​"med­i­ta­tion in motion" is a way he gets him­self ready for the day and in the right state of mind to take on what­ev­er obsta­cle awaits him at work.
"My work phi­los­o­phy is, work is hard but it's eas­i­er if you have a bet­ter attitude."
sign up for our email newsletter