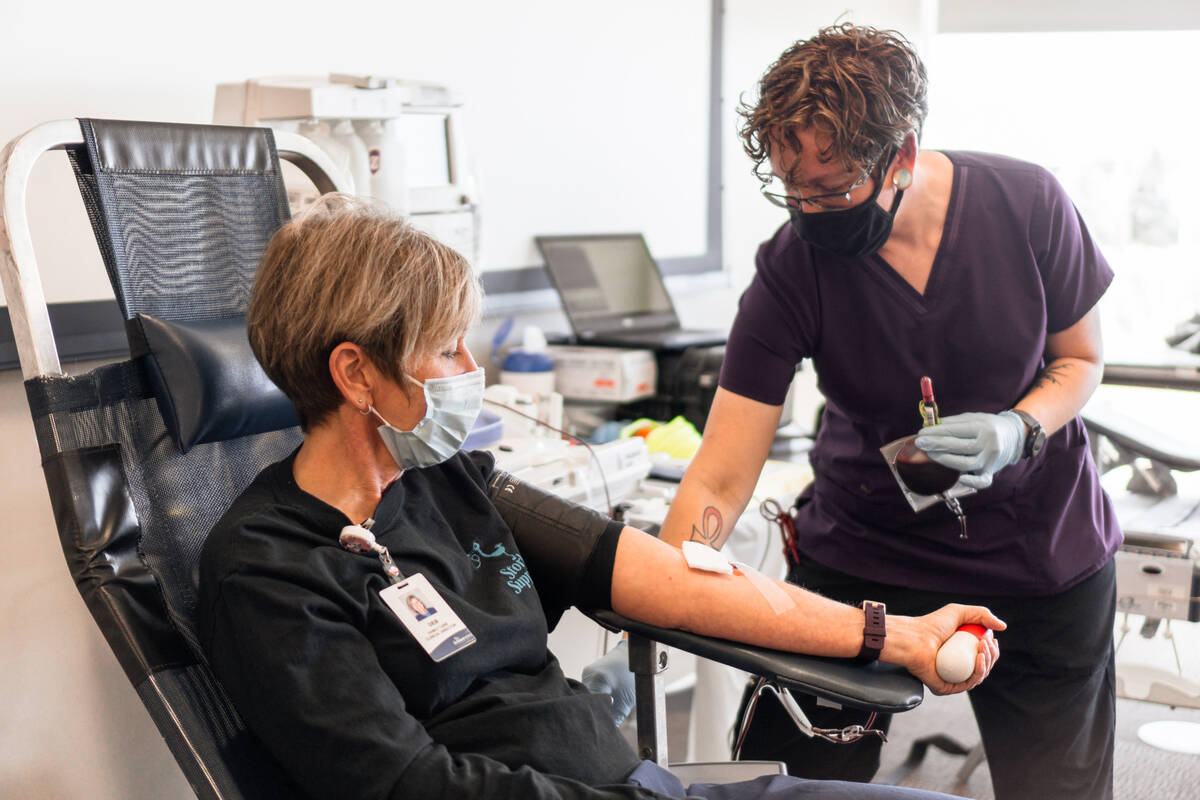 Featured Story
Written by Breann Lujan-Halcon
Donating for a Cause
Ivinson employees regularly support local blood drives, donating at Ivinson and within our community.
Kick­ing off Nation­al Blood Donor Month, Vita­lant in part­ner­ship with Ivin­son, are work­ing to save lives through blood donations.
Across the coun­try, near­ly 1,400 blood dri­ves in Decem­ber and Jan­u­ary, rep­re­sent­ing about 33,000 antic­i­pat­ed dona­tions, have been forced to can­cel because of COVID-19.
Patients rely on the gen­eros­i­ty of blood donors to recov­er, heal and thrive. Trau­ma and burn patients, pre­ma­ture infants, heart surgery patients, organ trans­plant recip­i­ents and patients fight­ing can­cer all require blood trans­fu­sions for their care. That care does not pause for the hol­i­days or stop dur­ing a glob­al pandemic.
Although COVID-19 has kept var­i­ous blood dri­ves from hap­pen­ing with­in the com­mu­ni­ty, Vita­lant, with the help of Ivin­son, has been able to offer an in-house blood dri­ve to Ivin­son employ­ees. In the last month, Vita­lant has vis­it­ed Ivin­son twice, both days ren­der­ing full sched­ules of employ­ees lin­ing up to donate.
Of those employ­ees was Radi­ol­o­gy Man­ag­er, George Semen­ov. In the Army, George learned he was a uni­ver­sal donor, mean­ing his blood type O neg­a­tive, can be used in trans­fu­sions for patients of any blood type.
"The first time I donat­ed blood I was 23 or 24 and the blood dona­tion cen­ter told me that my blood was going to help babies," George recalled. Since learn­ing how his blood can help oth­ers, George has rou­tine­ly donat­ed his blood.
"I've seen what hap­pens and why peo­ple need blood in the oper­at­ing room or the emer­gency room and it real­ly hits home for me," George said since enter­ing the med­ical field. ​"You nev­er know when the next dis­as­ter or short­age is going to hap­pen or why YOU might need it one day."
Con­va­les­cent Plasma
When Vita­lant col­lects blood dona­tions, blood is test­ed not only for blood type, but now all blood dona­tions are test­ed for COVID-19 anti­bod­ies to help iden­ti­fy poten­tial con­va­les­cent plas­ma donors.
Donors who've recov­ered from COVID-19 have been encour­aged to donate due to the rise in demand for con­va­les­cent plas­ma. Con­va­les­cent plas­ma con­tains anti­bod­ies that can be used to treat patients with an active, severe COVID-19 case and give them an extra boost to fight their illness.
For Patient Access Sched­ul­ing Super­vi­sor, Koren Clark, that was rea­son enough to donate.
"I've always want­ed to donate blood," Koren said as she pre­pared to donate for the first time. ​"But after learn­ing about con­va­les­cent plas­ma, I want­ed to donate even more."
Koren test­ed pos­i­tive for COVID-19 over Thanks­giv­ing. After a case of pneu­mo­nia had put her in the hos­pi­tal for 10 days over the sum­mer, Koren was wor­ried she would catch the worst of COVID-19. For­tu­nate­ly, Koren was able to report back to work 14 days lat­er after an unevent­ful bout with COVID-19.
At Ivin­son, con­va­les­cent plas­ma is obtained through Vita­lant. For employ­ees at Ivin­son, that meant their dona­tion could help the very patients they care for directly.
"I think it's great," Koren said. ​"We are here to help patients any way we can and here is anoth­er way we are able to do that."
With each con­va­les­cent plas­ma dona­tion, donors can share their pow­er­ful anti­bod­ies with up to four patients still fight­ing the dis­ease. These trans­fu­sions are vital to COVID-19 patients.
For addi­tion­al infor­ma­tion about con­va­les­cent plas­ma, vis­it vita​lant​.org/​C​O​V​I​D​R​e​s​c​u​eTeam or call 866-CV-PLS­MA (866−287−5762).
In the U.S., approx­i­mate­ly 36,000 units of red blood cells are need­ed every day by hos­pi­tals, sur­gi­cal cen­ters and emer­gency rooms. Make a dif­fer­ence in the lives of oth­ers by donat­ing blood near you.
sign up for our email newsletter