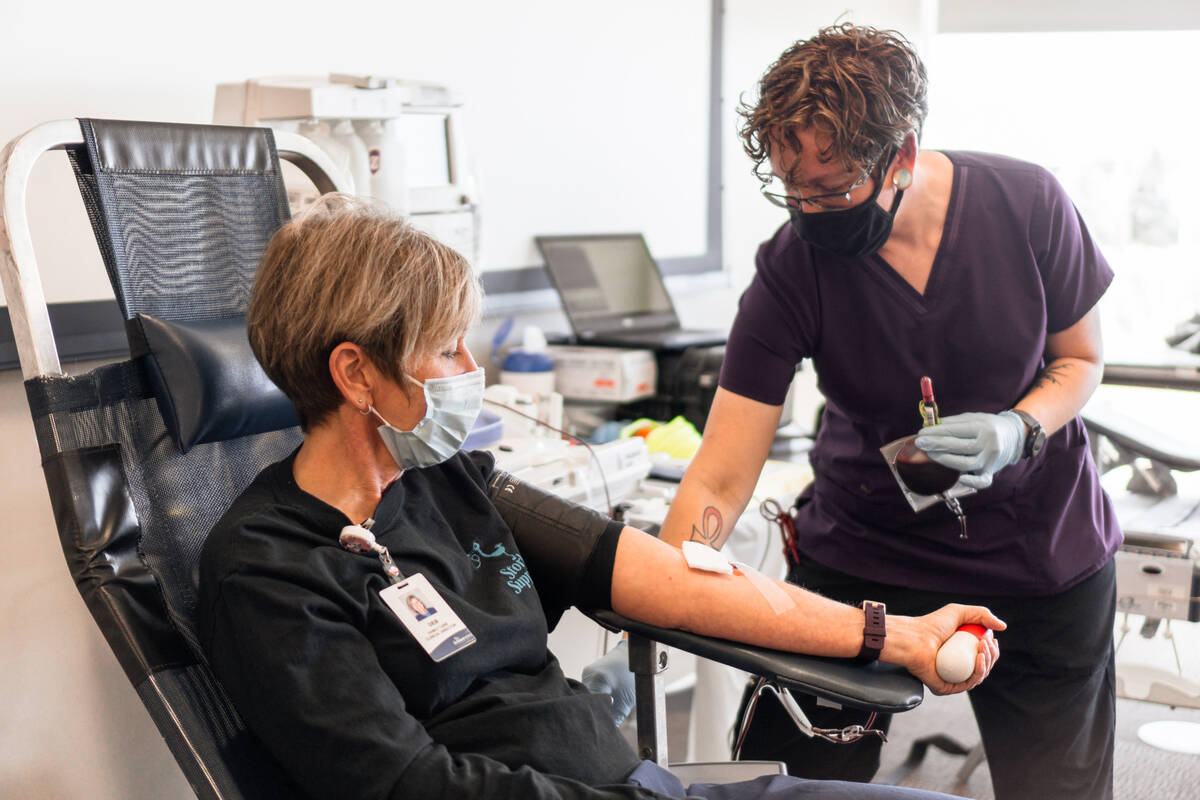 Featured Story
13 January 2021
Donating for a Cause
Written by Breann Lujan-Halcon
Ivinson employees regularly support local blood drives, donating at Ivinson and within our community.
Kicking off National Blood Donor Month, Vitalant in partnership with Ivinson, are working to save lives through blood donations.
Across the country, nearly 1,400 blood drives in December and January, representing about 33,000 anticipated donations, have been forced to cancel because of COVID-19.
Patients rely on the generosity of blood donors to recover, heal and thrive. Trauma and burn patients, premature infants, heart surgery patients, organ transplant recipients and patients fighting cancer all require blood transfusions for their care. That care does not pause for the holidays or stop during a global pandemic.
Although COVID-19 has kept various blood drives from happening within the community, Vitalant, with the help of Ivinson, has been able to offer an in-house blood drive to Ivinson employees. In the last month, Vitalant has visited Ivinson twice, both days rendering full schedules of employees lining up to donate.
Of those employees was Radiology Manager, George Semenov. In the Army, George learned he was a universal donor, meaning his blood type O negative, can be used in transfusions for patients of any blood type.
"The first time I donated blood I was 23 or 24 and the blood donation center told me that my blood was going to help babies," George recalled. Since learning how his blood can help others, George has routinely donated his blood.
"I've seen what happens and why people need blood in the operating room or the emergency room and it really hits home for me," George said since entering the medical field. ​"You never know when the next disaster or shortage is going to happen or why YOU might need it one day."
Convalescent Plasma
When Vitalant collects blood donations, blood is tested not only for blood type, but now all blood donations are tested for COVID-19 antibodies to help identify potential convalescent plasma donors.
Donors who've recovered from COVID-19 have been encouraged to donate due to the rise in demand for convalescent plasma. Convalescent plasma contains antibodies that can be used to treat patients with an active, severe COVID-19 case and give them an extra boost to fight their illness.
For Patient Access Scheduling Supervisor, Koren Clark, that was reason enough to donate.
"I've always wanted to donate blood," Koren said as she prepared to donate for the first time. ​"But after learning about convalescent plasma, I wanted to donate even more."
Koren tested positive for COVID-19 over Thanksgiving. After a case of pneumonia had put her in the hospital for 10 days over the summer, Koren was worried she would catch the worst of COVID-19. Fortunately, Koren was able to report back to work 14 days later after an uneventful bout with COVID-19.
At Ivinson, convalescent plasma is obtained through Vitalant. For employees at Ivinson, that meant their donation could help the very patients they care for directly.
"I think it's great," Koren said. ​"We are here to help patients any way we can and here is another way we are able to do that."
With each convalescent plasma donation, donors can share their powerful antibodies with up to four patients still fighting the disease. These transfusions are vital to COVID-19 patients.
For additional information about convalescent plasma, visit vita​lant​.org/​C​O​V​I​D​R​e​s​c​u​eTeam or call 866-CV-PLSMA (866−287−5762).
In the U.S., approximately 36,000 units of red blood cells are needed every day by hospitals, surgical centers and emergency rooms. Make a difference in the lives of others by donating blood near you.