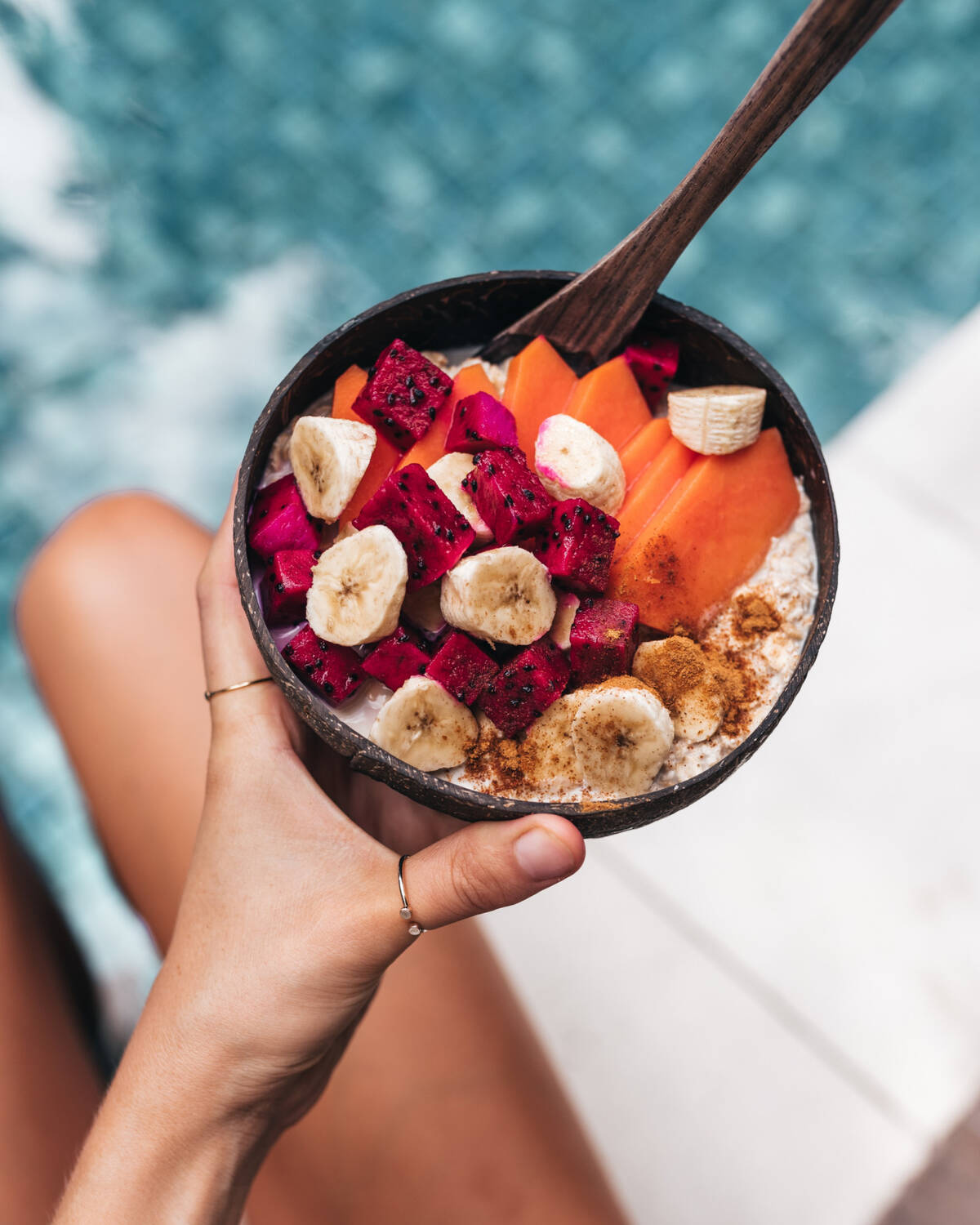 Featured Story
Written by Julie Lyon
Eating for Heart Health
During American Heart Month, we take time to evaluate the steps we can take to lead heart healthy lifestyles.
Feb­ru­ary is Heart Healthy Month. Cur­rent­ly, heart dis­ease is one of the lead­ing caus­es of death in the Unit­ed States of Amer­i­ca; approx­i­mate­ly 1 in every 4 of Amer­i­can deaths.
While some fac­tors, such as age, gen­der and fam­i­ly his­to­ry, can­not be con­trolled, many of the risk fac­tors for heart dis­ease are pre­ventable. Mak­ing minor changes to lifestyle, exer­cise and food choic­es while main­tain­ing a healthy weight can go a long way to reduce the risk for heart disease.
Keep in mind that reduc­ing the risk for heart dis­ease does not need to be com­pli­cat­ed. Speak­ing with a health­care provider and meet­ing with a reg­is­tered dietit­ian nutri­tion­ist can help low­er the risk by cre­at­ing an indi­vid­u­al­ized eat­ing, lifestyle, exer­cise and weight con­trol plan. Remem­ber, ​"Rome wasn't built in a day" and dietary habits do not have to change overnight. Mak­ing small week­ly goals can lead to bet­ter suc­cess in the long run. Intro­duc­ing the fol­low­ing guide­lines below can help achieve those goals.
Eat a Vari­ety of Healthy Foods
Over­all, a heart healthy eat­ing plan should focus on con­sum­ing a vari­ety of whole foods. The meal pat­tern should empha­size fruits and veg­eta­bles, whole grains, nuts and seeds, lean meats, with mod­er­ate con­sump­tion of dairy. It should lim­it red meats, processed foods, excess sug­ar, sat­u­rat­ed and trans fats and is low­er in salt. Diets that fit this pat­tern include the Mediter­ranean diet and the DASH diet.
Increase Fiber Intake
Con­sum­ing more fiber can help low­er unhealthy cho­les­terol mark­ers such as LDL cho­les­terol. It can also help a per­son to feel fuller longer, which can lead to bet­ter weight con­trol. Look for foods with whole grains and increase intake of fruits and veg­eta­bles. Aim for 25 grams of fiber for women, and 30 – 38 grams of fiber for men each day, and remem­ber to drink plen­ty of water.
Con­sume Less Sodium
The cur­rent rec­om­men­da­tion for all Amer­i­cans is 2300 mg of salt per day. The aver­age Amer­i­can cur­rent­ly con­sumes around 2 – 3x that amount per day. Easy ways to cut back?
-Avoid the salt shak­er at the table.
-Add more herbs and spices to fla­vor dishes
-Choos­ing foods with 300mg of sodi­um or less per serv­ing, with an over­all meal of 600 mg or less.
Remem­ber that salt is salt; it does not mat­ter what kind. It can take up to 2 months for taste buds to adjust to less sodium.
Choos­ing Healthy Fats
Unsat­u­rat­ed fats are fats found in a vari­ety of foods, like those found in salmon, olive oil and nuts and seeds. Unsat­u­rat­ed fats can increase ​"good" HDL cho­les­terol and low­er LDL cho­les­terol lev­els. Unsat­u­rat­ed fats can reduce inflam­ma­tion in the body and should be con­sumed more often.
Sat­u­rat­ed fats and trans fats are most often found in ani­mal-based pro­teins and high­ly processed or fried foods. These can raise LDL cho­les­terol that can con­tribute to clogged arter­ies and increase the risk for heart attack and stroke and should be limited.
Alco­hol in Moderation
If con­sum­ing alco­hol, it should be in mod­er­a­tion- cur­rent guide­lines are one stan­dard drink for women or two stan­dard drinks for men a day who are of legal drink­ing age. A stan­dard drink is 12 ounces of reg­u­lar beer, 5 ounces of wine or 1.5 ounces of spirits.
Remem­ber that it is the over­all pat­tern of choic­es that mat­ter, and small changes can lead to long term suc­cess­es. Fol­low­ing these guide­lines, along with exer­cise and weight con­trol can help to reduce or elim­i­nate risk fac­tors for heart disease.
Resources
1. Cen­ters for Dis­ease Con­trol and Pre­ven­tion. Heart Dis­ease Facts. CDC​.gov. https://​www​.cdc​.gov/​h​e​a​r​t​d​i​s​e​a​s​e​/​f​a​c​t​s.htm. Accessed Jan­u­ary 29, 2019.
2. 2015 – 2020 Dietary Guide­lines for Amer­i­cans. Health​.gov. 2020;8. https://​health​.gov/​d​i​e​t​a​r​y​g​u​i​d​e​l​i​n​e​s​/​2​0​1​5​/​g​u​i​d​e​l​ines/ Accessed Jan­u­ary 27, 2019.
sign up for our email newsletter