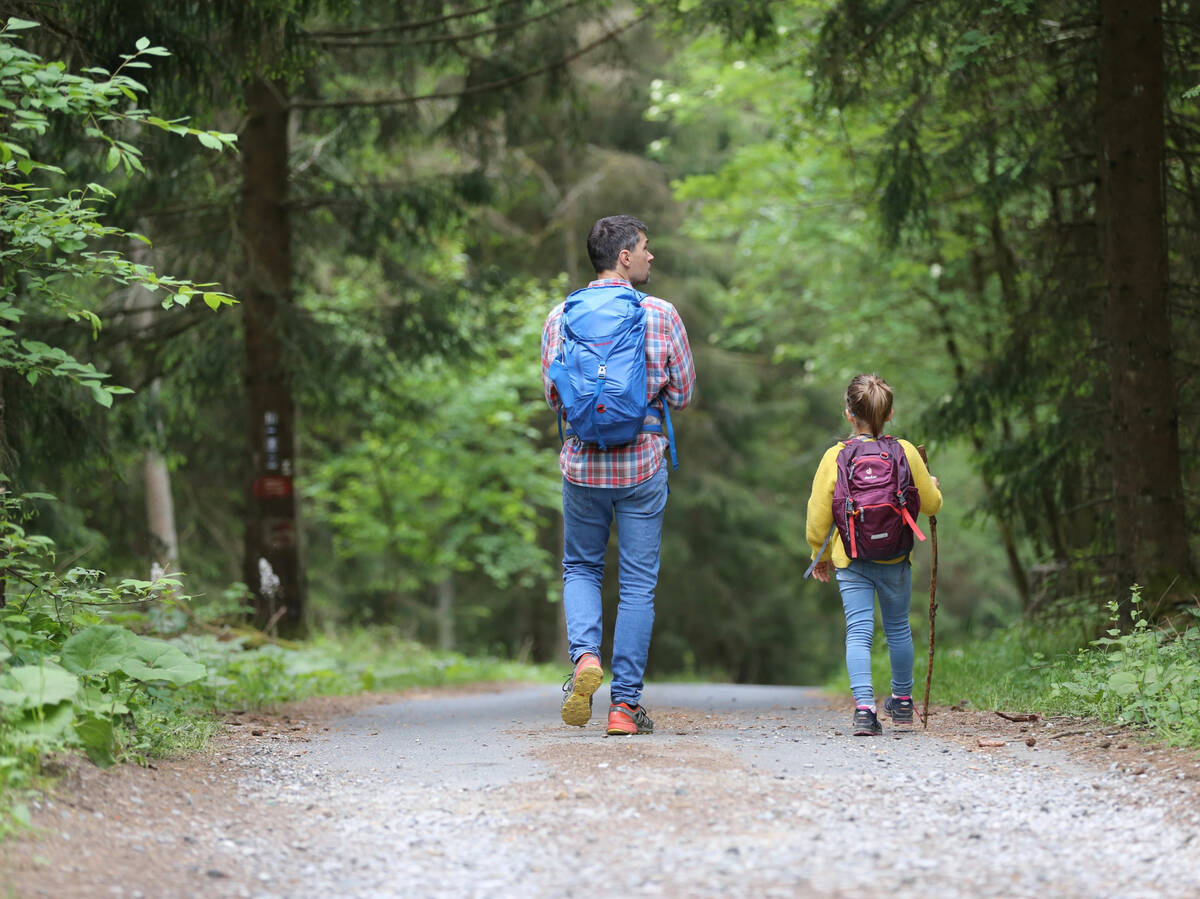 Education
Written by Breann Lujan-Halcon and Desi Salmons
Finding Mental Balance
Times of crisis can be a major blow to one's mental health; during a global pandemic, the effects are felt worldwide.
In recent months, pub­lic health has been a top pri­or­i­ty worldwide.
Coro­n­avirus has changed the way we work, learn, social­ize and gro­cery shop. No one has gone unaf­fect­ed by the wide­spread virus. As you con­tin­ue to pri­or­i­tize the health of you and your fam­i­ly, don't let men­tal health take a backseat.
How do we take care of our men­tal health in these stress­ful times? What does self-care look like when stuck at home? How can we keep kids from feel­ing our stress? We want­ed answers, so we turned to an expert.
Ivinson's Men­tal Health Ther­a­pist Desi Salmons sat down to dis­cuss men­tal health mat­ters and how you can bet­ter care for your over­all health. Desi has been help­ing indi­vid­u­als with men­tal health ill­ness­es for over 20 years, 18 of those years spent right here at Ivinson.
"I do the ther­a­py up here, some assess­ments as well as the dis­charge plan­ning." Aside from assess­ments, indi­vid­ual and group ther­a­py in her role as a ther­a­pist, Desi also teach­es men­tal health edu­ca­tion includ­ing ill­ness edu­ca­tion, treat­ing men­tal ill­ness and cop­ing skills.
Ask an Expert
Q: What is men­tal health?
A: From a clin­i­cal stand­point, men­tal health is the absence of men­tal health diag­noses, but also it is about healthy bal­ance in your life. Being free from drugs and alco­hol, if you are going to use alco­hol, use in mod­er­a­tion. Being able to cope effec­tive­ly with the stres­sors in your life.
Just like phys­i­cal ill­ness, with men­tal health ill­ness­es, any­one can have them. What men­tal ill­ness is not, is expe­ri­enc­ing nor­mal uncom­fort­able emo­tions. Every­body has anx­i­ety, every­body has sad­ness, every­body has guilt and shame, those are nor­mal to expe­ri­ence those. We do not want to regard these emo­tions as psy­cho­log­i­cal­ly abnor­mal or unhealthy.
Q: What impact on men­tal health have you seen from COVID-19?
A: Most­ly, it is from an increase in iso­la­tion, which is healthy that we are not expos­ing our­selves to the ill­ness and decreas­ing our risk for expo­sure but I think it is hard for a lot of peo­ple to have that increase in iso­la­tion and not being able to meet with their fam­i­ly and friends. We can do a lot of con­nect­ing through social media but it's real­ly not the same. It is not a replace­ment of being able to go out and see friends and fam­i­ly. Phys­i­cal dis­tanc­ing mea­sures can be par­tic­u­lar­ly hard on our elder­ly pop­u­la­tion, because they are so sus­cep­ti­ble to ill­ness they are stay­ing home more and fam­i­ly can't vis­it them and it's hard.
In addi­tion to the iso­la­tion, peo­ple may be expe­ri­enc­ing an increase in sad­ness from not hav­ing those con­nec­tions. Just watch­ing it on the news too much increas­es people's stress. It's impor­tant to have mod­er­a­tion with alco­hol but also with the news. It is okay to turn off the TV and not lis­ten in 24⁄7.
Q: Do you think cri­sis makes it easier/​harder to talk about men­tal health?
A: I think that we talk about it more because more peo­ple are strug­gling with man­ag­ing emo­tions. But hav­ing sad­ness from iso­la­tion is not nec­es­sar­i­ly a men­tal ill­ness, its dif­fi­cult man­ag­ing sad­ness because you are iso­lat­ed and any­body would feel that. We don't want to pathol­o­gize the nor­mal reac­tions in kind of an abnor­mal sit­u­a­tion. This is dif­fi­cult for peo­ple to cope with but that doesn't nec­es­sar­i­ly mean you have a men­tal health issue.
Q: What does it mean to take care of your men­tal health?
A: Tak­ing care of your­self, try­ing to main­tain some bal­ance. Using healthy ways to man­age the nor­mal stress that can come from this sit­u­a­tion. Because you are iso­lat­ed, you need to do a lit­tle bit more self-care. You need to find oth­er ways to exer­cise. You just need to find some extra ways to take care of your­self so that you deal with uncom­fort­able emo­tions in an effec­tive way.
Find a healthy bal­ance, get enough exer­cise, make sure you are get­ting enough sleep, try to keep your­self on a sched­ule, make healthy meal choic­es, keep in con­tact social­ly as much as you can, whether it's through social media or a good old fash­ioned phone call to your loved ones. Try to set a goal for your­self on a dai­ly basis. It could just be clean­ing out a clos­et or doing some gar­den­ing just have an activ­i­ty to add to the struc­ture of your day so that you are keep­ing pro­duc­tive, I think that is real­ly impor­tant for men­tal health.
Q: What can par­ents do to sup­port their child(ren)'s men­tal health?
A: Try not to focus too much on the virus. You want to keep your kids informed but you don't want to be hyper focused on it. If you are anx­ious, try not to share that too much with chil­dren that might not be able to process that. If they are hav­ing their own anx­i­ety then cer­tain­ly lis­ten to it but also, you should nor­mal­ize it. It's a stress­ful time.
Try to get a rou­tine, make sure your kids have acti­vates to do. If you can go out and get some exer­cise with your kids, main­tain social dis­tanc­ing, it's real­ly impor­tant. Exer­cise is very healthy and extreme­ly impor­tant for chil­dren. Make sure you have games and fun times with your kids and tru­ly try to focus on the pos­i­tives, of all the extra fam­i­ly time your get to spend with them.
Q: What local resources are avail­able for those seek­ing pro­fes­sion­al help?
A: We don't want to pathol­o­gize nor­mal healthy emo­tions, but if you are feel­ing hope­less, if you are feel­ing unable to cope with this sit­u­a­tion, if you have thoughts of hurt­ing your­self or if you are using alco­hol in a way that is unhealthy to try to cope, then absolute­ly reach out for pro­fes­sion­al help. I would look at our local agen­cies such as Peak Well­ness Cen­ter, the Clin­ic for Men­tal Health and Well­ness and the SAFE Project. Reach out for sup­port, espe­cial­ly if you are not cop­ing well. Reach out to us if you are feel­ing unsafe or if you are abus­ing sub­stances to the point that you can­not quit, espe­cial­ly alco­hol. If you start to have any sui­ci­dal thoughts, please reach out for help.
Talk to some­one who can help
Wyoming Sui­cide Hot­line: (800)-SUICIDE (784−2433)
Nation­al Sui­cide Hot­line: (800)-TALK (8255)
Peak Well­ness 24 hour Emer­gency Ser­vice: (307) 745‑8915
Laramie Youth Cri­sis Cen­ter: (307) 742‑5936
Laramie Police Depart­ment: (307) 721‑2526
sign up for our email newsletter