Patient Story
Guadalupe Frias: Lifetime Runner
Guadalupe Frias moved to Laramie in 1999. She is the mother to five children and grandmother to 12 grandchildren. She is also is an avid runner.
Guadalupe began run­ning in 1981 and in the last 35+ years, has run count­less 10K and 5K races. After recent­ly suf­fer­ing from sud­den deaf­ness in her right ear, Guadalupe vis­it­ed Dr. Paul John­son, ENT, and Amy Weaver, Audi­ol­o­gist, at Ivin­son Memo­r­i­al Hos­pi­tal to dis­cuss her options. She chose to under­go an osteoin­te­grat­ed tem­po­ral bone implant pro­ce­dure. Dur­ing the pro­ce­dure, Dr. John­son placed a tita­ni­um implant that sits in the bone behind the ear.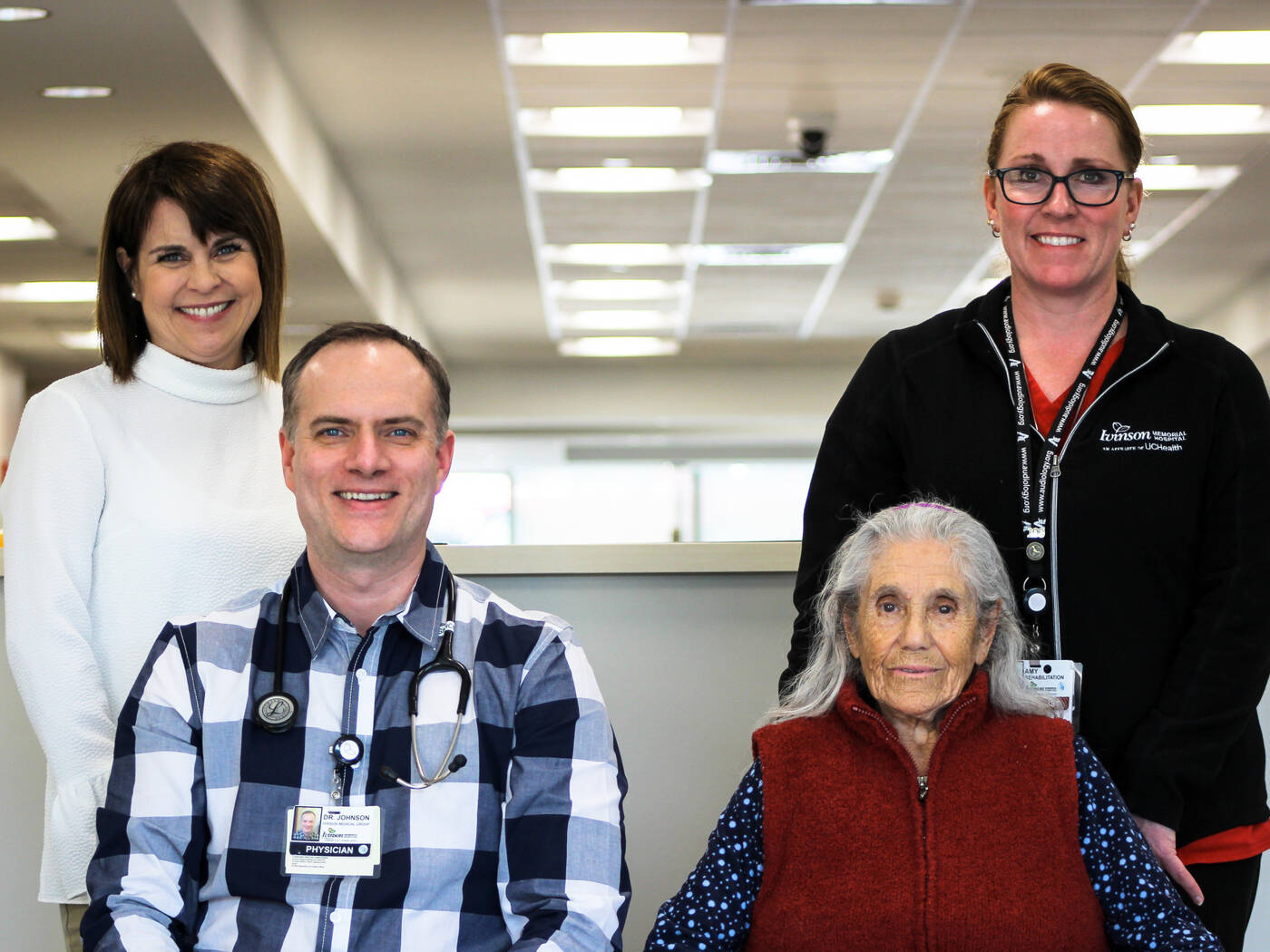 Sev­er­al weeks after the pro­ce­dure, Amy Weaver, along with Shana Wein­re­ich Mar­tinez of Oti­con Med­ical, per­formed a fit­ting of the bone-anchored hear­ing sys­tem (BAHS) sound processor.
The BAHS is designed to use Guadalupe's nat­ur­al abil­i­ty to trans­fer sound through bone con­duc­tion. The sound proces­sor con­verts sounds into vibra­tions which are then sent through her skull bone, direct­ly to her inner ear. The sound proces­sor picks up waves sim­i­lar­ly to con­ven­tion­al hear­ing aids but rather than send­ing these sound waves through the ear canal, it trans­forms them into sound vibra­tions, allow­ing Guadalupe to hear sound from her impaired side.
With two of her chil­dren by her side, Guadalupe expressed her excite­ment with the results. ​"It's amaz­ing!" she said. Although a bit skep­ti­cal at first, she con­veyed just how hap­py she was with her expe­ri­ence. After her ini­tial hear­ing loss, her bal­ance suf­fered. When asked what she was most excit­ed for in regain­ing her hear­ing, Guadalupe didn't hes­i­tate, ​"Get­ting back to run­ning three miles."
Guadalupe is the first patient at Ivin­son to have a bone anchored hear­ing sys­tem placed and fit­ted thanks to a phe­nom­e­nal team of physi­cians, audi­ol­o­gists, and nurses
sign up for our email newsletter