Department Spotlight
21 February 2022
Introducing Ivinson's Ultrasound Imaging Team
Written by Gavan Foote
Meet the team behind the ultrasounds in Ivinson's imaging department.
Ivinson's new ultrasound imaging team is made up of four sonographers with coast-to-coast experience ranging from 2 years in the field to over 20 years.
Their training spans from some of the largest healthcare systems in the country to rural facilities in communities smaller than Laramie. Together, they bring a wealth of knowledge and expertise in several areas of sonography to patients at Ivinson.
Kristine
Kristine is a diagnostic medical sonographer who brings a lot of experience and leadership to the team with a desire to learn more every day.
Before she was imaging, Kristine began her career in pharmacy, right out of high school. For 35 years, she gained experience working with Longs Pharmacy in San Diego. After Longs was bought by CVS, she wanted to learn more.
"I stayed with the pharmacy because it allowed me to get insurance for my youngest son, Nicholas," Kristine said. Nicholas had three brain tumors.
Kristine found a passion for radiology by being surrounded by it throughout her son's life. She took a special interest in learning everything she could about his brain tumors and that interest propelled her into a new career. After 35 years in one industry, she wanted to gain more knowledge and decided that sonography would be a great fit for her.
Throughout Nicolas' care, Kristine connected with the radiology team that found her son's tumors. She wanted to help people like her son and that is why she is so driven to be the best she can be at her job.
Kristine decided to go to school and obtained a bachelor's degree in diagnostic medical sonography and an associate's in healthcare management in just three years. After graduating at the top of her class, Kristine moved to a small town in Northern Montana and gained four years of sonography experience. After she was sent to an echocardiogram school in Dallas, she really took to it and desired to gain more experience.
Wanting to become a better sonographer, Kristine set out to expand her knowledge. Opportunities to train in echocardiogram, be a member of a growing team and working closely with an on-site radiologist drew her to Ivinson.
When asked what her favorite part about being a sonographer is, Kristine says, ​"Being a piece of the puzzle in finding a solution to a patient's health problems."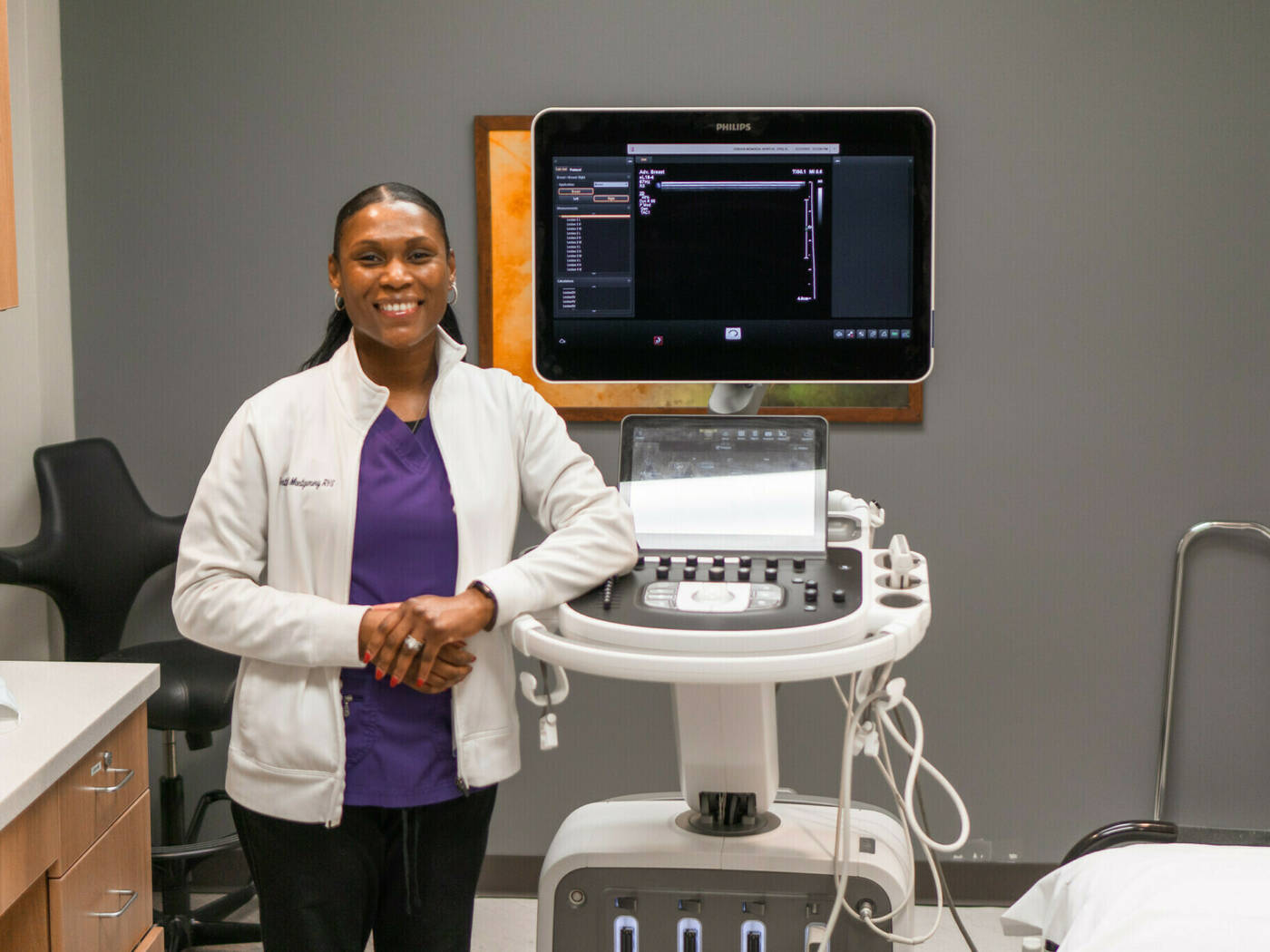 Bertice
Originally from Philadelphia, Bertice, affectionately known as ​"Bert", began her sonography career 21 years ago.
She found a love of sonography while getting her first ultrasound while pregnant with her son. She connected with the sonographer who was giving her an ultrasound and decided that sonography was the career that she wanted to pursue.
Chasing her calling, Bert studied in Philadelphia at an ultrasound diagnostic school. While in Philadelphia, she obtained over 10 years of travel work as a sonographer. After gaining experience in the field, she desired more knowledge and experience and that is what brought her to Ivinson.
Here, her main focus is on general ultrasound and vascular sonography. If you ask her, Bert would tell you that vascular ultrasound is what she most enjoys most about her specialized field. Additionally, she has been training for echocardiograms for the past several months and expects to be certified soon.
Bert is currently getting certified in three different specialties which include the abdomen, obstetrics, and echocardiograms. Each type of ultrasound requires a different certification and her goal is to obtain each certification needed to become the most all-around sonographer she can be.
Outside of work, Bert enjoys theater and art. In her free time, she likes to stay adventurous and enjoy the outdoors.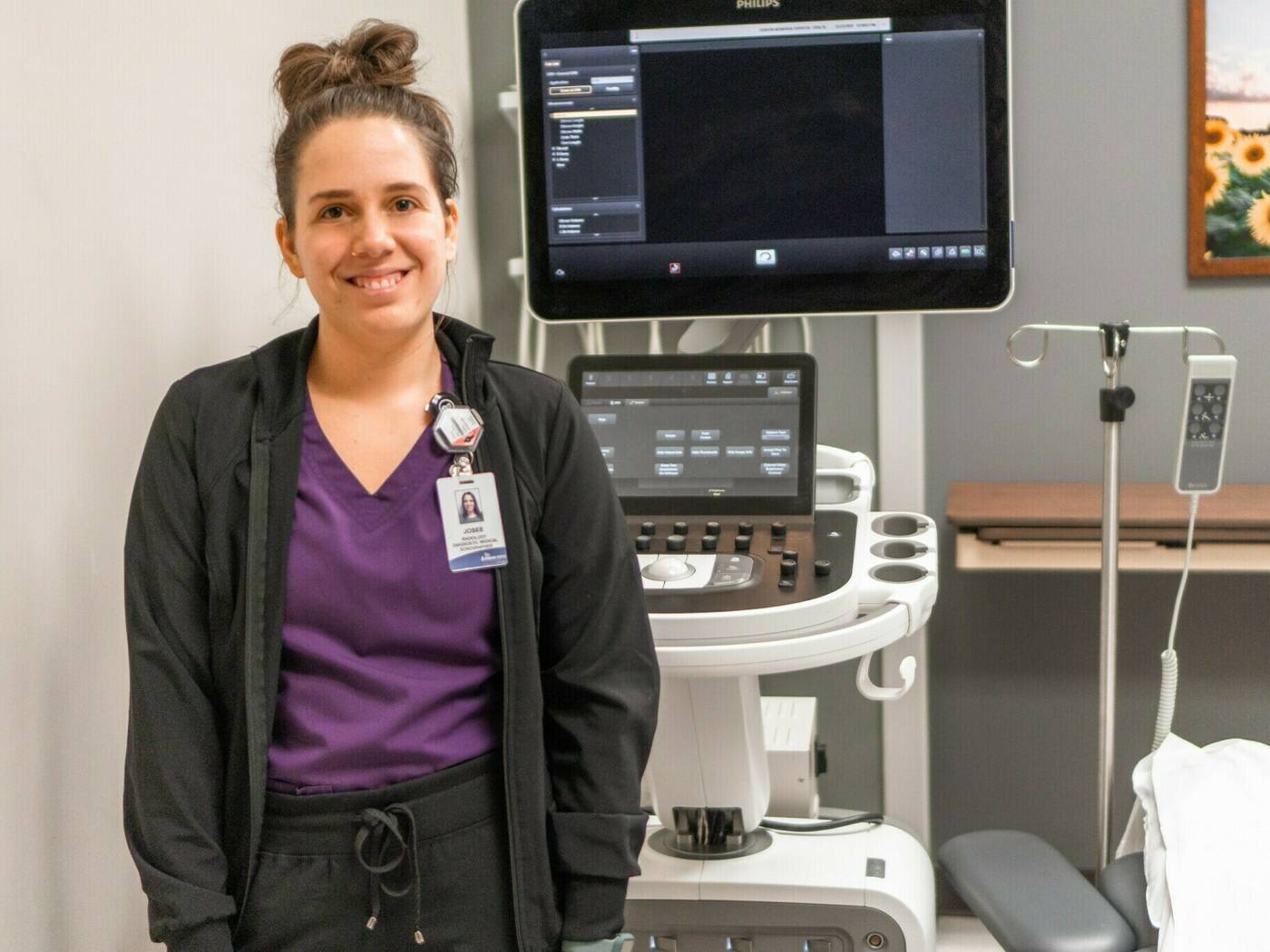 Josee
Josee, a diagnostic medical sonographer who started at Ivinson in October, found her interest in the medical field at a young age. She was intrigued by the human body and decided that ultrasound diagnostics would be a great fit for her.
Josee studied and gained experience in sonography at the Mayo Clinic in Minneapolis. During her two years at the Mayo Clinic, she gained extensive training in general and vascular ultrasounds but decided to come to Ivinson to gain more experience in specialties such as echocardiograms and breast sonograms. Compared to working at a much larger facility, Josee has become accustomed to her tight-knit group and enjoys the change of pace when working in a smaller team.
When off the clock, Josee enjoys the outdoors and hiking, which is one of the reasons working at Ivinson caught her attention. Located near the beautiful Snow Range Mountains, Josee finds herself close to the Wyoming wilderness that is perfect for hiking in the summer and skiing in the winter.
Originally drawn to Ivinson for echocardiogram training, Josee finds herself at home here because of everything else the small town of Laramie has to offer.