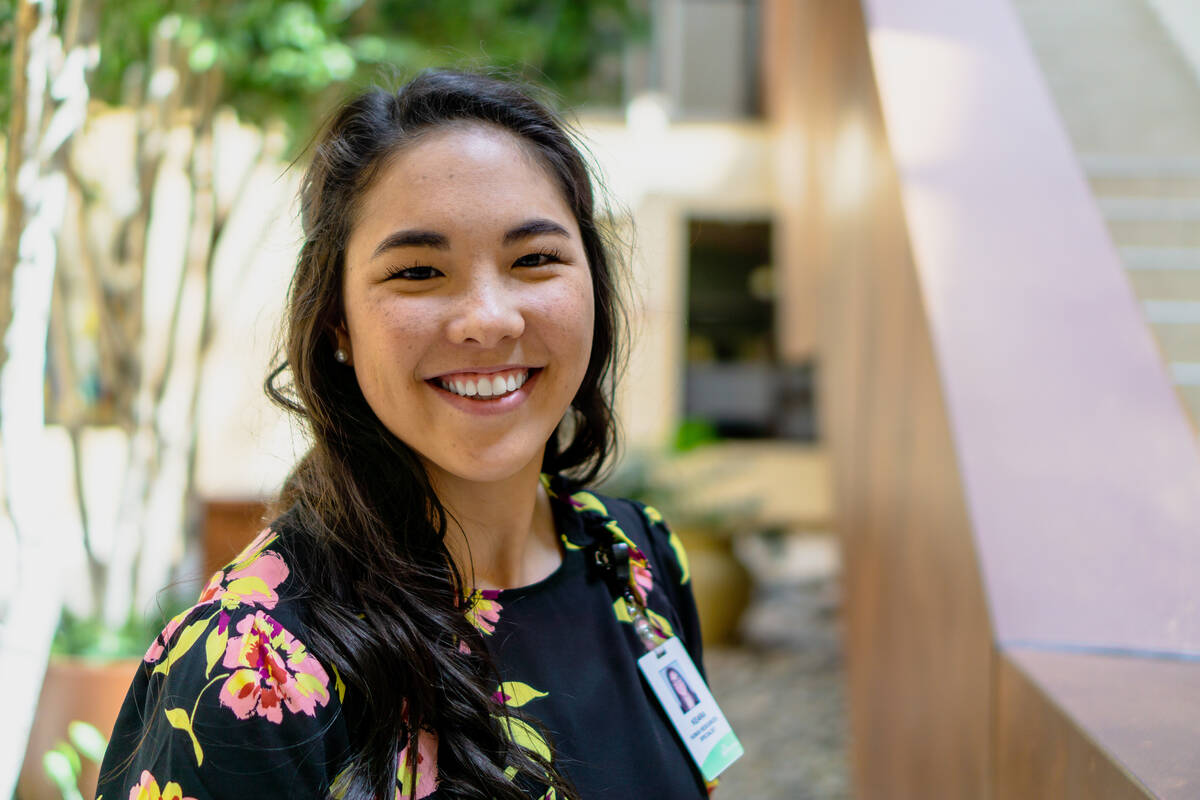 Employee Spotlight
Keara Turner
Keara Turner is a Human Resources Business Partner at Ivinson Memorial Hospital.
Not many peo­ple can say they know every 550+ Ivin­son employ­ees by name but Keara Turn­er, our Human Resources Busi­ness Part­ner just might! Keara just cel­e­brat­ed three years of employ­ment with Ivin­son Memo­r­i­al Hos­pi­tal where she coor­di­nates the onboard­ing of every new employ­ee, includ­ing our vol­un­teers. ​"I enjoy get­ting to say that I know every­one at Ivin­son since almost every­one comes through my door includ­ing all of our new hires," said Keara. ​"I like being a part of the begin­ning of someone's employ­ment jour­ney with Ivinson.
Keara orig­i­nal­ly came to Laramie from Cal­i­for­nia on a swim schol­ar­ship at the Uni­ver­si­ty of Wyoming. After grad­u­at­ing with a degree in Com­mu­ni­ca­tion from UW, she chose to stay in Laramie while her hus­band, Jor­dan, works on his PhD in in Physics and Astron­o­my. Keara and Jor­dan take advan­tage of the out­doors in Laramie year-round where they enjoy ski­ing, hik­ing, and swimming.
Keara has a spe­cial tal­ent for DIY crafts and plan­ning events, both of which have been use­ful as she is a key mem­ber of our Ivin­son Ambas­sador team. The Ivin­son Ambas­sadors plan and coor­di­nate Ivin­son employ­ee appre­ci­a­tion, recog­ni­tion and out­reach events. Keara has hand-craft­ed count­less signs, ban­ners and décor for these events over the past three years. In addi­tion to all of the Ivin­son events Keara has helped plan, she was busy plan­ning her wed­ding this past year as well.
Not only is Keara one of the first peo­ple new employ­ees meet at Ivin­son, she is also a famil­iar face for all of our employ­ees as she guides peo­ple through ben­e­fits enroll­ment each year, admin­is­ters FMLA and answers any HR ques­tion that is asked of her.
As a life­long swim­mer, it's no sur­prise that one of Keara's mot­tos is ​"just keep swim­ming." This phrase encour­ages her to per­se­vere. ​"I find that this helps me real­ize what is in my con­trol, what isn't, and how to move for­ward," Keara said, ​"It reminds me to stay pos­i­tive and keep swimming."
Ivin­son is proud of the work Keara does to ensure a pos­i­tive expe­ri­ence for every new Ivin­son employ­ee that joins our team. Thank you, Keara, for the excep­tion­al care you take of all of us here, at Ivinson!
sign up for our email newsletter