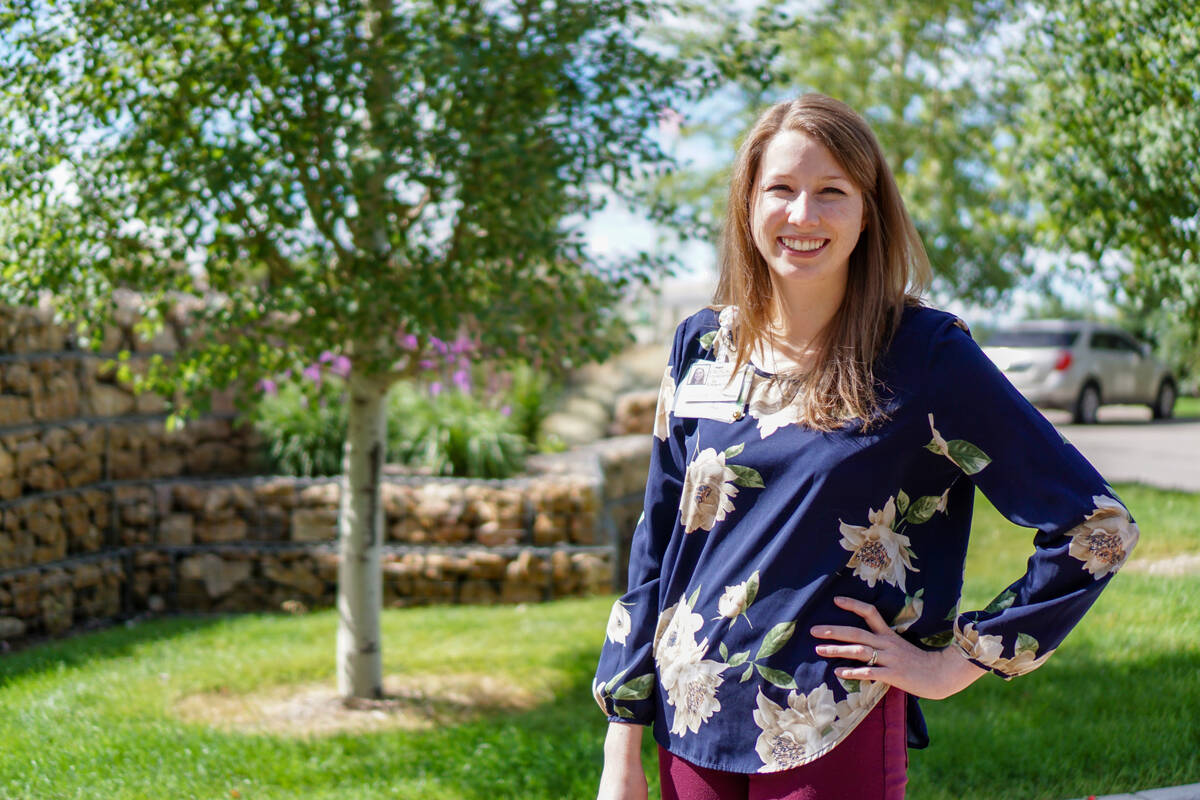 Employee Spotlight
Lauren Whitby, Foundation Coordinator
Lau­ren Whit­by recent­ly cel­e­brat­ed her first anniver­sary at Ivin­son Memo­r­i­al Hos­pi­tal this sum­mer. When asked what she enjoys most about work­ing at Ivin­son, Lau­ren said, ​"I enjoy know­ing that I make a small dif­fer­ence in the care for our com­mu­ni­ty." It has always been impor­tant to Lau­ren to work for an orga­ni­za­tion that gives her the oppor­tu­ni­ty to impact some­thing or some­one for good, and at Ivin­son, Lau­ren believes she can do that.
Lau­ren is hap­pi­est when she is spend­ing time with her hus­band, Kyle, and their 10-year-old black lab, Cos­mo. If Lau­ren could do anoth­er job for a day, she would work for an ani­mal shel­ter where she could spend all day play­ing with dogs. Some peo­ple might be sur­prised to learn that Lau­ren is an artist, with her pri­ma­ry medi­um being oil paint.
Both Ivin­son and the Laramie com­mu­ni­ty have ben­e­fit­ed from Lauren's artis­tic tal­ents. She recent­ly fin­ished a part of the Laramie Mur­al Project's ​"Gill Street Exten­sion" mur­al and helped install a mur­al at Ivin­son for patients at Behav­ioral Health Services.
Lau­ren orig­i­nal­ly heard about an art pro­gram for patients when she read about St. John's Hospital's Arts and Heal­ing pro­gram in Jack­son, Wyoming. She and Mark Hold­er, direc­tor of Behav­ioral Health Ser­vices, worked togeth­er to bring a sim­i­lar pro­gram to Ivin­son and our com­mu­ni­ty. Lau­ren cre­at­ed out­lines for two BHS murals, a labyrinth and a land­scape of the Snowy Range moun­tains. The instal­la­tion of the mur­al was sim­i­lar to a ​"paint by num­bers" process, where Lau­ren worked with patients indi­vid­u­al­ly to con­tribute dif­fer­ent sec­tions of the murals.
Now the Arts at Ivin­son pro­gram has expand­ed to include a vol­un­teer patient art pro­gram, where vol­un­teers work with patients to cre­ate art dur­ing their vis­it. We are grate­ful Lau­ren chose to share her tal­ents with Ivin­son to cre­ate some­thing spe­cial for patients as they heal and recover.
sign up for our email newsletter