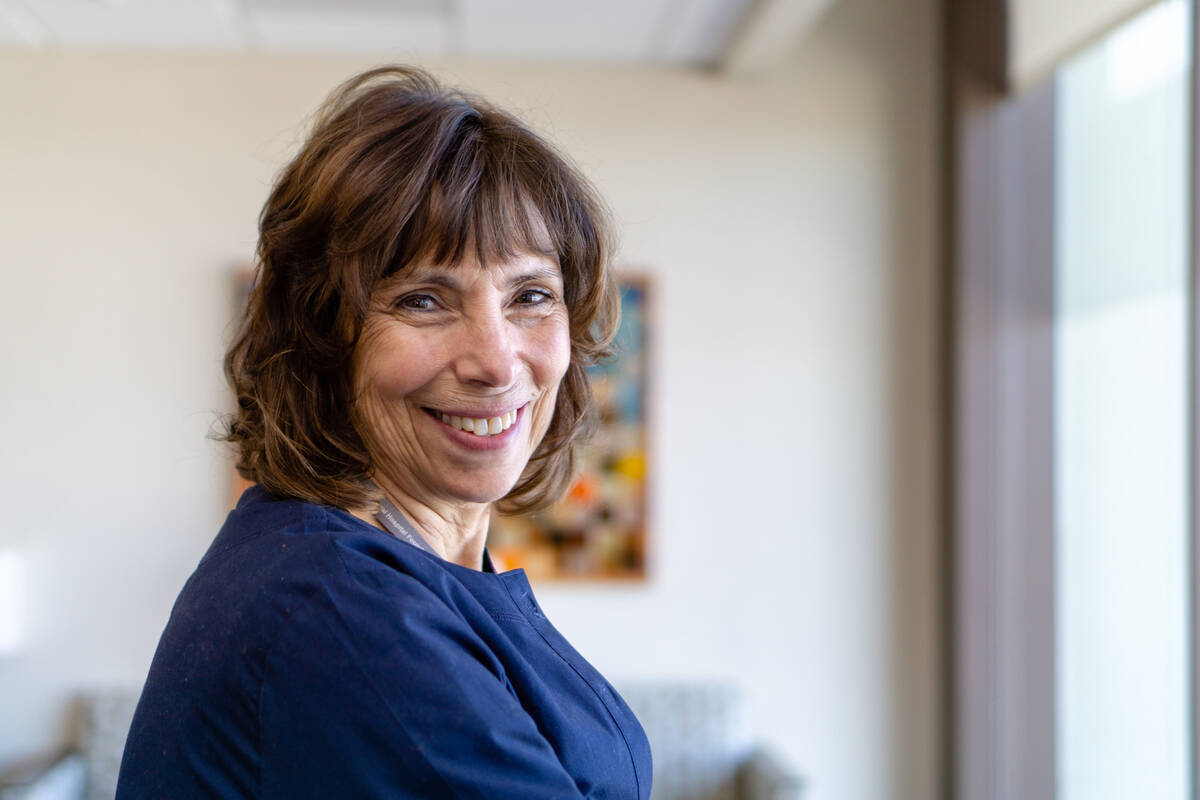 Employee Spotlight
15 January 2019
Leslie Comly, BSN, RN
Leslie Comly recently celebrated 35 years of service with Ivinson Memorial Hospital. Leslie has served in a variety of roles throughout her tenure at Ivinson and is currently Ivinson's Employee Health Nurse.
Leslie knew nursing was her calling from a young age. She had several family members who were nurses, including her older sister, Mary. Leslie earned her degree in nursing at the University of Northern Colorado, graduating in 1978.
Leslie started her career at Ivinson Memorial Hospital, in 1983. While she was trained as a Critical Care Nurse, Leslie could not work in the Emergency Room due to a nepotism rule in effect at the hospital at the time. (Her husband, Mike, a recent residency graduate from the WWAMI program, just opened his practice in downtown Laramie.) Instead, she worked in the OB (now Family Care) Unit as a labor and delivery nurse.
Leslie spent 17 years working in the OB department, 10 of which she worked as the Assistant Director. ​"Every birth was like it was the first for me," says Comly. ​"It was lovely."
Eventually, an opportunity arose for Leslie to return to her critical care training when Ivinson expanded to include a Dialysis unit. She played a major role in this expansion, working part-time in both Dialysis and OB for two years before becoming the Director of Dialysis. Leslie enjoyed this position, as she worked with a wonderful staff while continuing to provide patient care.
"Patient care is my true love," says Leslie. ​"I never went back to school to receive my master's because I wanted to be at the bedside. I just wanted to focus on being a good clinician."
Two years ago, Leslie began working with a new set of patients – Ivinson employees. Currently, Leslie works as the Employee Health Nurse, ensuring the health of all who work at IMH. She loves that this position gives her contact with everyone throughout the hospital and the ability to spend more time with her grand kids.
Throughout her career, Leslie has witnessed multiple changes at Ivinson. ​"When I first started, nurses would take smoke breaks in the utility room!" says Comly. She has worked through multiple changes in administration, advancements in technology and several transformations in the physical layout of the hospital. No matter how big or difficult the change, Leslie says it never affected the quality of care her patients received.
"Ivinson has provided me with a good nursing career. I have received some fantastic awards for my work, there have been many opportunities and I have loved all the jobs I have held," says Comly.
We are so proud of Leslie's career at Ivinson Memorial Hospital and grateful for her countless contributions throughout her years of service. Thank you, Leslie, for an amazing 35 years!