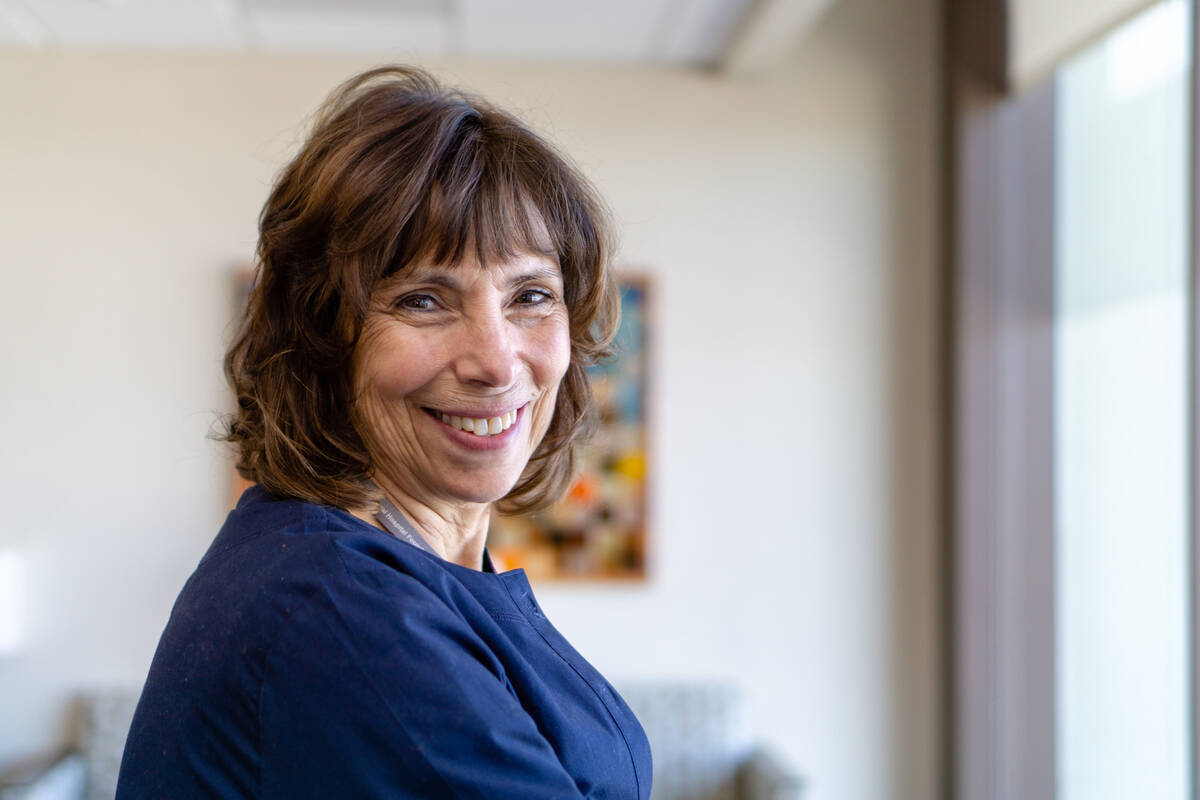 Employee Spotlight
Leslie Comly, BSN, RN
Leslie Comly recently celebrated 35 years of service with Ivinson Memorial Hospital. Leslie has served in a variety of roles throughout her tenure at Ivinson and is currently Ivinson's Employee Health Nurse.
Leslie knew nurs­ing was her call­ing from a young age. She had sev­er­al fam­i­ly mem­bers who were nurs­es, includ­ing her old­er sis­ter, Mary. Leslie earned her degree in nurs­ing at the Uni­ver­si­ty of North­ern Col­orado, grad­u­at­ing in 1978.
Leslie start­ed her career at Ivin­son Memo­r­i­al Hos­pi­tal, in 1983. While she was trained as a Crit­i­cal Care Nurse, Leslie could not work in the Emer­gency Room due to a nepo­tism rule in effect at the hos­pi­tal at the time. (Her hus­band, Mike, a recent res­i­den­cy grad­u­ate from the WWA­MI pro­gram, just opened his prac­tice in down­town Laramie.) Instead, she worked in the OB (now Fam­i­ly Care) Unit as a labor and deliv­ery nurse.
Leslie spent 17 years work­ing in the OB depart­ment, 10 of which she worked as the Assis­tant Direc­tor. ​"Every birth was like it was the first for me," says Com­ly. ​"It was lovely."
Even­tu­al­ly, an oppor­tu­ni­ty arose for Leslie to return to her crit­i­cal care train­ing when Ivin­son expand­ed to include a Dial­y­sis unit. She played a major role in this expan­sion, work­ing part-time in both Dial­y­sis and OB for two years before becom­ing the Direc­tor of Dial­y­sis. Leslie enjoyed this posi­tion, as she worked with a won­der­ful staff while con­tin­u­ing to pro­vide patient care.
"Patient care is my true love," says Leslie. ​"I nev­er went back to school to receive my master's because I want­ed to be at the bed­side. I just want­ed to focus on being a good clinician."
Two years ago, Leslie began work­ing with a new set of patients – Ivin­son employ­ees. Cur­rent­ly, Leslie works as the Employ­ee Health Nurse, ensur­ing the health of all who work at IMH. She loves that this posi­tion gives her con­tact with every­one through­out the hos­pi­tal and the abil­i­ty to spend more time with her grand kids.
Through­out her career, Leslie has wit­nessed mul­ti­ple changes at Ivin­son. ​"When I first start­ed, nurs­es would take smoke breaks in the util­i­ty room!" says Com­ly. She has worked through mul­ti­ple changes in admin­is­tra­tion, advance­ments in tech­nol­o­gy and sev­er­al trans­for­ma­tions in the phys­i­cal lay­out of the hos­pi­tal. No mat­ter how big or dif­fi­cult the change, Leslie says it nev­er affect­ed the qual­i­ty of care her patients received.
"Ivin­son has pro­vid­ed me with a good nurs­ing career. I have received some fan­tas­tic awards for my work, there have been many oppor­tu­ni­ties and I have loved all the jobs I have held," says Comly.
We are so proud of Leslie's career at Ivin­son Memo­r­i­al Hos­pi­tal and grate­ful for her count­less con­tri­bu­tions through­out her years of ser­vice. Thank you, Leslie, for an amaz­ing 35 years!
sign up for our email newsletter