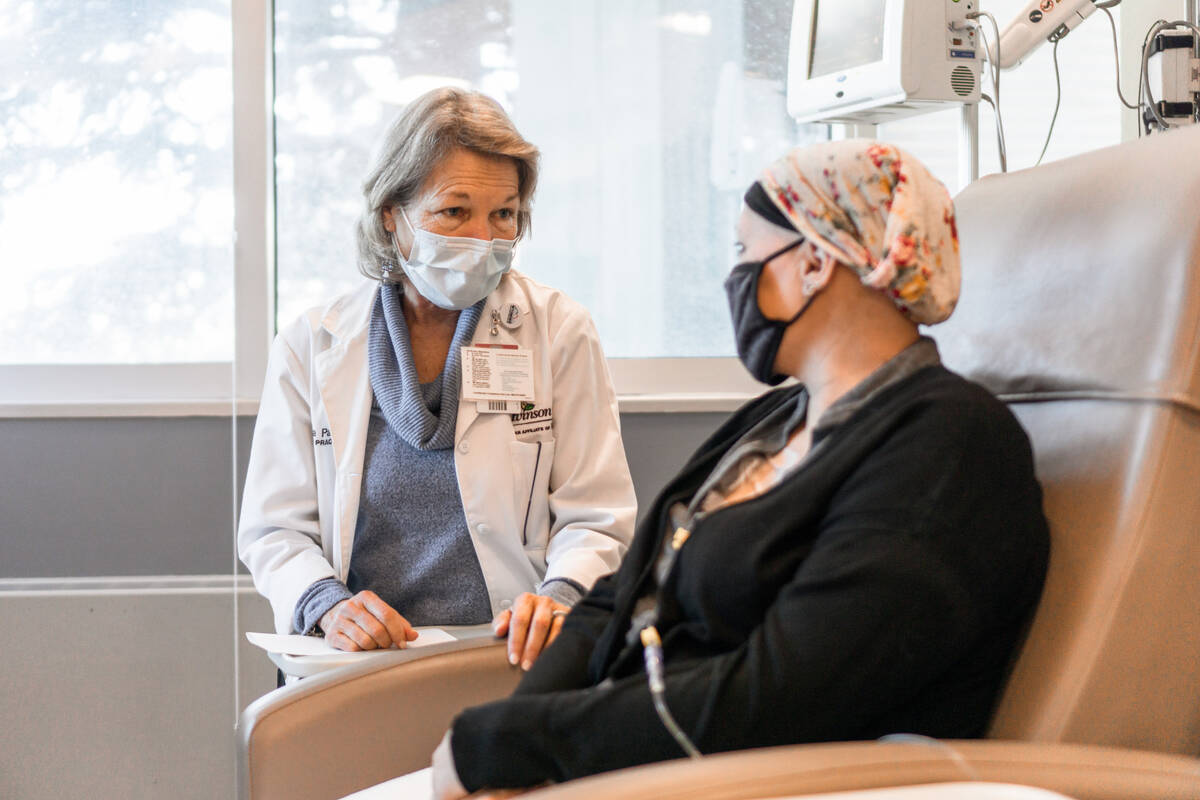 Provider Spotlight
Lisa Painter, FNP
Lisa Painter is a Family Nurse Practitioner that specializes in medical oncology.
Lisa Painter and her husband had lived in Austin, Texas for years. They were ready to get out of the city but never would have guessed they would soon call Laramie, Wyoming home.
After leaving Texas Oncology, Lisa prepared for a new adventure, starting with temporary travel assignments. As an experienced nurse practitioner specializing in oncology, Lisa was a sought after provider for travel assignments.
Lisa has been a nurse for nearly 40 years and a nurse practitioner for almost 25 of those. She's been working in the oncology field for over 30 years. Even as a veteran nurse and provider, Lisa stays humble. ​"I learn something new every single day," she said, when describing why she loves this specialty. ​"It is a special thing, seeing the same people over and over again along with their families."
Two years ago, the Meredith and Jeannie Ray Cancer Center was recruiting a nurse practitioner to join the clinic. While they looked for the right person, they contracted with Lisa's company for a temporary provider. They found the right person in Lisa. ​"We knew immediately that she was a perfect fit for the patients and staff. She really was like a breath of fresh air," described Amy Smith, the Cancer Center director.
Thankfully, it wasn't long before the team at the Cancer Center and the community of Laramie had won Lisa over. She returned to Texas to pack, and she and her husband moved back to Laramie permanently a few months later.
It wasn't just the family-like atmosphere of Ivinson, the nearby mountains or the close-knit community that drew Lisa in. This Cancer Center, in a small Wyoming town was one of the best she'd worked in. ​"What this clinic does so beautifully is a combination of really good medicine and that caring component of the whole patient which includes their family," said Lisa. ​"Everyone across the hospital communicates so easily. That is special — you don't find that in a big place."
The Cancer Center team feels incredibly lucky to have gained Lisa as a provider. ​"One thing she is especially great at is talking to patients so that they understand," said Amy Smith. ​"Often times as medical professionals, we get caught talking to patients with words that don't make much sense to anyone without a medical degree. Lisa sits down and talks to them on a personal level, holds their hands, offers a hug and a caring smile. She really is great at making the patient experience completely patient centered."
Lisa has a mutual feeling towards the team at the Cancer Center. ​"We trust each other, work together and do the right thing for the patients. It is unreal — I have never worked in a place like this. Patients and their family feel strongly about supporting this Cancer Center and that is something."
While Lisa continues to care for the patients of the Meredith and Jeannie Ray Cancer Center, she is loving life in Laramie with her husband. A life-long gardener, Lisa is still figuring out how to garden at 7220. She has plans to see different parts of the state soon. ​"I really look forward to being able to travel around and see different parts of Wyoming. It is a beautiful state."
sign up for our email newsletter