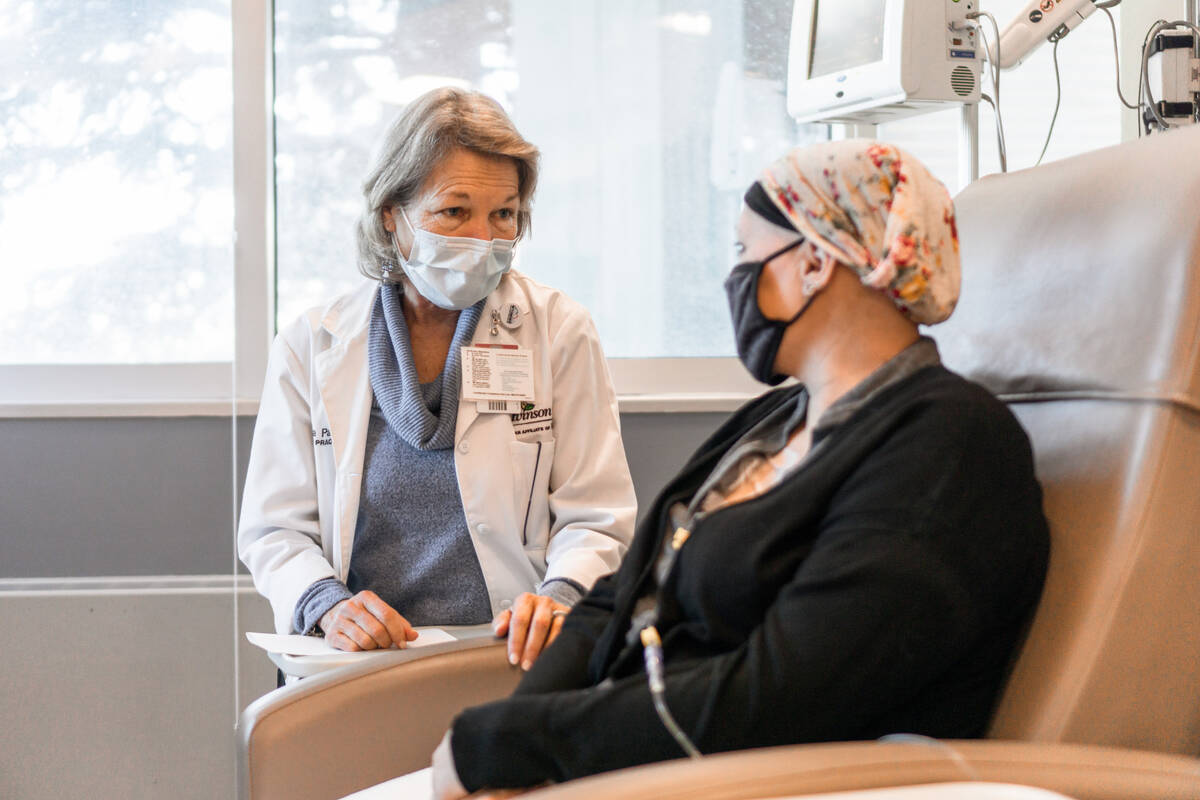 Provider Spotlight
Lisa Painter, FNP
Lisa Painter is a Family Nurse Practitioner that specializes in medical oncology.
Lisa Painter and her hus­band had lived in Austin, Texas for years. They were ready to get out of the city but nev­er would have guessed they would soon call Laramie, Wyoming home.
After leav­ing Texas Oncol­o­gy, Lisa pre­pared for a new adven­ture, start­ing with tem­po­rary trav­el assign­ments. As an expe­ri­enced nurse prac­ti­tion­er spe­cial­iz­ing in oncol­o­gy, Lisa was a sought after provider for trav­el assignments.
Lisa has been a nurse for near­ly 40 years and a nurse prac­ti­tion­er for almost 25 of those. She's been work­ing in the oncol­o­gy field for over 30 years. Even as a vet­er­an nurse and provider, Lisa stays hum­ble. ​"I learn some­thing new every sin­gle day," she said, when describ­ing why she loves this spe­cial­ty. ​"It is a spe­cial thing, see­ing the same peo­ple over and over again along with their families."
Two years ago, the Mered­ith and Jean­nie Ray Can­cer Cen­ter was recruit­ing a nurse prac­ti­tion­er to join the clin­ic. While they looked for the right per­son, they con­tract­ed with Lisa's com­pa­ny for a tem­po­rary provider. They found the right per­son in Lisa. ​"We knew imme­di­ate­ly that she was a per­fect fit for the patients and staff. She real­ly was like a breath of fresh air," described Amy Smith, the Can­cer Cen­ter director.
Thank­ful­ly, it wasn't long before the team at the Can­cer Cen­ter and the com­mu­ni­ty of Laramie had won Lisa over. She returned to Texas to pack, and she and her hus­band moved back to Laramie per­ma­nent­ly a few months later.
It wasn't just the fam­i­ly-like atmos­phere of Ivin­son, the near­by moun­tains or the close-knit com­mu­ni­ty that drew Lisa in. This Can­cer Cen­ter, in a small Wyoming town was one of the best she'd worked in. ​"What this clin­ic does so beau­ti­ful­ly is a com­bi­na­tion of real­ly good med­i­cine and that car­ing com­po­nent of the whole patient which includes their fam­i­ly," said Lisa. ​"Every­one across the hos­pi­tal com­mu­ni­cates so eas­i­ly. That is spe­cial — you don't find that in a big place."
The Can­cer Cen­ter team feels incred­i­bly lucky to have gained Lisa as a provider. ​"One thing she is espe­cial­ly great at is talk­ing to patients so that they under­stand," said Amy Smith. ​"Often times as med­ical pro­fes­sion­als, we get caught talk­ing to patients with words that don't make much sense to any­one with­out a med­ical degree. Lisa sits down and talks to them on a per­son­al lev­el, holds their hands, offers a hug and a car­ing smile. She real­ly is great at mak­ing the patient expe­ri­ence com­plete­ly patient centered."
Lisa has a mutu­al feel­ing towards the team at the Can­cer Cen­ter. ​"We trust each oth­er, work togeth­er and do the right thing for the patients. It is unre­al — I have nev­er worked in a place like this. Patients and their fam­i­ly feel strong­ly about sup­port­ing this Can­cer Cen­ter and that is something."
While Lisa con­tin­ues to care for the patients of the Mered­ith and Jean­nie Ray Can­cer Cen­ter, she is lov­ing life in Laramie with her hus­band. A life-long gar­den­er, Lisa is still fig­ur­ing out how to gar­den at 7220. She has plans to see dif­fer­ent parts of the state soon. ​"I real­ly look for­ward to being able to trav­el around and see dif­fer­ent parts of Wyoming. It is a beau­ti­ful state."
sign up for our email newsletter