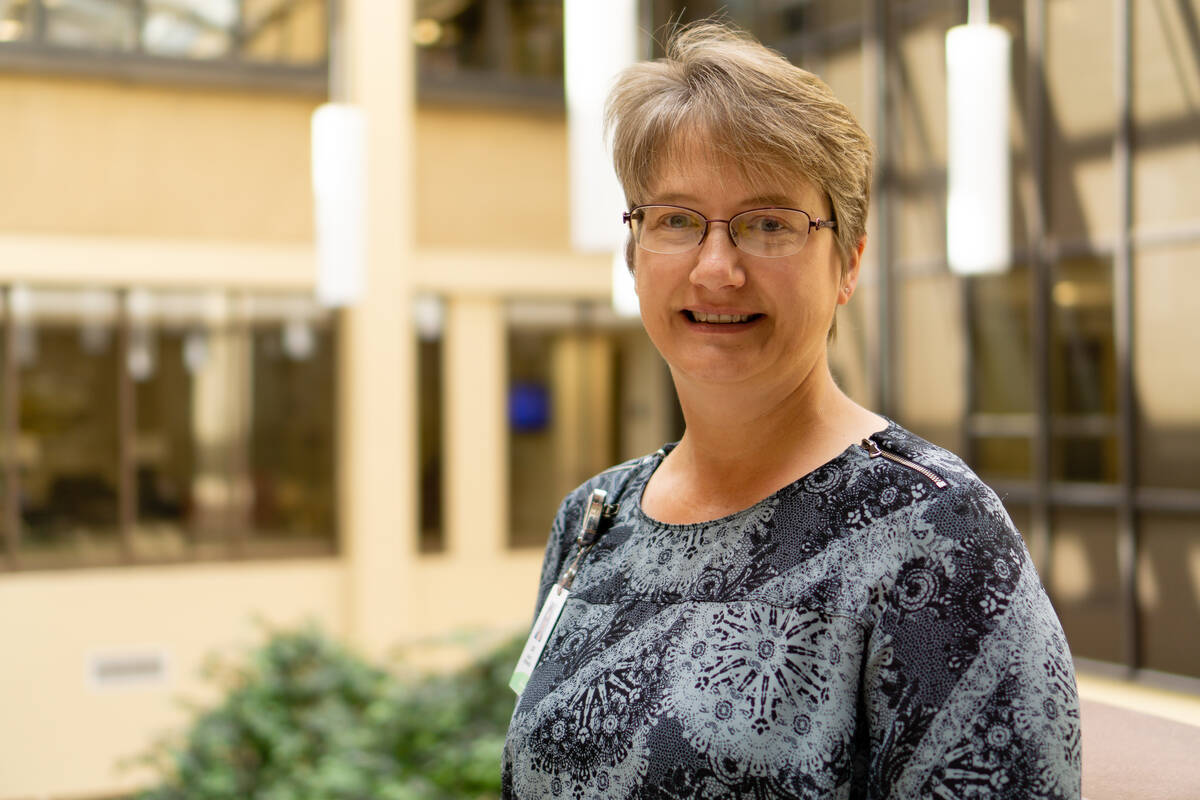 Employee Spotlight
Lois Cannell
Lois Cannell is the Quality & Accreditation Coordinator at Ivinson Memorial Hospital.
Lois Can­nell knew there was some­thing spe­cial about Ivin­son right from the start. She remem­bers being impressed with the lead­er­ship and the employ­ee cul­ture dur­ing her new employ­ee orientation.
"Every­one is so kind at Ivin­son, and I love the small hos­pi­tal feel," said Lois. Lois has been at Ivin­son for going on four years, start­ing as a reg­is­tered nurse in case man­age­ment. She also serves as our accred­i­ta­tion coor­di­na­tor and recent­ly made the move to the qual­i­ty depart­ment where she coor­di­nates qual­i­ty report­ing and oth­er qual­i­ty initiatives.
Ivin­son Memo­r­i­al Hos­pi­tal is a Joint Com­mis­sion accred­it­ed facil­i­ty and in Lois' role as the accred­i­ta­tion coor­di­na­tor, she helps ensure our team is up to the stan­dards of the
Joint Com­mis­sion and that we are in a con­tin­u­ous state of readi­ness for accred­i­ta­tion. Accred­i­ta­tion from the Joint Com­mis­sion demon­strates that Ivin­son com­plies
with the high­est stan­dards for safe­ty and qual­i­ty and is com­mit­ted to con­tin­u­al­ly improv­ing patient care. Accred­i­ta­tion is a hos­pi­tal-wide endeav­or and Lois plays
an inte­gral part in guar­an­tee­ing we con­tin­ue to be a Joint Com­mis­sion accred­it­ed hospital.
In the many years that Lois has been a nurse, she has worked in a vari­ety of nurs­ing fields but con­tin­ued to find her­self in case man­age­ment, work­ing with patients and fam­i­lies in dis­charge plan­ning. The empa­thy and com­pas­sion that Lois shows patients and fam­i­lies she works with is evi­dent to all those around her. There hasn't been just one time that Lois is proud of the work she does at Ivin­son — it hap­pens often. ​"Every time I can help fam­i­lies nav­i­gate dif­fi­cult process­es, I feel a sense of pride," said Lois.
When Lois isn't busy at work, she is like­ly spend­ing time with her hus­band and two daugh­ters. Lois is hap­pi­est when she is with her fam­i­ly, whether they are out­side
with their dogs or enjoy­ing a qui­et evening watch­ing movies togeth­er. Lois loves her life in Laramie for many rea­sons — the moun­tains have always felt like home and she enjoys the atmos­phere of a col­lege town. All of us at Ivin­son are hap­py that Lois has cho­sen to make Laramie and Ivin­son her home. Thank you, Lois, for all that you do to improve patient qual­i­ty and experience.
sign up for our email newsletter