Featured Story
Written by Breann Lujan-Halcon
Made In Wyoming
The WWAMI program, in partnership with Ivinson, is cultivating the next generation of Wyoming doctors.
For the first year ever, the WWAMI Research Symposium, featuring second year medical student's research was held at Ivinson Memorial Hospital. Students presented research posters of original investigation and presentations about local health assessments based in the communities they worked.
Investigative presentations covered topics such as genetics, cardiac remodeling, DNR's and proton vs photon therapy. While many of the health assessments were based in Wyoming communities such as Buffalo, Thermopolis, Powell and Sundance, there were projects that came from as far as Kenya.
The event that had previously been held in Seattle, gave students the opportunity to present their rural based research to rural health physicians here at Ivinson.
A Longstanding Partnership
Ivinson has been a WWAMI education site since Wyoming joined the WWAMI program in 1996. Every year, 20 spots are reserved for Wyoming residents at the University of Washington School of Medicine (UWSOM). Recent curriculum changes at the UWSOM have extended the time students will spend in Wyoming. Instead of completing their first year of medical school in Wyoming and then heading for Seattle, students will now complete their first and second years in state. The change means Ivinson could to see up to 40 WWAMI students a year.
"The opportunity for WWAMI medical students to get quality personalized medical education in a rural setting is unmatched," said Ivinson's Chief Operating Officer, Holly Zajic. ​"Our partnership with WWAMI is innovative and successful because of UW, Ivinson and our physicians' pride of ownership in the WWAMI program."

Dr. Paul Johnson, an Otolaryngologist at Ivinson, is a Laramie raised doctor that graduated from the WWAMI program in 2003. From medical student, to teacher, his experience with the WWAMI program has come full circle. Dr. Johnson has been working with 3rd and 4th year students on an ENT rotation since coming back to Wyoming in 2010. This year, he took his teaching to the classroom, instructing second year students.
"Ivinson is a strong partner with WWAMI." Dr. Johnson said. ​"Students spend a significant amount of time at the hospital and working with our physicians and staff during their first 18 months. This allows us to develop relationships with these future physicians, hopefully encouraging them to come back and work with us in the future!"
There are approximately 25 physicians in Laramie that are involved with the WWAMI program teaching in some way. The majority of those providers can be found at Ivinson. Upon the curriculum change, extending students time in Wyoming to 18 months, WWAMI saw about two to three times more physician participation.
"Ivinson has really been a big part of creating that infrastructure," WWAMI Director Tim Robinson said. ​"Not only on hosting the research symposium, hosting the welcome to medical school event where students get their stethoscopes, and with the on-site classroom at Ivinson, but really in recruiting physicians to get involved with WWAMI and finding physicians interested in teaching."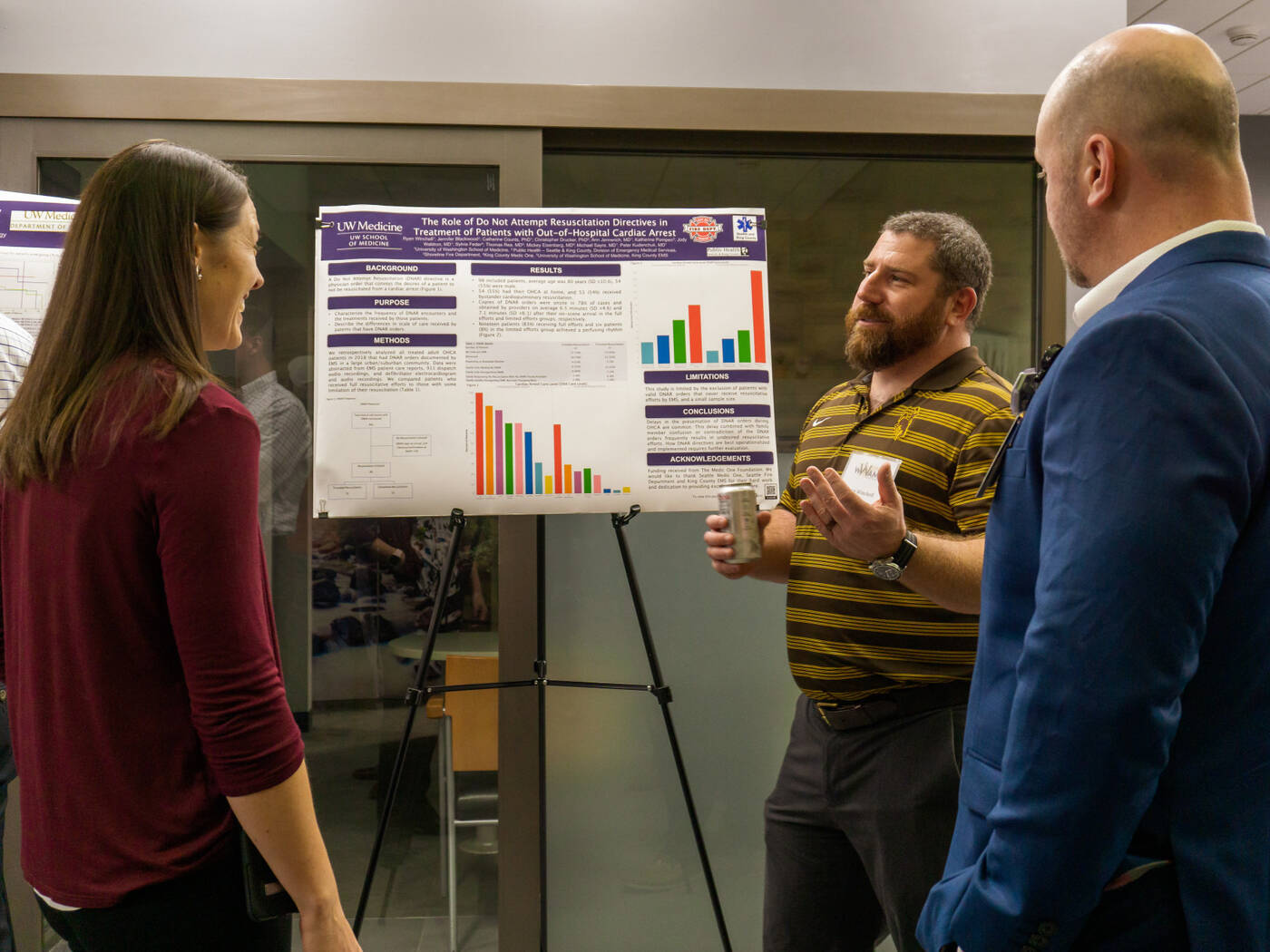 In the past three years, Ivinson has dedicated a classroom to the WWAMI program and annually co-hosts the white coat ceremony with WWAMI. Early in the partnership, one of the founding adjunct faculty members and a provider in the community for several years, gifted otoscopes and ophthalmoscopes sets to the first year students – as the program has grown, Ivinson has stepped up and partnered with WWAMI to provide this gift to all first year medical students.
"The WWAMI medical students have the opportunity to experience Laramie and Ivinson from day one in their journey," Zajic said. ​"Our partnership allows WWAMI students to meet our community, providers and staff. They experience firsthand Ivinson and the Laramie community's commitment to the health and wellbeing of patients – who are also our neighbors. Ivinson Memorial Hospital has been recognized for two years in a row as one of the Top 20 Rural Hospitals in the country by Nation Rural Health Association, which speaks to our commitment to quality for our community and to our community partners like WWAMI".
Wyoming Doctors, Made in Wyoming
The WWAMI program was created to answer the physician shortage in rural states like Wyoming.
"Nationally, 20 percent of individuals reside in a rural area, but only 11% of physicians nationwide practice in those areas," Robinson said.
Programs like the Rural/​Underserved Opportunities Program (R/UOP) and the Targeted Rural Underserved Track (TRUST) are key examples of cultivating Wyoming students to become Wyoming physicians.
R/UOP is an elective immersion program that provides early exposure in rural medicine to students between their first and second year. Students spend four weeks in rural and underserved communities working alongside local physicians. TRUST students spend the first three years of their medical school career practicing at a WWAMI Rural Integrated Track Experience site.
"In a rural health setting you see stronger social networks, greater shared social experiences and a quality of life that is unmatched in urban communities," Robinson said. ​"Rural care is more personalized care, physicians take the time to get to know their patients, their family and their friends."
Adam Blaine, a second year student from Gillette, is a TRUST scholar that plans to practice Family Medicine when he graduates. Having dedicated his medical school career to the rural track, his clinical experience will be carried out in Douglass, WY.
"Prior to entering medical school, I had the opportunity to work with several physicians around the state who practiced in a rural setting," Blaine said. ​"What I noticed about these physicians is that they had strong personal relationships with their patients while practicing a wide variety of medicine. That experience motivated me to one day serve in the same capacity, where I could build connections with my patients and the community."
Research shows integrating rural health exposure early in a student's educational career increases the chances that they will choose a rural area for practice. This practice gives students the opportunity to work closely with an established provider in a rural community and learn what rural medicine really looks like.
Robinson attributes WWAMI's success in Wyoming to the fact that students are spending time with rural physicians individually and rural physicians are sharing their professional network with these students. Wyoming's retention rate is one of the highest in the WWAMI program — 70 percent of Wyoming WWAMI graduates return to the state, of that percentage, 85 percent stay over three years.
"After growing up and graduating from high school in Gillette, I enrolled in an out of state university. While attending college in another state, I realized what I was missing." Blaine said. ​"The people of Wyoming are down to earth with a strong sense of community. Their support for each other with a neighbor-like connection sets them apart from other states. I look forward to the day when I finish my medical education and I am able settle in a rural community in Wyoming."
Robinson looks to the numbers and reports that the biggest factor in recruiting providers to rural areas is where they were trained in medical school. Studies show, students with experience in rural communities come back to rural areas to practice. The longer they train in rural communities, they form relationships with physicians and patients and they want to come back.
"Wyoming is a rural state and like other rural states, has historically experienced difficulty in recruiting physicians," Dr. Johnson said. ​"WWAMI allows us to ​'grow our own' well trained physicians to return to take care of their communities!"
sign up for our email newsletter