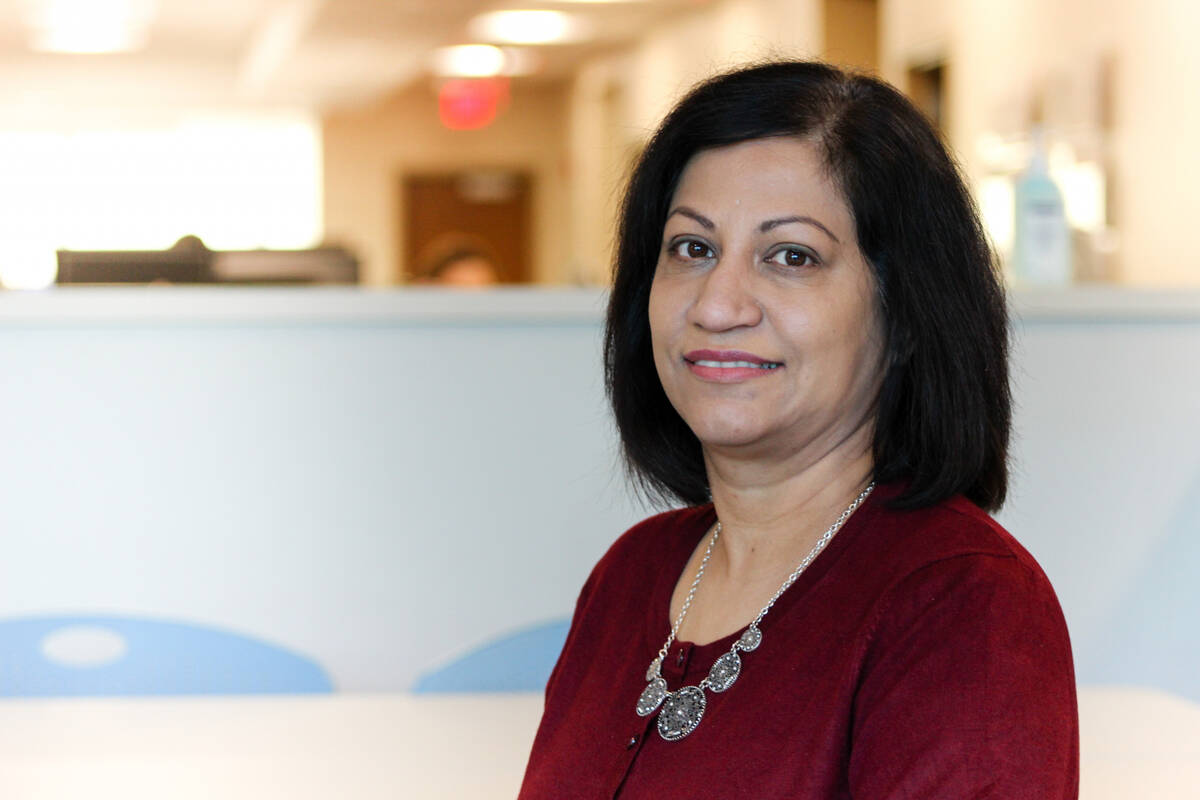 Education
Managing Your Stress at Home
Recognized every June, Men's Health Month encourages men to take control of their health.
Stress effects every­one, men, women and even chil­dren. Every­one expe­ri­ences stress dif­fer­ent­ly, they also cope with stress very differently.
"Women tend to talk about their stress more, they talk to their friends and that is very help­ful to them," said pri­ma­ry care physi­cian Dr. Sameera Fareed. ​"Men tend to inter­nal­ize their feel­ings, they will often not bring up these prob­lems unless they are asked about spe­cif­ic symp­toms of stress."
Heart pal­pi­ta­tions, rest­less­ness, over eat­ing and irri­tabil­i­ty- when stress hits it can effect every­thing from your ener­gy lev­els to your per­for­mance at work. Long term stress can mate­ri­al­ize into seri­ous health con­cerns like hyper­ten­sion, weight gain, dia­betes and high blood pressure.
"The biggest issue with stress is that peo­ple stop tak­ing care of them­selves. Their blood pres­sure goes up, their blood sug­ar lev­els go up and they stop exer­cis­ing," Dr. Fareed said. ​"Stress has a lot of dif­fer­ent neg­a­tive effects on a per­son. Their rela­tion­ships can suf­fer, their work can suf­fer and it does not have to hap­pen that way because there are good ways of deal­ing with stress and they can be done at home mostly."
6

Ways to Man­age Your Stress at Home
Blow off some steam
Before you blow your lid, con­sid­er blow­ing off some steam instead.
"The best thing to do about stress is to real­ly exer­cise," Dr. Fareed said.
You don't have to be the world's strongest man or run a marathon to feel the pos­i­tive effects of exer­cise. Walk­ing, tak­ing the stairs or doing yard­work can improve your mood and cre­ate the same ​"feel good" sen­sa­tion as a car­dio workout.
"Set your­self a goal to exer­cise more often, to lift weights more often, to reach 10 thou­sand steps a day. Ulti­mate­ly, peo­ple that exer­cise feel bet­ter and are less stressed. You are more like­ly to see improve­ment in your mood and feel more at ease when you achieve that goal."
Sleep on it
"The cur­rent rec­om­men­da­tion is 7 – 8 hours of sleep a night."
Adults that report get­ting less than eight hours of sleep are more like­ly to report feel­ings of anger, irri­tabil­i­ty, lack­ing ener­gy or inter­est and feel­ing overwhelmed.
"Lack of sleep rais­es the cor­ti­sol lev­el which caus­es stress. Cor­ti­sol is a stress hor­mone," Dr. Fareed says. ​"Lack of sleep affects var­i­ous aspects of your dai­ly life. If you are not sleep­ing well, you should talk to your doc­tor, there may be oth­er health con­cerns going on."
A study from the Amer­i­can Psy­cho­log­i­cal Asso­ci­a­tion states that sleep is so cru­cial that even slight sleep depri­va­tion or poor sleep can affect mem­o­ry, judg­ment and mood. ​"Research has shown that most Amer­i­cans would be hap­pi­er, health­i­er and safer if they were to sleep an extra 60 to 90 min­utes per night."
Take a deep breath
Some­times we can get so caught up in stress­ful sit­u­a­tions that we for­get to breathe.
"A lot of peo­ple real­ly ben­e­fit from abdom­i­nal breath­ing exer­cis­es," Dr. Fareed said. ​"If it is done prop­er­ly, it can relieve a lot of anxiety."
Abdom­i­nal breath­ing, also known as diaphrag­mat­ic breath­ing is a breath­ing exer­cise often rec­om­mend­ed for indi­vid­u­als with COPD to pro­mote diaphragm strength­en­ing. Oth­er health ben­e­fits include low­ered stress lev­els, reduced blood pres­sure and decreased heart rate.
"Real­ly that is what a lot of peo­ple want to know, if I am feel­ing anx­ious, what should I do? Abdom­i­nal breath­ing that is what I recommend."
Be kind to your liver
After a stress­ful day, it might seem like a good idea to reach for a cold one, but when you are cop­ing with stress, alco­hol can actu­al­ly be harmful.
Besides being harm­ful to your sleep cycle which already may be suf­fer­ing from stress, increased alco­hol use with stress can neg­a­tive­ly impact your men­tal health.
"Reduce your alco­hol intake when you are espe­cial­ly stressed," Dr. Fareed said. ​"Alco­hol is a depres­sant and it can cause prob­lems with depres­sion. Alco­hol is not a good way to deal with stress."
Mind your men­tal space
When you are over­whelmed, dai­ly activ­i­ties can become dif­fi­cult. It may become hard to focus when your mind is rac­ing in a hun­dred dif­fer­ent direc­tions. Calm your mind and your nerves, with a few min­utes of meditation.
"Med­i­ta­tion can real­ly make a dif­fer­ence to stress lev­els. Even 10 min­utes of sit­ting down can decrease anxiousness."
Don't know how to med­i­tate? How do you even start? No wor­ries, there is an app for that! Com­pare The Best Med­i­ta­tion Apps of 2019 and pick one that works best for you.
Go take a hike
All work and no play can make for increased amounts of stress. Thank­ful­ly, you don't have to go far to find escape in the outdoors.
"We are in Wyoming, go out­doors! Get some fresh air."
Spend­ing time out­side is a free and effec­tive way to improve your stress lev­els. When you are par­tic­i­pat­ing in out­door activ­i­ties, hik­ing a trail, fish­ing the stream or just enjoy­ing the sun, it increas­es your blood cir­cu­la­tion as well as sero­tonin lev­els and endorphins.
"You don't have to be in Hawaii to relax. You don't have to spend a lot of mon­ey. You can relax in your own home."
sign up for our email newsletter