Employee Spotlight
Mark Holder: Coming Home
Mark is the Title 25 Coordinator on Ivinson's Behavioral Health Services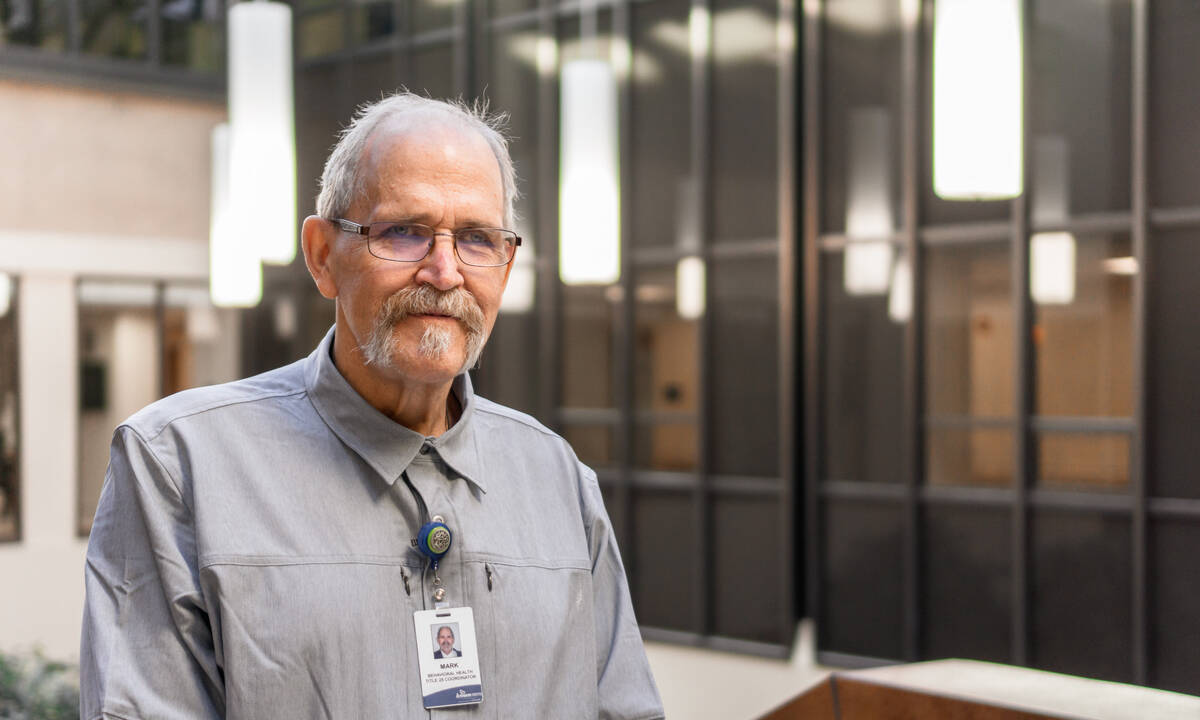 How does one begin to sum­ma­rize the ongo­ing 40-year career of a nurs­ing direc­tor, instruc­tor and com­mu­ni­ty leader that Mark Hold­er is to Ivin­son and the Laramie com­mu­ni­ty? The expo­nen­tial growth he both wit­nessed and under­went at the hos­pi­tal, the count­less awards, numer­ous class­es he taught and com­mit­tees he led are only some of his accomplishments.
In his 26th year of nurs­ing, his biggest hur­dle came from the oth­er side of health­care, as the patient.
"My mom is a nurse and she real­ly got me think­ing about com­ing into med­i­cine," Mark said.
When he joined the Ivin­son team in 1981, Mark was a stu­dent at the Uni­ver­si­ty of Wyoming. After earn­ing his cer­ti­fied nurs­ing assis­tant cer­ti­fi­ca­tion in Casper, Mark start­ed in Ivinson's cen­tral ster­il­iza­tion depart­ment. In the evolv­ing role, Mark would deliv­er sup­plies and respond to emer­gen­cies in the emer­gency room.
"It was almost like we were in-house EMT's in a way," Mark said. ​"We bal­anced both. That depart­ment went through sev­er­al dif­fer­ent dura­tions from cen­tral ster­ile to becom­ing med­ical ser­vice tech­ni­cians (MST's), then even­tu­al­ly, we were put in the ER full-time."
The ER quick­ly became Mark's stomp­ing grounds and his home away from home.
"I have always been a pro­fes­sion­al stu­dent," Mark said of his many inter­ests he pur­sued. ​"I start­ed study­ing at the uni­ver­si­ty think­ing that I want­ed to go to med­ical school but I became pret­ty enam­ored with the per­son­al care side of things. So I end­ed up going on to become a nurse."
In 1994, Mark took on a new title at Ivin­son, reg­is­tered nurse in Behav­ioral Health Ser­vices. After two years, Mark returned to the ED as a front­line nurse before becom­ing the Unit Edu­ca­tor and even­tu­al­ly, the ER Nurs­ing Direc­tor. Always will­ing to lend a hand when BHS need­ed help, Mark took on dual lead­er­ship as both the Emer­gency Room and BHS Nurs­ing Director.
Between direc­tor duties of two major depart­ments, Mark found time to teach life sup­port and advanced trau­ma nurs­ing cours­es and sat on mul­ti­ple com­mit­tees ded­i­cat­ed to com­mu­ni­ty men­tal health ser­vices. In 2010, Mark took ER Nurs­ing Direc­tor off of his plate and con­tin­ued to over­see BHS.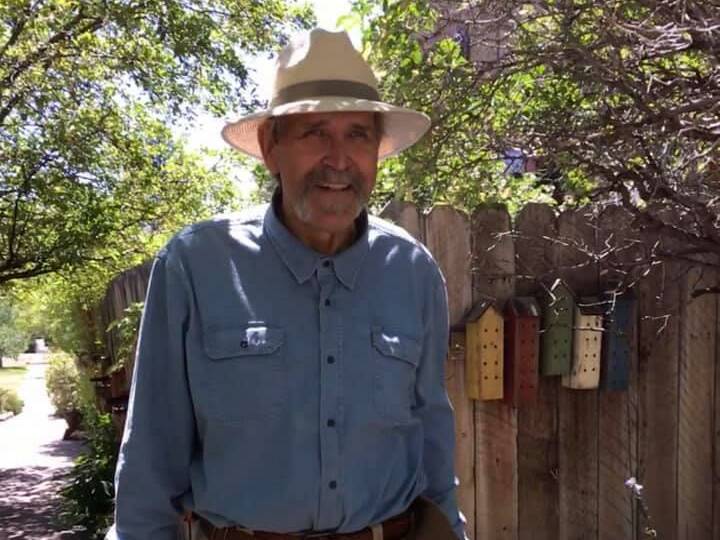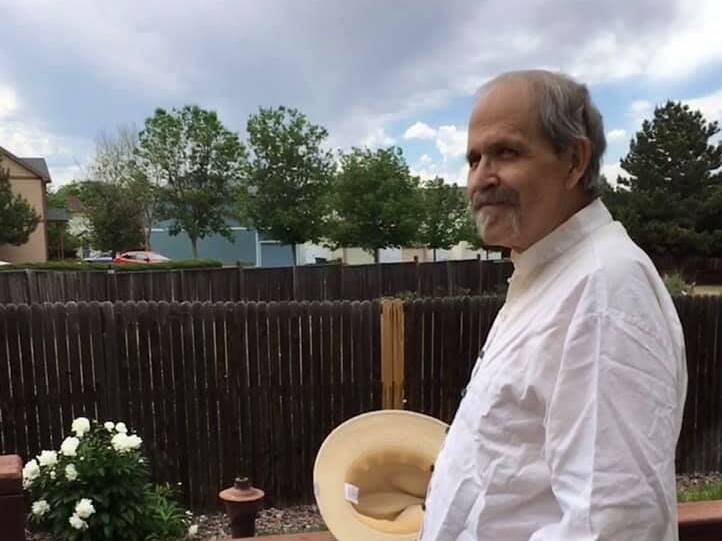 On the oth­er side of healthcare
It was dur­ing a free employ­ee blood draw that Mark first took note of some­thing being ​"off". Con­cerned with his val­ues, he turned to a specialist.
"He sent me in for tons and tons of lab work, try­ing to see what's going on," Mark said. ​"He end­ed up send­ing me down to do a liv­er biop­sy in Ft. Collins. That was when I first diag­nosed with the liv­er disease."
Mark con­tin­ued his work at Ivin­son and in the com­mu­ni­ty. In 2015, fol­low­ing the trag­ic loss of sev­er­al young com­mu­ni­ty mem­bers to sui­cide, Mark and the Albany Coun­ty Sui­cide Pre­ven­tion Task­force cre­at­ed the first com­mu­ni­ty text capa­ble hot­line for those is cri­sis. The task­force earned recog­ni­tion of the Amer­i­can Hos­pi­tal Asso­ci­a­tion for lay­ing the frame­work for oth­er facil­i­ties. As he worked to bet­ter count­less hos­pi­tal and com­mu­ni­ty projects, his health con­tin­ued to be a concern.
"The last two years but espe­cial­ly the last cou­ple of months pri­or to my trans­plant I lived in a mild encephalo­path­ic fog. So many of you [here at Ivin­son] helped me dur­ing that time to keep me on track both per­son­al­ly and pro­fes­sion­al­ly," Mark said. ​"In Octo­ber of last year is when things got real­ly bad."
Dur­ing that time he decid­ed to step down as the BHS Direc­tor and moved into a part-time posi­tion that focused on Title 25. Title 25 over­sees pro­grams and grants for out­pa­tient men­tal health and sub­stance abuse support.
Between COVID-19 and the decline in his health, Mark knew he need­ed to be home.
"I had to cease work for some time in April until I had my trans­plant," Mark recalled. ​"East­er Sun­day, I had to go into the ER and get a para­cen­te­sis done to get some flu­id drained off. The week after that, I had to go back in again to get more flu­id drained off."
With his labs declin­ing, the Mon­day after his last ER vis­it, Mark got a call from the trans­plant cen­ter. He was now num­ber one on the waist list. By Wednes­day morn­ing, he received the life chang­ing call, the trans­plant cen­ter had a liv­er for him.
"Myself, as well as my wife, we have so much grat­i­tude toward the donor fam­i­ly. Their son, had passed from a car­diac event at 30 years old. They had decid­ed to donate and I was the for­tu­nate recip­i­ent of that. There is not a day that goes by that I don't think about the family."
On Thurs­day, May 14th, Mark under­went a 9 hour surgery for his liv­er trans­plant. Due to COVID-19 restric­tions at UCHealth-Anschutz, he spent his surgery and 10 days in recov­ery phys­i­cal­ly alone. Fre­quent Face­Time calls with his wife, Colleen and words of encour­age­ment from friends and fam­i­ly mem­bers fol­low­ing his jour­ney on Face­book kept Mark's spir­its high.
"That was a hard time," Mark said. ​"With my liv­er dis­ease clas­si­fi­ca­tion, they felt that I would not live beyond 7 days, I need­ed to have the liver."
In his heart­felt thank you let­ter to his coworker's, Mark thanks the kind words and warm meals that pulled his fam­i­ly through the thick of things.
"My wife Colleen and I, are just so blessed and so grate­ful for every­thing that has hap­pened. It tru­ly is like a sec­ond chance at life. It's a moun­tain top expe­ri­ence in a way," Mark said reflect­ing on his jour­ney. ​"It's dif­fer­ent being on this side. I've always been on the oth­er side of the fence with health­care. I have always helped. It's been a com­plete­ly dif­fer­ent expe­ri­ence being in the patient role and hav­ing to accept help. That's a hard thing to swal­low sometimes."
At the end of July, Mark returned to Ivin­son and was reunit­ed with the work he loves to do.
"I've always enjoyed work­ing with the peo­ple," Mark said rem­i­nisc­ing of the hos­pi­tal staff he has spent decades with. ​"They have become fam­i­ly to me. For me, when I come to work it's almost like com­ing home. It is that kind of place for me, I've lived my life here."
sign up for our email newsletter