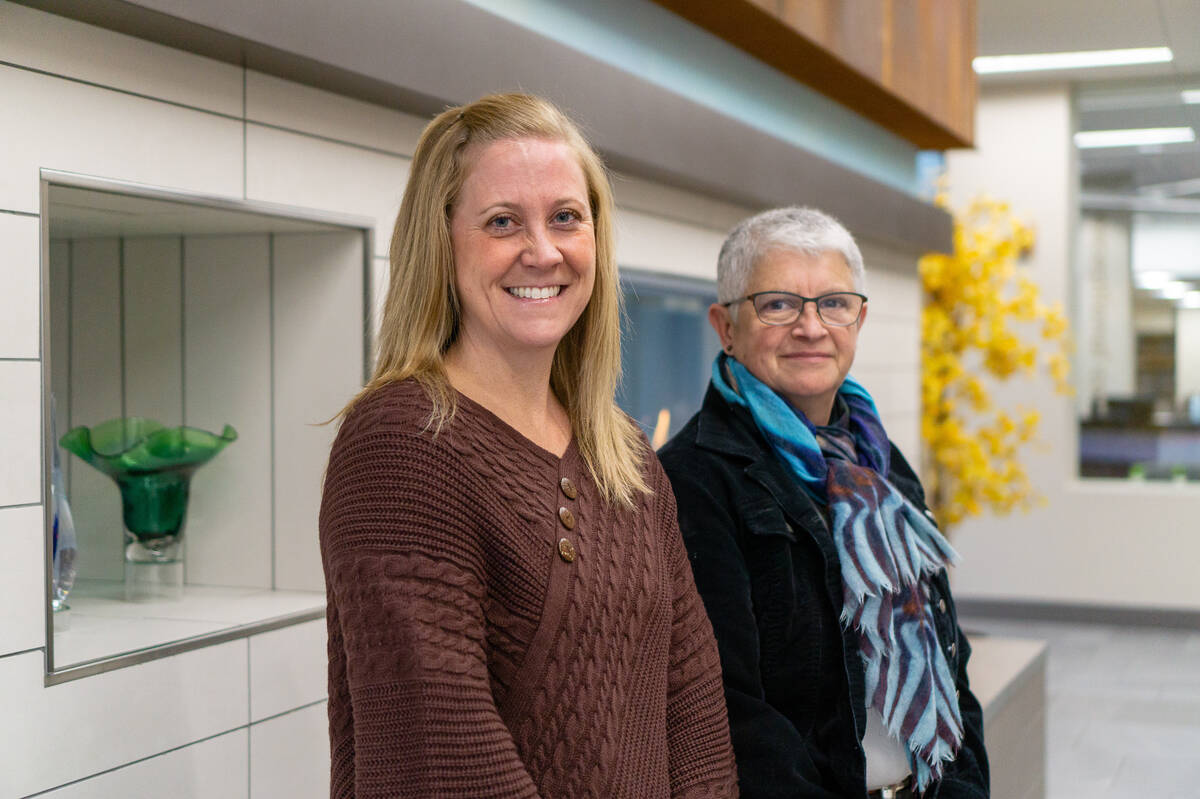 Featured Story
Written by Sagan Wheeler and Shelby Quintana
Meet Our Modern Midwives
Ivinson Memorial Hospital continues to expand its women's health services by offering certified nurse midwifery care to women in Laramie and surrounding communities.
In Novem­ber, Eliz­a­beth Rowe, cer­ti­fied nurse mid­wife, began see­ing patients at Ivin­son Med­ical Group's Women's Health Clin­ic. Esther Gilman-Kehrer, long-time Laramie res­i­dent and cer­ti­fied nurse mid­wife, also joined Ivin­son Memo­r­i­al Hos­pi­tal in a part-time capac­i­ty. Togeth­er, the two will bring to Ivin­son an excit­ing ser­vice that is often request­ed by expect­ing moth­ers — midwifery.

Elizabeth's vast expe­ri­ence in nurs­ing and fierce advo­ca­cy for women's health led her to mid­wifery prac­tice. Liz grad­u­at­ed from Uni­ver­si­ty of Col­orado Col­lege of Nurs­ing in the nurse mid­wifery pro­gram and com­plet­ed her inte­gra­tion at Saint Joseph's Hos­pi­tal in Den­ver before mov­ing to Laramie with her hus­band and two chil­dren. ​"To me, birth is not only about bring­ing new life into this world, but it is also about cre­at­ing strong and con­fi­dent moth­ers," Liz said, when speak­ing about her mid­wifery practice.
Esther has been prac­tic­ing mid­wifery in Wyoming and Col­orado for over 16 years. After active­ly prac­tic­ing in Laramie from 2002 to 2010, Esther obtained her doc­tor of nurs­ing prac­tice from the Uni­ver­si­ty of Col­orado Col­lege of Nurs­ing. She returned to Laramie in 2012 and has stayed involved in the Laramie med­ical com­mu­ni­ty work­ing at Laramie Repro­duc­tive Health Clin­ic as a fam­i­ly nurse prac­ti­tion­er and teach­ing in the fam­i­ly nurse prac­ti­tion­er pro­gram for the Uni­ver­si­ty of Wyoming. Esther is a pas­sion­ate advo­cate for mid­wifery care, and sup­ports women and their fam­i­lies through preg­nan­cy, birth and beyond. Esther is delight­ed to join the Ivin­son team to help rebuild the mid­wifery pro­gram while tak­ing month­ly obstet­ric call.
Liz and Esther will be prac­tic­ing with OB/​GYNs, Drs. Kim West­brook and Derek Ewell, in a team-based mod­el where OB/GYNS and cer­ti­fied nurse mid­wives work col­lab­o­ra­tive­ly to care for patients of the Women's Health Clin­ic. ​"We are thrilled to offer mid­wifery care again at Ivin­son Memo­r­i­al Hos­pi­tal. The addi­tion of mid­wives to our team will strength­en our women's health­care pro­gram sig­nif­i­cant­ly. Our cer­ti­fied nurse mid­wives offer anoth­er provider option with a slight­ly dif­fer­ent phi­los­o­phy of care than physi­cians, which is extreme­ly valu­able to our com­mu­ni­ty and our clin­ic," offers Dr. Kim Westbrook.
While the feed­back from our Ivin­son team and com­mu­ni­ty mem­bers has been resound­ing­ly pos­i­tive about offer­ing mid­wifery care to our com­mu­ni­ty, there are many who want to know more. What is a mid­wife? How do mid­wives dif­fer from OB/​GYNs? Can I see a mid­wife through­out my pregnancy?
Cer­ti­fied nurse mid­wives are advanced prac­tice reg­is­tered nurs­es with at least a master's degree who are board cer­ti­fied in the spe­cial­ty of mid­wifery. Mid­wives are experts in nor­mal low risk preg­nan­cy, birth and post­par­tum care in a sup­port­ive envi­ron­ment. Mid­wives also pro­vide care for women across their lifes­pan, includ­ing well woman, con­tra­cep­tive, and menopause care. Mid­wives at Ivin­son prac­tice with­in a team-based mod­el of care and con­sult with obste­tri­cians, peri­na­tol­o­gists and oth­er health­care providers and will refer to appro­pri­ate med­ical pro­fes­sion­als if com­pli­ca­tions arise.
A com­mon mis­con­cep­tion is that birthing with mid­wives requires an all-nat­ur­al deliv­ery. Our mid­wives work to pro­vide indi­vid­u­al­ized labor sup­port, mean­ing all modes of pain man­age­ment are avail­able to you, rang­ing from an unmed­icat­ed birth to epidur­al anal­ge­sia. Cer­ti­fied nurse mid­wives have hos­pi­tal priv­i­leges and can pre­scribe med­ica­tion and also work with cer­ti­fied reg­is­tered nurse anes­thetists for epidur­al care. Our mid­wives' goal is to help you achieve the birth expe­ri­ence you envi­sion in a sup­port­ive, car­ing environment.
Com­pli­ca­tions in labor and in birth can occur, but the team-based approach to obstet­ric care at Ivin­son Memo­r­i­al Hos­pi­tal means the mid­wives and physi­cians work col­lab­o­ra­tive­ly to han­dle any com­pli­ca­tions that may arise. If a cesare­an deliv­ery is nec­es­sary, your mid­wife can accom­pa­ny you and your part­ner to pro­vide addi­tion­al sup­port in the oper­at­ing room.
If you are inter­est­ed in work­ing with a mid­wife, our team will review your his­to­ry and help decide if a mid­wife is right for you at the begin­ning of your preg­nan­cy. You may still receive the ben­e­fits of mid­wifery care even if high-risk con­di­tions arise, while you, your mid­wife and physi­cian work as a team. This is a shared deci­sion between you and providers.
sign up for our email newsletter