Employee Spotlight
19 January 2022
Milestone Awards Week
Every January at Ivinson, we launch into the New Year by thanking the staff that make caring for our community possible.
We begin by recognizing our team members that are celebrating major milestones in their years of service. This year, we celebrate 42 employees who reached between 5 and 40 years of service at Ivinson during 2021.
Wendy Frank
MEDICAL/SURGICAL UNIT — 

40

YEARS AT IVINSON
Wendy Frank knew from a young age that she liked taking care of people.

"When I was little, I thought I wanted to be a nurse," Wendy recalled. After taking a few classes, Wendy decided to forgo the university route and opt for a different role. ​"As a CNA at at hospital, I'm helping people and I am where I want to be. I have more fun than the nurses anyways."
In 1981, Wendy joined the Ivinson team. She started as a CNA on the medical/​surgical floor before she moved to Ivinson's newly opened Extended Care Facility (ECF) in the late 80's.
"Extended care was a new idea," Wendy recalled of her move. ​"I stayed on extended care from the first day they opened their doors until the last day when they closed. I saw that unit through its whole life."
When ECF transitioned into a new swing bed program, Wendy knew where she wanted to go, back to where it all began.
"I knew where I wanted to be. Not Behavioral Health, not Family Care, not OR or surgical, I wanted to be back on med/​surg," Wendy, who had worked nearly every aspect of patient care in the past, was welcomed back to the med/​surg unit with open arms and a locker to call her own.
In her 40 years at Ivinson, Wendy hasn't slowed down a bit. If you asked her patients, she may be more on top of it than ever. Wendy takes a lot of pride in caring for patients and does so with compassion.
"40 years later I still like it," Wendy joked. ​"My love for taking care of people and the patients is what keeps me going. I like what I do, I still do. I'm not burnt out yet. I'm still in the right place. I want to be here."
Verna Morfeld
NUCLEAR MEDICINE — 

30

YEARS AT IVINSON
Verna is a nuclear medicine technologist who had an unlikely trajectory into the medical field.

"I came to Laramie to complete my bachelor's degree in art history," Verna said. ​"It is a very competitive field that often requires a PhD." Looking for a career path that provided security, Verna came across the x‑ray program. ​"I was always far more into arts than science and math. I really was kind of surprised that I liked the x‑ray and nuclear medicine programs as much as I did. It's a different kind of picture."
While still in x‑ray school, Verna joined the Ivinson team while completing her clinical rounds. Starting as an x‑ray technologist, Verna then became registered in bone density scans, worked as a surgical tech but has been working in nuclear medicine the longest. After cross training in nuclear medicine for a year, completing a nuclear medicine schooling program out of Cleveland and passing her certification exam, Verna is now Ivinson's sole nuclear medicine provider.
"Almost everything in nuclear medicine is about function," Verna explained. ​"If you look at an x‑ray, you are looking at structure, but you are not seeing function. Over here we use radioactivity to do diagnostic studies. Using a gamma camera, we take a series of pictures through time and actually see the radioactivity traveling through the body and determine how different areas of the body are functioning."
For Verna, her favorite part of her job is helping patients reach a diagnosis. One of the perks of working in the same field for 30 years is being part of the progress made between medicine and technology.
"My favorite is a simple node exam," Verna explained. ​"If a woman has breast cancer, they want to know what is the main node that clears that area. The radiologist will inject radioactivity and we can see that main lymph node. It used to be, if you had breast cancer on the right hand side, they wiped out all of your lymph nodes on that side."
When she isn't looking at medical images, Verna still enjoys looking at the pictures that gained her interest first, art. Once a month, she takes part in her book club. Based out of Sacramento, Verna has been a member over the last 10 years, and calls in to the group to take part.
Amber Wells
INTENSIVE CARE UNIT — 

20

YEARS AT IVINSON
Amber is a registered nurse of Ivinson's Intensive Care Unit, providing care to the most critical patients at Ivinson.

In her two decades at Ivinson, Amber has worked as an activities coordinator, and a CNA, before becoming a licensed practicing nurse in the extended care unit and then a registered nurse. She has spent time caring for patients on the medical/​surgical unit, caring for new moms and children on the family care unit and has even floated over the the behavioral health unit.
If you ask Amber, she will tell you that throughout all of her growth at Ivinson, she considers the ICU her home and she could not imagine working anywhere else.
As a nurse who has patient care experience in several departments and roles at Ivinson, Amber serves as a wealth of knowledge to her peers and a great resource to work alongside.
Currently, Amber is training to be a House Supervisor, lending her 20 years of patient care knowledge to leading the Ivinson team.
When she is not caring for others, Amber enjoys cross country skiing and caring for her pet salamander, Fat Max. This winter, she is looking forward to hot tenting in the Snowies.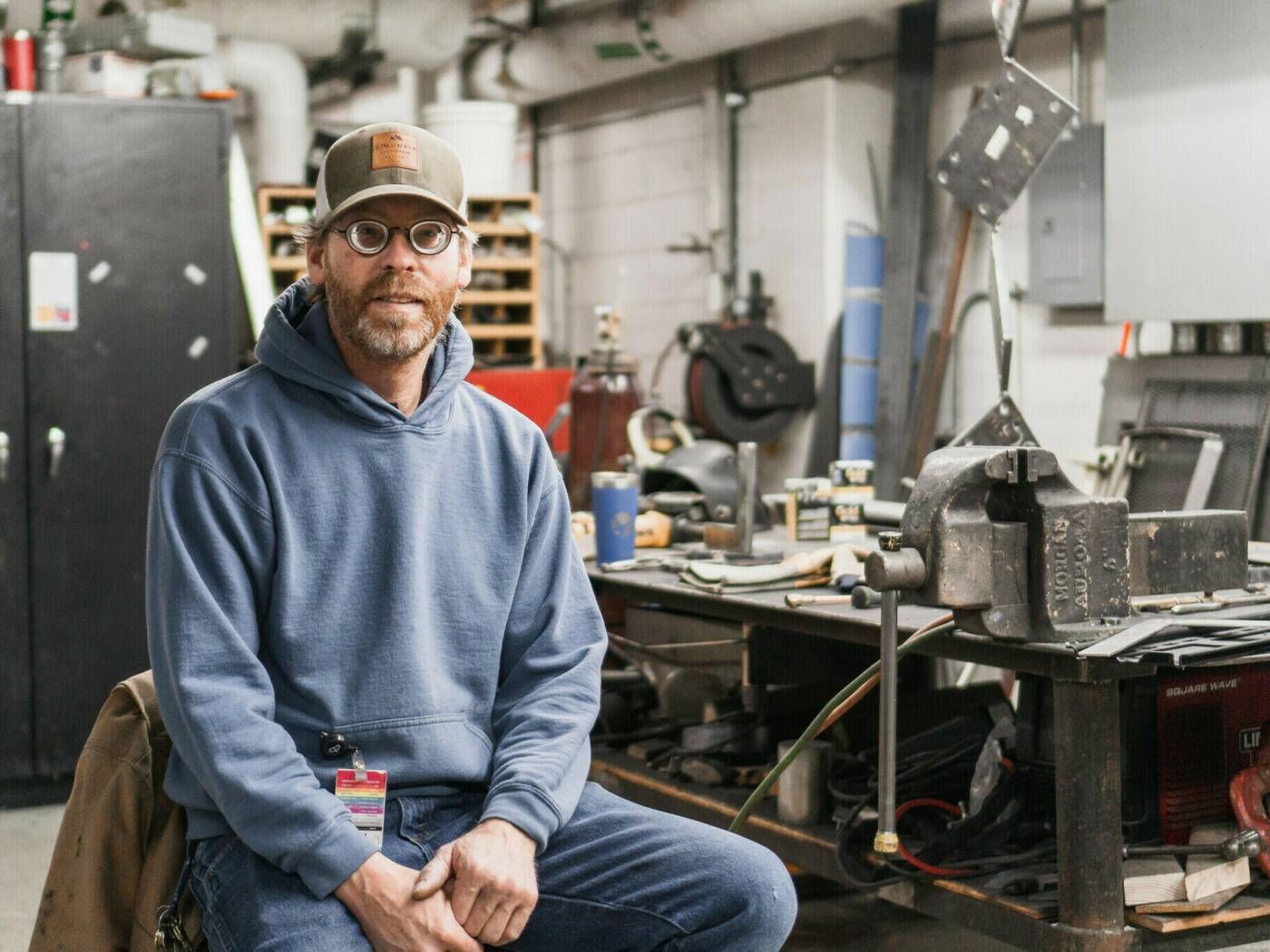 Arnold Salo
ENGINEERING — 

15

YEARS AT IVINSON
If you ask Arnold, he will tell you that he wound up at Ivinson by accident. 15 years later, he has no plans on leaving.

"I love my job," Arnold said of his last 15 years at Ivinson. ​"When I get up in the morning, I enjoy my job and that's what keeps me here. It's probably one of the best places to work in Laramie."
As Ivinson's groundskeeper, you can usually find Arnold outside tending to landscaping and irrigation in the summer months and pushing snow in a tractor in the winter. Aside from keeping Ivinson's grass pristine and the flowerbeds looking lovely, Arnold is perhaps best known for his lighting displays.
"Some people know that I love Christmas lights and I build my own lighting controllers. I actually do a lightshow to music, like the Courthouse," Arnold said.
Arnold's home is known for being a point of attraction come Christmas and has had Christmas displays that have been programmed to ​"Ragtime Cowboy Joe" and ​"The Griswold Family Christmas Vacation". What many people do not know, is that Arnold built the lighting controllers himself and sequences his own music.
Arnold is self-taught in not only grounds keeping and lighting but many areas that piqué his interest. ​"I do a lot of stuff, there is not much I can't build or can't fix, I can figure it out."
When he isn't caring for the grounds at Ivinson, Arnold is growing giant pumpkins, spending time with his wife and kids or working on his next do-it-yourself project.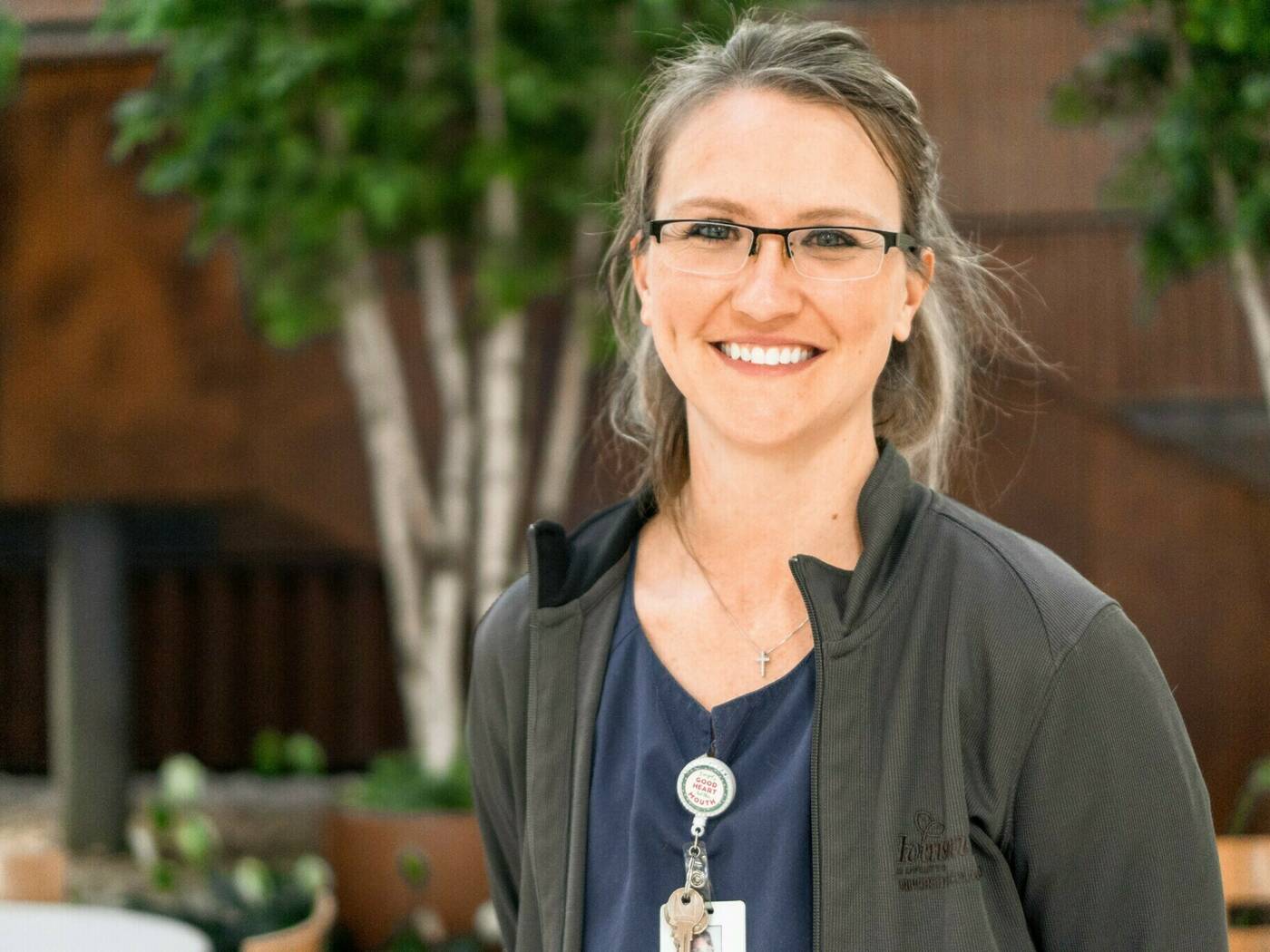 Kally Lenhardt
DIALYSIS — 

10

YEARS AT IVINSON
Kally joined the Ivinson team as a new graduate to the Ivinson Dialysis unit. She was the first graduate nurse hired to the unit after earning her bachelors of nursing at the University of Wyoming. In her 10 years at Ivinson, Kally spent 3 years in the cancer center administering chemotherapy but has always called dialysis her home.

"Nursing in dialysis is different largely because its chronic care," Kally said. ​"We deal with the same patients day in and day out."
Currently, Kally is the clinical supervisor of the Dialysis unit and enjoys the work because of the team she works with and the patients she cares for.
"Ever since I was a little girl, I wanted to be a nurse. Never did I imagine I would be a dialysis nurse and supervising the unit"
When she isn't caring for patients, Kally enjoys spending time with her family camping, fishing, skiing and being outdoors.
Debbie Martin
DIETARY — 

5

YEARS AT IVINSON
For the last 5 years, Debbie has brought her upbeat tunes and service with a smile, to Ivinson's dietary department.

Debbie came to Ivinson after raising her family and fell in love with being part of the Ivinson team. Seeing over 100 people a day as a nutrition services assistant, Debbie has stayed at Ivinson for the people.
"I like talking to people and trying to make them smile if they had a bad day," Debbie said. ​"That's why I play my music, because I want to see people be happy. It's not only serving my food, or cleaning and making sure that everything is okay. Sometimes the doctors or nurses may be having a hard day up on the floor and if they come down and do a little dance or sing a little song, then I did my job."
Debbie has been known for remembering not only names and faces but what your go-to order is as well. When she isn't keeping the café in tip-top shape, Debbie enjoys several hobbies including painting, shopping, dancing, reading or spending time with her husband of 43 years, Steve.
"You are important here," Debbie said about working in a hospital. ​"Even in dietary, you are an important person. When we all work together, then it all works and it all flows."
Employees Hitting Major Milestones
Lois Cannell
Quality Management

5

years
Megan Peterson
Catscan

5

years
Jim Bands
Hospital Administration

5

years

Wendi Welniak

Dialysis

5

years
Amy Weaver
Audiology

5

years
Catherine Cook
Catscan

5

years
Erin Davis
Special Procedures

5

years
Bailey Koster
Rehabilitation

5

years
Darby Truman
Clinical Engineering

5

years
Jennifer Anton
Med Surg IP

5

years
Nancy Beck
PACU

5

years
Sagan Wheeler
Human Resources

5

years
Debbie Martin
Dietary

5

years
Laurie Sullivan
Laboratory

5

years
Marissa Hansen
Surgery

5

years
Mike Kopp
Engineering

10

years
Becky Adams
Rehabilitation

10

years
Claire Crochet

Behavioral Health Services

10

years
Kally Lenhardt
Dialysis

10

years
Ruby Dunlap
Patient Financial Services

10

years
Josh Gouge
Engineering

10

years
Amy Smith

Medical Oncology

10

years
Sharon Fields
Patient Financial Services

10

years
Max Walter
Dietary

10

years
Martha Rose
Labor and Delivery

10

years
Jan Young
Dietary

15

years
Abe Bobbitt
Engineering

15

years
Nicole Rooney
Hospital Administration

15

years
Ryan Brown
Materials Management

15

years
Arnold Salo
Engineering

15

years
Brandon Lewis
Information Systems

15

years
Paul Wright
Engineering

15

years
Erin Rumsey
Emergency Department

15

years
Jessica Schnitker-Lipps
Admitting

15

years
Deb Wessels
Obstetrics

20

years
Amber Wells
Intensive Care Unit

20

years
Tim Jette
Environmental Services

20

years
Pam Smith
Obstetrics

30

years
Verna Morfeld
Nuclear Medicine

30

years
Mark Holder
Human Resources

40

years
Wendy Frank
Med Surg IP

40

years

Marilyn Krysl

PACU

40

years