Employee Spotlight
4 January 2023
Celebrating our Team
Every January at Ivinson, we launch into the New Year by thanking the staff that make caring for our community possible.
We begin by recognizing our team members that are celebrating major milestones in their years of service. This year, we celebrate 60 employees who reached between 5 and 35 years of service at Ivinson during 2022.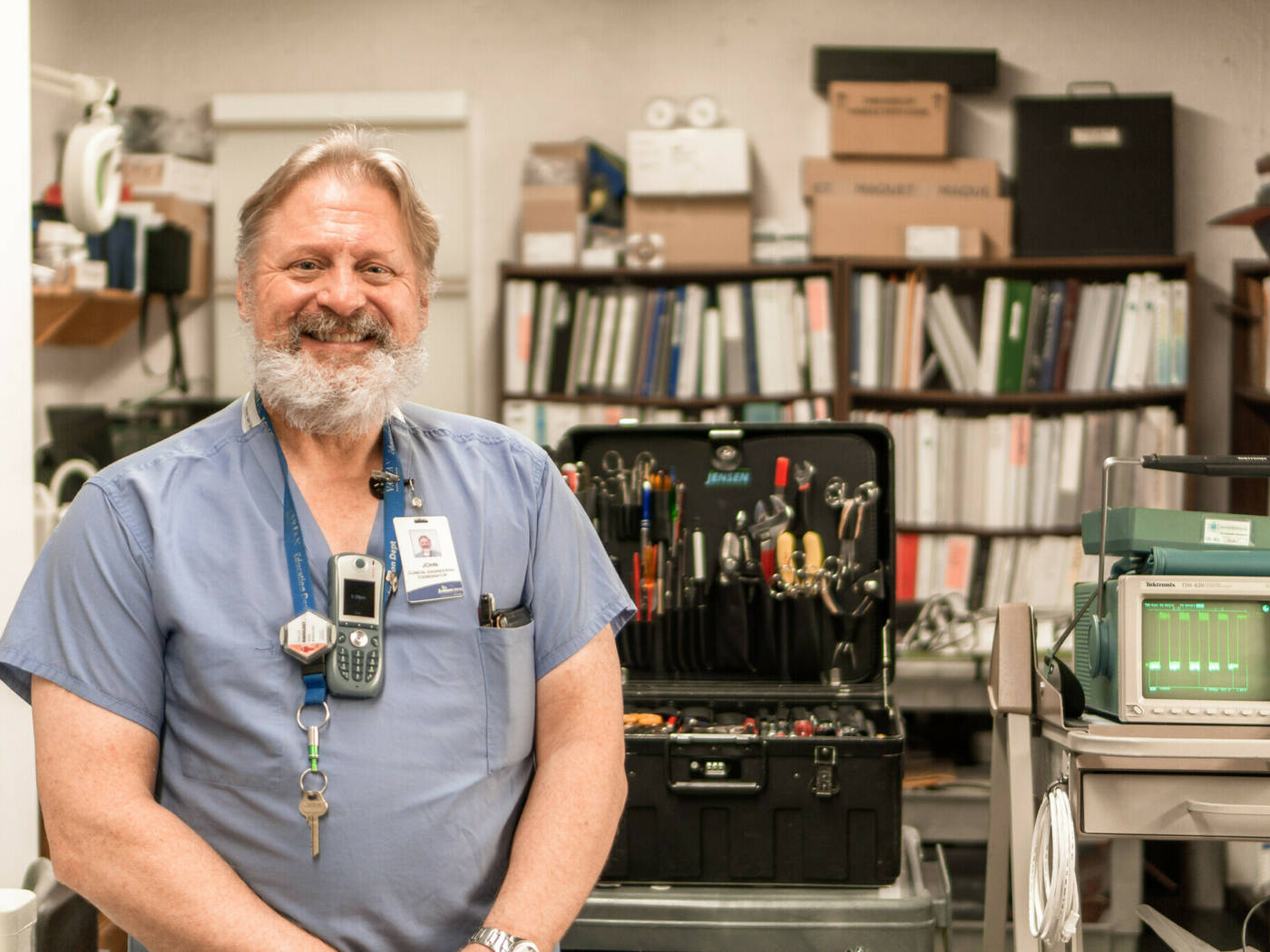 John Rindler
CLINICAL ENGINEERING / BIO-MED — 

35

YEARS AT IVINSON
"I dreamed about living in Wyoming since I was a kid"
John has always had a special place in his heart for the Midwest, but the mountains and unexpected job helped him settle in Laramie, Wyoming. John was originally from Ohio, but rode his motorcycle to the great Wyoming mountains in hopes to catch his old wheat harvesting crew. Unfortunately, John missed his old wheat harvest crew, but did gain a job out of his travels.
An old friend contacted John about needing a technician for a third party company as a biomedical engineer going from Denver, to Cheyenne, and to Laramie fixing medical devices. John always liked fixing devices from a young age and pursued a degree in biomedical engineering. John provided contracted services to Ivinson for 5 years, which then led to getting hired full-time at Ivinson. John has been fixing medical devices ever since.
"I like working with the new technology, hospitals get the latest and greatest stuff all the time," John states as one of the main reasons he stayed at Ivinson for 35 years. John enjoys being able to work with all different kinds of technology and fix devices so they work perfectly for when the staff is providing care for a patient. Working with top-of-the-line medical technology is not the only reason John stayed at Ivinson. John described working at Ivinson as a good place to work with nice people, who are almost like family. ​"It's a great place to work in a way that individuals try and keep the hospital running and up to date, with great support from the community."
If John isn't fixing or testing medical devices at Ivinson he is riding around his Harley Davidson with his wife or spending time with his two sons. John also enjoys big game hunting, but especially elk hunting. John likes to take advantage of the Wyoming land which allows him to enjoy fishing, camping, and anything that involves the outdoors.

Robyn Curtis-Rice, FNP
IVINSON MEDICAL GROUP PRIMARY CARE CLINIC — 

20

YEARS AT IVINSON
Robyn came from Billings, Montana to Wyoming to pursue her music degree but later realized a nursing route was more her style. Robyn attended Laramie County Community College (LCCC) for her nursing degree and married her husband who originated from Laramie WY, which they both now call their forever home.
Robyn continuously challenged herself throughout her career from starting as a registered nurse to now being a nurse practitioner, where she utilizes that skill to be a primary care provider at Ivinson Medical Group. Throughout her career at Ivinson, Robyn's positions/​roles have included LPN on med/​surg, RN on med/​surg, RN in the ICU, nursing house supervisor, nurse practitioner and even taking on the role of being a preceptor for NP students for the last 10 years.
"It's a good way to pay back what you've learned from others and helps keep me up to date because the students have to know the latest guidelines. I enjoy them and watching them grow and change."

Robyn has stayed at Ivinson for 20 years because she loves watching the people grow and change around her, whether that is her patients, students, or fellow colleagues.
"Getting to have relationships with people is my favorite part. Having a relationship with patients in primary care allows you to watch them grow throughout their lives, sometimes it's at the end of their life, but can also be a major honor."
Robyn states how special it is getting to see the staff keep growing and changing throughout the years too.

Robyn started playing the violin when she was six years old and switched to the viola when she turned 18. She currently plays her viola as a substitute for the Cheyenne Symphony or the Wyoming Symphony in Casper. The rest of her free time goes to downhill skiing, hiking, camping, and spending time with her husband, 2 sons and many animals.

Jonna Connett
EDUCATION — 

10

YEARS AT IVINSON
Jonna Connett has a background full of experience inside the walls of Ivinson that has taken place over the last 10 years. Jonna is currently working in Human Resources as the Education Coordinator. In her role, she keeps track of the credentialing and licenses for staff, onboards clinical and observation students, and organizes Lunch & Learn events and new employee orientations.
Jonna has many other experiences before becoming the Education Coordinator. In 2012, Jonna first got hired on at Ivinson as a facsimile specialist in Health Information Management. There she would do hospital rounds, ensuring employees could fax the information they needed. After being in medical records for 2 years, Jonna moved to transcription in Human Information Management where she transcribed largely for radiology and monitored reports by an outside transcription company that was hired by Ivinson. Lastly, Jonna transferred from a transcriptionist to pediatric care, where she helped open the pediatric care center to the community. Jonna was a key part in opening the pediatric clinic from helping with scheduling to department guidelines.
Jonna emphasizes that Ivinson allows ​"room to grow and try something new if you want to" which allows employees at Ivinson to have an abundant amount of opportunities. ​"Running a hospital is about teamwork and everyone plays a part in helping it run smoothly," Jonna said. ​"It is a stable company to work for because individuals are always going to need health care."

Jonna enjoys the people that work at Ivinson and all individuals are ​"working together to make the patient experience a good one, I don't like for anyone to not feel important because they are."
When Jonna isn't working at Ivinson, she and her husband enjoy hiking in the summer. The most recent place they explored while hiking was Curt Gowdy and Snowy Range. If Jonna isn't hiking, you can find her reading a good book.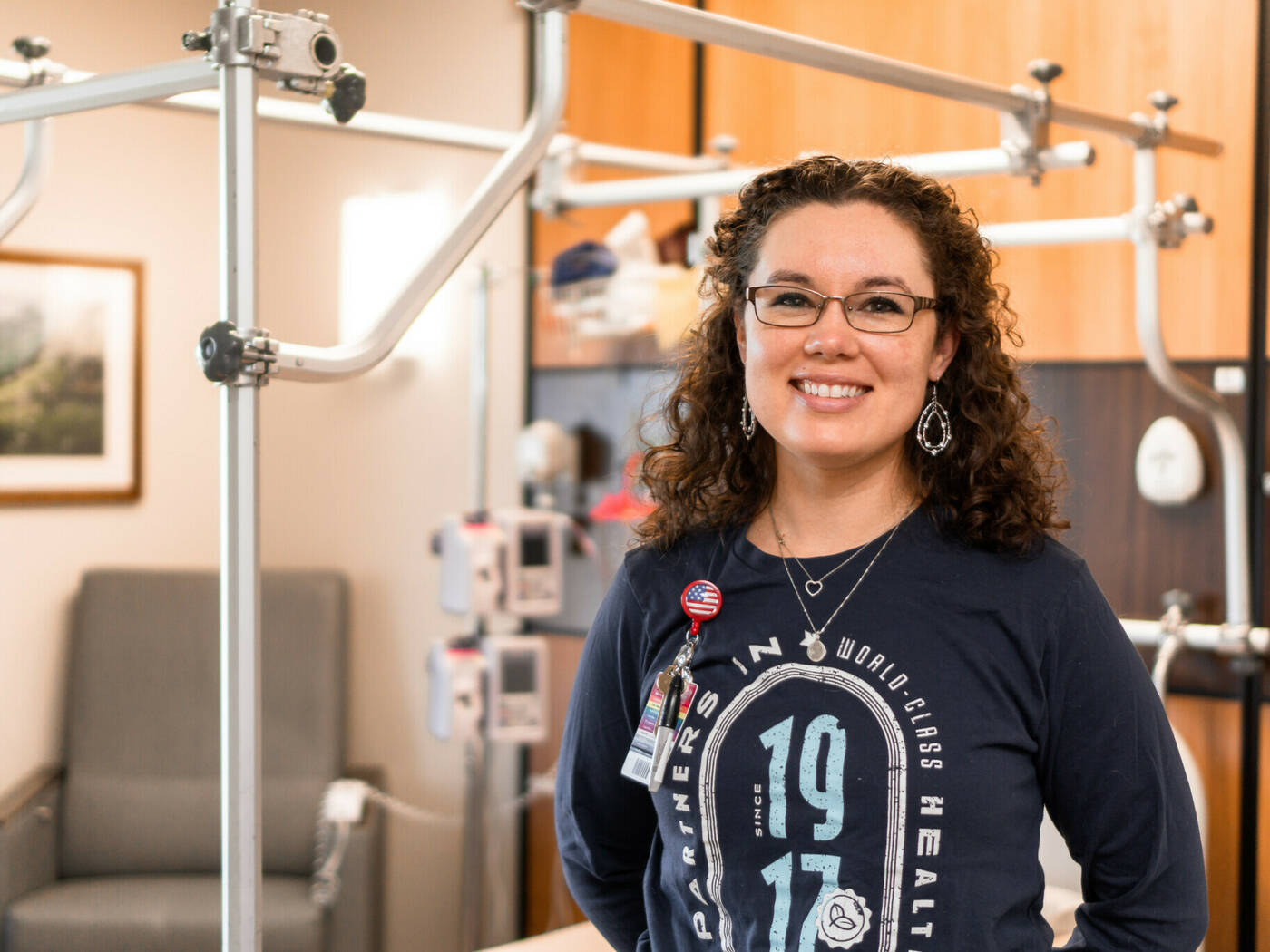 Suzy Peter, RN
HOUSE SUPERVISOR — 

5

YEARS AT IVINSON
​"My favorite part of the job is giving someone dignity when they don't have any left"
Suzy chose the career path of nursing to help individuals. She grew up in Colorado and attended the University of Northern Colorado for her nursing degree. She and her husband later relocated to Laramie, Wyoming when he got offered a job.
During Suzy's time at Ivinson, she has held many roles and positions including: nurse on med/​surg, medical floor charge nurse and currently, house supervisor. Suzy enjoys the position as house supervisor because she gets to help her coworkers succeed. She does this by being a resource for nurses and this includes any questions they have that they need answered to help them complete their job.
"I love the position I'm currently in because I get to help very intelligent and highly skilled people succeed." Not only grateful for her nurses, Suzy is also extremely grateful to work at a hospital that has so many moving parts and coworkers that make the bad days worth it.
The reason Suzy has expressed joy in staying at Ivinson for 5 years is because of the patients she gets to empower. ​"Empowering patients is very important because it gives them power over their own health." Suzy states empowering patients includes having the honor to help educate them in their healthcare and being able to help create a sense of dignity for patients when they feel as if they are inadequate.
When Suzy isn't empowering her patients or coworkers, she is traveling across the world or baking cookies. In Suzy's free time, she enjoys traveling and has enjoyed recent travels to Florida, Hawaii, Tennessee and more. Her favorite place she had the opportunity to visit was Hawaii.

Employees Hitting Major Milestones
Randi Aguilar-Bertram
Surgery

5

years
Scarlett Barnes
Cardiac Rehab

5

years
Jeffrey Becker
Admitting

5

years
Emma Bjore
Internal Med Clinic

5

years
Rebecca Carron
Internal Med Clinic

5

years
Jacob Chavez
Marketing

5

years
Chad Conner
Surgery

5

years
Morgan Corrington
Med Surg IP

5

years
Jennifer Crozier
Dietary

5

years
Becca Fisher
Rehab Services

5

years
Hunter Grant
Medical Staff Office

5

years
Cara Harshberger
Pharmacy

5

years
Katy James
Labor and Delivery

5

years
Paul Johnson
ENT Clinic

5

years
Michelle Johnson
MRI

5

years
Amanda Martin
ENT Clinic

5

years
Lisa Munoz
Med Surg IP

5

years
Kayla Nollen
PACU

5

years
Tina O'Connor
Special Procedures

5

years
Suzy Peter
Nursing Admin

5

years
Angie Sanford
Special Procedures

5

years
Catherine Scharmer
Laboratory

5

years
Cara Schneider
Emergency Department

5

years
Megan Schwantes
Pharmacy

5

years
Samantha Siddons
Process Improvement

5

years
Abigail Soddy
Radiology

5

years
Hannah Wilson
Special Procedures

5

years
Erica Wright
Emergency Department

5

years
Jennesi Bartel
Care Transition

10

years
Carissa Collins
Health Info Management

10

years
Jonna Connett
Human Resources

10

years
Sherry Fritz
Patient Financial Services

10

years
Thaddeus Fritz
Engineering

10

years
Felicia Garcia
Surgery

10

years
Christianna Goodoff
Med Surg IP

10

years
Laurie Groves
Behavioral Health

10

years
Richard Rhoad
Emergency Department

10

years
Jerry Rice
Information Systems

10

years
Lidia Ridley
Sterile Processing

10

years
Roxann Shumaker
Med Surg IP

10

years
Thomas Witkop
Nurse Practitioner

10

years
Marten Carlson
Hospitalist

15

years
Megan Finkle
PACU

15

years
Veronica Hungerford
OB GYN Clinic

15

years
Colleen Lang
Clinic Services

15

years
Lars Peterson
Hospitalist

15

years
Kenneth Robertson
Hospitalist

15

years
Bess Woodhouse
Nursing Admin

15

years
Laura Abell
Engineering

20

years
Robyn Curtis-Rice
Internal Med Clinic

20

years
Deanna Davidson
Behavioral Health

20

years
Carmen Frank-Landreth
Med Surg IP

20

years
Gary Hulit
Behavioral Health

20

years
Geneva Schueler
Care Transition

20

years
Angela Weiss
Mammography

20

years
Debby Wiltse
Med Surg IP

20

years
Caitlin Vasquez
BHS Physician Services

25

years
Willie Harvell
Surgery

30

years
Tara Temsik
Information Systems

30

years
John Rindler
Clinical Engineering

35

years