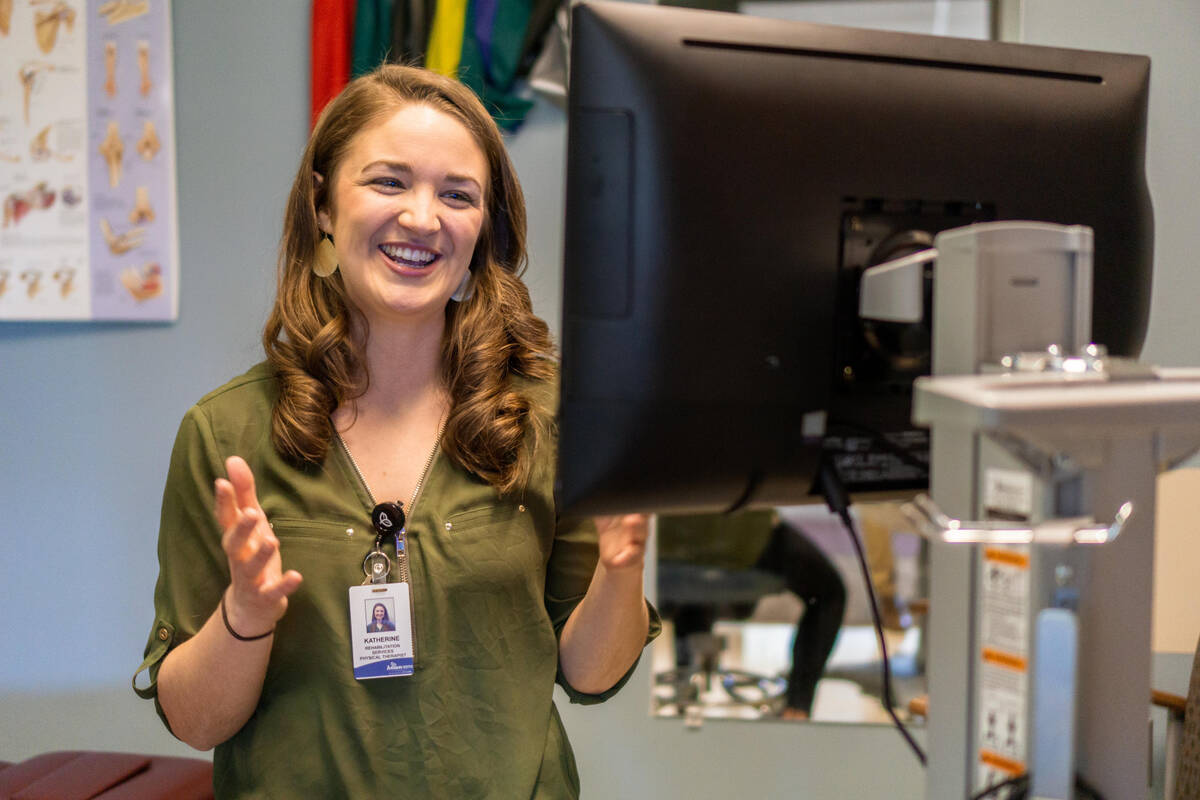 Department Spotlight
Moving Right Along
Rehab providers know better than anyone, despite an obstacle, you have to keep moving.
The Out­pa­tient Reha­bil­i­ta­tion Clin­ic once bustling with move­ment, has tak­en to a slow­er pace since con­cerns of COVID-19 came along.
"There is a high risk because of the pop­u­la­tion we serve," said Kim Tay­lor, direc­tor of reha­bil­i­ta­tion ser­vices. ​"We have sig­nif­i­cant­ly reduced the num­ber of patients we see in order to prac­tice social dis­tanc­ing and to help stop the spread."
Post-oper­a­tive patients for knee, shoul­der and hip surg­eries, acute stroke patients and patients that are at the end of their rehab treat­ment have con­tin­ued with their rehab reg­i­mens to ensure no progress was lost.
With reduced patient loads, rehab staff have made the most of their open schedules.
"My staff has been real­ly cre­ative with find­ing new oppor­tu­ni­ties dur­ing this time. We have installed two new exam tables, had time to deep clean our equip­ment and even had our track cleaned and waxed the floors in our treat­ment rooms. We have some team mem­bers that have tak­en up sewing masks and Tyvek gowns, and we have devel­oped some new online edu­ca­tion tools. The car­diac rehab team has cre­at­ed an online edu­ca­tion pro­gram with video mod­ules for patients to do from home."
Phys­i­cal ther­a­py, speech lan­guage pathol­o­gy and occu­pa­tion­al ther­a­py have also found news ways to reach their patients, by uti­liz­ing tele­health and vir­tu­al visits.
"We are excit­ed about this deliv­ery method as patients who would oth­er­wise be unable to attend phys­i­cal ther­a­py due to COVID-19 pre­cau­tions may com­mu­ni­cate direct­ly with their ther­a­pist via inter­ac­tive video chat," said out­pa­tient phys­i­cal ther­a­pist Kather­ine Wilkins. ​"This allows us as ther­a­pists to assess symp­toms, mod­i­fy treat­ment plans, pro­vide cuing for exer­cis­es and edu­cate patients on strate­gies for symp­tom man­age­ment to main­tain progress and pre­vent func­tion­al decline."
Through tele­health, phys­i­cal ther­a­py providers are able to offer ini­tial eval­u­a­tions and fol­low up treat­ment plans.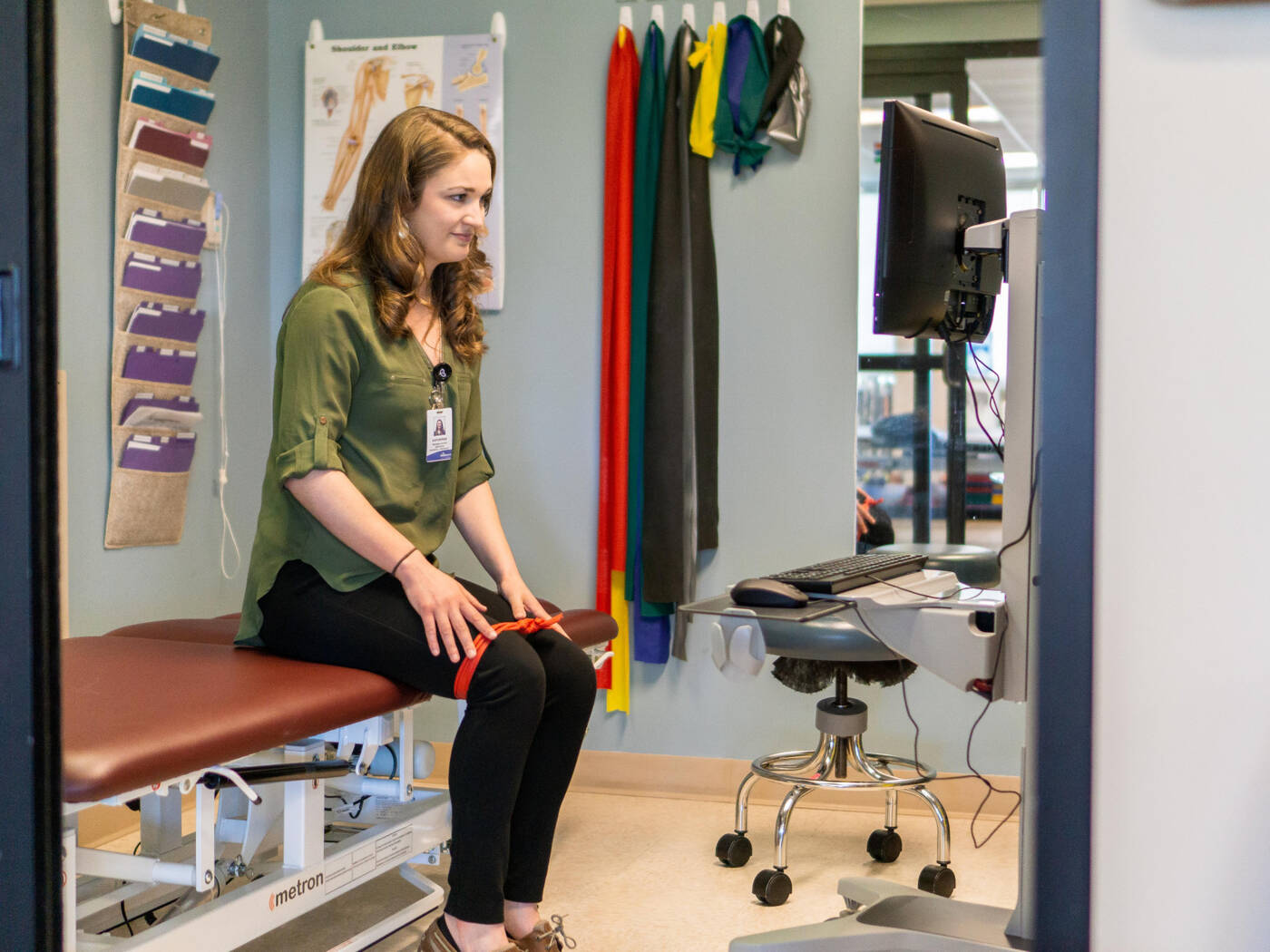 "We under­stand some patients may be hes­i­tant to seek phys­i­cal ther­a­py for injuries or nag­ging aches and pains due to con­cerns about expo­sure to COVID-19," Kather­ine said. ​"One ben­e­fit of tele­health rehab is that patients can con­tin­ue or begin treat­ment with­out increas­ing their expo­sure. Strokes, bro­ken bones, work-relat­ed injuries and life-alter­ing pain don't dis­ap­pear just because there is a pan­dem­ic occur­ring, and we believe it is impor­tant to con­tin­ue pro­vid­ing nec­es­sary ser­vices for our patients."
Despite hav­ing time for projects and meet­ing with patients vir­tu­al­ly, it is no secret that rehab providers are anx­ious to see their patients again. The process to doing that is already in the works. Patients can expect this process to come in phas­es, start­ing with low-risk patients and those that require addi­tion­al monitoring.
Patients and staff will also see added safe­ty pre­cau­tions imple­ment­ed includ­ing increased clean­ing pro­ce­dures, pre-vis­it screen­ings, required masks for patients and staff and rehab facil­i­ty access being restrict­ed to patients only.
"My staff is excit­ed to bring peo­ple back to see us, that's why we are here," Kim said. ​"We are doing our best to pre­pare staff and patients for the next steps. We have cre­at­ed a safe envi­ron­ment here at Ivin­son and we will con­tin­ue to plan and pre­pare to get us back up and run­ning at 100 percent."
sign up for our email newsletter