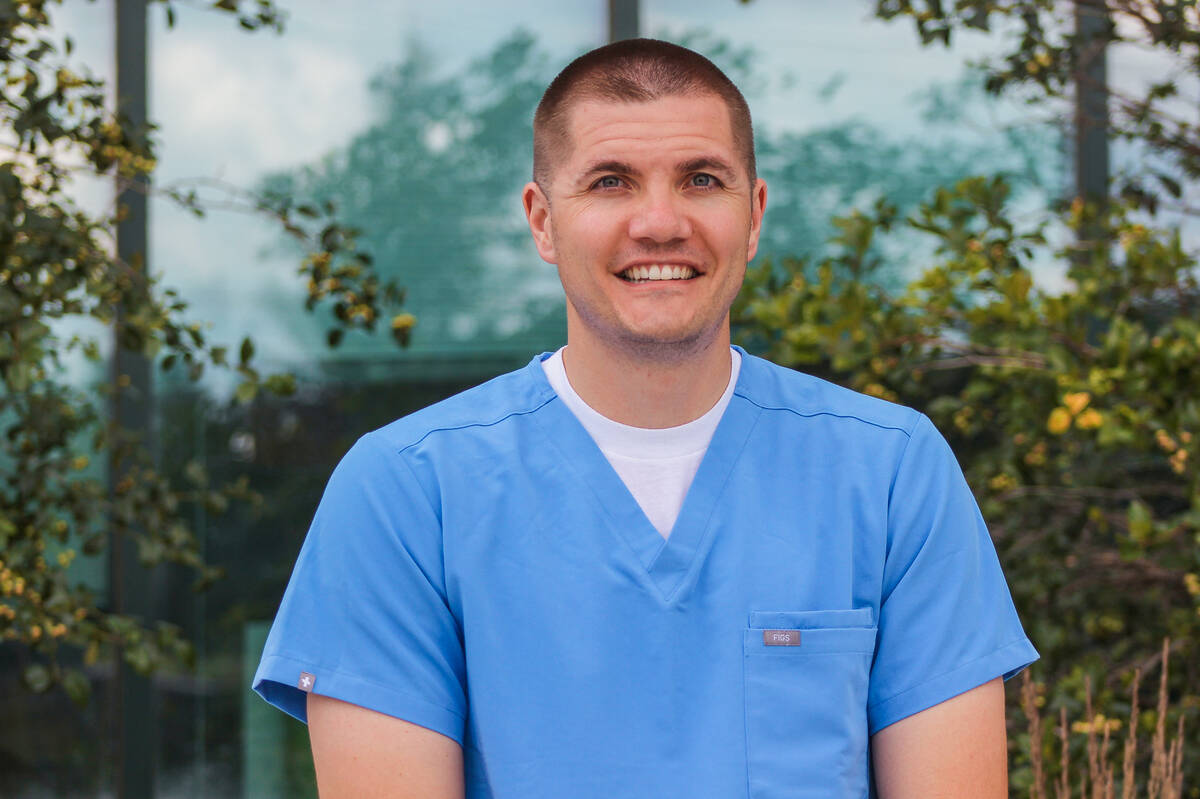 Education
Written by Breann Lujan-Halcon and Dr. Derek Ewell
Myth-Busting Endometriosis
March is Endometriosis Awareness Month.
Accord­ing to the Amer­i­can Col­lege of Obste­tri­cians and Gyne­col­o­gists, endometrio­sis occurs in 1 in 10 women of repro­duc­tive age.
Many of these cas­es go undi­ag­nosed and untreat­ed, leav­ing those affect­ed to believe that what they are expe­ri­enc­ing is ​"nor­mal".
We sat down with Ivin­son Med­ical Group OBG­YN, Dr. Derek Ewell to get the facts and find out what patients can do to advo­cate for their own health.
Q: What is Endometriosis?
A: Endometrio­sis is a con­di­tion where cells sim­i­lar to the lin­ing of the uterus, get mis­placed out­side of the uterus. That may be in the mus­cle of the uterus or some­where in the abdomen itself. Once mis­placed, or locat­ed out­side of the uterus, the cells still do a sim­i­lar func­tion that they would do inside the uterus. Every month they're going to build up a lin­ing and then they're going to bleed. That bleed­ing and that stretch­ing is what caus­es the dis­com­fort that patients expe­ri­ence and it can even cause a scar­ring process that leads to long-term discomfort.
Q: How does it affect the body?
A: If you have cells in an abnor­mal spot that are going through their month­ly cycle, just as the lin­ing of the uterus is, it dras­ti­cal­ly can impair someone's qual­i­ty of life by caus­ing sig­nif­i­cant abdom­i­nal pain. That abdom­i­nal pain is usu­al­ly from blood in the bel­ly or from those cells expand­ing, and any sort of expan­sion of the bel­ly can cause sig­nif­i­cant cramp­ing and dis­com­fort. If those cells do release blood, there is always a chance that they are scar­ring in the abdomen, which is usu­al­ly what caus­es a lot of women's pelvic pain relat­ed to the endometriosis.
Q: How does it happen?
A: There's three the­o­ries on how it happens:
One of those is ret­ro­grade men­stru­a­tion. Instead of the nor­mal vagi­nal bleed­ing some of that blood is the­o­rized to go out of the fal­lop­i­an tubes, into the abdomen and those cells attach some­where, rather than the nor­mal process­es of dis­solv­ing them.
Anoth­er the­o­ry is called Meta­pla­sia. Meta­pla­sia is where a cell has the abil­i­ty to turn itself from one cell type to anoth­er cell type. This is the the­o­ry on how men can get endometriosis.
The oth­er the­o­ry is like vas­cu­lar spread, so the cells spread through the lym­phat­ic sys­tem. Some­how those cells get inside the vas­cu­lar sys­tem and get moved around by the nor­mal process­es of the blood sys­tem and just end up somewhere.
Endometrio­sis is def­i­nite­ly one of those mys­ter­ies that we have good ideas about, but how it is caused or what actu­al­ly caus­es it, is still just theories.
Q: Why does it need awareness?
A: With endometrio­sis, even in our lit­er­a­ture, there are still a lot of unknowns. They say that we are miss­ing more endometrio­sis than we are catch­ing, which is sad because endometrio­sis not only affects peo­ple for pain, but it can lead to infer­til­i­ty issues and cause debil­i­tat­ing pain that can keep peo­ple from work, school and nor­mal activ­i­ties. Just know­ing that there is some­thing that could be caus­ing someone's pain is enough of a rea­son to try and help some­one get better.
End­ing the Myths around Endometriosis
"One of the biggest mis­con­cep­tions that I see, is just because you have a painful peri­od, does not nec­es­sar­i­ly mean that you have endometrio­sis," Dr. Ewell said. ​"Painful peri­ods, by def­i­n­i­tion are called dys­men­or­rhea – that just means painful peri­od and that can be caused by an array of things. Endometrio­sis is on that list, but there are mul­ti­ple oth­er rea­sons for just a painful peri­od. When you start hav­ing painful peri­od, with oth­er symp­toms – pain with sex, and pelvic pain through­out the whole cycle then our sus­pi­cion of endometrio­sis increases."
"Anoth­er big mis­con­cep­tion about endometrio­sis is, ​'I have endometrio­sis, I need a hys­terec­to­my,' That's not true. A hys­terec­to­my is an option but it should be a final option."
Myth: Seri­ous pain is nor­mal dur­ing your period
Some cramp­ing and some dis­com­fort can be very nor­mal but it should not be excru­ci­at­ing where it's caus­ing you not be able to per­form dai­ly func­tions. Maybe one day of a six day cycle could be uncom­fort­able but it should be man­aged eas­i­ly with ibupro­fen, Alieve or Tylenol.
Myth: You can't get endometrio­sis when you're young
The­o­ret­i­cal­ly, endometrio­sis can start as soon as women start men­stru­at­ing. There is not a 100 per­cent way of know­ing what caus­es it, when it starts and why it hap­pens to some peo­ple and not every­body. You could see a teenag­er that has it all the way up to some­one that is almost going through menopause.
Myth: Endometrio­sis means you can't get pregnant
That is absolute­ly false. There are many women that are suc­cess­ful­ly able to get preg­nant after a diag­no­sis of endometrio­sis. Some­times it does require hav­ing surgery to get rid of any endometrio­sis we can see, but women with endometrio­sis can get preg­nant. It may be hard­er for some, but they can get pregnant.
Myth: Preg­nan­cy cures endometriosis
Preg­nan­cy push­es pause on endometrio­sis. You will still car­ry that diag­no­sis of endometrio­sis after preg­nan­cy but the symp­toms will like­ly not be hap­pen­ing dur­ing preg­nan­cy because you are not hav­ing those ebbs and flows of hor­mones that you have dur­ing your cycle.
Myth: It's all in your head
It's not all in your head. If it hurts, we should do some­thing about it. Some cramp­ing and dis­com­fort can be nor­mal but excru­ci­at­ing pain, no.
What to ask your doctor
Sim­ply talk about the pain that you are expe­ri­enc­ing every month. Talk to your doc­tor about what you have done in the past that has worked or hasn't worked. Any OBG­YN, as soon as you start talk­ing about pain, will start ask­ing a bunch of ques­tions to hope­ful­ly guide them one way or anoth­er, whether it's down the endometrio­sis path or it's an infec­tious path. Sim­ply bring­ing it up is the best thing you can do, and it doesn't mat­ter if you're wor­ried about a heavy, painful peri­od, tell your doctor.
If you are con­fused about what your provider has told you, there are plen­ty of resources on the web that are fac­tu­al and evi­dence-based. But if you are ner­vous about the rec­om­men­da­tion that a provider gives you, you should always seek a sec­ond opinion.
sign up for our email newsletter