Featured Story
2 December 2021
New Technology Revolutionizes Cancer Radiation
Written by Breann May
Gifts to Ivinson's Foundation have made it possible to offer top-of-the-line care for radiation patients at Ivinson
It is estimated that 2 of every 3 patients with a cancer diagnosis will require radiation. Last year at Ivinson, the Meredith and Jeannie Ray Cancer Center administered 2,500 radiation treatments for cancer. In 2022, we anticipate that number will grow even larger.
A patient undergoing radiation treatment receives radiation daily over one to eight weeks, depending on their care plan and type of cancer being treated. Over the last year, 141 patients received radiation treatment at Ivinson to treat breast cancer, prostate cancer, brain cancer, metastatic bone cancer and neck and head cancer. With the recent installation of the new state-of-the-art Varian TrueBeam Linear Accelerator, Ivinson's radiation oncology team is now able to treat even more cancers using cutting edge technology.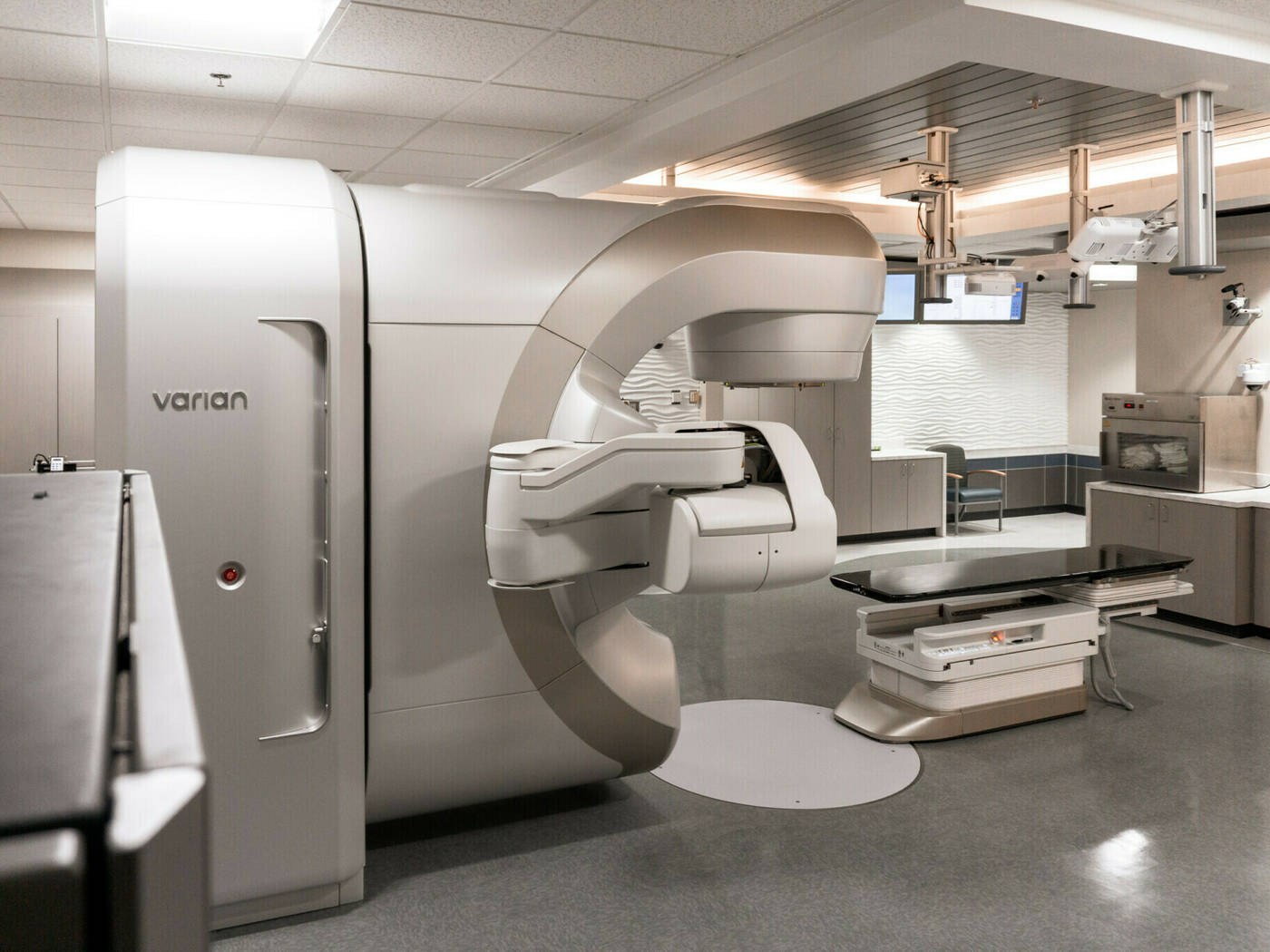 New and Improved Treatment Options
"One of the biggest upgrades with our new linear accelerator is to our radiosurgery capabilities," explained radiation oncology provider Dr. John Purviance. ​"These are highly targeted, high dose, ablated radiation treatments that we can use to treat brain cancers, lung cancers and tumors."
Stereotactic radiosurgery, also known as (SRS) is a non-surgical radiation therapy that delivers precisely-targeted radiation beams to treat tumors in localized areas of the brain, neck, lungs, liver, spine and other parts of the body. SRS uses precisely focused radiation beams to target tumors in fewer high-dose treatments than traditional therapy, which can help preserve healthy tissue.
Prior to the purchase of the new linear accelerator (LINAC) by the Ivinson Foundation, patients requiring radiosurgery would have to travel to a larger facility to receive treatment.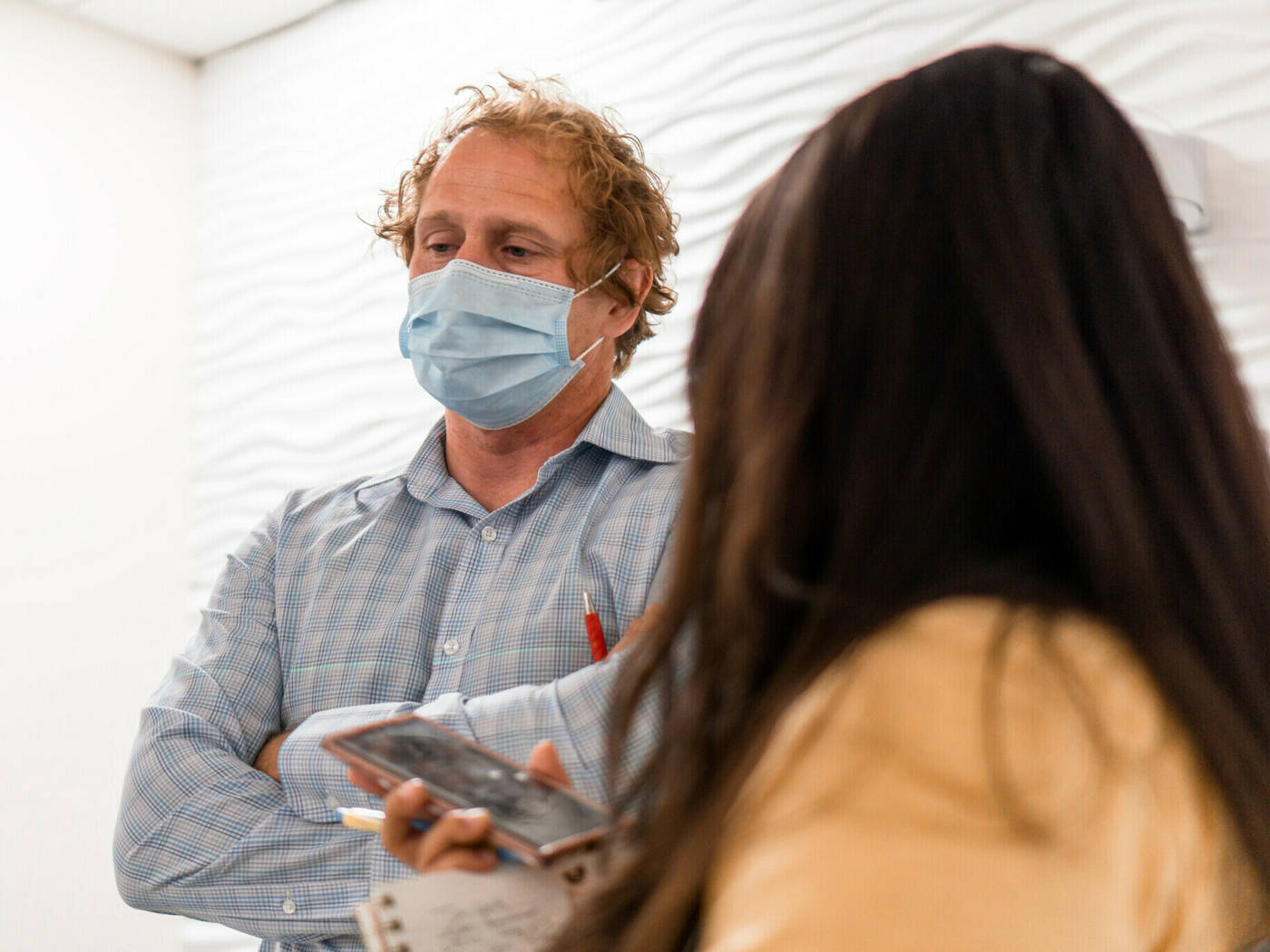 "This is a really big advancement in our field of radiation oncology. We have, in my mind, the best machine out there for radiosurgery capabilities," explained Dr. Purviance of the new LINAC at Ivinson. ​"It's what they have at Anschutz and the University of Colorado. This will allow us here in Laramie to do all of the same treatments that you can do at major medical centers."
A TrueBeam Linear Accelerator is the most up to date, accurate radiation machine built. Ivinson's LINAC features the newest technology and treatment capabilities available in the region. For patients facing cancer treatments, the new LINAC machine is cutting down on travel time to large facilities and bringing their radiation treatment much closer to home.
"This equipment is really state-of-the-art as far as radiosurgery," Dr. Purviance said. ​"It really offers the best platform for that which is why the major medical centers and cancer centers across the country use this device. We're just really glad to have it here and excited to be able to offer it to our patients."
Individuals that once had to drive to Casper or down to Colorado for brain or lung cancers are now able to receive lifesaving treatment at Ivinson. With the TrueBeam linear accelerator, brain cancer treatment is faster and more precise than ever before.
"Now, we are able to target 30 sometimes as many as 40 brain lesions with small little beams," Dr. Purviance explained new capabilities to treat brain cancers. ​"The old equipment was unable to do that so this is really enabling us to avoid the toxicity of older radiation."
In addition to keeping brain cancer treatment local, SRS capabilities are giving patients with lung cancer new treatment options. Lung cancer is one of the leading causes of cancer death in the United States, and new screenings are able to detect lung cancer in earlier stages.
"These early case lung cancer patients are not able to undergo surgery here in Laramie, they have to go down to Denver," Dr. Purviance explained. ​"A lot of these patients, because of comorbid conditions, such as COPD or emphysema, are unable to undergo surgery so we are able to offer radio surgery that is a highly targeted treatment for the lung cancer and that is a curative treatment that appears to be as effective as surgery."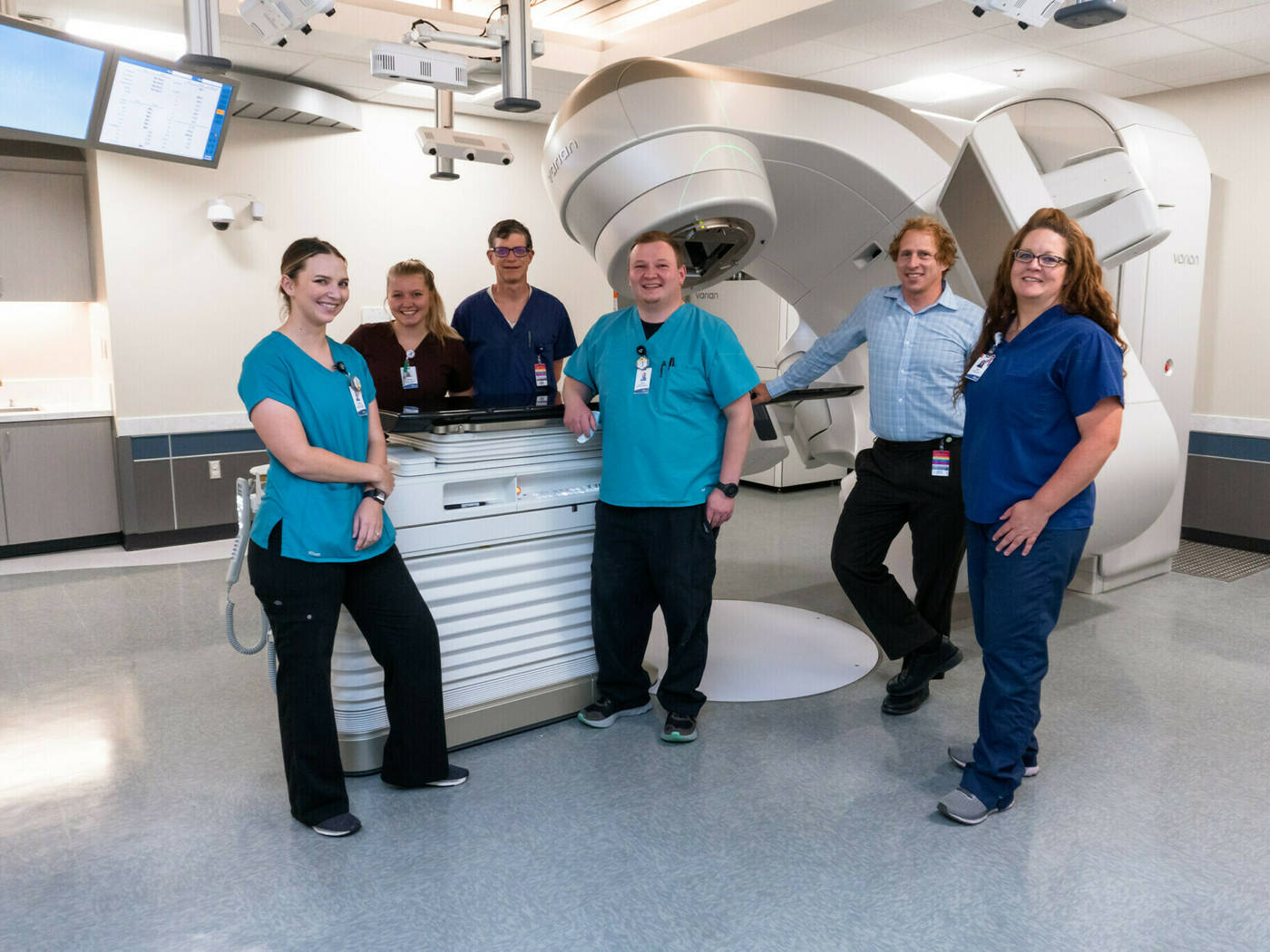 Increased Safety and Comfort
The new linear accelerator includes several features that result in improved accuracy, safety and comfort for the patients receiving radiation treatment. For Ivinson's radiation therapy team who delivers radiation treatments, the new features will allow them to treat patients faster and with more precision.
"Our table is going to enable us to treat patients with more accuracy because we have more degrees of motion that we previously did not have," explained radiation therapist Erinn Baker. ​"It will be a little quicker than the previous machine. Some of the parts move a little bit faster. We will be saving a little bit of time in every single motion with the patient. That definitely helps cut down on the time patients are receiving treatment on the table."
One feature making the treatment process faster is the better quality of imaging available on the new LINAC. Previously, patients would receive separate imaging prior to each radiation treatment. Imaging on the new machine provides radiation therapists with images similarly produced on a CT scanner, providing very clear details.
"The machine overall, everything about it is improved from the last one," radiation therapist Evan Boring explained. ​"You are still going to get the same treatments out of it, you are still going to deliver the same amount of radiation. Now, we can deliver it a little bit faster, more precisely, including more precise brain treatments. From a radiation tech aspect, everything about it is better, better controls, better software and the ease of use. All of those things will improve the way we are able to care for our patients."