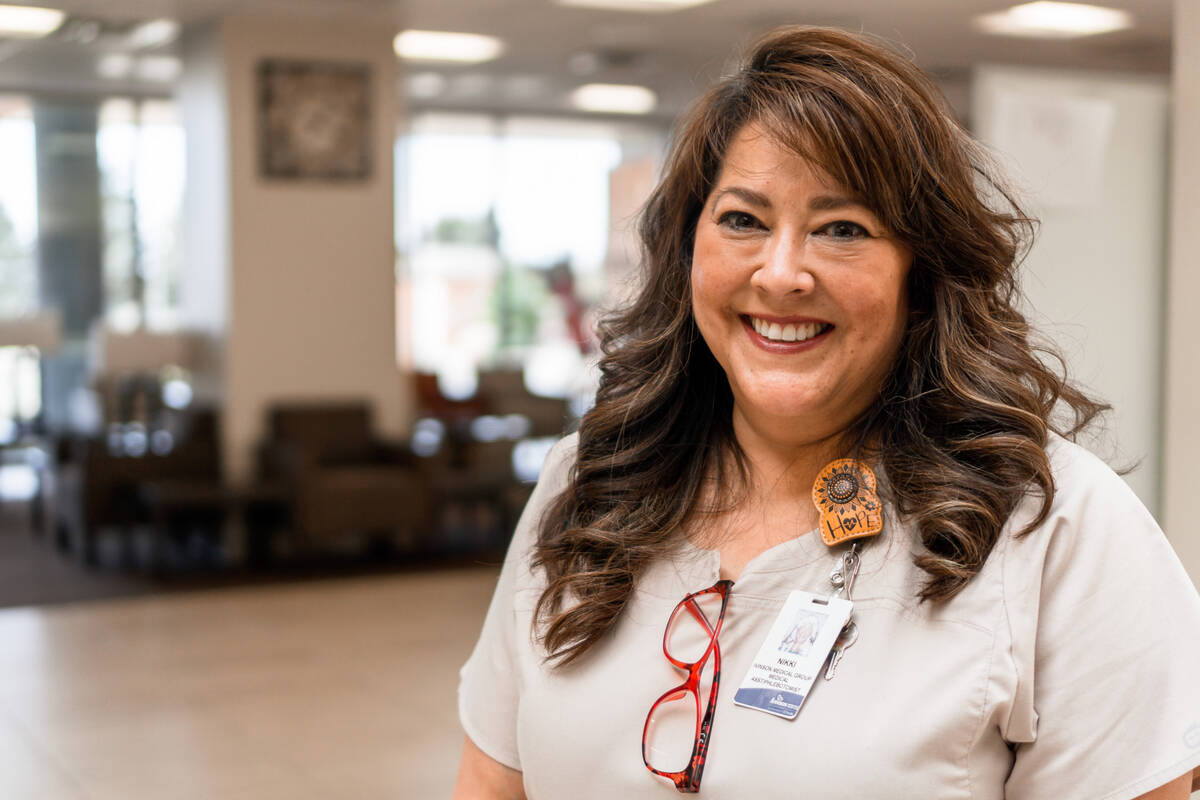 Employee Spotlight
Nikki Perschino, RMA
Nikki has been a registered medical assistant (AMT) and an ASCP phlebotomist at Ivinson for 20 years.
A snowpocalypse could not keep Nikki Perschino from doing what she loves. The registered medical assistant and phlebotomist at Ivinson Medical Group has bought two 4‑wheelers with tracks to ensure that she can make the 21 mile trek into town during the harshest of Wyoming winters.
"I never dread coming to work," Nikki said of the often adventurous rides into town every morning. ​"Some days it's hard but I enjoy my job, I'm good at it. To me, my patients make all the difference and it's an honor to be part of their journey."
In the last 20 years, Nikki has taken quite the journey herself joining Ivinson through various stages of growth and progression. The patients and providers that know her best will often ask for her by name.
"Initially, she worked as a phlebotomist. A small drawing station was located at the offices of Intermountain Internal Medicine," Dr. Ken Robertson recalled of when he first met Nikki. ​"The drawing station was very small and presented difficulty for many patient and techs. It quickly became apparent that there was only one person who could be counted upon to successfully draw blood at any time of day, no matter how difficult the patient was to draw and that person was Nikki. I cannot recall even one occasion where she was unsuccessful."
For Nikki, working with Dr. Robertson and the providers she assisted after him, is what has made her better at her job.
"I learned to know my stuff working with Dr. Robertson. I had to learn to be on the ball," Nikki said. ​"You learn to hold your standards higher because you know your providers expect higher standards. They made you want to do better."
Before coming to Ivinson, she worked in Colorado at Poudre Valley Hospital as a phlebotomist and medical assistant. When Ivinson brought on Otolaryngologist, Dr. William Portilla to its off-site surgical clinic, Holly Zajic, Chief Operations Officer presented Nikki with the opportunity to step beyond her phlebotomist role and begin practicing as a medical assistant once again.
"Holly gave me a chance. From there, everything went smooth and it was perfect. I am thankful for her taking a chance on a registered medical assistant when there weren't many MAs at the time," Nikki said. ​"I feel that working with Dr. Portilla as a medical assistant really pushed me and taught me so many things I had never done before."
Since renewing her registered medical assistant credentials, Nikki has become very involved with her state society and travels twice annually throughout Wyoming and Colorado to keep up with the very latest in her field. Inside and outside of the exam room, Nikki works to do more for her patients. Every year, she participates in the American Medical Technologists national convention and legislative days. There, she has met with several Wyoming representatives to talk about current healthcare needs.
"I love working with my patients. I like getting to know them and their families, their weekend plans, their holiday plans," Nikki said of her patients she has the pleasure of seeing so regularly. ​"I get to know about their good times and their bad and I like being there for them and not just in a healthcare capacity."
In her current role as a medical assistant for IMG's clinical pharmacist, Dr. Tonja Woods, Nikki assists in treating diabetic and anti-coagulation patients of whom she sees on a very regular schedule.
"Dr. Woods takes her time with her patients which I admire. If a patient needs 45 minutes in a 15 minute appointment, that's what we do. Some people need a little extra, especially if they have or are going through something and I like being able to provide that to them," Nikki said. ​"I think it's important to give patients that extra time and effort, even if they don't need it. With all of my anti-coagulation patients, I feel I am really able to do that. I know them and their backstories. It's an honor to make a difference to our patients."
When she is not assisting Dr. Woods, Nikki works with IMG's dermatologist and geriatrician, lending her skills and providing patients with a friendly and familiar face.
"I am really proud to say that I have been with Ivinson through its many stages of growth," Nikki said thinking about the several providers, staff and patients with whom she has had the privilege of working. ​"It is easy to overlook what you do every day and see what you have been a part of. To look back at what it was when I started, to what we have today, it is a tremendous thing to be a part of."
sign up for our email newsletter