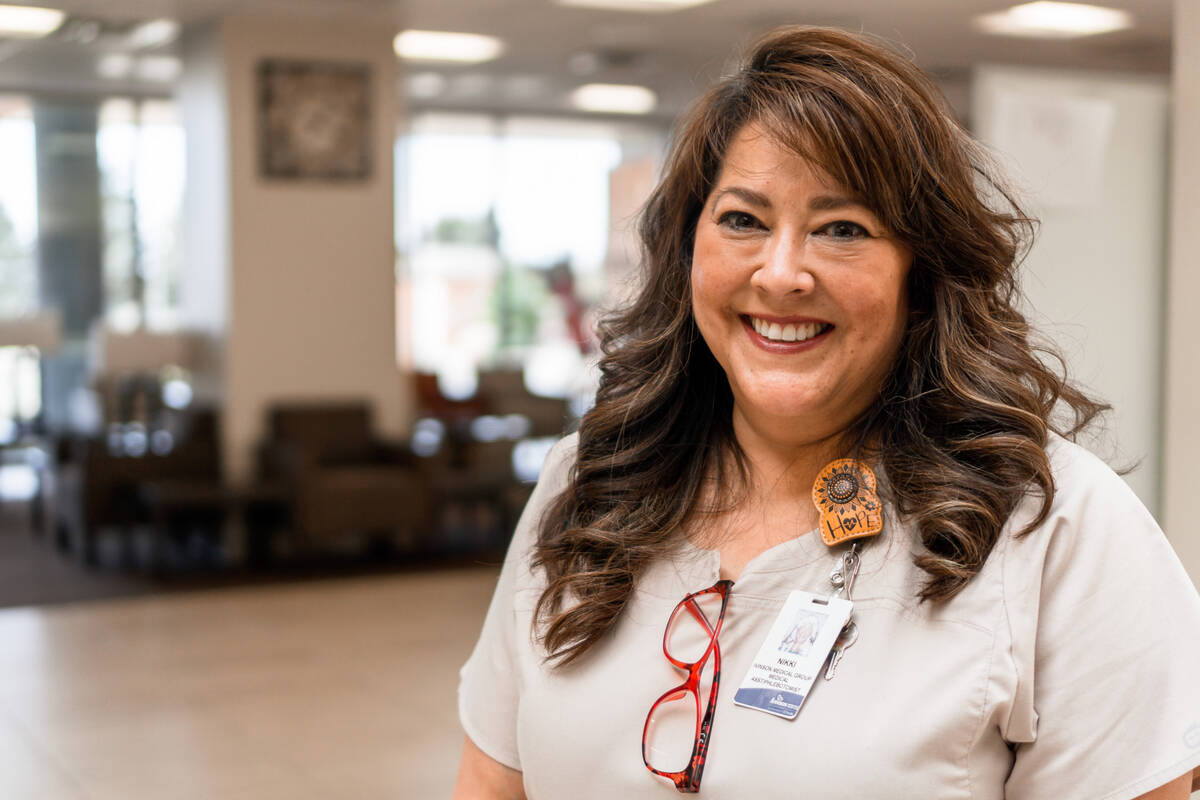 Employee Spotlight
Nikki Perschino, RMA
Nikki has been a registered medical assistant (AMT) and an ASCP phlebotomist at Ivinson for 20 years.
A snow­poca­lypse could not keep Nik­ki Per­schi­no from doing what she loves. The reg­is­tered med­ical assis­tant and phle­botomist at Ivin­son Med­ical Group has bought two 4‑wheelers with tracks to ensure that she can make the 21 mile trek into town dur­ing the harsh­est of Wyoming winters.
"I nev­er dread com­ing to work," Nik­ki said of the often adven­tur­ous rides into town every morn­ing. ​"Some days it's hard but I enjoy my job, I'm good at it. To me, my patients make all the dif­fer­ence and it's an hon­or to be part of their journey."
In the last 20 years, Nik­ki has tak­en quite the jour­ney her­self join­ing Ivin­son through var­i­ous stages of growth and pro­gres­sion. The patients and providers that know her best will often ask for her by name.
"Ini­tial­ly, she worked as a phle­botomist. A small draw­ing sta­tion was locat­ed at the offices of Inter­moun­tain Inter­nal Med­i­cine," Dr. Ken Robert­son recalled of when he first met Nik­ki. ​"The draw­ing sta­tion was very small and pre­sent­ed dif­fi­cul­ty for many patient and techs. It quick­ly became appar­ent that there was only one per­son who could be count­ed upon to suc­cess­ful­ly draw blood at any time of day, no mat­ter how dif­fi­cult the patient was to draw and that per­son was Nik­ki. I can­not recall even one occa­sion where she was unsuccessful."
For Nik­ki, work­ing with Dr. Robert­son and the providers she assist­ed after him, is what has made her bet­ter at her job.
"I learned to know my stuff work­ing with Dr. Robert­son. I had to learn to be on the ball," Nik­ki said. ​"You learn to hold your stan­dards high­er because you know your providers expect high­er stan­dards. They made you want to do better."
Before com­ing to Ivin­son, she worked in Col­orado at Poudre Val­ley Hos­pi­tal as a phle­botomist and med­ical assis­tant. When Ivin­son brought on Oto­laryn­gol­o­gist, Dr. William Por­tilla to its off-site sur­gi­cal clin­ic, Hol­ly Zajic, Chief Oper­a­tions Offi­cer pre­sent­ed Nik­ki with the oppor­tu­ni­ty to step beyond her phle­botomist role and begin prac­tic­ing as a med­ical assis­tant once again.
"Hol­ly gave me a chance. From there, every­thing went smooth and it was per­fect. I am thank­ful for her tak­ing a chance on a reg­is­tered med­ical assis­tant when there weren't many MAs at the time," Nik­ki said. ​"I feel that work­ing with Dr. Por­tilla as a med­ical assis­tant real­ly pushed me and taught me so many things I had nev­er done before."
Since renew­ing her reg­is­tered med­ical assis­tant cre­den­tials, Nik­ki has become very involved with her state soci­ety and trav­els twice annu­al­ly through­out Wyoming and Col­orado to keep up with the very lat­est in her field. Inside and out­side of the exam room, Nik­ki works to do more for her patients. Every year, she par­tic­i­pates in the Amer­i­can Med­ical Tech­nol­o­gists nation­al con­ven­tion and leg­isla­tive days. There, she has met with sev­er­al Wyoming rep­re­sen­ta­tives to talk about cur­rent health­care needs.
"I love work­ing with my patients. I like get­ting to know them and their fam­i­lies, their week­end plans, their hol­i­day plans," Nik­ki said of her patients she has the plea­sure of see­ing so reg­u­lar­ly. ​"I get to know about their good times and their bad and I like being there for them and not just in a health­care capacity."
In her cur­rent role as a med­ical assis­tant for IMG's clin­i­cal phar­ma­cist, Dr. Ton­ja Woods, Nik­ki assists in treat­ing dia­bet­ic and anti-coag­u­la­tion patients of whom she sees on a very reg­u­lar schedule.
"Dr. Woods takes her time with her patients which I admire. If a patient needs 45 min­utes in a 15 minute appoint­ment, that's what we do. Some peo­ple need a lit­tle extra, espe­cial­ly if they have or are going through some­thing and I like being able to pro­vide that to them," Nik­ki said. ​"I think it's impor­tant to give patients that extra time and effort, even if they don't need it. With all of my anti-coag­u­la­tion patients, I feel I am real­ly able to do that. I know them and their back­sto­ries. It's an hon­or to make a dif­fer­ence to our patients."
When she is not assist­ing Dr. Woods, Nik­ki works with IMG's der­ma­tol­o­gist and geri­a­tri­cian, lend­ing her skills and pro­vid­ing patients with a friend­ly and famil­iar face.
"I am real­ly proud to say that I have been with Ivin­son through its many stages of growth," Nik­ki said think­ing about the sev­er­al providers, staff and patients with whom she has had the priv­i­lege of work­ing. ​"It is easy to over­look what you do every day and see what you have been a part of. To look back at what it was when I start­ed, to what we have today, it is a tremen­dous thing to be a part of."
sign up for our email newsletter