Featured Story
Written By Shelby Quintana
Our DAISY Nurses
Ivinson Memorial Hospital is a proud participant in the DAISY Award Program, recognizing nurses year-round who go above and beyond for patients.
Celebrated from May 6 to May 12, National Nurses Week honors the vast contributions and positive impact nurses across the nation make to their patients, healthcare facilities and communities.
"There are 2.9 million nurses in the U.S. alone, making up the largest segment of the healthcare field," said Nicole Rooney, Chief Nursing Officer at Ivinson Memorial Hospital. ​"National Nurses Week is important to celebrate to show the uniqueness of the nursing profession."
Created in loving memory of J. Patrick Barnes, the DAISY Award is an international program that rewards and celebrates the excellent clinical skill and compassionate care provided by nurses every day.
Each DAISY Award Honoree at Ivinson is recognized at a public ceremony within their department and receives a certificate, a DAISY Award pin and a hand-carved sculpture entitled, ​"A Healer's Touch." Additionally, Ivinson treats their department to cinnamon rolls — a staple feature of the DAISY Award program. ​"The recognition people feel when they get to read their nomination letters makes a huge impact on them," said Nicole. ​"I love being able to surprise honorees and see the awe on their face."
Recently, Ivinson established a DAISY Award Honoree wall near the Mountain View Café to commemorate the nurses who received this award each year. ​"Each block will represent the four nurses who were selected as honorees that year," said Nicole. ​"It provides the public with background on the DAISY Award Program and will show who has been honored."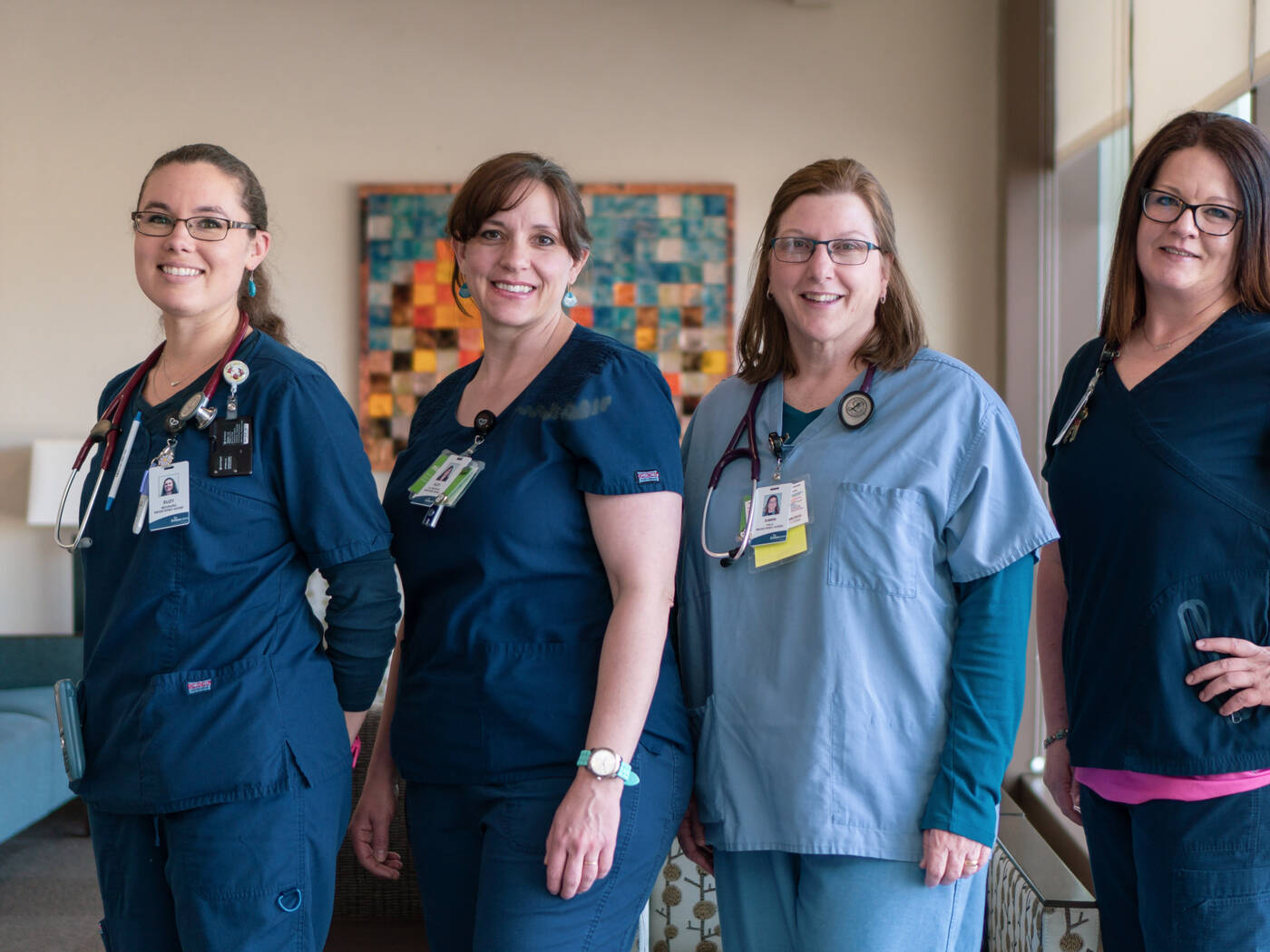 The DAISY Award Committee at Ivinson selects DAISY Award Honorees from nominations submitted by patients, visitors, guests, volunteers or another IMH staff member. ​"There are no requirements to write a nomination letter," said Nicole.
Nominations are blind to the DAISY Award Committee and are ranked based upon the NURSES criteria: Nominated for dedication to nursing and love for patient care, Understands and provides consistent focus on patient and family goals, Relays and follows a philosophy of teamwork and trust, Sincere and empathetic, Exemplifies the mission and vision of Ivinson Memorial Hospital, Selflessness and puts others first.
Since participating in the DAISY Award Program, Ivinson has recognized Kizzy Ledesma, Amy Smith, Dawn Skinner and Suzy Peter as DAISY Award Honorees for providing extraordinary, compassionate care to their patients. ​"Anyone can pick up the skills to become a nurse," said Nicole. ​"It takes someone special to exhibit the compassion that these nurses provide every day."
Those who were nominated for the DAISY Award include: Cheryl Rodgers, Gwynn McMillen, Jennifer Donnelly, Susan Jennett, Renee Collins, Tina O'Conner, Jill Del Rio, Melody Rezzonico, Michelle Collins, Morgan Corrington and Caitlin Beck.
Nurses across all departments at Ivinson can be nominated for this prestigious award. ​"It is important to nominate nurses for the DAISY Award because the external validation provided to nominees is so moving," said Nicole. ​"It shows them that they were truly chosen to do the work that they do."
Nominate Your Nurse Today
If you have a story about a specific situation in which a nurse at Ivinson made a meaningful difference, please nominate them for a DAISY Award. Nominations can be submitted online at ivin​son​hos​pi​tal​.org/​daisy
sign up for our email newsletter