Featured Story
Written By Shelby Quintana
Our DAISY Nurses
Ivinson Memorial Hospital is a proud participant in the DAISY Award Program, recognizing nurses year-round who go above and beyond for patients.
Cel­e­brat­ed from May 6 to May 12, Nation­al Nurs­es Week hon­ors the vast con­tri­bu­tions and pos­i­tive impact nurs­es across the nation make to their patients, health­care facil­i­ties and communities.
"There are 2.9 mil­lion nurs­es in the U.S. alone, mak­ing up the largest seg­ment of the health­care field," said Nicole Rooney, Chief Nurs­ing Offi­cer at Ivin­son Memo­r­i­al Hos­pi­tal. ​"Nation­al Nurs­es Week is impor­tant to cel­e­brate to show the unique­ness of the nurs­ing profession."
Cre­at­ed in lov­ing mem­o­ry of J. Patrick Barnes, the DAISY Award is an inter­na­tion­al pro­gram that rewards and cel­e­brates the excel­lent clin­i­cal skill and com­pas­sion­ate care pro­vid­ed by nurs­es every day.
Each DAISY Award Hon­oree at Ivin­son is rec­og­nized at a pub­lic cer­e­mo­ny with­in their depart­ment and receives a cer­tifi­cate, a DAISY Award pin and a hand-carved sculp­ture enti­tled, ​"A Healer's Touch." Addi­tion­al­ly, Ivin­son treats their depart­ment to cin­na­mon rolls — a sta­ple fea­ture of the DAISY Award pro­gram. ​"The recog­ni­tion peo­ple feel when they get to read their nom­i­na­tion let­ters makes a huge impact on them," said Nicole. ​"I love being able to sur­prise hon­orees and see the awe on their face."
Recent­ly, Ivin­son estab­lished a DAISY Award Hon­oree wall near the Moun­tain View Café to com­mem­o­rate the nurs­es who received this award each year. ​"Each block will rep­re­sent the four nurs­es who were select­ed as hon­orees that year," said Nicole. ​"It pro­vides the pub­lic with back­ground on the DAISY Award Pro­gram and will show who has been honored."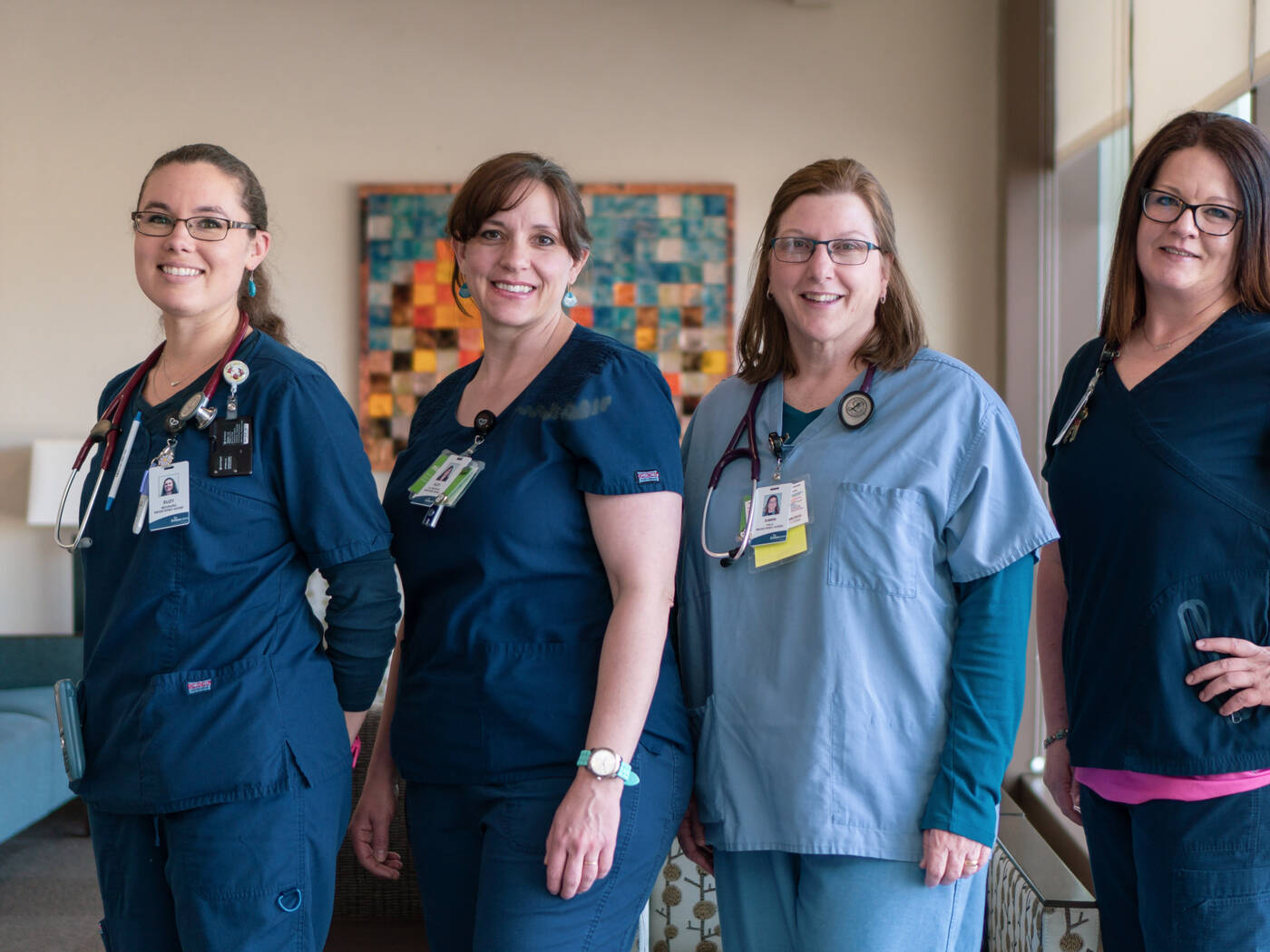 The DAISY Award Com­mit­tee at Ivin­son selects DAISY Award Hon­orees from nom­i­na­tions sub­mit­ted by patients, vis­i­tors, guests, vol­un­teers or anoth­er IMH staff mem­ber. ​"There are no require­ments to write a nom­i­na­tion let­ter," said Nicole.
Nom­i­na­tions are blind to the DAISY Award Com­mit­tee and are ranked based upon the NURS­ES cri­te­ria: Nom­i­nat­ed for ded­i­ca­tion to nurs­ing and love for patient care, Under­stands and pro­vides con­sis­tent focus on patient and fam­i­ly goals, Relays and fol­lows a phi­los­o­phy of team­work and trust, Sin­cere and empa­thet­ic, Exem­pli­fies the mis­sion and vision of Ivin­son Memo­r­i­al Hos­pi­tal, Self­less­ness and puts oth­ers first.
Since par­tic­i­pat­ing in the DAISY Award Pro­gram, Ivin­son has rec­og­nized Kizzy Ledes­ma, Amy Smith, Dawn Skin­ner and Suzy Peter as DAISY Award Hon­orees for pro­vid­ing extra­or­di­nary, com­pas­sion­ate care to their patients. ​"Any­one can pick up the skills to become a nurse," said Nicole. ​"It takes some­one spe­cial to exhib­it the com­pas­sion that these nurs­es pro­vide every day."
Those who were nom­i­nat­ed for the DAISY Award include: Cheryl Rodgers, Gwynn McMillen, Jen­nifer Don­nel­ly, Susan Jen­nett, Renee Collins, Tina O'Conner, Jill Del Rio, Melody Rez­zon­i­co, Michelle Collins, Mor­gan Cor­ring­ton and Caitlin Beck.
Nurs­es across all depart­ments at Ivin­son can be nom­i­nat­ed for this pres­ti­gious award. ​"It is impor­tant to nom­i­nate nurs­es for the DAISY Award because the exter­nal val­i­da­tion pro­vid­ed to nom­i­nees is so mov­ing," said Nicole. ​"It shows them that they were tru­ly cho­sen to do the work that they do."
Nom­i­nate Your Nurse Today
If you have a sto­ry about a spe­cif­ic sit­u­a­tion in which a nurse at Ivin­son made a mean­ing­ful dif­fer­ence, please nom­i­nate them for a DAISY Award. Nom­i­na­tions can be sub­mit­ted online at ivin​son​hos​pi​tal​.org/​daisy
sign up for our email newsletter