Employee Spotlight
Reaching a Major Milestone
Every New Year, Ivinson takes time to honor our biggest assets, our employees.
Mile­stone Awards, is a time that allows us to thank employ­ees for their years of ser­vice and the dif­fer­ence they make in mak­ing our hos­pi­tal a great place to work. Over the years, we see our employ­ees take on new roles, advance their edu­ca­tion, excel in dif­fer­ent depart­ments and most impor­tant­ly, pro­vide the very best care for each and every patient that enters our doors. We appre­ci­ate each and every one of you. This year's Mile­stone Awards we will hon­or 54 employ­ees for reach­ing mile­stones of 5, 10, 15, 25 and up to 40 years of service.
Deb Daw­son — Fam­i­ly Care Unit
25

Years at Ivinson

Deb orig­i­nal­ly start­ed at Ivin­son in June of 1993 as a nurs­ing extern before com­ing on as a GN/RN in May of 1994. ​"I was a new UW nurs­ing grad­u­ate and knew I want­ed to work at Ivin­son on Labor/​Delivery. I love Labor/​Delivery, Pedi­atrics, and the Nurs­ery! Ivin­son has excep­tion­al staff who keep me on my toes and make com­ing to work fun." Deb then became a clin­i­cal edu­ca­tor in June of 2013, before becom­ing the clin­i­cal direc­tor of the Fam­i­ly Care Unit in 2016. When asked what her favorite part about her job is, Deb says, ​"I love work­ing with doc­tors and nurs­es who are com­mit­ted to their jobs and love patients as much as I do." When she is not car­ing for new fam­i­lies, Deb enjoys spend­ing time with her own fam­i­ly. Deb mar­ried her high school sweet­heart, Scott, and just cel­e­brat­ed their 44th year of mar­riage — thank you Deb for spend­ing 25 of those years with Ivinson!
20

Years at Ivinson

Nicole came to Ivin­son in 1999 after fam­i­ly mem­bers of hers had rec­om­mend­ed Ivin­son as a great place to work. Nicole start­ed at Ivin­son as an envi­ron­men­tal ser­vices tech­ni­cian and has worked her way through, Admit­ting, Med­ical Records and into nurs­ing. She start­ed as a grad­u­ate nurse, then as an obstet­rics nurse and into PACU nurs­ing, where she works cur­rent­ly. Nicole cred­its the abil­i­ty to advance her career with­in the hos­pi­tal as what has kept her at Ivin­son for the last 20 years.

When asked what her favorite part of her job is, Nicole says her favorite part is her cowork­ers, as well as get­ting to work in dif­fer­ent areas through­out her depart­ment. In 2017, Nicole added peri­op­er­a­tive edu­ca­tor to her resume and last semes­ter, began work­ing towards her BSN. Thank you for your 20 years of ser­vice Nicole!
15

Years at Ivinson

Ellen was in need of a change when she joined the Ivin­son fam­i­ly in 2004, and a friend had sug­gest­ed she apply at Ivin­son. In her time at Ivin­son, Ellen has been a patient ser­vices asso­ciate, res­i­dent activ­i­ties coor­di­na­tor and an RSA. When asked what has kept her at Ivin­son for the last 15 years, Ellen says, ​"The good peo­ple I work with and the patients. And it's great exer­cise!" Ellen enjoys the friends she has made in her cowork­ers and see­ing the patients she serves get bet­ter. When she isn't wheel­ing a smile around the hos­pi­tal, Ellen likes to gar­den and do wood­work­ing as well as spend time with her fam­i­ly. Thank you for all you do Ellen!
Alea Doolit­tle — Rehabilitation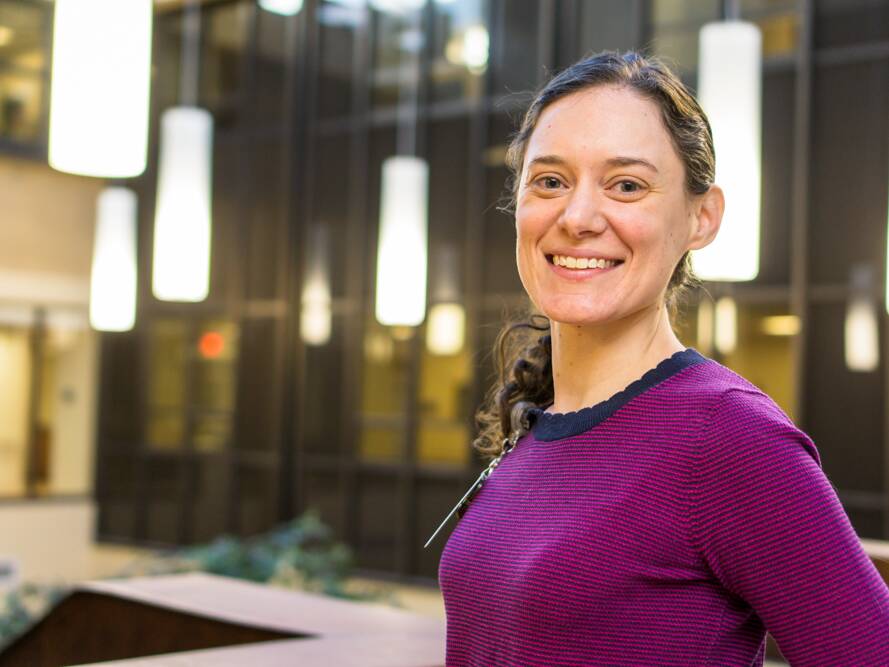 10

Years at Ivinson

Alea joined Ivin­son in 2009 as an aide in the Out­pa­tient Reha­bil­i­ta­tion Cen­ter. After fin­ish­ing her under­grad on the east coast, Alea knew she need­ed a change. While vis­it­ing fam­i­ly in Laramie, she applied for a posi­tion at Ivin­son, ​"I got my job, can­celled my return flight home and have nev­er looked back! It was one of the best deci­sions I've ever made!"

As a rehab aide, Alea enjoys the sup­port she can offer not only her cowork­ers, but also her patients. ​"The com­mu­ni­ty that has been built here is like no oth­er. It's not only the sense of com­mu­ni­ty I feel with­in my depart­ment with my cowork­ers and patients, but with­in the hos­pi­tal as a whole." For Alea, help­ing oth­ers is a pas­sion. After Hur­ri­cane Kat­ri­na, she spent two weeks in New Orleans work­ing on hous­es dam­aged in the flood­ing, ​"As hard as the work was men­tal and phys­i­cal­ly, it was one of the most reward­ing expe­ri­ences of my life and I'll always be appre­cia­tive of the lessons I learned."
Heather Davies — Envi­ron­men­tal Services
5

Years at Ivinson

Heather was hand­picked by her super­vi­sor Tam­my Gardea, who rec­om­mend­ed she apply at Ivin­son. After join­ing the Ivin­son fam­i­ly in July of 2014, Heather has found her niche as an envi­ron­men­tal ser­vices tech and can often be found in the Med­ical Office Build­ing at Ivin­son. Aside from the great sup­port she receives from her cowork­ers, Heather's favorite part about work­ing at Ivin­son is, ​"Leav­ing at the end of the night know­ing I made a dif­fer­ence." Thank you Heather for all your hard work!
Employ­ees Hit­ting Major Milestones
Ralph Abell
Mate­ri­als Management

5

years
Antho­ny Aguirres
Mate­ri­als Management

5

years
Dean­na Allen
Hos­pi­tal Compliance

5

years
Caitlin Beck
Med Surg

IP

5

years
Dena Bijold
Lab­o­ra­to­ry

5

years
Becky Boschee
Phar­ma­cy

5

years
Can­dace Burch
Hos­pi­tal­ist

5

years
Kim­ber­ly Cameron
Health Info Management

5

years
Heather Davies
Envi­ron­men­tal Services

5

years
Daria Duhring
Dial­y­sis

5

years
Amy Farstad
Sur­gi­cal Clinic

5

years
Wendy Fix
Pathol­o­gy

5

years
James Fra­zier
Med Surg

IP

5

years
Dou­glas Hall
Hos­pi­tal Compliance

5

years
Eric Harns­berg­er
Surgery

5

years
Melis­sa Johnson
Health Info Management

5

years
Dustin Joy
Car­diac Rehab

5

years
Bri­ana Lucero
Inter­nal Med Clinic

5

years
Ran­di Majewski
Ultra­sound

5

years
Hei­di March
Med Surg

IP

5

years
Seth Mcgee
Patient Finan­cial Services

5

years
Gwynn Mcmillen
Labor and Delivery

5

years
Daphne Mecikals­ki
Extend­ed Care Unit

5

years
Melody Rez­zon­i­co
Emer­gency Department

5

years
Michael Rodgers
Med Surg

IP

5

years
Diana Rois­ing
Hos­pi­tal Administration

5

years
Beth Sanchez
Nurs­ing Admin

5

years
Jason Sondgeroth

ER

Physi­cian Services

5

years
Bev­er­ly Spencer
Emer­gency Department

5

years
Michela Telford
Emer­gency Department

5

years
Alea Doolit­tle
Rehab Ser­vices

10

years
Jen­nifer Howells
Admit­ting

10

years
Andrea Lewis
Patient Finan­cial Services

10

years
Alis­sa Mikesell
Behav­ioral Health

10

years
William Sil­vrants
Envi­ron­men­tal Services

10

years
Aaron Utton
Surgery

10

years
Christo­pher Vialpando
Engi­neer­ing

10

years
Claire Angele
Rehab Ser­vices

15

years
Ellen Hicks
Dietary

15

years
Beth Kam­ber
Dia­betes Clinic

15

years
Shaw­na Kautz­man Pena
Behav­ioral Health

15

years
Kizzy Ledes­ma
Inten­sive Care Unit

15

years
Jen­nifer Peterson
Rehab Ser­vices

15

years
Car­men Rayos
Mate­ri­als Management

15

years
Arace­ly Amparan
Surgery

20

years
Dianne Brown
Lab­o­ra­to­ry

20

years
Nicole Vasquez

PACU

20

years
Debra Daw­son

OB

25

years
Paula Eskam
Process Improve­ment

25

years
Robert Need­ham­mer
Surgery

25

years
Beth Rom­sa

BHS

Physi­cian Services

30

years
Dawn Skin­ner

PACU

35

years
Chris­t­ian Knudsen
Nurs­ing Admin

35

years
Kirk Strat­ton

EEG

40

years
sign up for our email newsletter