Employee Spotlight
17 January 2020
Reaching a Major Milestone
Every New Year, Ivinson takes time to honor our biggest assets, our employees.
Milestone Awards, is a time that allows us to thank employees for their years of service and the difference they make in making our hospital a great place to work. Over the years, we see our employees take on new roles, advance their education, excel in different departments and most importantly, provide the very best care for each and every patient that enters our doors. We appreciate each and every one of you. This year's Milestone Awards we will honor 54 employees for reaching milestones of 5, 10, 15, 25 and up to 40 years of service.
Deb Dawson — Family Care Unit
25

Years at Ivinson

Deb originally started at Ivinson in June of 1993 as a nursing extern before coming on as a GN/RN in May of 1994. ​"I was a new UW nursing graduate and knew I wanted to work at Ivinson on Labor/​Delivery. I love Labor/​Delivery, Pediatrics, and the Nursery! Ivinson has exceptional staff who keep me on my toes and make coming to work fun." Deb then became a clinical educator in June of 2013, before becoming the clinical director of the Family Care Unit in 2016. When asked what her favorite part about her job is, Deb says, ​"I love working with doctors and nurses who are committed to their jobs and love patients as much as I do." When she is not caring for new families, Deb enjoys spending time with her own family. Deb married her high school sweetheart, Scott, and just celebrated their 44th year of marriage — thank you Deb for spending 25 of those years with Ivinson!
20

Years at Ivinson

Nicole came to Ivinson in 1999 after family members of hers had recommended Ivinson as a great place to work. Nicole started at Ivinson as an environmental services technician and has worked her way through, Admitting, Medical Records and into nursing. She started as a graduate nurse, then as an obstetrics nurse and into PACU nursing, where she works currently. Nicole credits the ability to advance her career within the hospital as what has kept her at Ivinson for the last 20 years.

When asked what her favorite part of her job is, Nicole says her favorite part is her coworkers, as well as getting to work in different areas throughout her department. In 2017, Nicole added perioperative educator to her resume and last semester, began working towards her BSN. Thank you for your 20 years of service Nicole!
15

Years at Ivinson

Ellen was in need of a change when she joined the Ivinson family in 2004, and a friend had suggested she apply at Ivinson. In her time at Ivinson, Ellen has been a patient services associate, resident activities coordinator and an RSA. When asked what has kept her at Ivinson for the last 15 years, Ellen says, ​"The good people I work with and the patients. And it's great exercise!" Ellen enjoys the friends she has made in her coworkers and seeing the patients she serves get better. When she isn't wheeling a smile around the hospital, Ellen likes to garden and do woodworking as well as spend time with her family. Thank you for all you do Ellen!
Alea Doolittle — Rehabilitation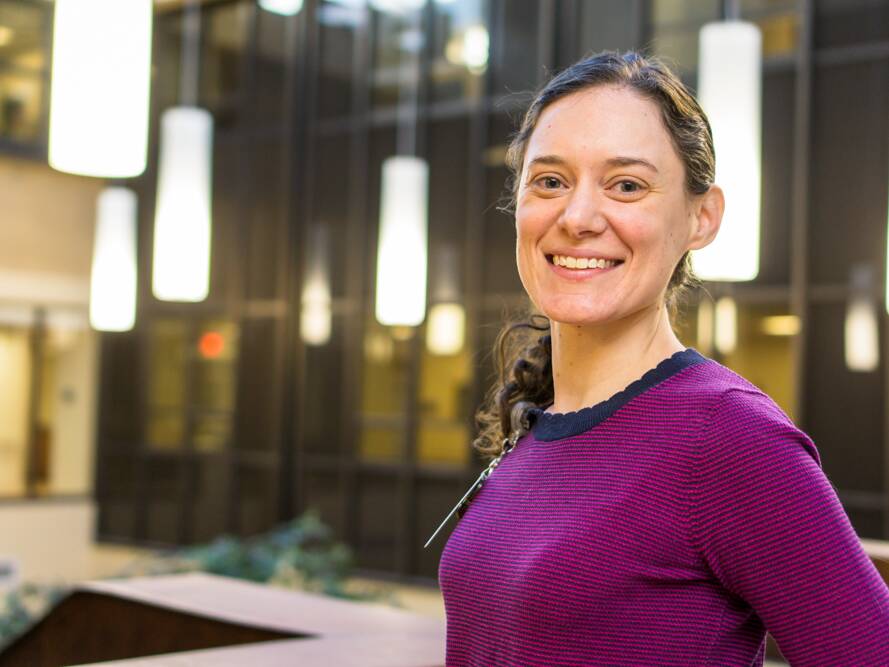 10

Years at Ivinson

Alea joined Ivinson in 2009 as an aide in the Outpatient Rehabilitation Center. After finishing her undergrad on the east coast, Alea knew she needed a change. While visiting family in Laramie, she applied for a position at Ivinson, ​"I got my job, cancelled my return flight home and have never looked back! It was one of the best decisions I've ever made!"

As a rehab aide, Alea enjoys the support she can offer not only her coworkers, but also her patients. ​"The community that has been built here is like no other. It's not only the sense of community I feel within my department with my coworkers and patients, but within the hospital as a whole." For Alea, helping others is a passion. After Hurricane Katrina, she spent two weeks in New Orleans working on houses damaged in the flooding, ​"As hard as the work was mental and physically, it was one of the most rewarding experiences of my life and I'll always be appreciative of the lessons I learned."
Heather Davies — Environmental Services
5

Years at Ivinson

Heather was handpicked by her supervisor Tammy Gardea, who recommended she apply at Ivinson. After joining the Ivinson family in July of 2014, Heather has found her niche as an environmental services tech and can often be found in the Medical Office Building at Ivinson. Aside from the great support she receives from her coworkers, Heather's favorite part about working at Ivinson is, ​"Leaving at the end of the night knowing I made a difference." Thank you Heather for all your hard work!
Employees Hitting Major Milestones
Ralph Abell
Materials Management

5

years
Anthony Aguirres
Materials Management

5

years
Deanna Allen
Hospital Compliance

5

years
Caitlin Beck
Med Surg IP

5

years
Dena Bijold
Laboratory

5

years
Becky Boschee
Pharmacy

5

years
Candace Burch
Hospitalist

5

years
Kimberly Cameron
Health Info Management

5

years
Heather Davies
Environmental Services

5

years
Daria Duhring
Dialysis

5

years
Amy Farstad
Surgical Clinic

5

years
Wendy Fix
Pathology

5

years
James Frazier
Med Surg IP

5

years
Douglas Hall
Hospital Compliance

5

years
Eric Harnsberger
Surgery

5

years
Melissa Johnson
Health Info Management

5

years
Dustin Joy
Cardiac Rehab

5

years
Briana Lucero
Internal Med Clinic

5

years
Randi Majewski
Ultrasound

5

years
Heidi March
Med Surg IP

5

years
Seth Mcgee
Patient Financial Services

5

years
Gwynn Mcmillen
Labor and Delivery

5

years
Daphne Mecikalski
Extended Care Unit

5

years
Melody Rezzonico
Emergency Department

5

years
Michael Rodgers
Med Surg IP

5

years
Diana Roising
Hospital Administration

5

years
Beth Sanchez
Nursing Admin

5

years
Jason Sondgeroth
ER Physician Services

5

years
Beverly Spencer
Emergency Department

5

years
Michela Telford
Emergency Department

5

years
Alea Doolittle
Rehab Services

10

years
Jennifer Howells
Admitting

10

years
Andrea Lewis
Patient Financial Services

10

years
Alissa Mikesell
Behavioral Health

10

years
William Silvrants
Environmental Services

10

years
Aaron Utton
Surgery

10

years
Christopher Vialpando
Engineering

10

years
Claire Angele
Rehab Services

15

years
Ellen Hicks
Dietary

15

years
Beth Kamber
Diabetes Clinic

15

years
Shawna Kautzman Pena
Behavioral Health

15

years
Kizzy Ledesma
Intensive Care Unit

15

years
Jennifer Peterson
Rehab Services

15

years
Carmen Rayos
Materials Management

15

years
Aracely Amparan
Surgery

20

years
Dianne Brown
Laboratory

20

years
Nicole Vasquez
PACU

20

years
Debra Dawson
OB

25

years
Paula Eskam
Process Improvement

25

years
Robert Needhammer
Surgery

25

years
Beth Romsa
BHS Physician Services

30

years
Dawn Skinner
PACU

35

years
Christian Knudsen
Nursing Admin

35

years
Kirk Stratton
EEG

40

years