CEO Message
9 May 2021
Recognizing Community Efforts
A message from our CEO, Doug Faus, recognizing the community vaccination efforts that have taken place over the past several months.
Albany County Community Members:
I am in awe of all that our community has accomplished over the last year and especially in the past four months. Through our collaboration with the University of Wyoming, Albany County Public Health, community providers and countless volunteers, we were able to achieve something great — over 16,000 individuals in Albany County have received a COVID-19 vaccine.
This last week, the Albany County Vaccine Clinic hosted its last walk-in clinic at the Old Armory. As vaccine supply has increased within our county, more locations are now offering vaccines. If you have not already been vaccinated, you can visit www​.ivin​son​hos​pi​tal​.org/​v​a​ccine to learn about where you can receive your vaccine and how to schedule an appointment. Our partners will continue to make the vaccine available so that all who wish to receive it are able to do so.
If you are hesitant to receive your vaccine, I encourage you to speak with your healthcare provider and, together, make a decision that is best for you. All authorized COVID-19 vaccines have been held to high standards to ensure they are safe and effective.
Over the last week, we celebrated National Nurses Week, and I would be remiss if I didn't take a moment to recognize the critical role our nursing teams have played throughout the COVID-19 pandemic. Across our hospital and community, nurses have done what they always do: provide the very best care to their patients. If you know a nurse, be sure to tell them how appreciated they are, always, not just during a world-wide pandemic. National Hospital Week will begin tomorrow, and like nurses week, it is an opportunity to honor every team member at Ivinson for the role they play in caring for our community.
It has been my honor to work alongside the team at Ivinson and to provide you all with information that impacts the health and wellness of our community. As we move forward from COVID-19, Ivinson will continue to be your trusted partner for health-related information. Exciting things are happening in our hospital and community and I am dedicated to sharing that with you often. From all of us at Ivinson, thank you for your continued support throughout this pandemic. We are overwhelmed with gratitude from all of the cards, meals and kind words that we have received from our community this past year.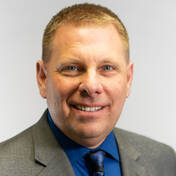 Doug Faus
Chief Executive Officers