CEO Message
Remaining Diligent
A message from our CEO, Doug Faus, discussing COVID-19 in our community.
To the Albany County Community:
Throughout the month of October, we have seen confirmed cases of COVID-19 and hospitalizations rise significantly. As of Friday, October 30th, Albany County had 635 active confirmed COVID-19 cases, the highest in the state.
With rising positive cases in Albany County, Ivinson Memorial Hospital has seen an increase in hospitalized patients. On Friday, October 30th, 120 COVID-19 patients were hospitalized in Wyoming and two of those patients were at Ivinson Memorial Hospital.
I have recently received questions and concerns regarding ICU beds and capacity at Ivinson. I want to reassure our community that like hospitals across the country, we have been watching COVID-19 cases and hospitalizations closely and continue to monitor our own resources to ensure we stay prepared. Our COVID-19 response team monitors regional, state, county and house-wide numbers daily as they have since the outbreak began. We have planned and prepared for a possible surge in COVID-19 cases, and we are confident in our ability to respond to the needs of our patients.
As a rural hospital, our primary purpose is to provide the very best care for our community. If we are not able to provide that care at Ivinson, we ensure patients are transferred to a facility that can. This has always been our strategy and continues to be a factor in our patient care and transfer process.
We have taken several measures at Ivinson to ensure we are in the best position possible to accommodate our community's needs. Several members of our clinical staff have trained outside of their usual areas to be able to provide coverage where it is needed most. Although our supplies and personal protective equipment resources are not a point of concern, staff continue to make conservation efforts to preserve supplies where possible.
At Ivinson, we are doing our part to protect our community and our patients by wearing masks, practicing social distancing and staying home when sick. I ask that you do your part to protect your neighbors, co-workers and friends as well. We are all in this together, and together we can reduce the spread of COVID-19 within our community.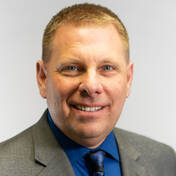 Doug Faus
Chief Executive Officer
sign up for our email newsletter