Department Spotlight
By Breann Lujan-Halcon
Revamping Routine
League of Lab Professionals: Getting Results
For lab­o­ra­to­ry work­ers in a pan­dem­ic, flex­i­bil­i­ty is every­thing. In a field that is shaped by rules, reg­u­la­tions and fine-tuned process­es, coro­n­avirus has thrown ​"nor­mal" out the win­dow, and the only thing that is cer­tain is that more change is coming.
How much change has COVID-19 brought to the lab at Ivin­son? Accord­ing to Lab­o­ra­to­ry Man­ag­er Dan­i­ca Hebert, a ton!
"Part of it is sim­ply how to process spec­i­mens. Due to COVID, more spec­i­mens have to be processed in a dif­fer­ent man­ner than our stan­dards so we have to have more PPE or addi­tion­al pro­cess­ing mod­ules. We are hav­ing to work out of the [fume] hood more than we ever would."
"The hood" is a ven­ti­la­tion sys­tem designed to lim­it expo­sure to haz­ardous or tox­ic fumes through its air pres­sure fil­tra­tion system.
"We don't nec­es­sar­i­ly process all of our spec­i­mens under that because it is not need­ed, COVID has changed some of that."

COVID-19 has also changed phle­boto­my pro­ce­dures, PPE usage and stan­dard workflows.
In an effort to lim­it expo­sure, team mem­bers are tak­ing on tasks that would nor­mal­ly be dis­persed to mul­ti­ple lab pro­fes­sion­als. Inpa­tient and out­pa­tient phle­botomist are work­ing sep­a­rate­ly which has caused less rota­tion among staff. Team mem­bers have had addi­tion­al train­ing on the increase of PPE they are required to wear. Lab tables are lined with brown paper bags labeled with names for each team member's N95 mask that they are reusing and face shields hang in a sim­i­lar fash­ion in a sep­a­rate room.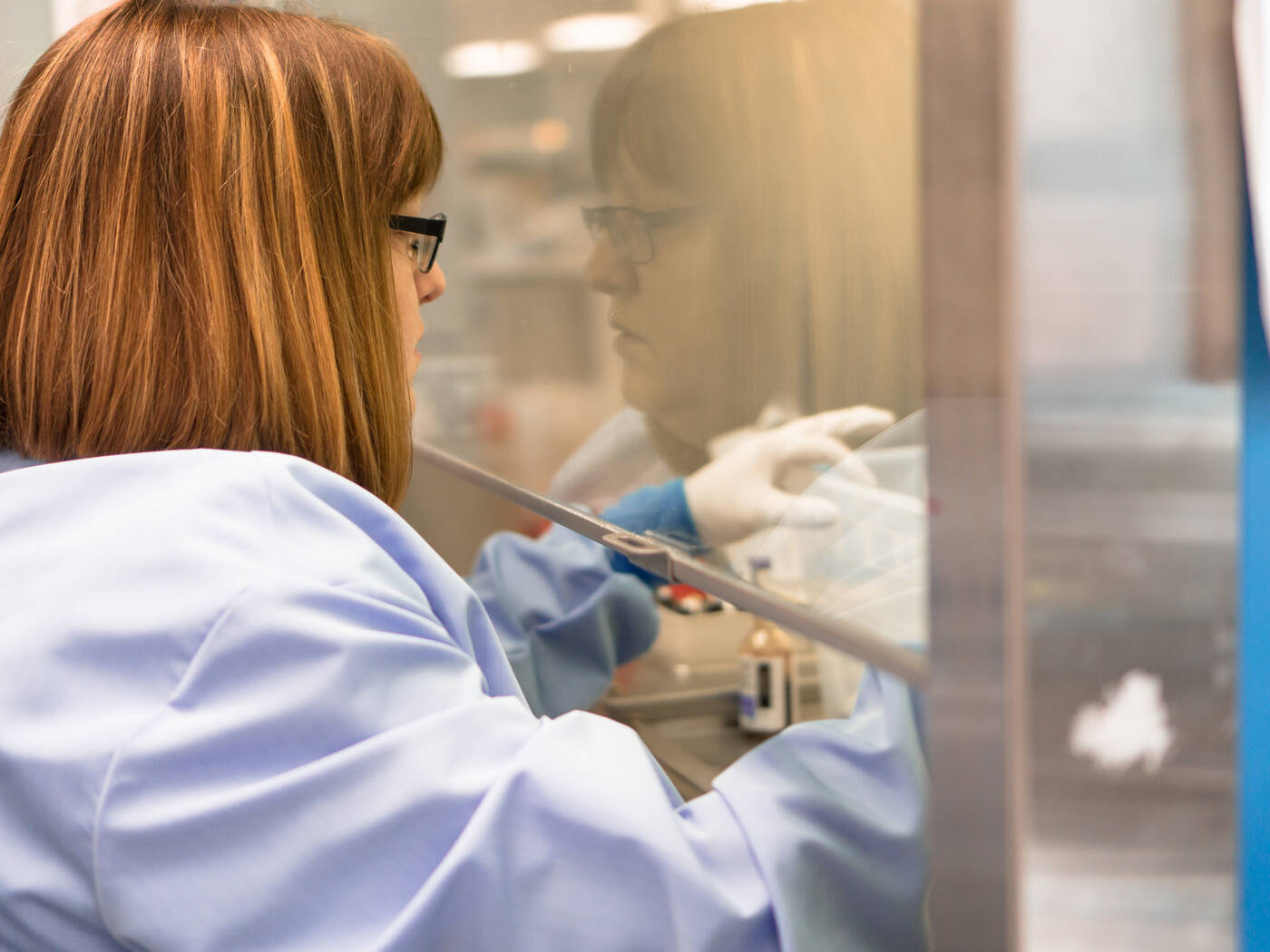 "There is a lot of rapid change, whether it's face shields and masks, the hood, gloves, lim­it­ing inter­ac­tions or keep­ing track of pos­si­ble patients. Like nurs­es, our care doesn't end with one com­po­nent, we have to track it over the whole time until we get the results back."
While ​"busi­ness as usu­al" would be an under­state­ment, the lab at Ivin­son remains ful­ly func­tion­al despite defer­ring rou­tine labs.
"We are still see­ing all the out­pa­tients for any kind of med­ica­tion refills, urgent clin­ic vis­its, med­ica­tion mon­i­tor­ing like Coumadin patients, a lot of whom we see week­ly. We are see­ing some of the Can­cer Cen­ter patients that we wouldn't nor­mal­ly because they are not active­ly on chemo. They are send­ing them to us so they don't comin­gle with patients who are on chemother­a­py. We are actu­al­ly pick­ing up some extra patients from dif­fer­ent areas while mak­ing sure we have every­thing set for their safe­ty but then for our staffs' safe­ty as well."
Dan­i­ca cred­its her staff for rolling with the many changes com­ing to the lab and doing so with ease.
"Peo­ple are see­ing more of what lab does and learn­ing more about this kind of work. Our team does so much work all the time and peo­ple don't always under­stand what we're doing back here in the unseen part of the hospital."
sign up for our email newsletter