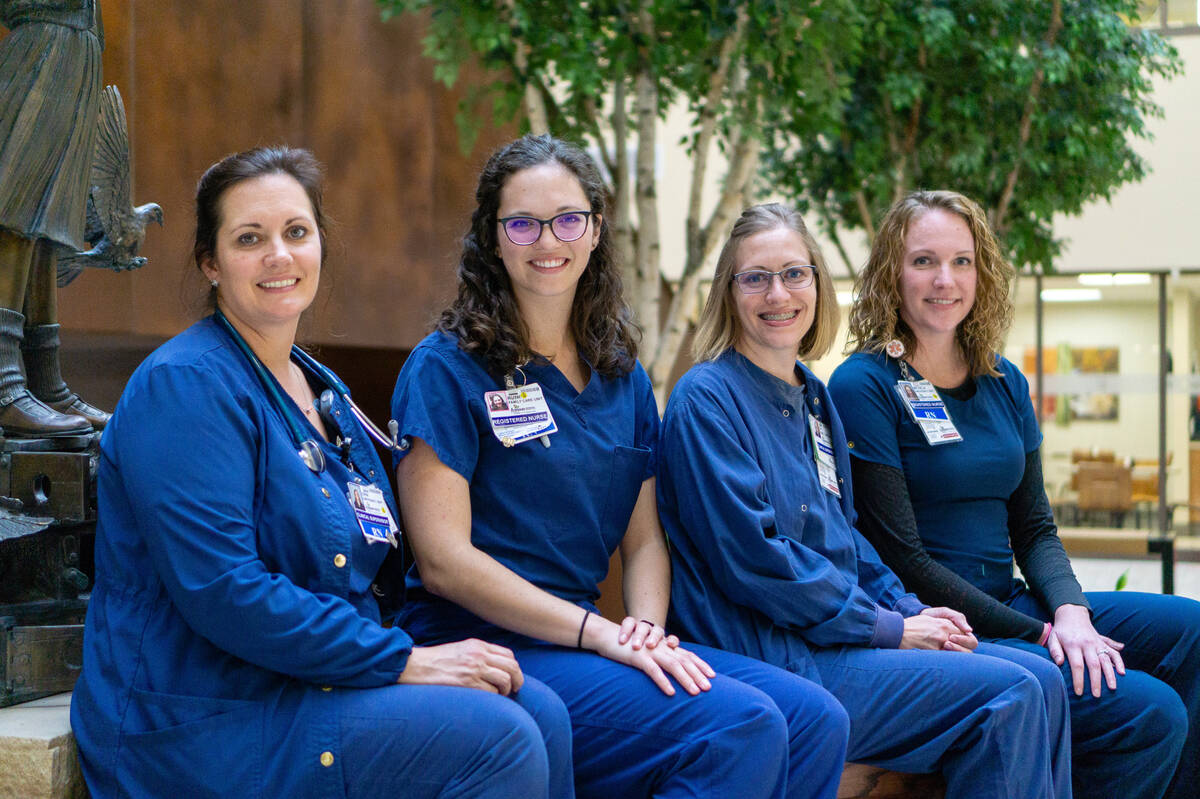 Featured Story
Written By Shelby Quintana
Sexual Assault Awareness Month
April marks Sexual Assault Awareness Month, an annual campaign designed to raise awareness of sexual assault and sexual harassment with the ultimate goal to educate communities and individuals on how to prevent sexual violence.
At Ivin­son Memo­r­i­al Hos­pi­tal (IMH), we work to pre­serve the dig­ni­ty of vic­tims of crime by offer­ing com­pre­hen­sive care and treat­ment through our foren­sic nurs­ing program.
"Our goal in pro­mot­ing Sex­u­al Assault Aware­ness Month is to empha­size that IMH foren­sic nurs­es are avail­able to help patients nav­i­gate the com­plex road after being vic­tim­ized," said Michela Telford, the foren­sic and SANE coor­di­na­tor at Ivinson.

A Sex­u­al Assault Nurse Exam­in­er (SANE) is a reg­is­tered nurse who has spe­cial­ized edu­ca­tion and clin­i­cal train­ing in the care of vic­tims of crime. ​"A 40-hour Sex­u­al Assault Nurse Exam­in­er for adults and ado­les­cents is the ini­tial edu­ca­tion required to become a SANE, fol­lowed by a clin­i­cal skills training/​orientation peri­od," said Michela. ​"After the ini­tial train­ing, foren­sic nurs­es at IMH com­plete a 40-hour Sex­u­al Assault Nurse Exam­in­er for Pedi­atrics course, a 26-hour Inti­mate Part­ner Vio­lence Train­ing and a 16-hour Trau­ma Nurs­ing course."
SANEs are trained to pro­vide imme­di­ate cri­sis inter­ven­tion and emo­tion­al sup­port to vic­tims while iden­ti­fy­ing phys­i­cal trau­ma, injuries, col­lect­ing evi­dence and main­tain­ing chain of cus­tody. Addi­tion­al­ly, SANEs col­lab­o­rate with com­mu­ni­ty agen­cies and pro­vide tes­ti­mo­ny in a court of law in response to crime. ​"SANE nurs­es have an increased knowl­edge and train­ing relat­ed to law enforce­ments and judi­cial pro­ceed­ings," said Michela. ​"We work close­ly with oth­er com­mu­ni­ty agen­cies who also respond to vic­tims of vio­lence such as: the SAFE Project, all law enforce­ment agen­cies with­in Albany Coun­ty and sur­round­ing areas, the Uni­ver­si­ty of Wyoming, the Depart­ment of Fam­i­ly Ser­vices and the Albany Coun­ty Attorney.
Michela decid­ed to become a SANE because she was intrigued by the lev­el of auton­o­my and the spe­cial­ized skill set required of these nurs­es. ​"Foren­sic nurs­es have an added degree of com­plex­i­ty to their role," said Michela. ​"Not only are we respon­si­ble for address­ing the imme­di­ate med­ical, phys­i­cal and men­tal health needs of our patients, but there is a crime that has been com­mit­ted and our patient is the crime scene."

Sex­u­al Assault
Accord­ing to the Unit­ed States Depart­ment of Jus­tice, sex­u­al assault is ​"any type of unwant­ed sex­u­al con­tact or behav­ior that occurs with­out the explic­it con­sent of the recip­i­ent." Sex­u­al assault takes many forms includ­ing forced sex­u­al inter­course of any kind, inap­pro­pri­ate touch­ing or fondling, child molesta­tion, incest, rape, or attempt­ed rape among sev­er­al oth­er acts. Regard­less of what or how it hap­pens, sex­u­al assault is nev­er the victim's fault.
"Sex­u­al assault, in my opin­ion, is one of the worst crimes that can be com­mit­ted against anoth­er human being," said Michela. ​"It can be dehu­man­iz­ing and leaves a last­ing impres­sion on the vic­tim- this is a trau­mat­ic event they will have to deal with the rest of their life."

Foren­sic Nurs­ing at Ivinson
The foren­sic nurs­ing pro­gram at Ivin­son includes sev­en nurs­es who pro­vide care to poten­tial vic­tims of crime in the Laramie com­mu­ni­ty 24 hours a day, sev­en days a week. ​"Not only do we pro­vide ser­vices to vic­tims of sex­u­al assault, but we serve vic­tims of oth­er vio­lent acts such as inti­mate part­ner vio­lence, child abuse, elder abuse, human traf­fick­ing, or kid­nap­ping," said Michela. ​"We also pro­vide sup­port ser­vices to those who wit­ness vio­lent crimes."
Our foren­sic nurs­es ensure vic­tims are not re-trau­ma­tized dur­ing their medical/​forensic exam­i­na­tions by pro­vid­ing com­pas­sion­ate and sen­si­tive care. They work to empow­er sur­vivors by pro­vid­ing com­plete infor­ma­tion and allow them to make informed deci­sions about the care they want to receive through­out the entire process. ​"My goal as a Foren­sic Nurse is to help my patients tran­si­tion from being the vic­tim of a hor­ren­dous crime to becom­ing a sur­vivor who can con­tin­ue to lead a whole and healthy life," said Michela.
The SANEs at Ivin­son Memo­r­i­al Hos­pi­tal serve vic­tims of crime by pro­vid­ing a resource for imme­di­ate, com­pas­sion­ate and com­pre­hen­sive medical/​forensic exam­i­na­tions. ​"It is impor­tant for peo­ple to know that there are many resources in Albany Coun­ty for help for vic­tims of any sort of vio­lence," said Michela. If you or some­one you know is the vic­tim of a crime, please get help. Not only will this help your heal­ing process, tak­ing action could pre­vent it from hap­pen­ing to others.
sign up for our email newsletter