Patient Story
Written by Sagan Wheeler
Take Two: A Journey With Twins
Melissa and Aaron Johnson knew raising twin daughters would take a village, they found theirs in the support they received at Ivinson .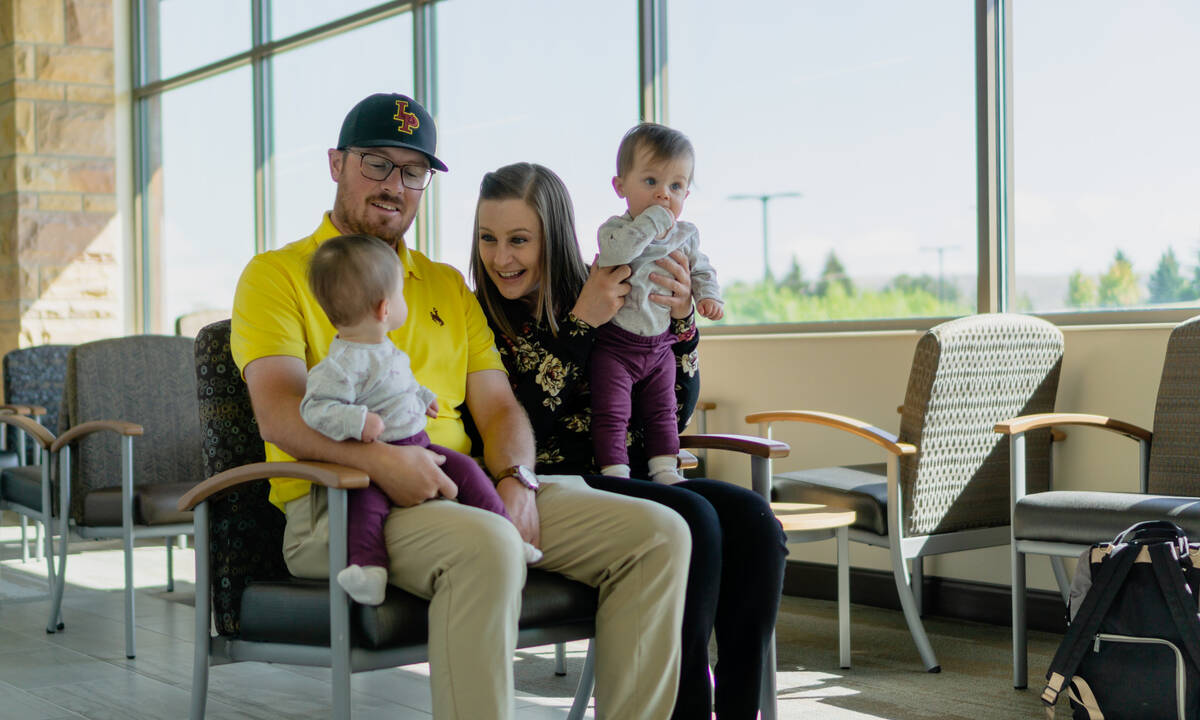 Amelia and Ade­line John­son, the twin daugh­ters of Aaron and Melis­sa John­son, just cel­e­brat­ed their first birth­day last month. And if you ask their mom, it's true what peo­ple often say, ​"The days are long but the years are short."
Pre-Natal Twin Care
Melis­sa found out she was preg­nant with twins right after Dr. Kim West­brook start­ed the Women's Health Clin­ic at Ivin­son Med­ical Group (IMG). ​"I had just learned that Dr. West­brook had start­ed at Ivin­son and knew she was accept­ing new patients," explained Melis­sa. This was Melissa's first preg­nan­cy and she knew she want­ed to receive care from Dr. West­brook. When recall­ing her first appoint­ment with Dr. West­brook, she said, ​"She was so warm and down to earth. This was my first preg­nan­cy and she made me feel very comfortable."

Although twin preg­nan­cies can car­ry risks, Melis­sa was able to receive all of her pre­na­tal care at Ivin­son Med­ical Group in Laramie, with the excep­tion of an ini­tial appoint­ment with a spe­cial­ist in Cheyenne. ​"My entire expe­ri­ence was just great, it was tru­ly per­son­al­ized care," said Melis­sa. One of the expe­ri­ences that stuck out to Melis­sa dur­ing her preg­nan­cy was the Pre-Admis­sion Vis­it and Edu­ca­tion (PAVE) appoint­ment she had on the Labor and Deliv­ery unit. At the PAVE appoint­ment, Melis­sa was able to ask ques­tions and sign impor­tant doc­u­ments so she didn't have to think about those things before she deliv­ered. Melis­sa is often met with sur­prise from peo­ple when they learn she didn't have to trav­el for her pre-natal twin care. ​"Peo­ple don't know just how capa­ble IMG and Ivin­son real­ly is. I wish more peo­ple knew that," she said.
Two Babies with Dif­fer­ent Needs
Both Amelia and Ade­line were breech so a sched­uled C‑section was planned. Melis­sa made it to her C‑section date and deliv­ered two beau­ti­ful baby girls. Imme­di­ate­ly, the team noticed Amelia's col­or wasn't look­ing well and that her blood sug­ar was low. After anoth­er 30 min­utes of mon­i­tor­ing, Aaron, Melis­sa and the team at Ivin­son chose to trans­fer Amelia to Pres­by­ter­ian St. Luke's Med­ical Cen­ter in Den­ver. Aaron left Melis­sa and Ade­line to be with Amelia. The new fam­i­ly spent five days apart while Melis­sa recov­ered with Ade­line at Ivin­son and Amelia's health improved in the Neona­tal Inten­sive Care Unit at St. Luke's with her dad by her side. After five days away from each oth­er, the fam­i­ly of four reunit­ed just in time to go home togeth­er and set­tle in to their new normal.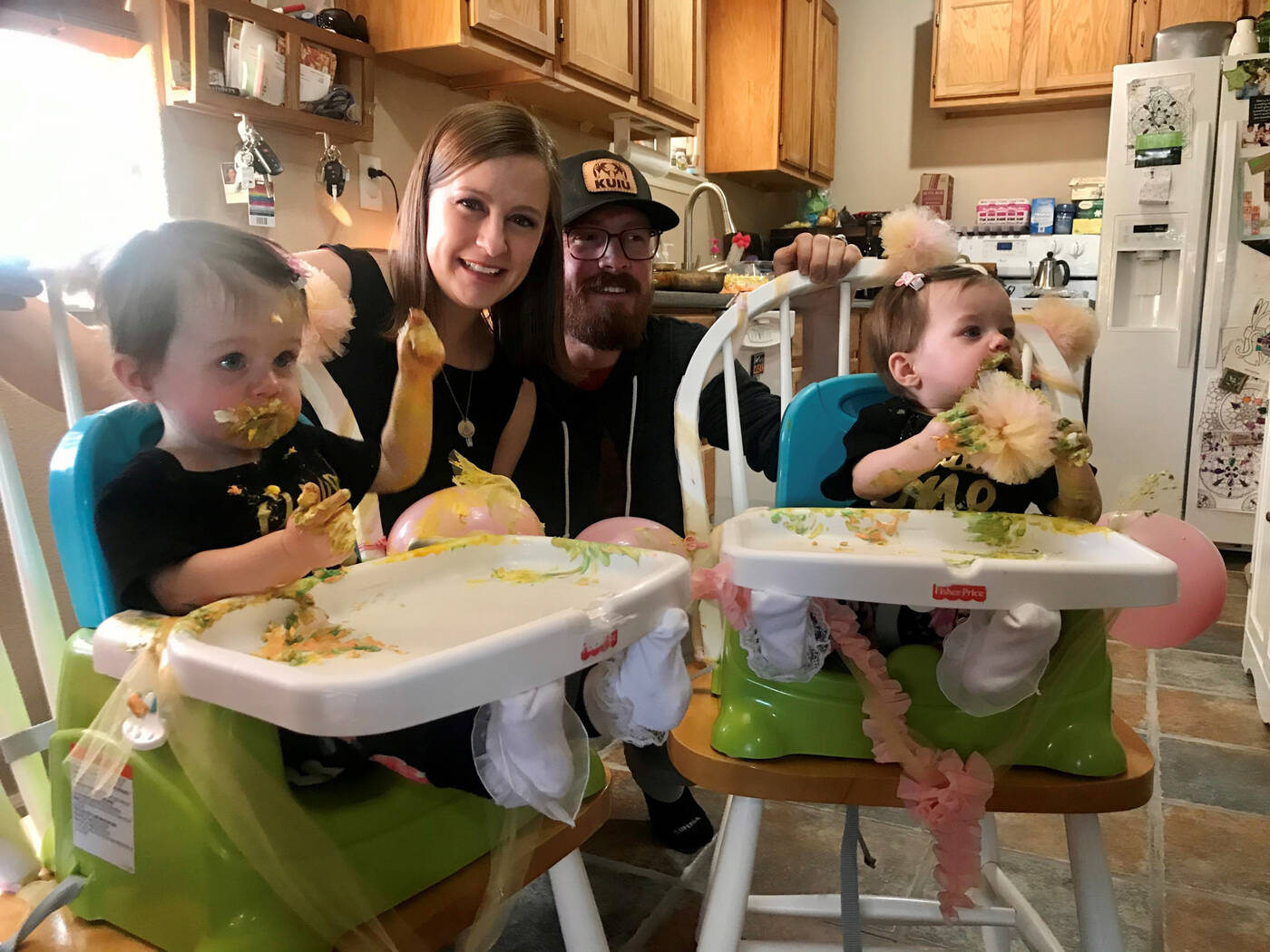 One in Nine
Melis­sa remem­bers being in sur­vival mode for those first few weeks at home. She was recov­er­ing from surgery, car­ing for two new babies and get­ting very lit­tle sleep. One night, she was lying in bed when the anx­i­ety hit her. ​"I want­ed to take it all back," she recalled. In that moment, she sought sup­port from Aaron.
One in nine women in the Unit­ed States will expe­ri­ence post­par­tum depres­sion. Melis­sa was one of them.
The next morn­ing, Melis­sa called the Women's Health Clin­ic and left what she describes as a ​"star­tling" mes­sage for the nurse. She got a call back imme­di­ate­ly from Brande, a reg­is­tered nurse in the clin­ic who was able to get her in with­in hours to see Dr. Westbrook.
Upon arrival to the clin­ic, Melis­sa felt an out­pour­ing of kind­ness, empa­thy and sup­port from the team. ​"I expe­ri­enced no shame in how I felt," described Melis­sa. After fill­ing out an assess­ment in the exam room, she then saw Dr. West­brook. ​"She gave me a hug, held my hand and assured me that it was going to be ok." Dr. West­brook nor­mal­ized what she was going through and made a plan with Melis­sa so that she could be well again. ​"Not only do they care about phys­i­cal health, but men­tal health, too. It was a pri­or­i­ty to get me bet­ter," Melis­sa explained.
After a few weeks and an adjust­ment in her ini­tial medi­a­tion, Melis­sa start­ed to feel like her­self again. Through­out her peri­od of post­par­tum depres­sion, Melis­sa knew that she could trust her women's health team at Ivin­son Med­ical Group. ​"I could be hon­est and real with them," explained Melis­sa. ​"Dr. West­brook was able to ​'take off her white coat' and relate to me as a mom. She nor­mal­ized what I was going through and how I was feeling."
Find­ing Joy Again
Once the dark­ness lift­ed, Melis­sa expe­ri­enced the joy of moth­er­hood with her two baby girls. ​"It's incred­i­ble," she described. ​"I felt like it was nev­er going to end and I was always going to feel this way." And then, some­how, it end­ed and she felt differently.
Now, Melis­sa wakes in the morn­ing to the sounds of Amelia and Ade­line gig­gling at each oth­er from their cribs. ​"It was hard — car­ry­ing twins, hav­ing twins and suf­fer­ing from post­par­tum depres­sion but hear­ing them talk­ing or gig­gling with each oth­er makes it all worth it," said Melis­sa. ​"I am look­ing for­ward to see­ing their rela­tion­ship grow."
sign up for our email newsletter