Patient Story
Written by Sagan Wheeler
Take Two: A Journey With Twins
Melissa and Aaron Johnson knew raising twin daughters would take a village, they found theirs in the support they received at Ivinson .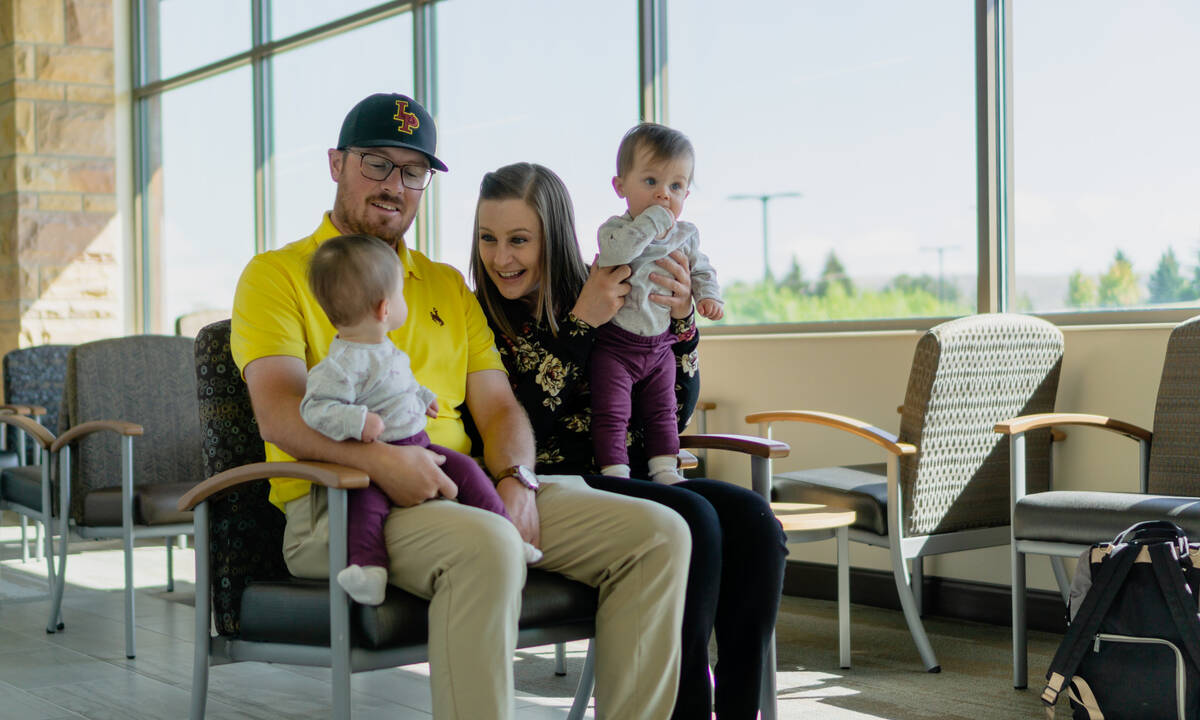 Amelia and Adeline Johnson, the twin daughters of Aaron and Melissa Johnson, just celebrated their first birthday last month. And if you ask their mom, it's true what people often say, ​"The days are long but the years are short."
Pre-Natal Twin Care
Melissa found out she was pregnant with twins right after Dr. Kim Westbrook started the Women's Health Clinic at Ivinson Medical Group (IMG). ​"I had just learned that Dr. Westbrook had started at Ivinson and knew she was accepting new patients," explained Melissa. This was Melissa's first pregnancy and she knew she wanted to receive care from Dr. Westbrook. When recalling her first appointment with Dr. Westbrook, she said, ​"She was so warm and down to earth. This was my first pregnancy and she made me feel very comfortable."

Although twin pregnancies can carry risks, Melissa was able to receive all of her prenatal care at Ivinson Medical Group in Laramie, with the exception of an initial appointment with a specialist in Cheyenne. ​"My entire experience was just great, it was truly personalized care," said Melissa. One of the experiences that stuck out to Melissa during her pregnancy was the Pre-Admission Visit and Education (PAVE) appointment she had on the Labor and Delivery unit. At the PAVE appointment, Melissa was able to ask questions and sign important documents so she didn't have to think about those things before she delivered. Melissa is often met with surprise from people when they learn she didn't have to travel for her pre-natal twin care. ​"People don't know just how capable IMG and Ivinson really is. I wish more people knew that," she said.
Two Babies with Different Needs
Both Amelia and Adeline were breech so a scheduled C‑section was planned. Melissa made it to her C‑section date and delivered two beautiful baby girls. Immediately, the team noticed Amelia's color wasn't looking well and that her blood sugar was low. After another 30 minutes of monitoring, Aaron, Melissa and the team at Ivinson chose to transfer Amelia to Presbyterian St. Luke's Medical Center in Denver. Aaron left Melissa and Adeline to be with Amelia. The new family spent five days apart while Melissa recovered with Adeline at Ivinson and Amelia's health improved in the Neonatal Intensive Care Unit at St. Luke's with her dad by her side. After five days away from each other, the family of four reunited just in time to go home together and settle in to their new normal.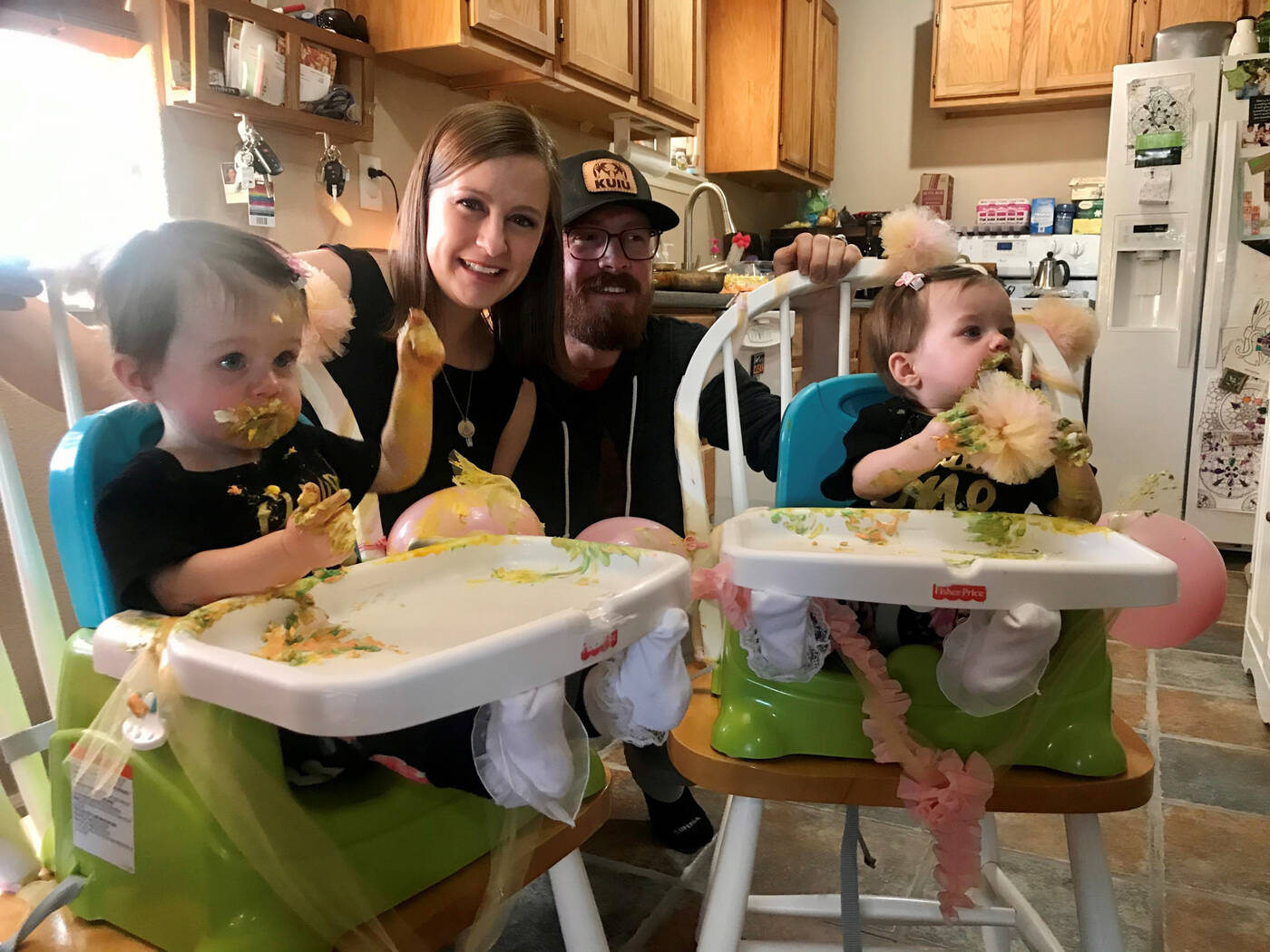 One in Nine
Melissa remembers being in survival mode for those first few weeks at home. She was recovering from surgery, caring for two new babies and getting very little sleep. One night, she was lying in bed when the anxiety hit her. ​"I wanted to take it all back," she recalled. In that moment, she sought support from Aaron.
One in nine women in the United States will experience postpartum depression. Melissa was one of them.
The next morning, Melissa called the Women's Health Clinic and left what she describes as a ​"startling" message for the nurse. She got a call back immediately from Brande, a registered nurse in the clinic who was able to get her in within hours to see Dr. Westbrook.
Upon arrival to the clinic, Melissa felt an outpouring of kindness, empathy and support from the team. ​"I experienced no shame in how I felt," described Melissa. After filling out an assessment in the exam room, she then saw Dr. Westbrook. ​"She gave me a hug, held my hand and assured me that it was going to be ok." Dr. Westbrook normalized what she was going through and made a plan with Melissa so that she could be well again. ​"Not only do they care about physical health, but mental health, too. It was a priority to get me better," Melissa explained.
After a few weeks and an adjustment in her initial mediation, Melissa started to feel like herself again. Throughout her period of postpartum depression, Melissa knew that she could trust her women's health team at Ivinson Medical Group. ​"I could be honest and real with them," explained Melissa. ​"Dr. Westbrook was able to ​'take off her white coat' and relate to me as a mom. She normalized what I was going through and how I was feeling."
Finding Joy Again
Once the darkness lifted, Melissa experienced the joy of motherhood with her two baby girls. ​"It's incredible," she described. ​"I felt like it was never going to end and I was always going to feel this way." And then, somehow, it ended and she felt differently.
Now, Melissa wakes in the morning to the sounds of Amelia and Adeline giggling at each other from their cribs. ​"It was hard — carrying twins, having twins and suffering from postpartum depression but hearing them talking or giggling with each other makes it all worth it," said Melissa. ​"I am looking forward to seeing their relationship grow."
sign up for our email newsletter