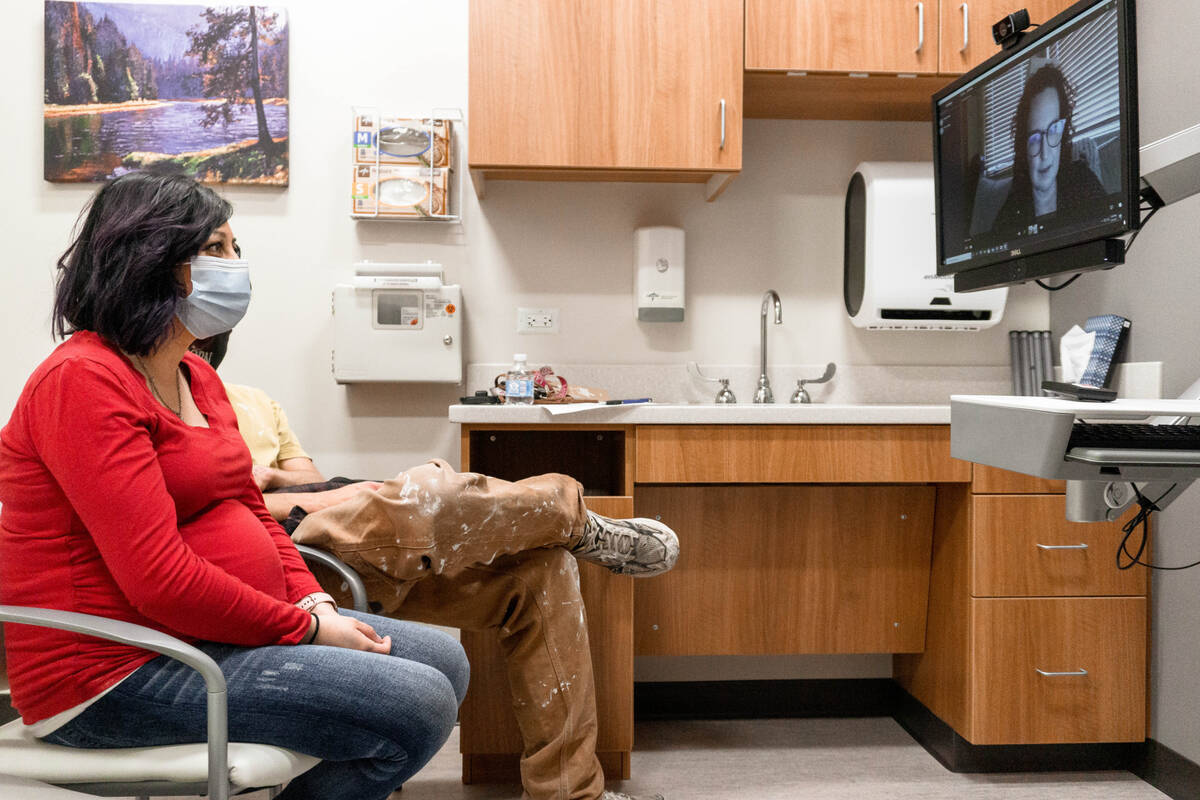 Featured Story
12 February 2021
Telehealth Brings Specialty Obstetric Care to Ivinson
Written by Sagan Wheeler
Amy and Chris Haefner are expecting their second child, conceived through in vitro fertilization (IVF). The Haefners completed IVF in Colorado, and due to COVID-19 restrictions, Amy attended all of her fertility treatments alone.
Chris would often drive her to her appointments only to wait in the car. ​"We traveled a lot in the last couple of years for fertility. Travelling during COVID has been hard. There are no bathrooms open or visitors allowed at my appointments," explained Amy. This week, at Amy's first Maternal Fetal Medicine (MFM) telehealth appointment at Ivinson, Chris was able to bring his company and support into the exam room.
In partnership with UCHealth Maternal Fetal Medicine Clinic at Anschutz Medial Campus, Ivinson is now able to provide care for high-risk obstetric patients right here in Laramie. When the Women's Health Clinic at Ivinson opened its doors in 2018, Dr. Kim Westbrook began exploring the option to offer telehealth visits with division chief of Maternal Fetal Medicine, Dr. Terry Harper. ​"Our affiliation with UCHealth allows us to use the same electronic health record, facilitating a completely seamless system for both providers and patients," explained Dr. Westbrook about the benefit of working with the UCHealth MFM team. ​"Dr. Harper is a phenomenal physician and her vision for telehealth and MFM is really powerful."

A key component to making the MFM telehealth clinic a reality was ensuring a specialty trained ultrasound technologist was available on-site to perform the MFM ultrasounds. Over the span of several months, Randi Majewski, an ultrasound technologist at Ivinson, completed this specialty training in Denver. ​"It was an opportunity for self-growth, to further my knowledge in the field of ultrasound and to provide a specialized service for my hometown," explained Randi of her decision to be trained in MFM ultrasound. When patients arrive to Ivinson for their MFM telehealth visit, their first stop is a formal ultrasound with Randi.
Once the ultrasound is complete, the patient moves to a new room set for telehealth. The MFM physician reviews the ultrasound from Randi, the patient's health history and then discusses recommendations with the patient in a virtual format.
For the entirety of high-risk patient's obstetric experience, Ivinson providers work closely with the UChealth MFM team to provide the best possible care for mom and baby. With an additional three year fellowship training, specifically in high-risk pregnancies, MFM physicians act as another resource providing frequent communication and consistency of care.

Before partnering with the Women's Health Clinic at Ivinson, Dr. Harper's team set-up telehealth clinics in Yampa Valley and Sterling, Colorado. ​"It has been extraordinarily successful from a volume, quality and patient satisfaction standpoint," said Dr. Harper. ​"Our physician team is very passionate about MFM care and supporting rural communities to provide specialty care to their patients."
Dr. Westbrook and the entire team at the Women's Health Clinic recognized the benefit of a program like this for our community. ​"This is such a unique opportunity to be able to offer a higher level of care to our patients that would typically require a significant drive and more time off of work or away from family," she described.
Now, patients like Amy can receive this world-class, specialty obstetric care in their hometown. ​"I knew my pregnancy was considered high-risk from the beginning, but I have had more complications than I anticipated. Dr. Westbrook has done a great job of doing her best to keep my appointments local while working with the high-risk doctors in Colorado when necessary."