Employee Spotlight
3 December 2021
The Gift of Giving
Move over Santa— Manny is brining the gifts this season!
December is a big month for Ivinson security guard Manny Gutierrez. This December he celebrates two years at Ivinson, the fifth year of his annual toy drive and his birthday. Since 2017, Manny has collected toys for kids for Christmas.
"I started in November of 2017," Manny said. ​"I started out by simply collecting toys from McDonalds from the Happy Meals. Instead of a free meal, I asked for a toy each of my shifts. That year I only focused on that and in the following years I started asking for other people's help."
Through his social media pages, Manny began reaching out to family and friends to help him by donating toys. As his following grew, so did the toy donations and his toy drive.
Launching every year in early October, Manny usually see's donations pick up around mid-November. In his experience of running a toy drive out of his apartment, Manny has found a few things that have helped him gather more donations, goals and deadlines.
"The deadline for me has always been my birthday," Manny said. ​"On December 10th, I stop the whole collection. I like giving, so for me, making somebody happy is like a present to myself."

This year Manny has set a goal of donating 2,000 toys to Toys for Tots. To many, this may seem like a huge undertaking to run out of your own home, for Manny, it is a way he can make a difference. At the end of November, before a formal count, he estimates he is over halfway to his goal.
"I made myself a promise that if I got over 2,000 toys, that I would get myself a dog," Manny said. ​"I would want something big or medium size that i can adopt from the pound, give a dog a second chance."
Manny, a huge fan of comic books, loves a good underdog story. Although many would never know it, he knows a thing or two about second chances.
Against the Odds
In 2019, Manny was a full-time student taking 19 credit hours studying to be a special education teacher. Working full-time with two jobs, he did not have time for a cold. When he began feeling sick, he figured it was fatigue or lack of sleep and brushed it off.
"I let it run for about a month before my best friend told me to go to the hospital," Manny said.
At the hospital Manny was diagnosed with pneumonia. He was admitted and after becoming progressively worse, he had to be placed on a ventilator.
"I was like that for a week in intubation," Manny said. ​"After that I had health problem after health problem. I had weak lungs, bad kidneys and very high blood pressure. At one point I had heart problems. My body did not want to go back to normal."
Not one to be discouraged, Manny continued to do the things he loved, going to church, never missing a day at the gym and running his toy drive every October to December.
Despite working hard to improve his health and being fully vaccinated, in August of this year, Manny contracted COVID-19. This time Manny spent two weeks in the hospital. Although he did not require intubation, his kidney function worsened and he went into kidney failure.
"I have to go to dialysis three times a week for four hours right before work so work days are kind of tough sometimes. Right now I am trying to do whatever I can to get on the transfer list for a new kidney," Manny said.
Always willing to put in the work, Manny is taking strides towards making healthy lifestyle changes and his own personal fitness goals. While some changes have been easy, giving up Root Beer floats was a bit harder.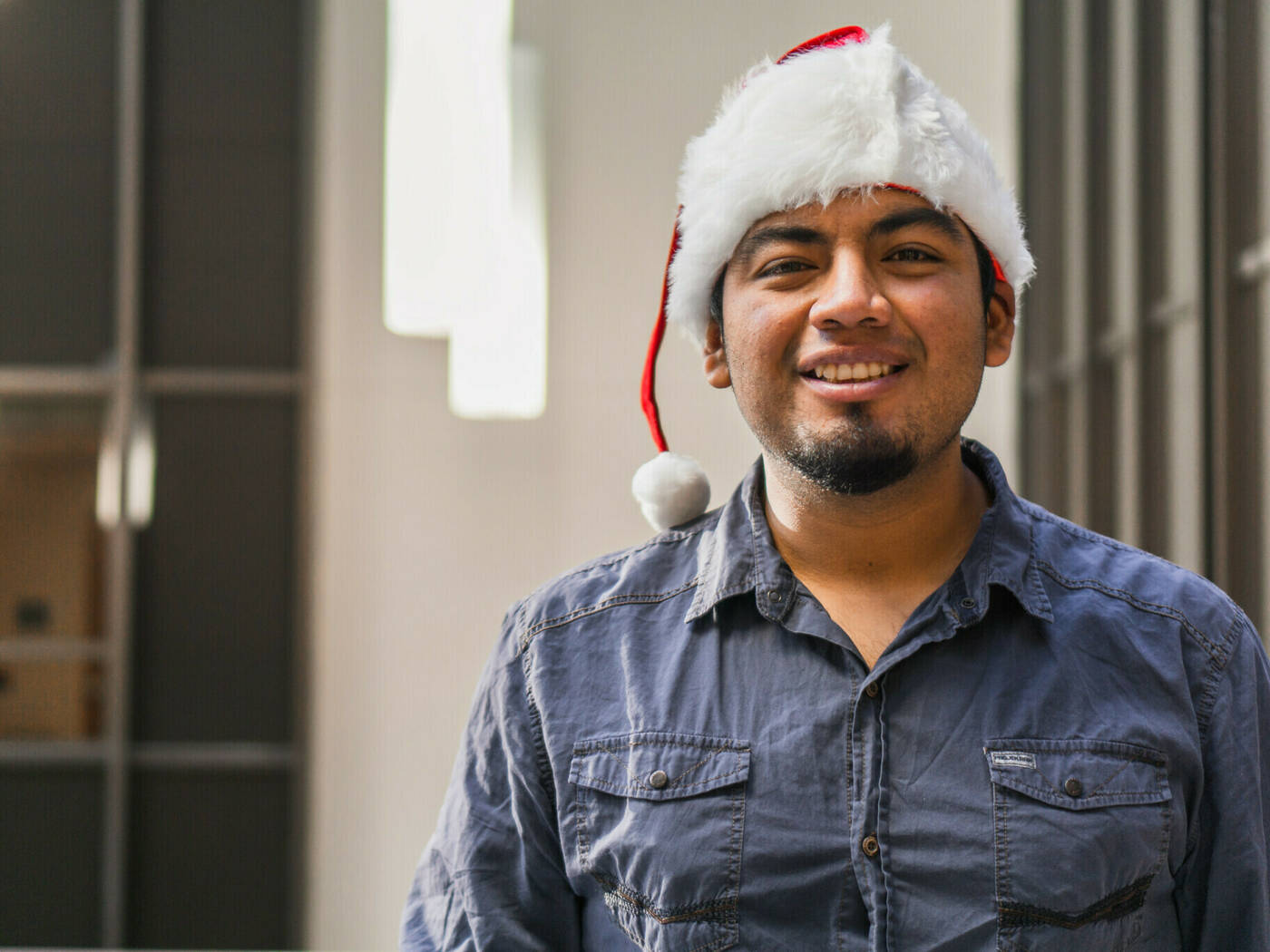 In the meantime, Manny keeps a smile on his face and the faces of those around him. As of December 2, Manny is more than halfway to his goal of collecting 2,000 toys before his birthday cut-off date. When asked if he was worried about meeting his goal, Manny smiles. As he has learned in his years of donating toys, the collection date and the number of toys are all minor details in comparison to the impact of making a child's Christmas special with even one toy.
"I want to help people. I want to make a difference," Manny said. ​"We all struggle differently. Maybe you are struggling with financial stuff, or school stuff or family stuff. For me, the toy drive is a way to relieve some pressure. We all need a little break in our life. For me, that was a fairly easy and friendly way of doing so."
Hoping to help him reach his goal and bring home a rescue dog for his birthday this year, Ivinson has placed several Toys for Tots boxes throughout the hospital, many which Manny continues to fill. Boxes are located at the East Patient Entrance (Entrance 1), the Emergency Room (Entrance 6), Outpatient Rehab (Entrance 3) and at other locations for hospital staff to fill.
Toys for Tots asks for new, unwrapped toys to make local children's Christmas a little more magical.
This year Manny is hosting a raffle for those that contribute to his toy drive. Participants can earn raffle tickets by donating toys or by donating a dollar amount that is then used to purchase toys to be donated. On his Instagram, followers can answer questions or play ​"mini-games" to earn more raffle tickets. Among some of this year's raffle prizes are a Nintendo Switch, Airpods and several gift cards.
Manny will conclude his toy collection efforts on the same day he always does, December 10th, his birthday. Toys for Tots collection boxes will be accepting toys up to the week of the 20th.
To learn more about Toys for Tots in Albany County visit their website and learn how you, like Manny, can make a difference this December.