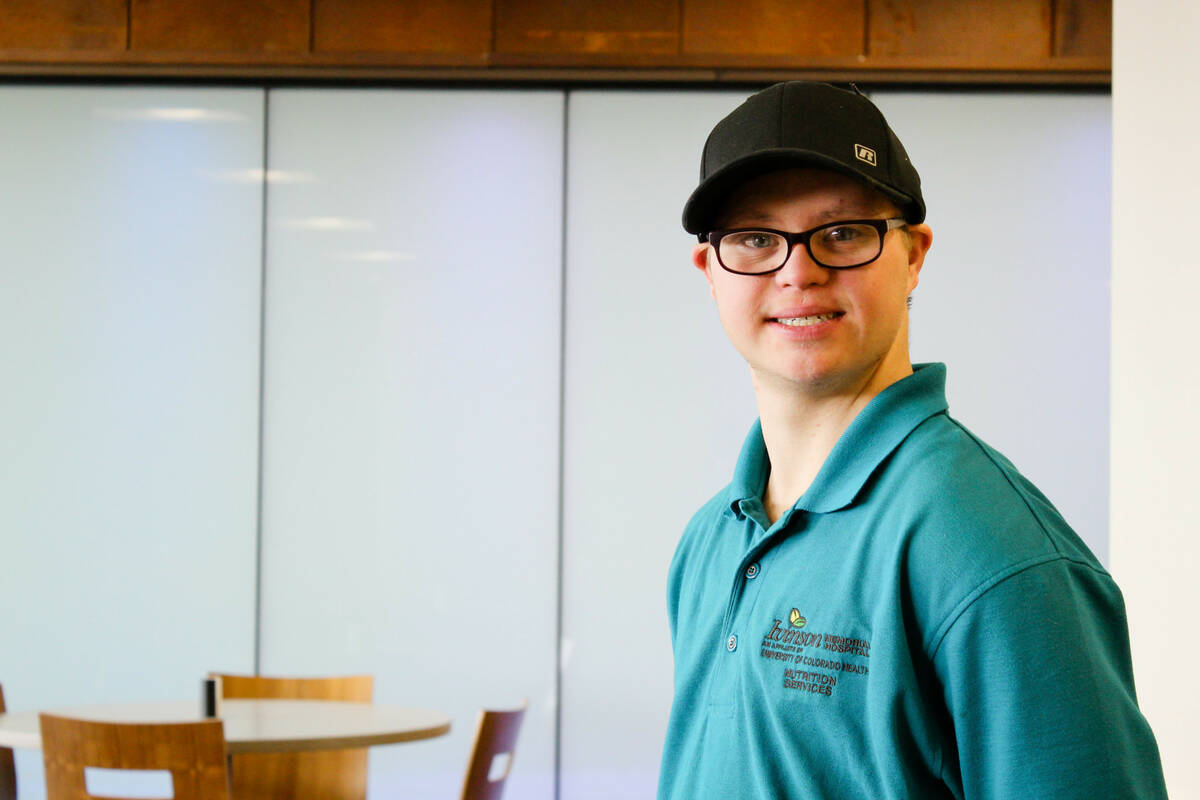 Employee Spotlight
Timmy Frazier, Nutritional Services Assistant
Timmy Frazier joined the Ivinson team in August of 2017 as an Intern with Project SEARCH. Project SEARCH at Ivinson is a unique, nine month, job training program for young adults with intellectual disabilities.
The pro­gram is col­lab­o­ra­tion between Ivin­son Memo­r­i­al Hos­pi­tal, The Wyoming Depart­ment of Work­force Ser­vices Divi­sion of Voca­tion­al Reha­bil­i­ta­tion, Choice Adult Ser­vices and Albany Coun­ty School Dis­trict #1, which was found­ed in 2017. The most impor­tant goal of Project SEARCH at Ivin­son is for each intern to be com­pet­i­tive­ly employed by the com­ple­tion of the program.
Timmy's first intern­ship expe­ri­ence was with Ivinson's Dietary Depart­ment where the team quick­ly grew to appre­ci­ate Timmy's work eth­ic and pos­i­tive atti­tude. After his intern­ship, he was offered a per­ma­nent part-time posi­tion as a Nutri­tion­al Ser­vices Assis­tant. When asked what he enjoys most about Ivin­son, Tim­my said, ​"Doing my job well." In his cur­rent role, he has learned impor­tant lessons about team­work and know­ing when to jump in to help his co-workers.
Tim­my is a Spe­cial Olympics medal win­ner in cross coun­try ski­ing and also com­petes in pow­er lift­ing and cycling. In addi­tion to Spe­cial Olympics, Tim­my is involved in his church and the Fel­low­ship of Chris­t­ian Ath­letes. He loves Laramie because he can envi­sion liv­ing here inde­pen­dent­ly while still being con­nect­ed to his family.
Tim­my is excit­ed to con­tin­ue to learn how to do things on his own, with the sup­port of his teach­ers, fam­i­ly, and friends. Every day he says to him­self, ​"I can do this!" We are proud of all that Tim­my has accom­plished with Project SEARCH and are lucky he is on our Ivin­son team!
sign up for our email newsletter