Foundation Updates
Written by Katherine Ratigan
Women InCourage Funding Night
On November 13, 2019, Women inCourage members shared an inspiring evening in the beautiful, newly constructed, third floor of the Medical Office Building at Ivinson.
The evening began with Jen Peter­son, Ivin­son Memo­r­i­al Hos­pi­tal Phys­i­cal Ther­a­pist, and Caity Beck, RN, shar­ing a sto­ry of the impact last years' Women inCour­age fund­ing night has made for the hos­pi­tal, staff and one patient in particular.
A patient was admit­ted to the hos­pi­tal in very poor health, and clin­i­cal staff did every­thing they could each day to keep her alive. Slow­ly, her health began to improve. She defeat­ed all odds against her and now it was time to begin reha­bil­i­ta­tion to return home. While she was con­tin­u­ing to get stronger, staff expressed safe­ty con­cerns for the patient and sug­gest­ed using the bariatric reclin­er.

The bariatric reclin­er was a request from Reha­bil­i­ta­tion Ser­vices (phys­i­cal and occu­pa­tion­al ther­a­py) and the Medical/​Surgical Unit dur­ing the Women inCour­age 2018 grant cycle. Staff spoke to the increase of obe­si­ty rates and the demand for health­care equip­ment to accom­mo­date all patients who vis­it Ivinson.
A bariatric reclin­er accom­mo­dates up to 660 pounds and pro­vides inde­pen­dence, com­fort, and func­tion­al­i­ty for bariatric patients.

With no oth­er options to safe­ly com­plete reha­bil­i­ta­tion, the future looked bleak. How­ev­er, with the sup­port of encour­ag­ing staff, this patien­t's health con­tin­ued to improve, her atti­tude com­plete­ly changed as if a fire was lit inside of her soul. The bariatric reclin­er on the Medical/​Surgical Unit saved this wom­an's life.

With­out Women inCour­age, the bariatric chair may not have been pur­chased. This chair is chang­ing lives of patients who vis­it Ivin­son Memo­r­i­al Hos­pi­tal. Hos­pi­tal staff are inspired and their abil­i­ty to pro­vide excep­tion­al care to every patient becomes a real­i­ty. The Laramie com­mu­ni­ty as a whole is sup­port­ed by Women inCour­age. Thank you for giv­ing of your­self to help oth­ers, we are so grate­ful for each of you.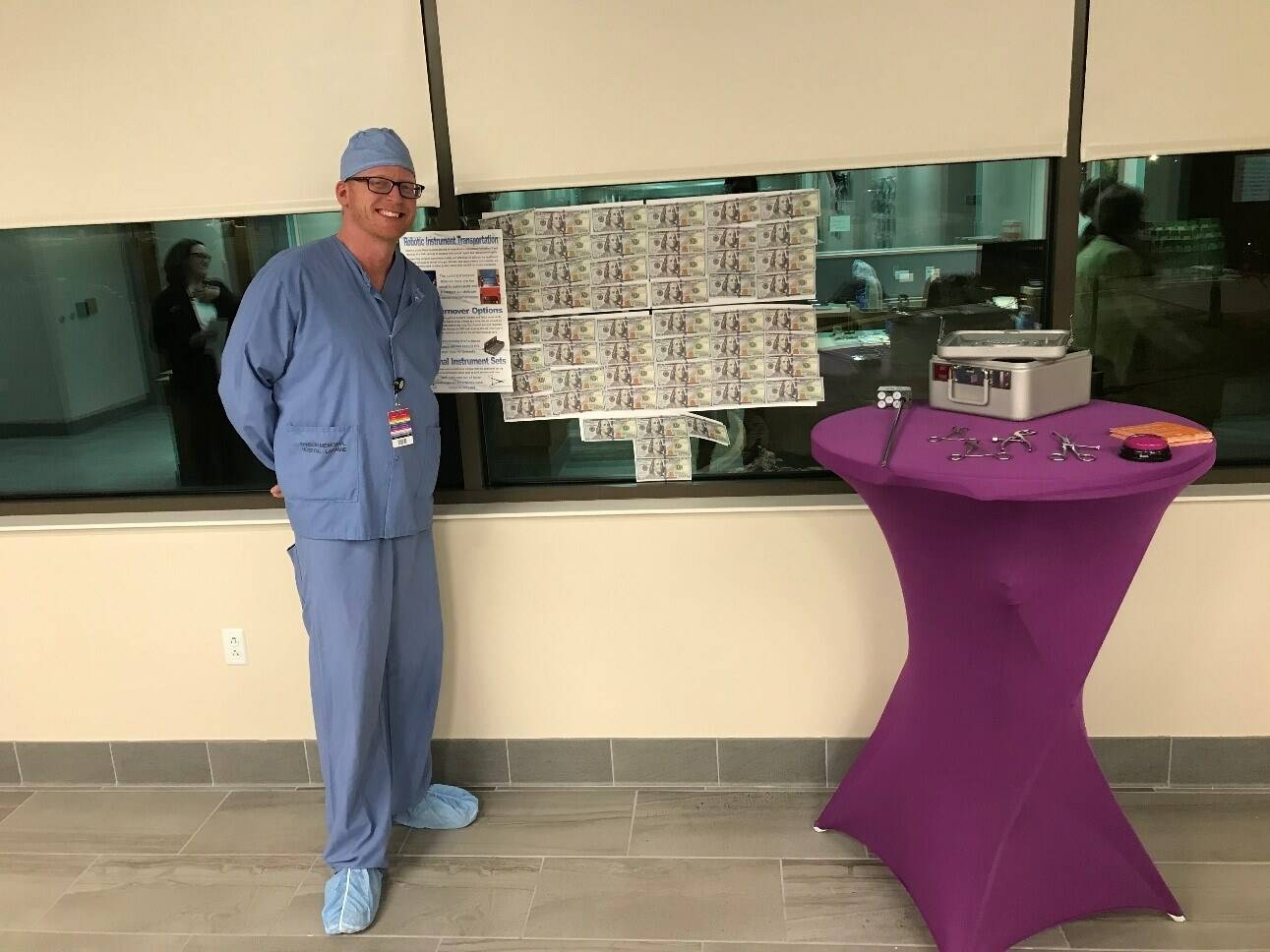 Dur­ing the final fund­ing night for 2019, Women inCour­age fund­ed three essen­tial projects for Ivin­son. Grant appli­ca­tions were sub­mit­ted by Ivinson's Surgery/​Sterile Pro­cess­ing depart­ment, Fam­i­ly Care Unit and Ivin­son Med­ical Group's Women's Health Clin­ic. All were approved by the Women inCour­age com­mit­tee. Women in atten­dance lis­tened to staff mem­bers from each depart­ment who described their project and how it will ben­e­fit staff and patient care.
The Fam­i­ly Care Unit request­ed a Novii Wire­less Patch Sys­tem. This sys­tem allows preg­nant patients the oppor­tu­ni­ty to be active dur­ing their labor while the baby is being mon­i­tored. Fam­i­ly Care cur­rent­ly has one Novii Wire­less Patch and has bud­get­ed for a sec­ond. How­ev­er, the unit typ­i­cal­ly has more than two women in labor at the same time and the last to arrive does not get the same free­dom the first woman has. The fund­ing of this mon­i­tor­ing sys­tem pro­vides patients free­dom of move­ment with a belt free labor expe­ri­ence. This equip­ment empow­ers patients and is an asset to women in our com­mu­ni­ty who vis­it Ivin­son for their preg­nan­cy and labor care.
Surgery/​Sterile Pro­cess­ing request­ed spe­cial ortho­pe­dic instru­ments and stor­age con­tain­ers that will opti­mize staff time and help to pro­vide excep­tion­al patient care. The DaVin­ci Robot and Ortho­pe­dics will specif­i­cal­ly ben­e­fit from this pur­chase. The pur­chase also lessens the stress placed on staff for ster­il­iza­tion turnover time and will offer a bet­ter expe­ri­ence for patients overall.
The Ivin­son Med­ical Group Wom­en's Health Clin­ic recent­ly devel­oped a new pro­gram, Stork Sup­port. Stork Sup­port pro­vides essen­tial new­born items to new moth­ers and fam­i­lies in need. The pro­gram pro­vides car seats, pack and plays, infant car­ri­ers, and oth­er essen­tials in a col­lab­o­ra­tive effort to sup­port new par­ents and keep new­born babies safe. Those who work in the clin­ic have com­ment­ed that staff morale has improved as a result of being able to help those in need and donate back to our community.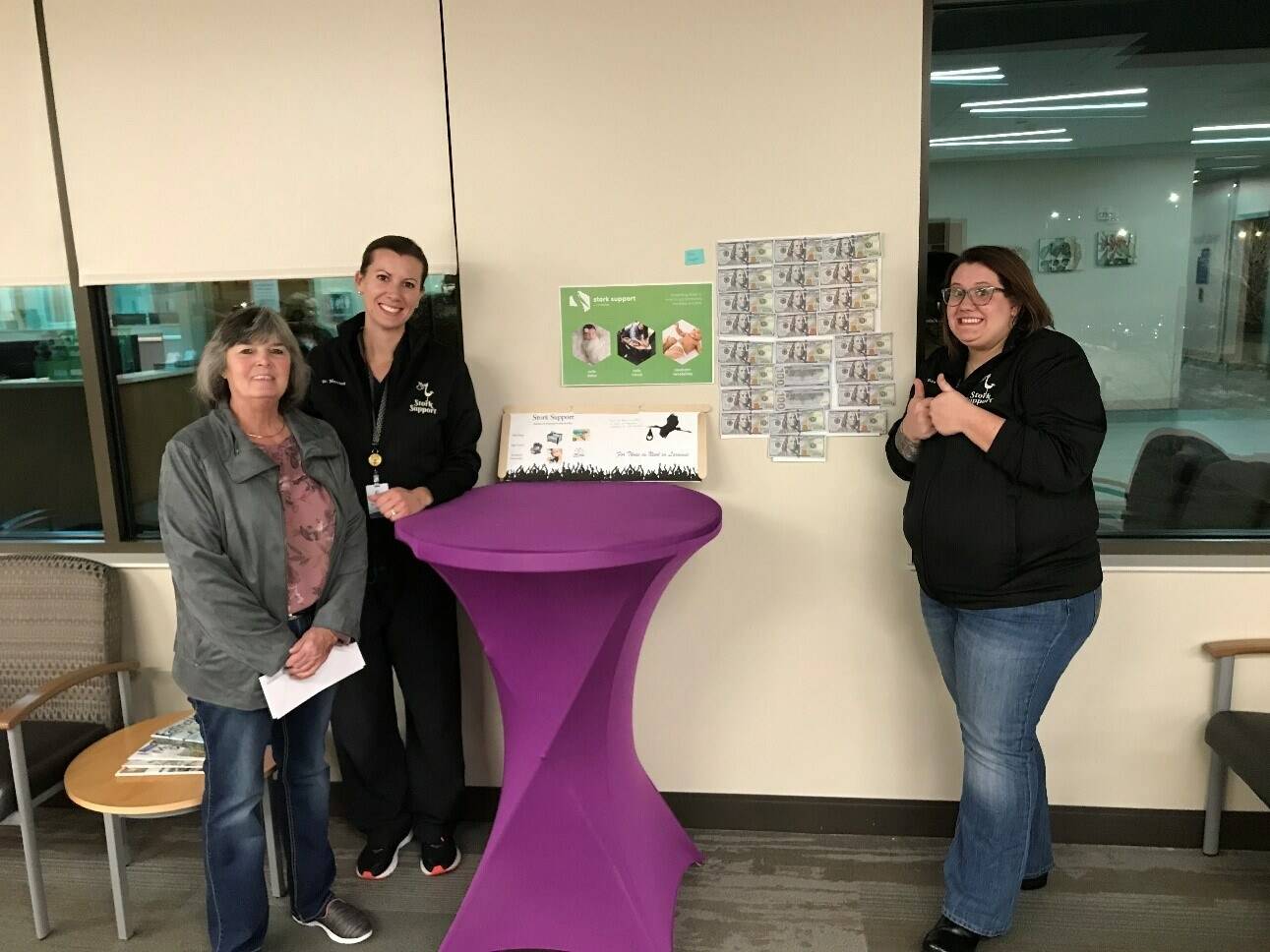 Women inCour­age is an inspired group of women com­mit­ted to think­ing big about the future of health­care in Laramie, Wyoming. Qual­i­ty health­care helps com­mu­ni­ties thrive, and the mem­bers of Women inCour­age fund pro­grams and pur­chas­es for Ivin­son Memo­r­i­al Hos­pi­tal. This fund­ing cir­cle gath­ers quar­ter­ly at var­i­ous loca­tions through­out Laramie.
sign up for our email newsletter