Patient Story
22 October 2019
Defying the Odds: Joe Feeley
Written By Sagan Wheeler
Despite three different stage-four cancer diagnoses, Joe Feeley didn't lose hope. After a ten-year battle with cancer, Joe suspended treatment in July of this year.
In 2009, Joe Feeley was diagnosed with late-stage metastatic melanoma. During his 10-year battle with cancer, Joe received three different stage-four diagnoses, was told twice that he had three months to live and tried treatment after treatment hoping one would work.
In July, 2019, after more than six months of ​"no evidence of disease" on his scans, Joe suspended treatment. ​"It's unnerving. After doing this for 10 years and to get to a point where it could be gone forever? I am still, myself, trying to get my arms around it." described Joe.
A Ten Year Battle
After Joe's initial diagnosis, he sought treatment in Billings, MT until 2012. He then began research on alternative treatments, leading him to establish primary care with MD Anderson in Houston, TX. While receiving treatment at MD Anderson, Joe underwent various treatments including different clinical trials. Joe had learned of a new treatment that was under clinical trials until late 2015. UCHealth was one of the facilities that took part in the clinical trial and in doing his research, Joe came to learn of UCHealth's connection to Ivinson Memorial Hospital.
Joe made a call to Amy Smith, director of the Meredith and Jeannie Ray Cancer Center at Ivinson. ​"It was great talking to a patient that was exploring all of his options and being his own advocate. He wasn't willing to just be ok with not getting the treatment that was recommended by his specialist at MD Anderson," Amy recalled of her first conversation with Joe.
In January 2016, Joe retired from the business he had owned for 20 years in Sheridan, WY. He heard for the second time in his life that he had three months to live. But he wasn't giving up. He would begin treatment at Ivinson Memorial Hospital in February under the care of Dr. Steven Schuster, a medical oncologist with UCHealth. ​"When Joe came to Ivinson, his disease was widespread. Hospice care would have been a reasonable recommendation. Thankfully, due to advances in cancer research in the last few years, we had new options including IV immunotherapy, targeted therapy and a brand new immunotherapy that involves injecting live virus into his tumors. Working together with his team at MD Anderson, we made a plan combining these therapies and administered all of it close to home in Laramie," explained Dr. Schuster.
Joe's treatment at Ivinson took place every two weeks for almost three and a half years. The treatment was painful with an intense recovery period but Joe remained positive. ​"Joe always had a positive outlook on treatment. During his treatments when I was injecting him with a needle over 15 times, he never had a bad attitude. He wanted to do what he could to beat this. Joe used humor, and the nurses enjoyed taking care of him," said Amy.
The treatment period at Ivinson didn't come without obstacles. In the summer of 2017, the cancer spread to Joe's liver. But once again, Joe didn't give up. ​"I'm amazed by his inner strength, his faith in his care teams while being an advocate for himself and his supportive family," said Dr. Schuster.
Amy also spoke of Joe's resolve throughout his treatment, ​"He wanted to make sure that at the end of the day, he was doing what he could. Joe ended up getting 70 some treatments here, putting his trust in us and always letting us know how much he appreciated the care he got."
World-Class Care, Close to Home
When you are traveling from northeast Wyoming to Houston, TX on a regular basis, the thought of receiving a new form of cancer treatment in your own state doesn't seem like a possibility. But because of Ivinson's affiliation with UCHealth and the access to clinical trials and research, Joe was able to travel across his home state every two weeks for three and a half years. Joe was born and raised in Wyoming so when asked about receiving care in Wyoming he said, ​"It was a humbling experience to receive this treatment in my home state, to realize the expertise is right here, locally."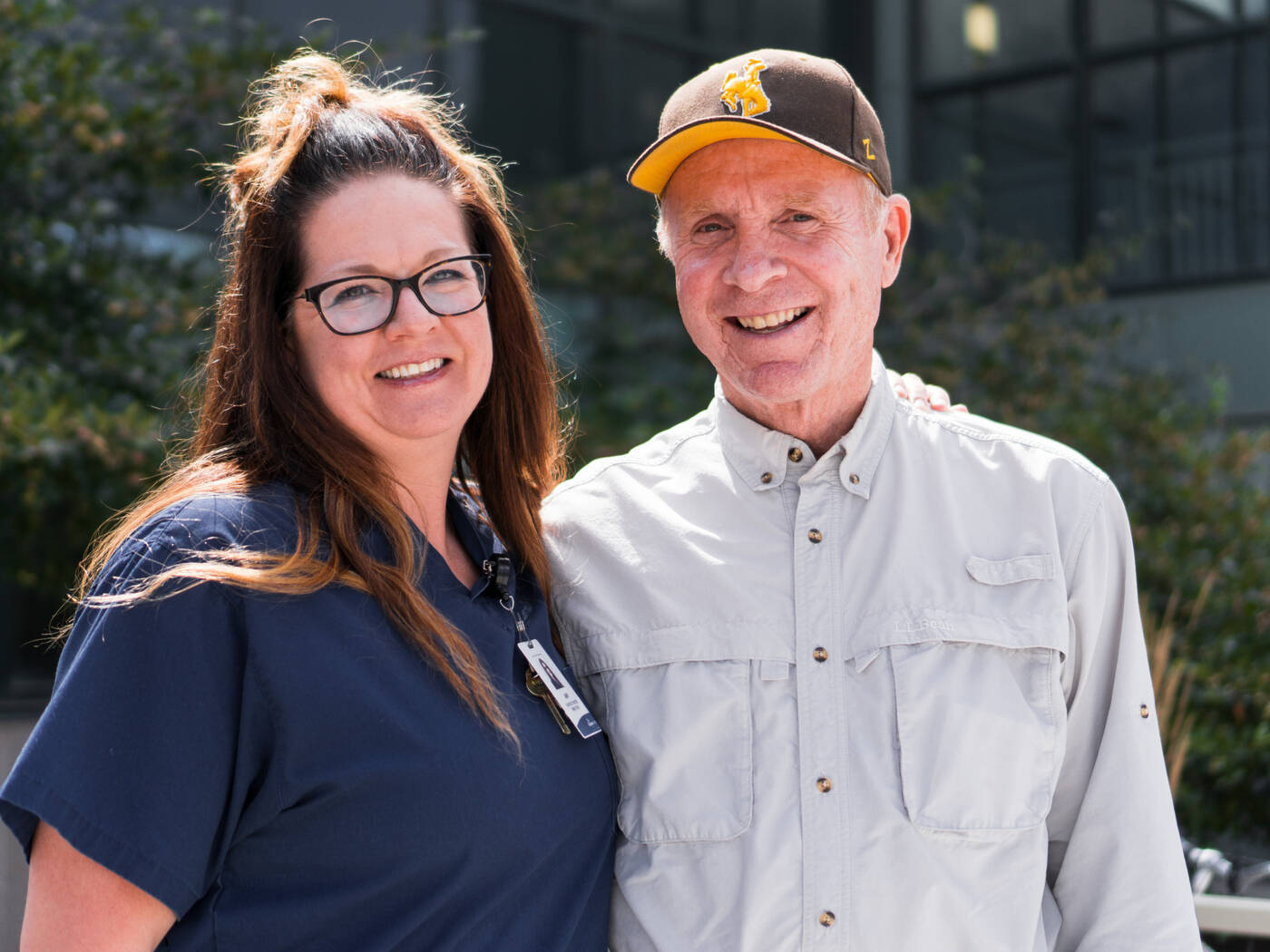 No Evidence of Disease
In October 2018, Joe's scans came back clear. Joe and his treatment teams discussed suspending treatment but because not all of the clinical study results had been published, they decided to continue on. After several more months of treatment and the publishing of new study results, Joe along with Dr. Schuster and the team at MD Anderson, made the decision to suspend treatment.
Dr. Schuster remembers the feeling he had when the decision was made to stop treatment. ​"I was extremely excited. We did not make the decision to stop his immunotherapy hastily. We met numerous times after his disease became undetectable to weigh the pros and cons. It was one of the highlights of my career, to date. While we had some setbacks initially that led us to adjust his therapies, in the end, a combination was successful in putting him in a complete remission. Based on the depth and persistence of his response, we hope that he is cured, which is an amazing blessing for a wonderful person."
Joe rang the bells in the cancer center on August 5, 2019 with family, friends and his team at Ivinson there to celebrate with him. Although the side effects of Joe's extensive treatment have been minimal, he still experienced three and a half years of toxicity in his body. ​"In a few more months, I might start to feel whole again," Joe said when describing how he felt, physically. For ten years, Joe didn't see an end in sight but he kept fighting. While the idea of not having to travel to Laramie every two weeks sounds wonderful, it is still taking some getting used to.
Joe will continue his follow-up appointments with MD Anderson but in time, they will decrease. He looks forward to continued healing in the black hills of Wyoming.