Patient Stories
Written By Sagan Wheeler
Defying the Odds: Joe Feeley
Despite three different stage-four cancer diagnoses, Joe Feeley didn't lose hope. After a ten-year battle with cancer, Joe suspended treatment in July of this year.
In 2009, Joe Fee­ley was diag­nosed with late-stage metasta­t­ic melanoma. Dur­ing his 10-year bat­tle with can­cer, Joe received three dif­fer­ent stage-four diag­noses, was told twice that he had three months to live and tried treat­ment after treat­ment hop­ing one would work.
In July, 2019, after more than six months of ​"no evi­dence of dis­ease" on his scans, Joe sus­pend­ed treat­ment. ​"It's unnerv­ing. After doing this for 10 years and to get to a point where it could be gone for­ev­er? I am still, myself, try­ing to get my arms around it." described Joe.
A Ten Year Battle
After Joe's ini­tial diag­no­sis, he sought treat­ment in Billings, MT until 2012. He then began research on alter­na­tive treat­ments, lead­ing him to estab­lish pri­ma­ry care with MD Ander­son in Hous­ton, TX. While receiv­ing treat­ment at MD Ander­son, Joe under­went var­i­ous treat­ments includ­ing dif­fer­ent clin­i­cal tri­als. Joe had learned of a new treat­ment that was under clin­i­cal tri­als until late 2015. UCHealth was one of the facil­i­ties that took part in the clin­i­cal tri­al and in doing his research, Joe came to learn of UCHealth's con­nec­tion to Ivin­son Memo­r­i­al Hospital.
Joe made a call to Amy Smith, direc­tor of the Mered­ith and Jean­nie Ray Can­cer Cen­ter at Ivin­son. ​"It was great talk­ing to a patient that was explor­ing all of his options and being his own advo­cate. He wasn't will­ing to just be ok with not get­ting the treat­ment that was rec­om­mend­ed by his spe­cial­ist at MD Ander­son," Amy recalled of her first con­ver­sa­tion with Joe.
In Jan­u­ary 2016, Joe retired from the busi­ness he had owned for 20 years in Sheri­dan, WY. He heard for the sec­ond time in his life that he had three months to live. But he wasn't giv­ing up. He would begin treat­ment at Ivin­son Memo­r­i­al Hos­pi­tal in Feb­ru­ary under the care of Dr. Steven Schus­ter, a med­ical oncol­o­gist with UCHealth. ​"When Joe came to Ivin­son, his dis­ease was wide­spread. Hos­pice care would have been a rea­son­able rec­om­men­da­tion. Thank­ful­ly, due to advances in can­cer research in the last few years, we had new options includ­ing IV immunother­a­py, tar­get­ed ther­a­py and a brand new immunother­a­py that involves inject­ing live virus into his tumors. Work­ing togeth­er with his team at MD Ander­son, we made a plan com­bin­ing these ther­a­pies and admin­is­tered all of it close to home in Laramie," explained Dr. Schuster.
Joe's treat­ment at Ivin­son took place every two weeks for almost three and a half years. The treat­ment was painful with an intense recov­ery peri­od but Joe remained pos­i­tive. ​"Joe always had a pos­i­tive out­look on treat­ment. Dur­ing his treat­ments when I was inject­ing him with a nee­dle over 15 times, he nev­er had a bad atti­tude. He want­ed to do what he could to beat this. Joe used humor, and the nurs­es enjoyed tak­ing care of him," said Amy.
The treat­ment peri­od at Ivin­son didn't come with­out obsta­cles. In the sum­mer of 2017, the can­cer spread to Joe's liv­er. But once again, Joe didn't give up. ​"I'm amazed by his inner strength, his faith in his care teams while being an advo­cate for him­self and his sup­port­ive fam­i­ly," said Dr. Schuster.
Amy also spoke of Joe's resolve through­out his treat­ment, ​"He want­ed to make sure that at the end of the day, he was doing what he could. Joe end­ed up get­ting 70 some treat­ments here, putting his trust in us and always let­ting us know how much he appre­ci­at­ed the care he got."
World-Class Care, Close to Home
When you are trav­el­ing from north­east Wyoming to Hous­ton, TX on a reg­u­lar basis, the thought of receiv­ing a new form of can­cer treat­ment in your own state doesn't seem like a pos­si­bil­i­ty. But because of Ivinson's affil­i­a­tion with UCHealth and the access to clin­i­cal tri­als and research, Joe was able to trav­el across his home state every two weeks for three and a half years. Joe was born and raised in Wyoming so when asked about receiv­ing care in Wyoming he said, ​"It was a hum­bling expe­ri­ence to receive this treat­ment in my home state, to real­ize the exper­tise is right here, locally."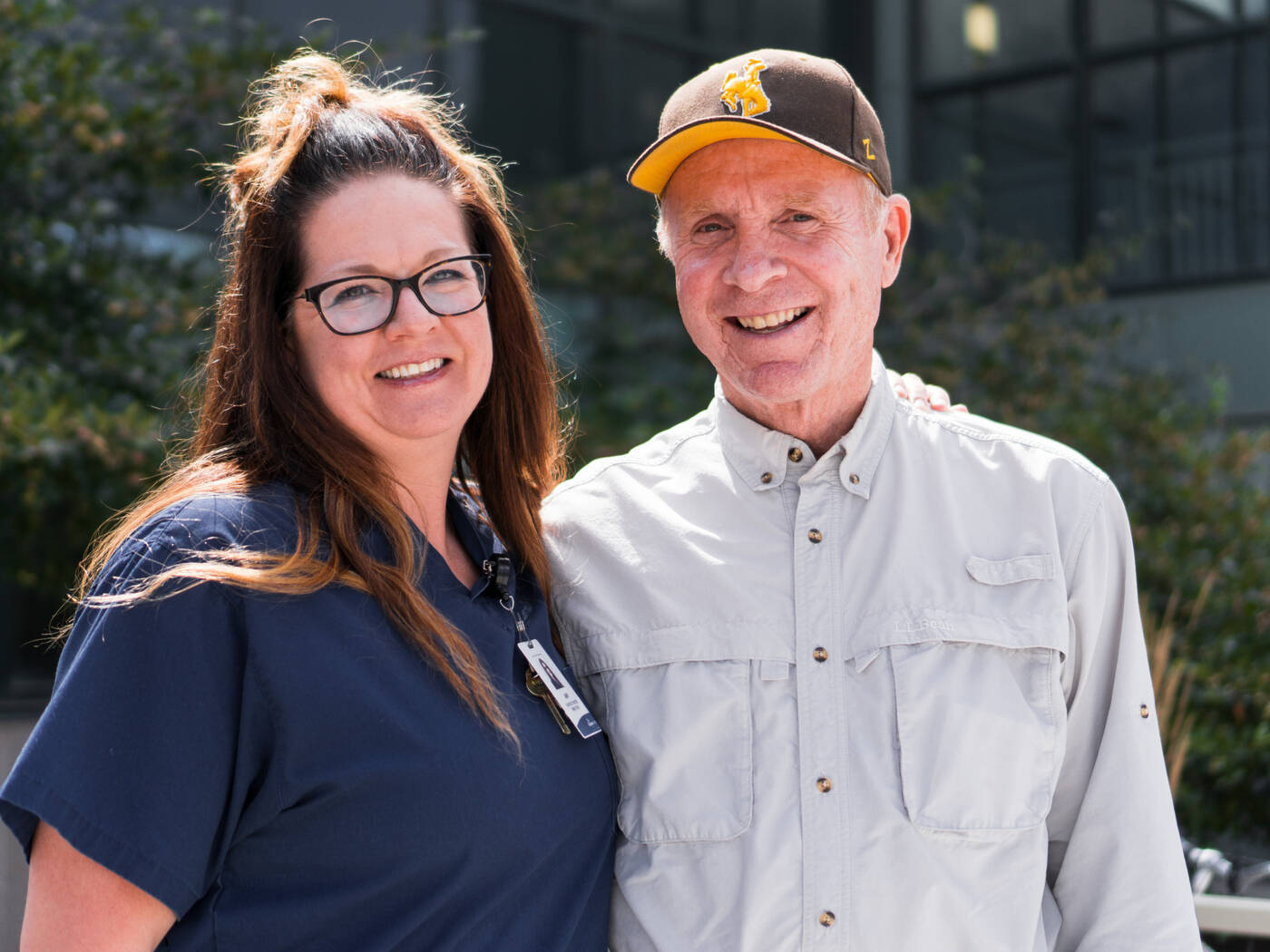 No Evi­dence of Disease
In Octo­ber 2018, Joe's scans came back clear. Joe and his treat­ment teams dis­cussed sus­pend­ing treat­ment but because not all of the clin­i­cal study results had been pub­lished, they decid­ed to con­tin­ue on. After sev­er­al more months of treat­ment and the pub­lish­ing of new study results, Joe along with Dr. Schus­ter and the team at MD Ander­son, made the deci­sion to sus­pend treatment.
Dr. Schus­ter remem­bers the feel­ing he had when the deci­sion was made to stop treat­ment. ​"I was extreme­ly excit­ed. We did not make the deci­sion to stop his immunother­a­py hasti­ly. We met numer­ous times after his dis­ease became unde­tectable to weigh the pros and cons. It was one of the high­lights of my career, to date. While we had some set­backs ini­tial­ly that led us to adjust his ther­a­pies, in the end, a com­bi­na­tion was suc­cess­ful in putting him in a com­plete remis­sion. Based on the depth and per­sis­tence of his response, we hope that he is cured, which is an amaz­ing bless­ing for a won­der­ful person."
Joe rang the bells in the can­cer cen­ter on August 5, 2019 with fam­i­ly, friends and his team at Ivin­son there to cel­e­brate with him. Although the side effects of Joe's exten­sive treat­ment have been min­i­mal, he still expe­ri­enced three and a half years of tox­i­c­i­ty in his body. ​"In a few more months, I might start to feel whole again," Joe said when describ­ing how he felt, phys­i­cal­ly. For ten years, Joe didn't see an end in sight but he kept fight­ing. While the idea of not hav­ing to trav­el to Laramie every two weeks sounds won­der­ful, it is still tak­ing some get­ting used to.
Joe will con­tin­ue his fol­low-up appoint­ments with MD Ander­son but in time, they will decrease. He looks for­ward to con­tin­ued heal­ing in the black hills of Wyoming.
sign up for our email newsletter