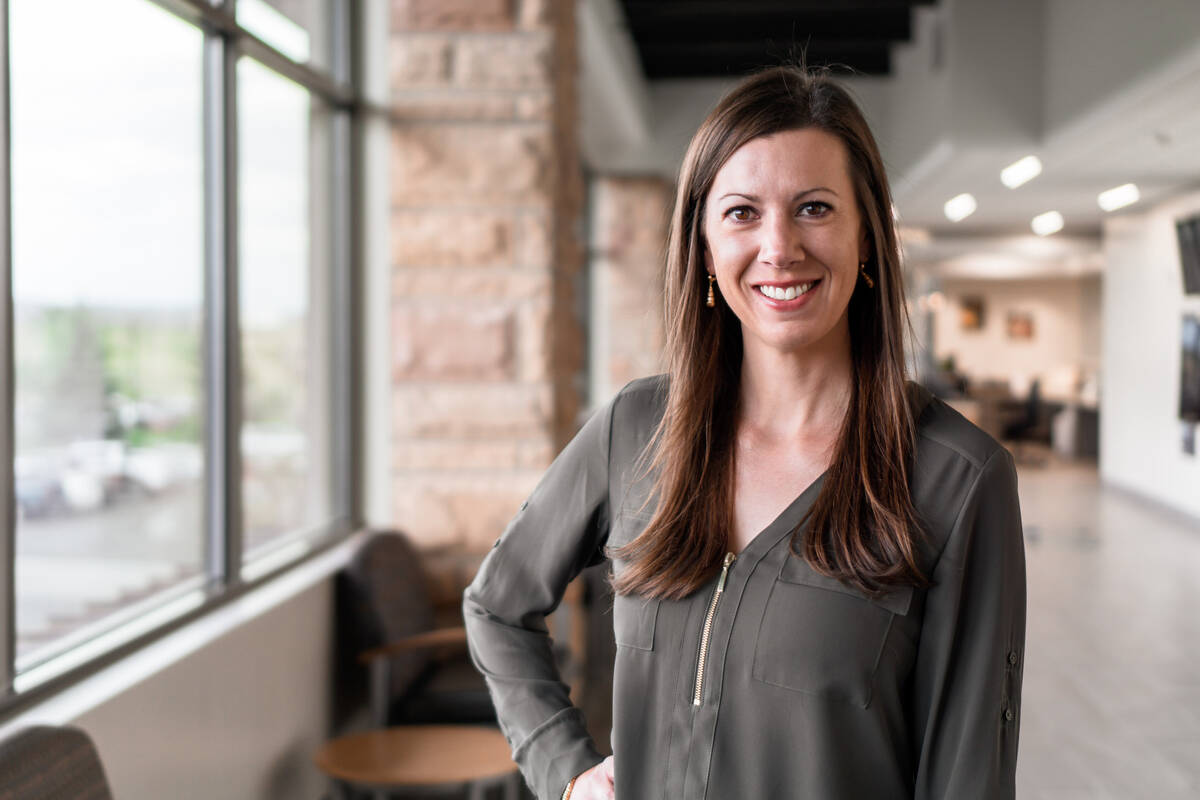 Provider Spotlight
19 November 2020
Dr. Samantha Herriott
Dr. Herriott is an OB/GYN at Ivinson Medical Group's Women's Health Clinic.
Before she ever went to medical school, Dr. Samantha Herriott was drawn to women's health.
Originally, she had considered nursing, until an incident as an undergrad had left her wanting to do more.
"When I was an undergrad in college I managed a perfume store. I had a lot of young girls that would come from the inner city of Flint, Michigan, down to the shopping mall where we worked for employment," Dr. Herriott explained. ​"This young gal had just really been through a lot. She had seen a public health provider in Flint for women's care and she came in crying and very upset." Dr. Herriott remembers listening to the girl explain how she had been abruptly dismissed by the provider and ridiculed over her feelings towards her situation. ​"It really felt like women's health was underserved or maybe not served by the right type of provider, and that was a huge catalyst for me to go into women's health."
Hailing from the Port Heron area of Michigan, Dr. Herriott attended medical school at Michigan State University. Following med school, she served her residency at Genesys Hospital in Flint, Michigan. There, Dr. Herriott was able to see and treat the community that caused her to pursue medicine as a profession.
Following her residency, her family lived in sunny Eastern Tennessee. There, she practiced as a women's health provider for four years.
"I remember one day I told my husband, let's just go west. I've always thought we would live out west," Dr. Herriott said. ​"We both grew up with horses and thought we would get a horse farm."
Despite her Michigan roots and love for the south, Dr. Herriott knew she would fit right in with the western lifestyle.
"I really love the farm life, the ranch life," she said ​"I have lived the actual farm life, my dad is a farmer. He grows beans and corn and hay and all sorts of stuff. I really love being outdoors, in the barn with dirty boots and animals all over the place."
As a mother of two, she sought the community of a smaller town. While Wyoming was never on her radar, Dr. Herriott recalled being drawn to Ivinson after seeing a job listing that read, ​'The Cowboy State is Calling'.
Now entering her second year at Ivinson as one quarter of the women's health team, Dr. Herriott is proud to once again be practicing in a tight knit community and getting to know her patients.
"I do tend to make friendships with my patients within the office," she said of the closeness created in women's healthcare. ​"I want to know how they're doing at work, how they're doing with their family, how is their relationship with their partner? It really is all inclusive in getting to know that individual and then at the same time, taking care of them in a physical way. From their mental health to cardiac health to their reproductive health it's very all-encompassing. That's the beauty of medicine these days. It's not just take two and call me in the morning, it's really comprehensive care"
The women's health team at Ivinson cares for women in all walks of life, addressing the concerns that come with each milestone.
"I'm not just taking care of their annual visits, pap smears and breast exams, it's care of the whole person and I truly care about my patients. I've never had that benefit of knowing my patients this well before and I think that's the beauty of working at Ivinson."
When she is not at the hospital, Dr. Herriott can be found right here in Laramie. If she's not shopping Downtown or baking in her kitchen, look towards the Snowies.
"We really are pretty active in the winter," Dr. Herriott said of her family's love for the outdoors, having taken up skiing and snow shoeing. ​"I do like to travel but we haven't done any travelling because we have been so enamored with the west. We are still seeing all of what Wyoming has to offer."
sign up for our email newsletter