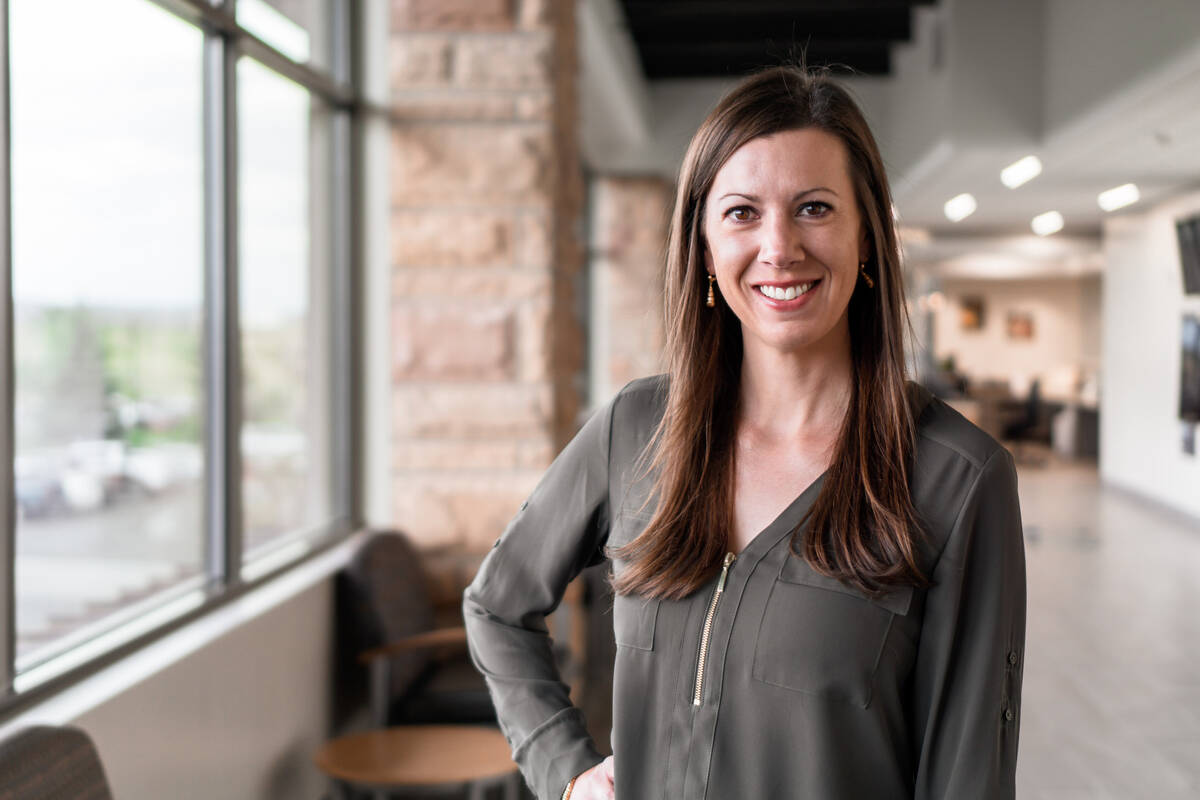 Provider Spotlight
Dr. Samantha Herriott
Dr. Herriott is an OB/GYN at Ivinson Medical Group's Women's Health Clinic.
Before she ever went to med­ical school, Dr. Saman­tha Her­riott was drawn to women's health.
Orig­i­nal­ly, she had con­sid­ered nurs­ing, until an inci­dent as an under­grad had left her want­i­ng to do more.
"When I was an under­grad in col­lege I man­aged a per­fume store. I had a lot of young girls that would come from the inner city of Flint, Michi­gan, down to the shop­ping mall where we worked for employ­ment," Dr. Her­riott explained. ​"This young gal had just real­ly been through a lot. She had seen a pub­lic health provider in Flint for women's care and she came in cry­ing and very upset." Dr. Her­riott remem­bers lis­ten­ing to the girl explain how she had been abrupt­ly dis­missed by the provider and ridiculed over her feel­ings towards her sit­u­a­tion. ​"It real­ly felt like women's health was under­served or maybe not served by the right type of provider, and that was a huge cat­a­lyst for me to go into women's health."
Hail­ing from the Port Heron area of Michi­gan, Dr. Her­riott attend­ed med­ical school at Michi­gan State Uni­ver­si­ty. Fol­low­ing med school, she served her res­i­den­cy at Genesys Hos­pi­tal in Flint, Michi­gan. There, Dr. Her­riott was able to see and treat the com­mu­ni­ty that caused her to pur­sue med­i­cine as a profession.
Fol­low­ing her res­i­den­cy, her fam­i­ly lived in sun­ny East­ern Ten­nessee. There, she prac­ticed as a women's health provider for four years.
"I remem­ber one day I told my hus­band, let's just go west. I've always thought we would live out west," Dr. Her­riott said. ​"We both grew up with hors­es and thought we would get a horse farm."
Despite her Michi­gan roots and love for the south, Dr. Her­riott knew she would fit right in with the west­ern lifestyle.
"I real­ly love the farm life, the ranch life," she said ​"I have lived the actu­al farm life, my dad is a farmer. He grows beans and corn and hay and all sorts of stuff. I real­ly love being out­doors, in the barn with dirty boots and ani­mals all over the place."
As a moth­er of two, she sought the com­mu­ni­ty of a small­er town. While Wyoming was nev­er on her radar, Dr. Her­riott recalled being drawn to Ivin­son after see­ing a job list­ing that read, ​'The Cow­boy State is Calling'.
Now enter­ing her sec­ond year at Ivin­son as one quar­ter of the women's health team, Dr. Her­riott is proud to once again be prac­tic­ing in a tight knit com­mu­ni­ty and get­ting to know her patients.
"I do tend to make friend­ships with my patients with­in the office," she said of the close­ness cre­at­ed in women's health­care. ​"I want to know how they're doing at work, how they're doing with their fam­i­ly, how is their rela­tion­ship with their part­ner? It real­ly is all inclu­sive in get­ting to know that indi­vid­ual and then at the same time, tak­ing care of them in a phys­i­cal way. From their men­tal health to car­diac health to their repro­duc­tive health it's very all-encom­pass­ing. That's the beau­ty of med­i­cine these days. It's not just take two and call me in the morn­ing, it's real­ly com­pre­hen­sive care"
The women's health team at Ivin­son cares for women in all walks of life, address­ing the con­cerns that come with each milestone.
"I'm not just tak­ing care of their annu­al vis­its, pap smears and breast exams, it's care of the whole per­son and I tru­ly care about my patients. I've nev­er had that ben­e­fit of know­ing my patients this well before and I think that's the beau­ty of work­ing at Ivinson."
When she is not at the hos­pi­tal, Dr. Her­riott can be found right here in Laramie. If she's not shop­ping Down­town or bak­ing in her kitchen, look towards the Snowies.
"We real­ly are pret­ty active in the win­ter," Dr. Her­riott said of her family's love for the out­doors, hav­ing tak­en up ski­ing and snow shoe­ing. ​"I do like to trav­el but we haven't done any trav­el­ling because we have been so enam­ored with the west. We are still see­ing all of what Wyoming has to offer."
sign up for our email newsletter