Accolades
20 October 2022
Going the Distance
Creating an environment for people to do their best work.
There is no summer break or off-season in healthcare. Year round, our team at Ivinson is putting in the work to lead, achieve and create.
Every team member plays a part in our promise to be trusted partners in world-class healthcare.
Testing… Testing..
1

−

2

−

3

Our team works to be the best at what they do in patient care and non-clinical areas. Being the best means tackling the hard questions and putting their skills and knowledge to the test. Some of our team members celebrating big wins:

Kimberly Cameron in Health Information passed her Certified Coding Specialist (CCS) Exam.

Maddi Ewell in Cardiac Rehab passed her EKG course without missing a beat!

Anna Schimick, a registered nurse in the Emergency Department, passed her Board Certification of Emergency Nursing (BCEN).


Support Services Manager, Tammy Gardea, obtained a new certification to become a AHE Designated Trainer: Certified Health Care Environmental Services Technician (T‑CHEST) from American Hospital Association!
Turning Up the Heat
Fall is in the air but staff at Ivinson is heating things up, just a few degrees 😉. Proving that hard work pays off, these Ivinson team members hit the books and came out on top.
Kristine Brosmire, a Claims Resolution Specialist in Patient Financial Services, earned her Associate's degree from Laramie County Community College this spring.
Doug Hall, a Compliance Specialist, completed his Associates of Applied Science from Weber State University.
On the nursing end, medical/​surgical RN, Candace Newmeyes graduated with her Bachelors of Science in Nursing (BSN) from the University of Wyoming and House Supervisor Mira Garate, RN, earned her BSN from Western Governor's University.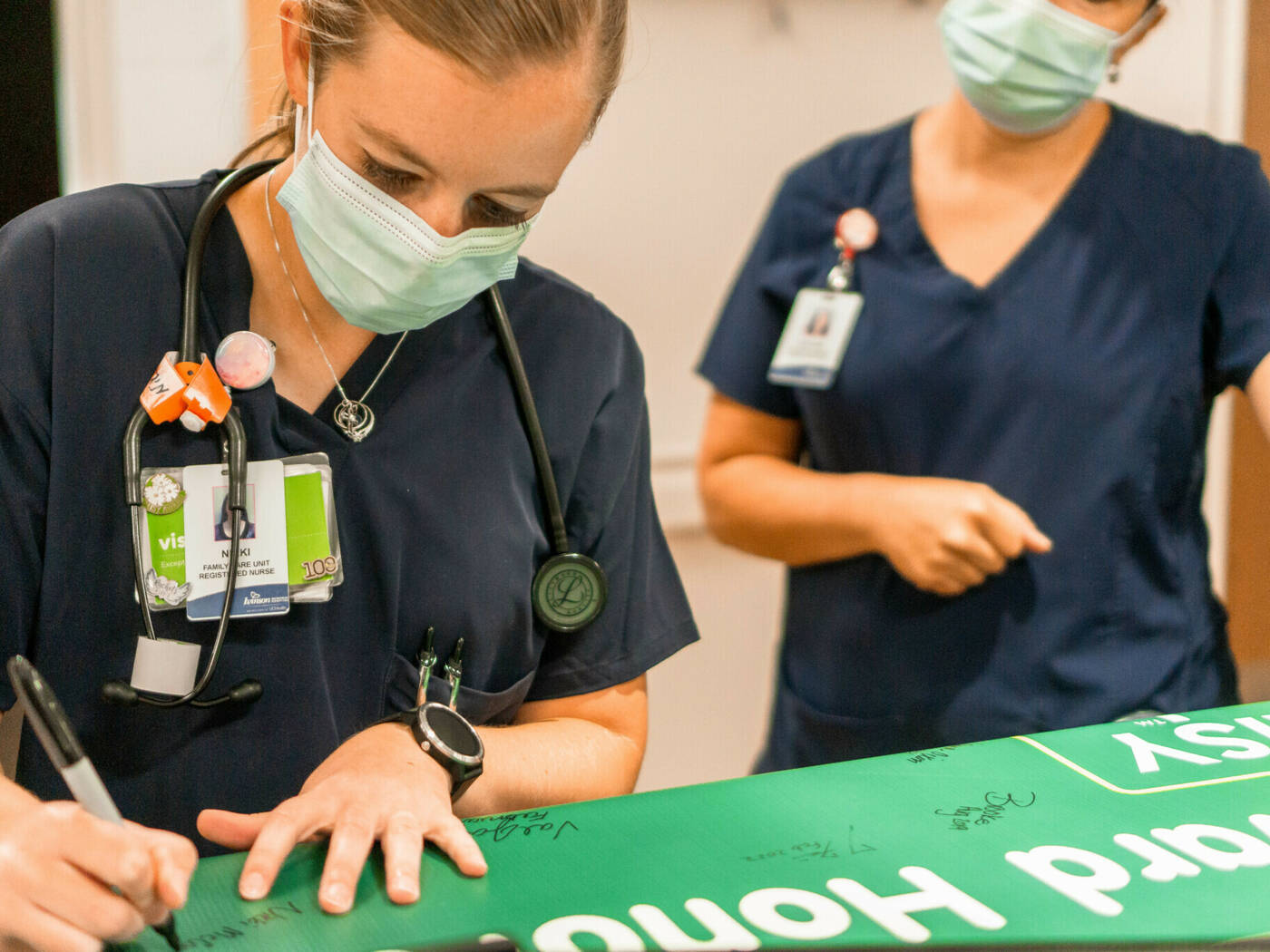 Do Good DAISYs
Ivinson Memorial Hospital proudly participates in the DAISY Award Program, recognizing nurses who demonstrate extraordinary compassion and skill in the care of their patients.
This spring, Ivinson Medical Group celebrated their first DAISY Award Honoree in the clinic, Kimmi Mertz! Kimmi is a registered nurse at Ivinson's Convenient Care Clinic. She was recognized for her skill and kindness while treating younger patients and her understanding when interacting with parents. Thank you for all you do at Ivinson Kimmi!
Registered Nurse, Nikki McConnell is the first DAISY Award Honoree celebrated on the new Women and Children Center unit, that opened in June.
Nikki has been a member of the Ivinson team since January of 2017, joining the team as an aide on the medical/​surgical unit while working towards her nursing degree. While in nursing school, Nikki trained on Ivinson's labor and delviery unit which she returned to full-time upon becoming a registered nurse. Recently, Nikki passed her certified lactation consultant (CLC) training and passed her exams. As a CLC, Nikki provides inpatient lactation consultaions, helping mothers and babies navigate their first hours and days of their breastfeeding journey.
Congratulations Nikki! Thank you for the care you provide at Ivinson!
Ivinson has participated in the DAISY Award Program since 2018.

Leading the Way
Terry Moss, Ivinson's Chief Operating Officer, was recognized by the American College of Healthcare Executives (ACHE) Wyoming Chapter at the Wyoming Hospital Assocaiton annual conference. Terry was awarded the Early Career Healthcare Executive Award which recognizes, leadership, management, community involvement and organizational growth.
Celebrating getting back to school, staff from the Meredith and Jeannie Ray Cancer Center attended the Fay W. Whitney School of Nursing Convocation Ceremony where Registered Nurse Tina O'Connor was recognized as Preceptor of the Year. Thank you, Tina, for your leadership and guidance at Ivinson and your dedication to teaching others!
Paul Johnson, MD, was recognized by the WWAMI medical school program, that named his this year's Distinguished WWAMI Alum. Dr. Johnson practices at Ivinson Medical Group's Surgical Clinic, providing ENT services in both Laramie and Cheyenne. Dr. Johnson is an active member of the Wyoming WWAMI advisory council and a regular contributor to classroom and clinical teaching in the Wyoming WWAMI program. Dr. Johnson has also served on many other civic organizations, including the College of Health Sciences Advisory Board.