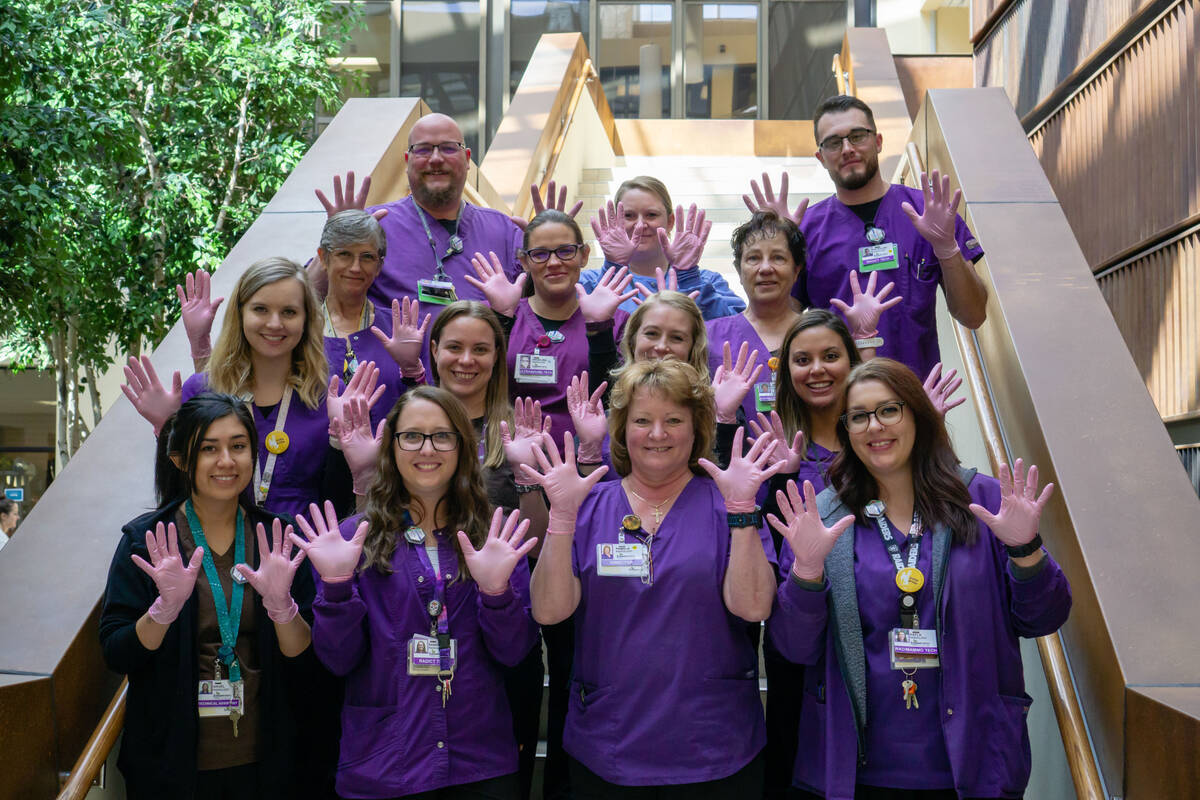 Hospital Updates
Written By Pamela Wickkiser
Paint Laramie Pink
This October, clinical staff will begin wearing pink gloves in an effort to raise awareness surrounding breast cancer and early screenings.
Things will soon look a lit­tle rosier than usu­al at Ivin­son Memo­r­i­al Hos­pi­tal. Begin­ning Octo­ber 1, staff mem­bers will trade in their reg­u­lar latex gloves for pink ones — a show of sol­i­dar­i­ty in the fight against breast can­cer, the sec­ond-lead­ing cause of can­cer death among Amer­i­can women.
Dur­ing Octo­ber, the pink gloves will be a sim­ple reminder that ear­ly detec­tion real­ly is the best pro­tec­tion. We now under­stand that if caught ear­ly, breast can­cer is entire­ly treat­able, which is why breast can­cer screen­ings are so important.

The mam­mo­gram, an x‑ray of the breast, can detect breast can­cer up to two years before a tumor can be felt. Mam­mo­grams are the key to a sol­id, ear­ly clin­i­cal diag­no­sis. In recent years, mam­mo­grams have gone from ana­log, black-and-white films to dig­i­tal, allow­ing doc­tors to enlarge images and rotate them to look at abnor­mal­i­ties more closely.

Ivin­son has installed the Sele­nia Dimen­sions 6000. This sys­tem is fast, low dose and clin­i­cal­ly supe­ri­or. The 2D and 3D image slices are reviewed togeth­er to make clin­i­cal deci­sions or diag­noses part of the screen­ing exam. There is even a pad­dle sys­tem that con­forms to the nat­ur­al con­tours of the breast, pro­vid­ing greater com­fort to the patient and a more even com­pres­sion across the entire breast. We are thrilled with this new tech­nol­o­gy and the advan­tages it is giv­ing our patients.
In look­ing at the sta­tis­tics, a vast major­i­ty of women don't rate their mam­mo­gram expe­ri­ence as bad. They feel it is incon­ve­nient but not uncom­fort­able or embar­rass­ing. In the Unit­ed States, breast can­cer is sec­ond only to lung can­cer as the lead­ing cause of can­cer deaths among women.
The con­se­quences of miss­ing out on screen­ings may mean a lat­er diag­no­sis, which could also low­er chances of sur­vival. Dig­i­tal mam­mog­ra­phy is a sim­ple yet effec­tive tool in the ear­ly detec­tion of breast cancer.
Choose to act dur­ing Breast Can­cer Aware­ness Month or, even bet­ter, choose to act in your birth­day month. This is the most impor­tant gift you can give your­self. It tru­ly is a rea­son to celebrate.
For more infor­ma­tion on Ivin­son Memo­r­i­al Hos­pi­tal dig­i­tal mam­mog­ra­phy sys­tem or to sched­ule a mam­mo­gram, please call the IMH Radi­ol­o­gy Depart­ment at (307) 755‑4640.
sign up for our email newsletter