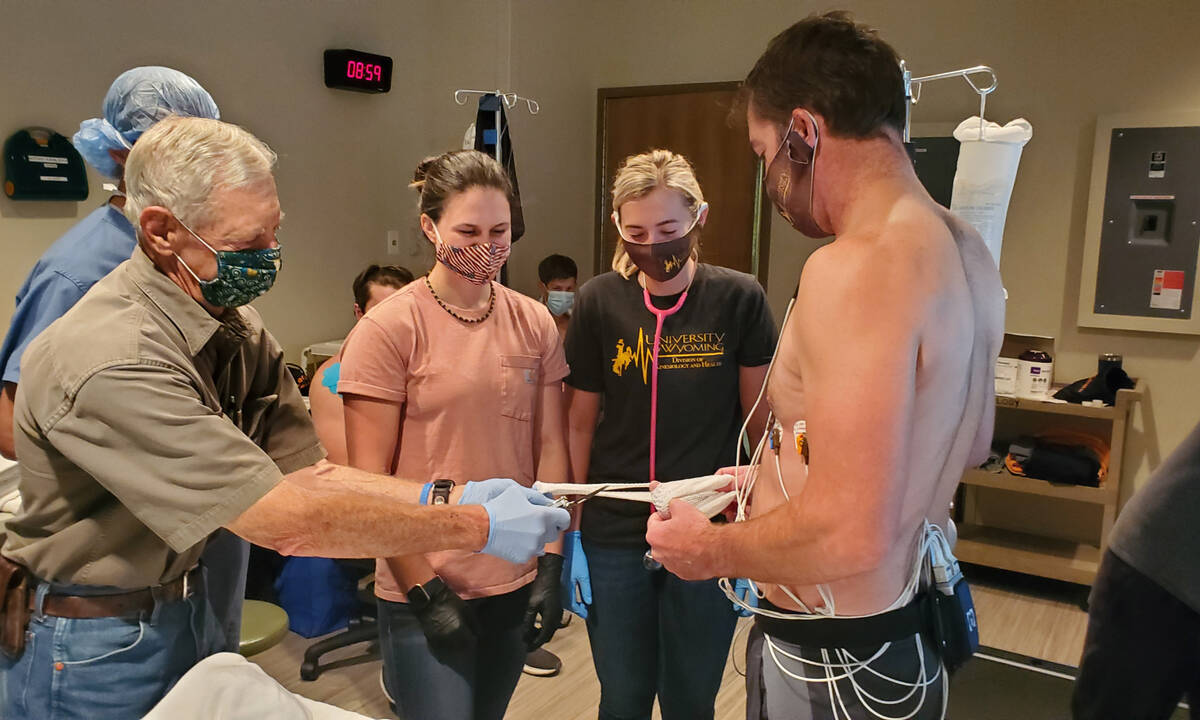 At Ivin­son, we strive to cre­ate an envi­ron­ment for our employ­ees to do their best work. We would like to rec­og­nize those that go a step above and find ways to bet­ter them­selves and all those around them.
Grad­u­at­ed and it Feels so Good
Amber Wells, RN, has been an employ­ee at Ivin­son since 2001. She start­ed as an Envi­ron­men­tal Ser­vice Tech­ni­cian before becom­ing a CNA and even­tu­al­ly, a reg­is­tered nurse. Amber has sharp­ened her skills through­out mul­ti­ple depart­ments hav­ing worked on the extend­ed care facil­i­ty, fam­i­ly care unit, sur­gi­cal unit, medical/​surgical inpa­tient unit, and cur­rent­ly is an expe­ri­enced RN in ICU.
Amber grad­u­at­ed with her bachelor's in nurs­ing this sum­mer while work­ing full-time and rais­ing three chil­dren. Con­grat­u­la­tions Amber! We are hap­py to cel­e­brate your hard work with you.
Lead­ing Research
Ear­li­er this month, sev­er­al Ivin­son team mem­bers assist­ed Dr. Ken Robert­son and col­leagues at the Uni­ver­si­ty of Wyoming in a research project exam­in­ing the usage of masks used as pro­tec­tion from COVID-19 and exten­sive car­dio exercising.

"This project involved an aggres­sive approach to deter­min­ing whether masks used for COVID-19 pre­ven­tion could be safe­ly used while con­duct­ing max­i­mal car­dio­vas­cu­lar exer­cise in healthy indi­vid­u­als," Dr. Robert­son said. ​"We mon­i­tored arte­r­i­al blood gasses (ABG) rather than more periph­er­al stats (O2 sat­u­ra­tion, end tidal CO2 lev­els, etc.) to eval­u­ate the respons­es to the exer­cise. ABG's require a lev­el of exper­tise that could only be accom­plished at IMH with imme­di­ate access to test­ing of the blood and pres­ence of experts (anes­the­si­ol­o­gists) to man­age the arte­r­i­al lines."
Dr. Robert­son thanks Clin­i­cal Direc­tor of Car­diopul­monary, Wan­da Hulit, Car­diopul­monary Clin­i­cal Super­vi­sor Kory Allen, and Direc­tor of Com­pli­ance, Dean­na Allen for all their help mak­ing the week­end research a success.
Lev­el­ing Up
Corey Eskam, Tara Tem­sik and Cas­sidy Beier­le of Ivinson's Infor­ma­tion Sys­tems team all earned their Cer­ti­fied Clin­i­cal Infor­mati­cist Cer­ti­fi­ca­tion. While this team is often work­ing behind the scenes, their cer­ti­fi­ca­tion will help to bridge the gap between the providers that use Epic and the devel­op­ers that build Epic. Con­grat­u­la­tions to each of you!
Con­nie Lang, a busi­ness ana­lyt­ics ana­lyst on the IT team, earned her Cog­i­to and Caboo­dle Data Mod­el Cer­ti­fi­ca­tions. With her cer­ti­fi­ca­tion, Con­nie has been able to learn the lat­est on Epic data and report­ing to help out team and all our Epic users.
Look Who Passed With Fly­ing Colors
Trevor Sal­cedo in Car­diopul­monary, passed his exams to become a Reg­is­tered Res­pi­ra­to­ry Ther­a­pist. Con­grat­u­la­tions Trevor!
Beth Ben­nett, a nurse on the Fam­i­ly Care Unit, has offi­cial­ly com­plet­ed her exams and received her Cer­ti­fied Lac­ta­tion Coun­selor Certification.
"I've learned a lot from the CLC cours­es. It's made me throw out some old infor­ma­tion and has real­ly taught me some new things," Beth said. ​"I don't think a lot of mom's know we have lac­ta­tion coun­selors and lac­ta­tion ser­vices avail­able but there are more peo­ple out there telling them and then we are able to help them suc­ceed." For more infor­ma­tion about breast­feed­ing sup­port at Ivin­son, vis­it https://​www​.ivin​son​hos​pi​tal​.org/​b​r​e​a​s​t​f​e​eding.
sign up for our email newsletter