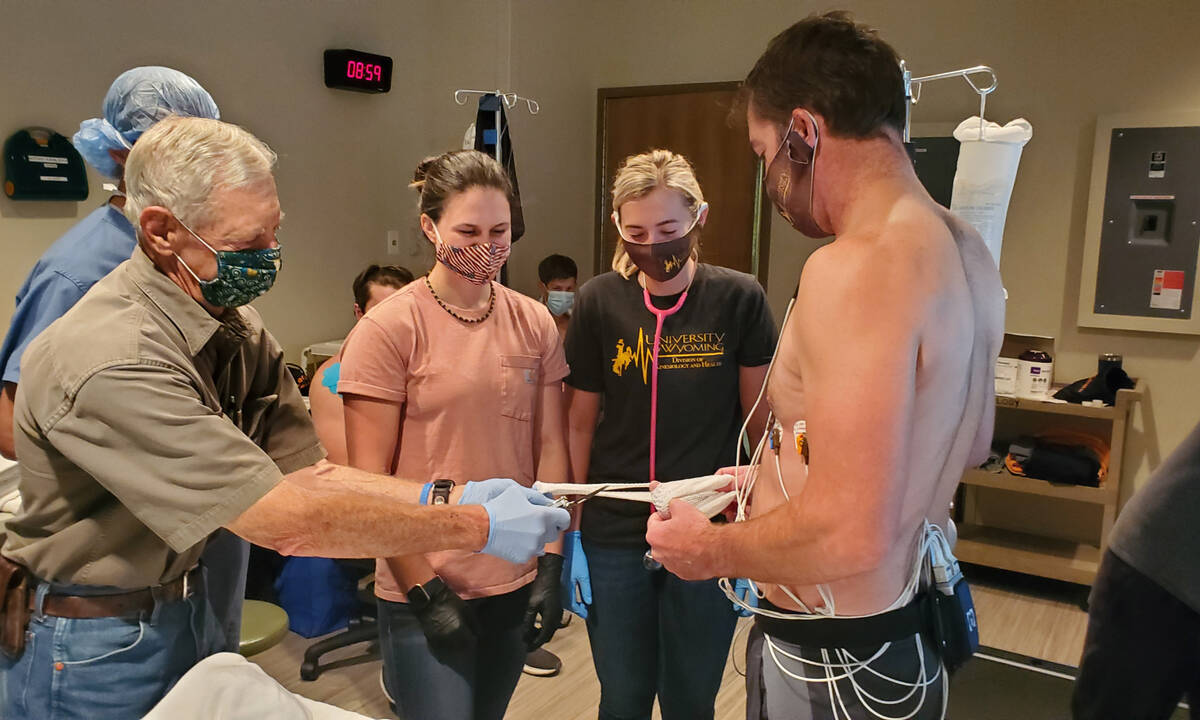 At Ivinson, we strive to create an environment for our employees to do their best work. We would like to recognize those that go a step above and find ways to better themselves and all those around them.
Graduated and it Feels so Good
Amber Wells, RN, has been an employee at Ivinson since 2001. She started as an Environmental Service Technician before becoming a CNA and eventually, a registered nurse. Amber has sharpened her skills throughout multiple departments having worked on the extended care facility, family care unit, surgical unit, medical/​surgical inpatient unit, and currently is an experienced RN in ICU.
Amber graduated with her bachelor's in nursing this summer while working full-time and raising three children. Congratulations Amber! We are happy to celebrate your hard work with you.
Leading Research
Earlier this month, several Ivinson team members assisted Dr. Ken Robertson and colleagues at the University of Wyoming in a research project examining the usage of masks used as protection from COVID-19 and extensive cardio exercising.

"This project involved an aggressive approach to determining whether masks used for COVID-19 prevention could be safely used while conducting maximal cardiovascular exercise in healthy individuals," Dr. Robertson said. ​"We monitored arterial blood gasses (ABG) rather than more peripheral stats (O2 saturation, end tidal CO2 levels, etc.) to evaluate the responses to the exercise. ABG's require a level of expertise that could only be accomplished at IMH with immediate access to testing of the blood and presence of experts (anesthesiologists) to manage the arterial lines."
Dr. Robertson thanks Clinical Director of Cardiopulmonary, Wanda Hulit, Cardiopulmonary Clinical Supervisor Kory Allen, and Director of Compliance, Deanna Allen for all their help making the weekend research a success.
Leveling Up
Corey Eskam, Tara Temsik and Cassidy Beierle of Ivinson's Information Systems team all earned their Certified Clinical Informaticist Certification. While this team is often working behind the scenes, their certification will help to bridge the gap between the providers that use Epic and the developers that build Epic. Congratulations to each of you!
Connie Lang, a business analytics analyst on the IT team, earned her Cogito and Caboodle Data Model Certifications. With her certification, Connie has been able to learn the latest on Epic data and reporting to help out team and all our Epic users.
Look Who Passed With Flying Colors
Trevor Salcedo in Cardiopulmonary, passed his exams to become a Registered Respiratory Therapist. Congratulations Trevor!
Beth Bennett, a nurse on the Family Care Unit, has officially completed her exams and received her Certified Lactation Counselor Certification.
"I've learned a lot from the CLC courses. It's made me throw out some old information and has really taught me some new things," Beth said. ​"I don't think a lot of mom's know we have lactation counselors and lactation services available but there are more people out there telling them and then we are able to help them succeed." For more information about breastfeeding support at Ivinson, visit https://​www​.ivin​son​hos​pi​tal​.org/​b​r​e​a​s​t​f​e​eding.
sign up for our email newsletter