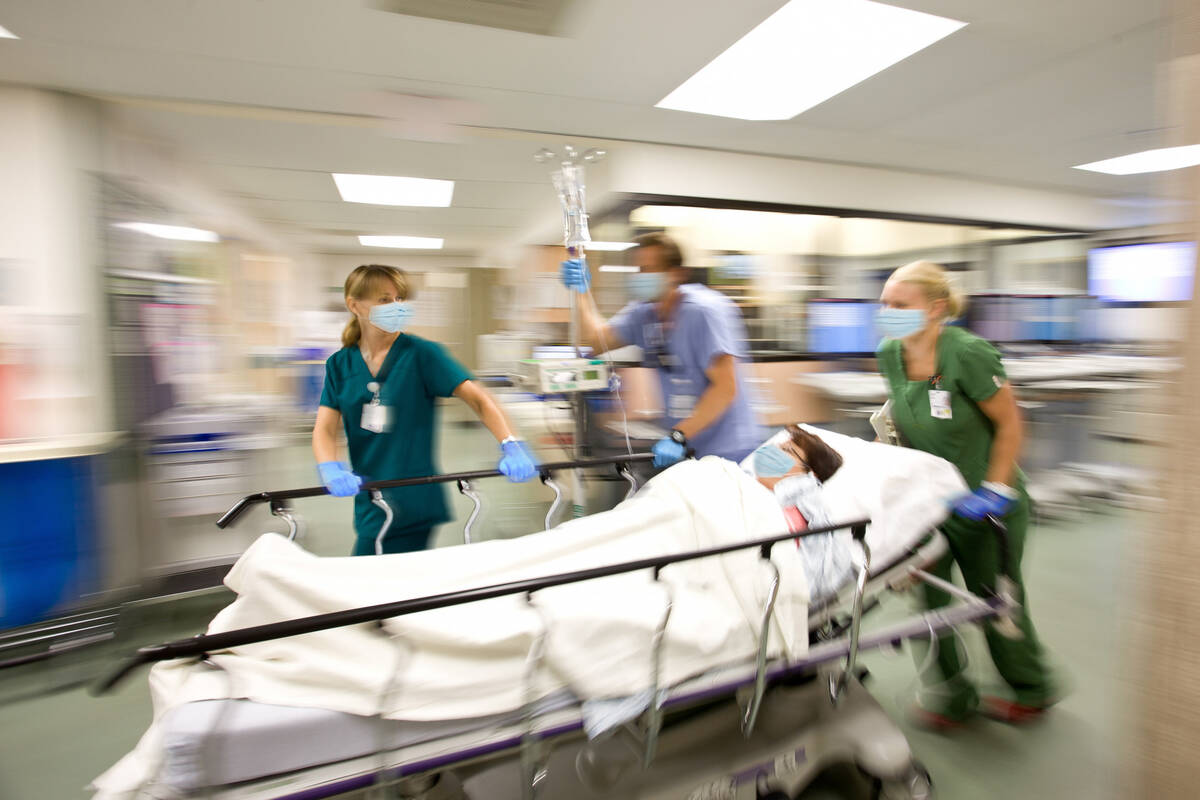 Education
Written by Breann Lujan-Halcon
Sounding the Alarm on Sepsis
September is Sepsis Awareness Month.
Through­out the month of Sep­tem­ber, Ivin­son is sound­ing the alarm on sepsis.
Ear­li­er this month we asked our experts to break­down what is sep­sis? This week we are tack­ling what Ivin­son is doing to fight the life-threat­en­ing condition.
Sep­sis kills five times more peo­ple a year than heart dis­ease and is the lead­ing cause of death in hos­pi­tal­ized patients.
Our Clin­i­cal Excel­lence team has made it their mis­sion to improve these grim sta­tis­tics. Made up of mem­bers from mul­ti­ple clin­i­cal areas, the team aims to find gaps in qual­i­ty and patient safe­ty and answer with solutions.
"Our goal is to cre­ate bet­ter patient out­comes by using evi­dence-based prac­tice, improve and imple­ment new pro­to­cols in order to bet­ter care for patients clin­i­cal­ly and improve those out­comes," said Clin­i­cal Excel­lence team mem­ber, Nicole Knowles. ​"Sep­sis has been our big focus for the group."
The Sur­viv­ing Sep­sis Cam­paign, a col­lab­o­ra­tive group com­mit­ted to reduc­ing mor­tal­i­ty and mor­bid­i­ty from sep­sis and sep­tic shock world­wide, has iden­ti­fied the best care for sep­sis. The first part is the Hour‑1 Bun­dle, which includes ear­ly iden­ti­fi­ca­tion and treat­ment for sep­sis and sep­tic shock. At Ivin­son, this hour one bun­dle came to life through Clin­i­cal Excellence's work on a new over­head code, Code Sepsis.
"We start­ed the code sep­sis process because it's impor­tant to iden­ti­fy sep­sis ear­ly," Nicole said. Nicole not only is an active mem­ber of the Clin­i­cal Excel­lence team, but is also a reg­is­tered nurse in Ivinson's Emer­gency Depart­ment (ED). In the ED, it is Nicole's team that iden­ti­fies and calls a Code Sep­sis. ​"We iden­ti­fy it with those ear­ly warn­ing signs like vital signs. From there we would ini­ti­ate the code sep­sis if they meet that ear­ly warn­ing sign criteria."
That is when the count­down begins and the clin­i­cal team begins to work down their sep­sis alert checklist.
In the first
5

minutes…

The emer­gency room provider is noti­fied, IV's are start­ed and a Code Sep­sis is called over­head. The code which is heard hos­pi­tal wide, noti­fies clin­i­cal staff of a crit­i­cal patient that has been iden­ti­fied as meet­ing two or more sep­sis criteria.

"We real­ly want this to be a nurse-dri­ven pro­to­col. We want the nurse to look at the patient, assess them right away, call the code sep­sis ear­ly so we can get phar­ma­cy, lab and every­body on board," Nicole said.

When a Code Sep­sis is called, per­son­nel from lab­o­ra­to­ry, radi­ol­o­gy, res­pi­ra­to­ry, phar­ma­cy, emer­gency room and house super­vi­sor respond.

"We want to call that code sep­sis because we want to com­mu­ni­cate well with phar­ma­cy, lab, the provider and staff," Nicole said. ​"It allows the lab to give these labs prece­dence as a more crit­i­cal patient as we ide­al­ly want to receive those results with­in 30 min­utes and get blood cul­tures ear­ly so we can meet that goal of giv­ing antibi­otics in under an hour."
With­in
30

minutes…

Stat labs are drawn, a nurse or phle­botomist will obtain a lac­tate, a CBC, a CMP and two sep­a­rate blood cultures.

"We want to get those blood cul­tures, get that chest x‑ray and the urine sam­ple in order to get antibi­otics on board to help with the outcomes."
With­in
60

minutes…

A broad spec­trum IV antibi­ot­ic is start­ed while vitals and lab val­ues con­tin­ue to be close­ly monitored.

"The flu­id and the antibi­otics in under an hour are the main goals," Nicole said. ​"A lac­tate lev­el greater than 4 is a mark­er that can be high with trau­ma and it can be high with sep­sis. It is often the prod­uct of bac­te­ria, typ­i­cal­ly. A nor­mal lac­tate is usu­al­ly less than 2. Patients with a lac­tate lev­el of 2, we will give them flu­id and watch and see where it is trend­ing. The lac­tate lev­el is a good indi­ca­tor to track. If they are respond­ing to flu­ids, if they are respond­ing to antibi­otics, it is a good mark­er to see where the patient is trending."

Why the rush to push flu­ids and start antibi­otics with­in an hour of iden­ti­fy­ing sep­sis? Accord­ing to sep­sis stud­ies, time is of the essence for patients with sep­sis and in sep­tic shock. By iden­ti­fy­ing a patient as sep­tic, they should be viewed as a med­ical emer­gency requir­ing rapid diag­no­sis and imme­di­ate intervention.

"There is an eight per­cent increase per hour of mor­tal­i­ty with delayed antibi­otics," Nicole explains. ​"So it's a very impor­tant mark­er to get start­ed. An hour seems like a lot of time but you have so many tasks that you need to do, it goes very quickly."
Con­tin­ued Care
Through this ear­ly iden­ti­fi­ca­tion sys­tem, Ivin­son health­care providers are able to take a rapid and col­lab­o­ra­tive approach to cre­at­ing bet­ter patient out­comes for those fight­ing sepsis.
"I think it helps when peo­ple hear that over­head, they might not know exact­ly what sep­sis is but they know it's not good," Nicole said. ​"Peo­ple rec­og­nize, oh there is some­body who is real­ly sick and they need the resources right now."
Rais­ing aware­ness around sep­sis starts at home. In an effort to reduce the chance of infec­tion, it is rec­om­mend­ed that patients fin­ish all antibi­otics pre­scribed to them, per­form prop­er wound care, attend fol­low-up appoint­ments fol­low­ing surgery and lis­ten to your body. As ear­ly iden­ti­fi­ca­tion is key with sep­sis, it is impor­tant that patients be informed and con­tact a health­care provider with signs of fever and infection.
For more infor­ma­tion about sep­sis, vis­it sep​sis​.org.
sign up for our email newsletter