Featured Story
5 June 2023
The Selflessness of Volunteering
Volunteerism at Ivinson has been a long standing tradition, upheld by the Ivinson Auxiliary.
The Ivinson Auxiliary is a volunteer program that has been supporting the hospital since 1951.
This volunteer program is made up of selfless and devoted individuals that come together from all different stages of life with different experiences and knowledge to make the program truly unique and diverse.
meet some of our volunteers: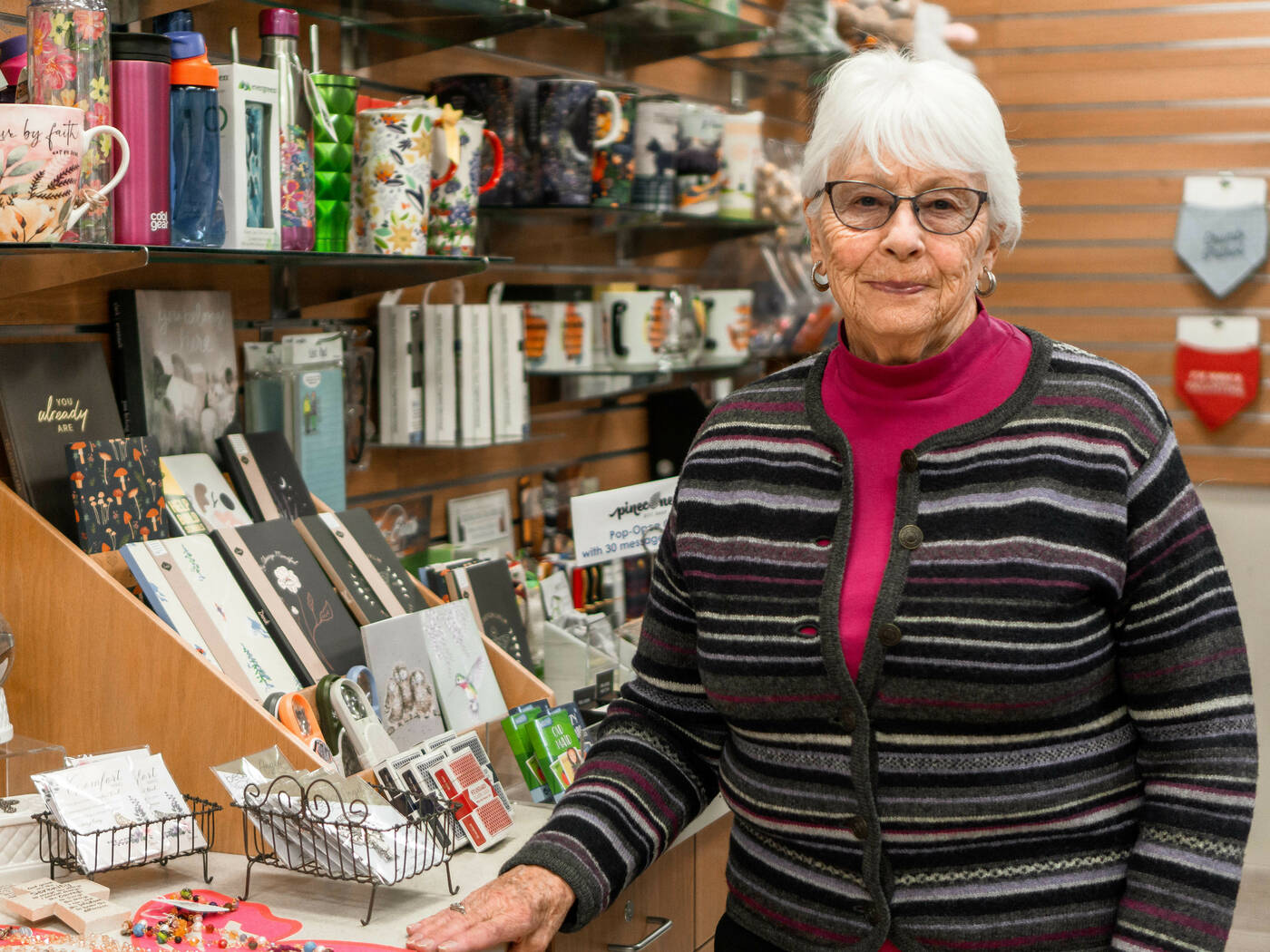 Sharon Attebery
"I try to do my best every day," says Sharon.
The Auxiliary has had the great pleasure of having Sharon Attebery volunteer in Ivinson's gift shop for 12 years. Sharon has shown up every week committed to doing her best. Her devotion comes as no surprise because of the pride that exudes from her when she talks about the environment at Ivinson.
"I definitely think it's a great place to volunteer, the people are so nice and it's rewarding to help out with all the activities going on in the hospital," Sharon stated.
Before being devoted to giving back to her community, Sharon grew up in Denver, CO before moving to Laramie, WY in 1949. Sharon worked at The University of Wyoming for 38 years for the School of Extended Studies with accounting, before finding her spark for volunteering.
"I decided I wanted to give back to the community, and what better place than the hospital where everyone ends up visiting one time or another," said Sharon.
Sharon helps with many tasks in the gift shop along with operating the cash register. Sharon really emphasized the idea of being able to help the employees with her free time and how much appreciation employees show her for being a committed volunteer.
"They always thank me when I am able to get things done for them, just giving that extra free time for them really helps," said Sharon.
When Sharon isn't spending her time volunteering, you can find her soaking up the outdoors in the mountains or attending to her many plants, including her favorite, the lipstick plant.
Ryan Pitesky
Ryan Pitesky is a junior at the University of Wyoming and is perusing a pre-med degree. He originally relocated to Laramie from San Diego, California for school and is planning to pursue further education after he obtains his undergraduate degree.
Ryan is interested in pursuing healthcare, so volunteering for the Ivinson Auxiliary was right up his alley.
"I found this opportunity at the hospital and I am interested in medicine so I thought I could give back to the community, but also be immersed in the atmosphere of healthcare, which would help me and other people at the same time." states Ryan.
Volunteering is something Ryan has been involved with since a young age.
"I was a Boy Scout. I am really used to giving back to the community and I thought I should really continue that motive," said Ryan.
Ryan has been volunteering since summer of July 2022 in the surgery waiting room to support the individuals waiting for their loved one that is going through surgery. Ryan believes that the emotional support he can provide to patients and their families is the most fulfilling part of being a volunteer.
"When I see smiles on other people's faces, it makes me feel great interacting with other people and making them feel welcome, because I usually struggle with that kind of thing. It brings me joy to keep people engaged in conversation, giving them a sense of belonging and letting them know what they're going through is completely normal."
When Ryan isn't spending his time volunteering, you can find him keeping up on his studies or playing the violin for the UW Symphony and Chamber Orchestra.
"I like music. It's really fun and keeps my mind off the stress of STEM related topics." said Ryan.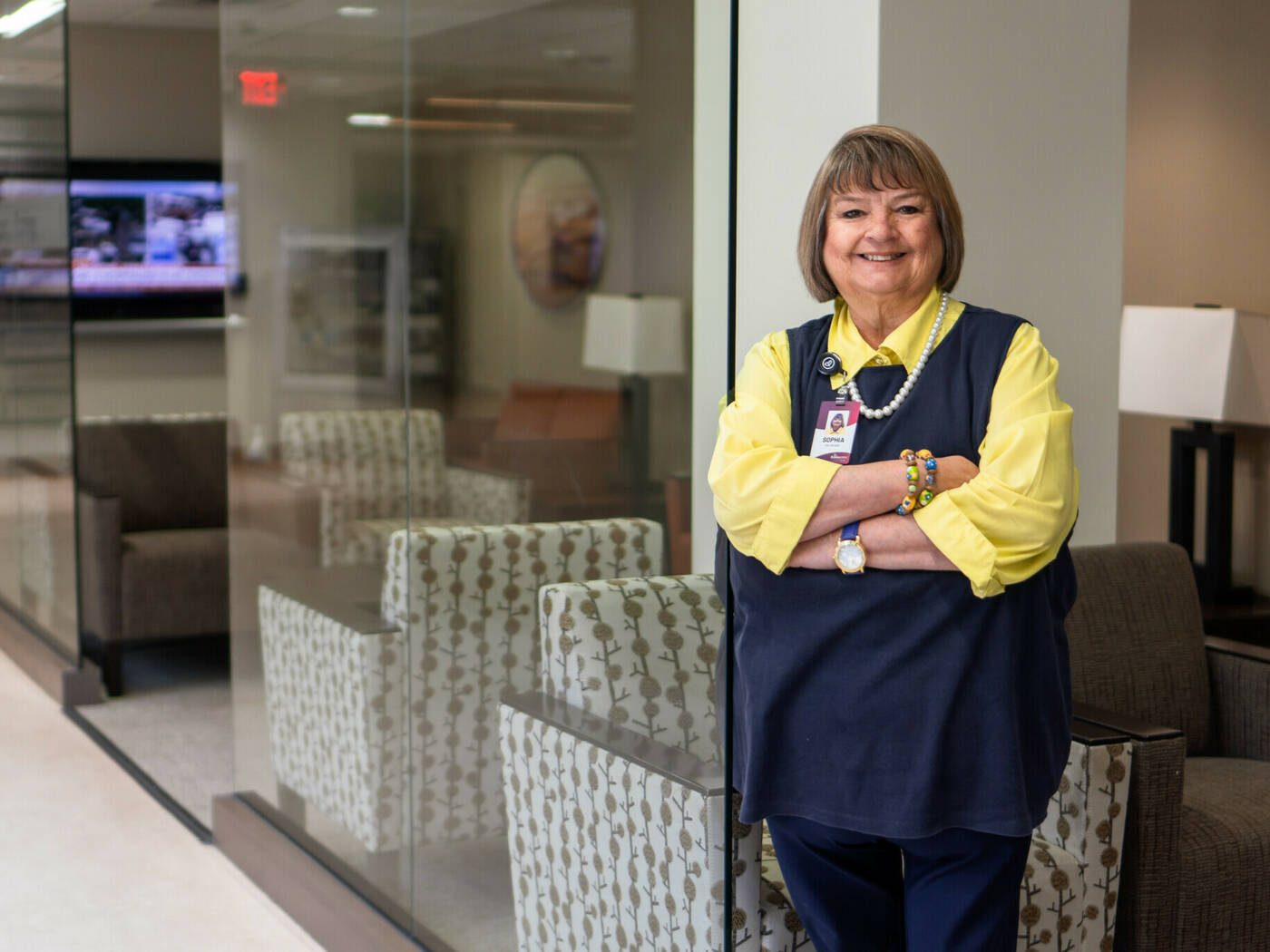 Sophia Beck
"Prior to my retirement I did a lot of community work, so I already had plans on what I would do when I retired," said Sophia.
Sophia Beck has always been keen on giving back to her community and putting others first. So it was no surprise that life after retirement meant volunteering through the Ivinson Auxiliary. Sophia has been part of the Ivinson Auxiliary for about two years and volunteers in many areas of the hospital.
Life before retirement was anything but dull. Sophia spent the years prior to calling Laramie her home in Torrington, Wyoming and Gary, Nebraska. Sophia later moved to Laramie and had a job at the University of Wyoming.
"I worked at registration records until my husband graduated. I was there for eight years and then we moved to Wheatland (Wyoming) where I worked for a community college. The University then called and asked me to come back, so I commuted from Wheatland for eight months and stayed in registration records for a few years," Sophia said. ​"I decided I wanted a change and wanted to be more interactive with the students with advising, book keeping and just kind of managing an office, so I started working in advising for American Studies until I retired."
After retirement Sophia volunteered at many places around Laramie but truly fell in love with volunteering at the hospital.
"I knew I wanted to do work at the hospital. I worked at hospice for a little bit, but I really found myself feeling more fulfilled here working with patients," said Sophia.
Sophia gained a sense of purpose by helping patients through their visits, because she truly understood what it was like to be in their shoes.
"There is a purpose and I think it's important. I know from my own experience that going to a hospital for an exam or test it's really nice to have someone warm and welcoming. I think that is a real key of comfort that you can give a patient," said Sophia.
"I say little prayers while the patients are here. I think that's what I enjoy most, is being able to say a little prayer for the patients. That to me is a real blessing, and I really enjoy it," says Sophia.
When Sophia isn't volunteering, you can find her at Starbucks with a good book while drinking tea, which is one of her newfound hobbies. Sophia also enjoys taking naps, playing with her dog and traveling with her friends.
interested in volunteering?
If you are interested in becoming part of the Ivinson Auxiliary, click here or contact our volunteer coordinator, Sharleen Castle.